Best of 2020
1920s
,
1930s
,
1940s
,
1950s
,
1960s
,
1970s
,
1980s
,
Art deco
,
Brutalist
,
Contemporary
,
Grand Designs
,
Holiday lets
,
Houses in movies and TV
,
Midcentury modern
,
Modernist
,
Most popular finds
,
Period
,
Property at auction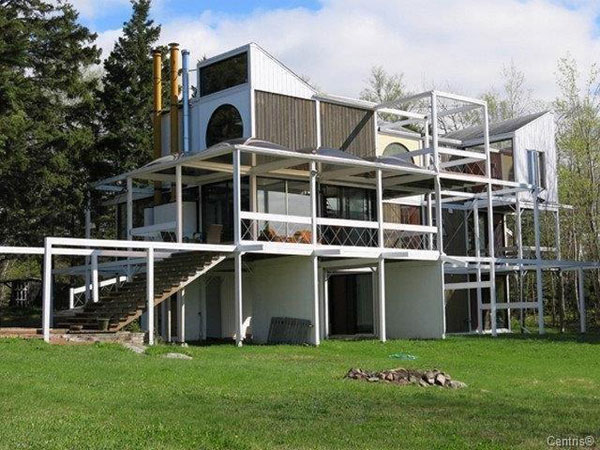 Lots of houses have featured on these pages over the past 12 months, but only a select few make the WowHaus top 50 most popular houses of 2020.
That is the top 50 most popular new house finds of the past year. Some houses are popular year in, year out. I'm obviously thinking of something like the the Ferris Bueller house, anything off Grand Designs and particularly this year, the disused nuclear bunker in Northern Ireland. Also, the gift ideas for architecture lovers has been hugely popular again this year, so thanks to everyone for reading that.
I could probably stop finding houses and the previous finds would tick over. But that's not really the point. I'm always on the hunt for new properties for sale and this year, like every other, I have not been disappointed with what has been out there.
Yes, this hasn't been a normal year. But in terms of compiling the most popular houses of 2020, it has been pretty much business as usual. In fact, the hosue market has probably been more busy than past years. This year's most popular houses of 2020 is as good as it has got since the site started I think. You may beg to differ.
Check then out below. Oh, one other thing too. Massive thanks to everyone who has supported the site via Buy Me A Coffee. It hasn't been easy balancing the books for what it, essentially, a spare time hobby for me. But your contributions have really helped me pay the bills for the site, the newsletter and any work that I have needed to carry out on the site. Thank you again.
That's it, enjoy the top 50 in reverse order. The new finds will return to the site next week. Already got plenty lined up.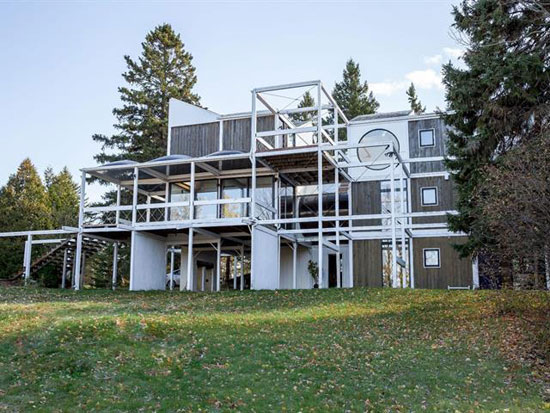 50. 1970s Jacques de Blois modern house in Saint-Damase-de-L'Islet, Quebec, Canada
Kicking off the most popular houses of 2020 is an amazing piece of architecture which was something of a steal too.
The house dated back to 1972, the work of Jacques de Blois and designed and built for the Bombardier family. It was also based on a design for the Cuban Pavilion at the Expo 67 in Canada, which the family fell in love with. Not much has changed since and this was up for just over £250k.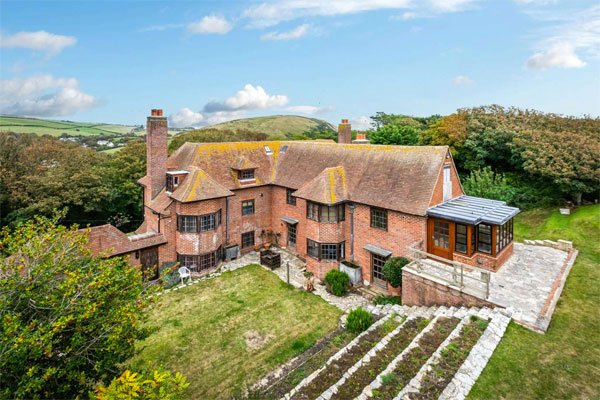 49. 1920s Sir Edwin Lutyens house in Lulworth Cove near Wareham, Dorset
Not his most famous build, but this 1920s Sir Edwin Lutyens house in Lulworth Cove near Wareham, Dorset was listed and up for sale.
Great location, more or less faithful to the original design outside of the side extension and in need of some renovation. Although it looked pretty fine to me.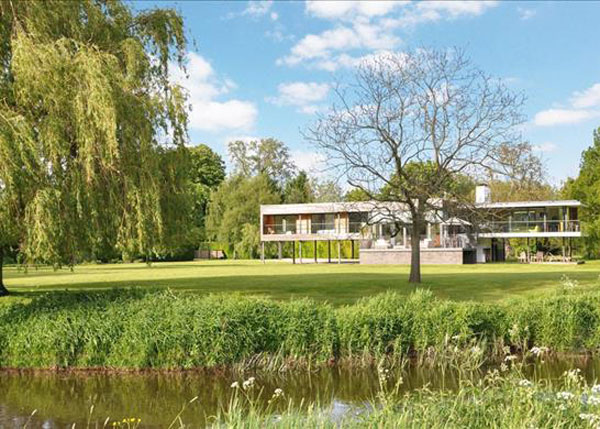 48. John Pardey waterside modern house in Reading, Berkshire
Sitting in a 'peaceful, secluded position' on the banks of the River Loddon and St Patrick's stream and within a 2-acre garden plus 650 feet of river frontage. So a lot of appeal before we get to the house itself.
That's a raised house that's open-plan and full of glass and as modern as you would expect of this kind of property. One of those 'interiors magazine' houses.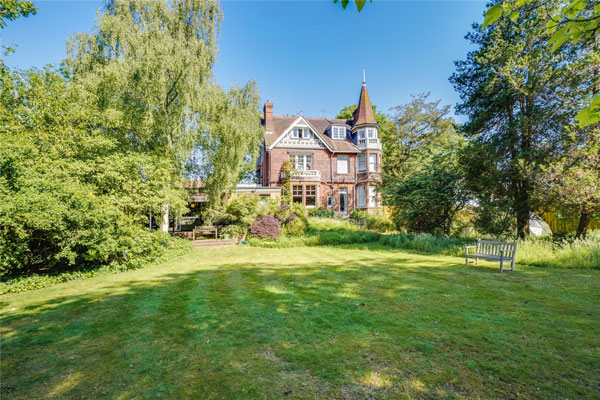 47. Eric Lyons Mill House and midcentury studio in East Molesey, Surrey
The house is interesting, but the back story more so. Which is why it made the most popular houses of 2020 I think.
Span designer Eric Lyons moved into Mill House in the 1940s, establishing it as his work/life base, with offices initially set around the turreted part of the house. In 1956, he added the midcentury modern extension which is still here. It went up for sale via the Lyons family, with work needed to bring it back to its best. Hopefully, with some respect to that past.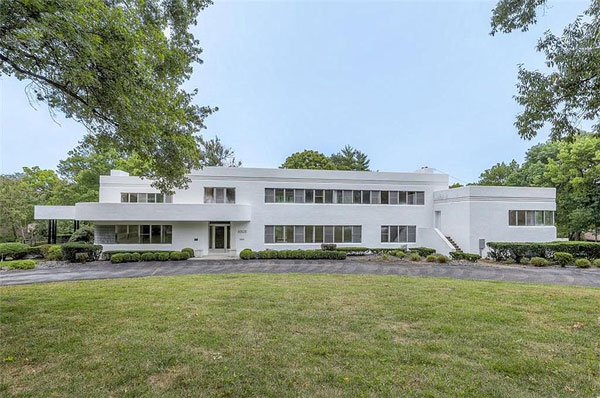 46. 1930s Edward Tanner art deco renovation project in Kansas City, Missouri, USA
Now this was a project. A sprawling art deco house in need of some love.
A huge house with all the key details still in place inside and out. The staircase is amazing. But someone has started the work, then left it. It needs investment but this will be someone's dream house. Dream palace, even.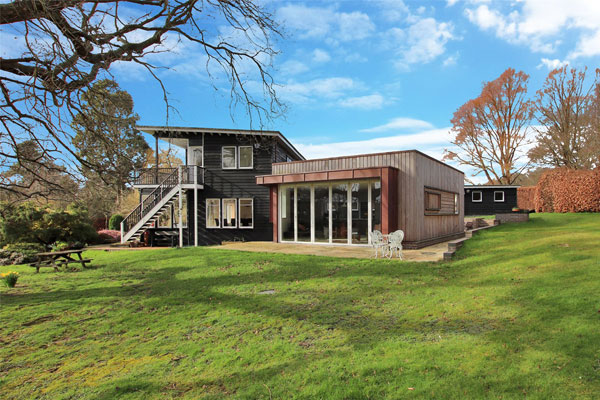 45. The Wood House by Walter Gropius in Shipbourne, Kent
Listed, of course, The Wood House by Walter Gropius in Shipbourne, Kent made a rare foray onto the market.
The Wood House dates back to 1937, built to a design by Bauhaus founder Walter Gropius in conjunction with Maxwell Fry. Yes, things have been updated in places, but plenty of originality in place too. An icon, regardless.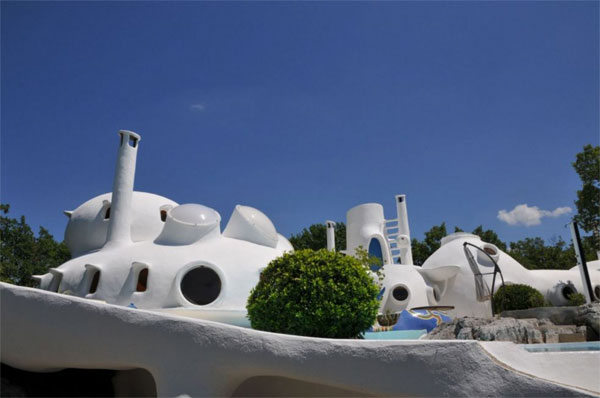 44. Claude Hausermann-Costy's Bubble House in Uzes, Gard, France
A Historic Monument in France, Claude Hausermann-Costy's Bubble House in Claude Hausermann-Costy's Bubble House in Uzes, Gard went up for sale in March.
A groovy, space-age construction, this one was started in 1972 and finished many years later as extra 'bubbles' were added in. A special house and likely to have a 'special' price tag too. You need to make a serious enquiry to find out just how much.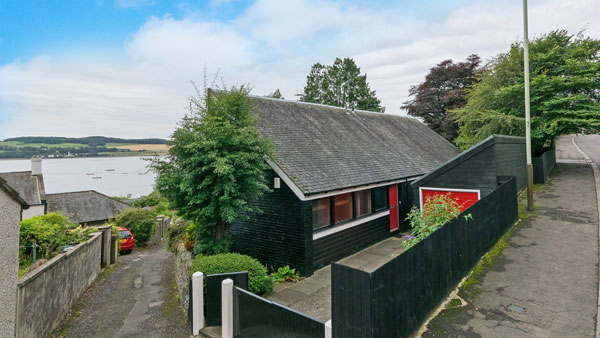 43. Scandinavian-style house in Broughty Ferry, near Dundee, Scotland
It doesn't look much from the outside. The selling point here a is rather amazing and untouched interior from the 1960s.
The beams, the wood panel ceilings and walls, the fitted furniture (although I'm not sure about the fireplace), the light fittings, the original kitchen and breakfast bar, the exposed brick and so much more too. It needs work, but this is a great starting point.
42. 1970s Martin Crowley modern house in London SE5
This one only got featured in December, which gives you an idea of how popular it was and why it made the most popular houses of 2020.
Hidden away from the road, this 1979 build is a modernist design detailed with black-painted wood, terracotta tile, bare block and brick. Some lovely colour features too, the work of Studio MacLean in more recent years. Wonderful and characterful modernism in the city.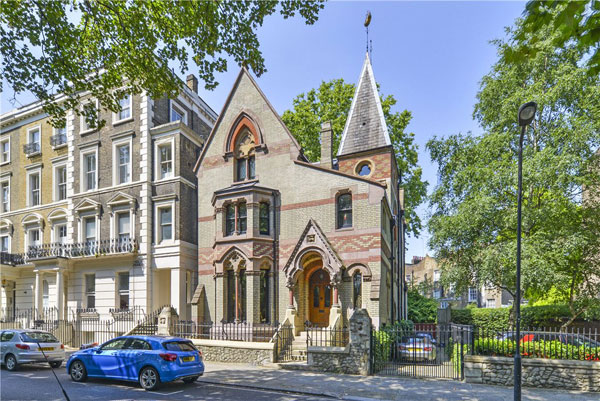 41. 19th-century gothic revival house in London NW1
Another house with a truly remarkable interior.
Not an era I tend to feature, but I couldn't resist this house. The first time on the market for 40 years, but far from some kind of time capsule or renovation project. This one has been updated and maintained to a very high degree, making absolutely sure that the best of its gothic features have been preserved. Something to catch the eye in every corner of the place. Fascinating.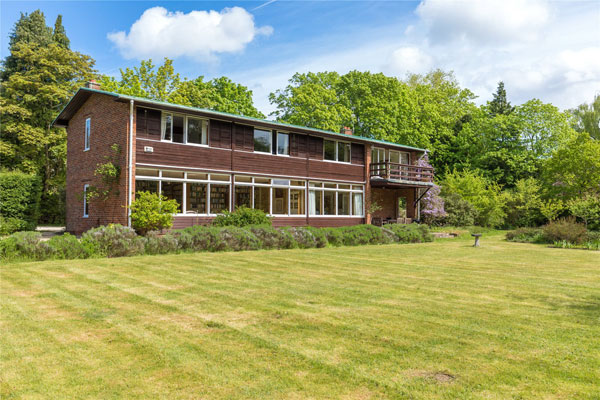 40. 1930s Overshot modern house in Oxford, Oxfordshire
Interesting for many reasons, the 1930s Overshot modern house in Oxford, Oxfordshire was up for sale and looking for just its third owner.
The house was designed by architects Godfrey Samuel and Valentine Harding in 1937, who also happened to be founding members of the Tecton Group. Some updating (especially with the kitchen), but the key details remain. Not least an amazing library area.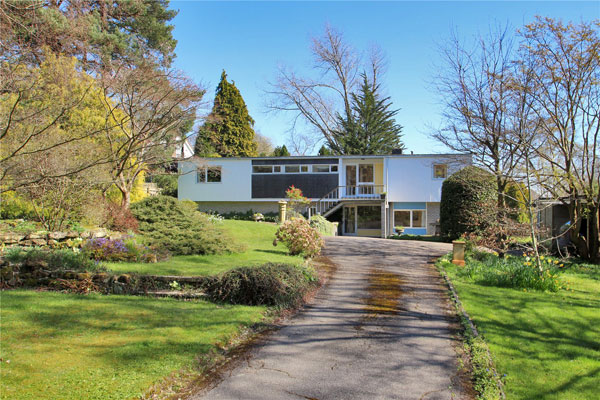 39. 1960s David Addey modern house in Tunbridge Wells, Kent
Not a lot had changed with this 1960s David Addey modern house in Tunbridge Wells, Kent in 60 years.
That night be because it was designed by the architect for his own family and was being offered for sale for the first time. A bit of updating required, but this is pretty much a time capsule of the era with some lovely 1960s touches still in place.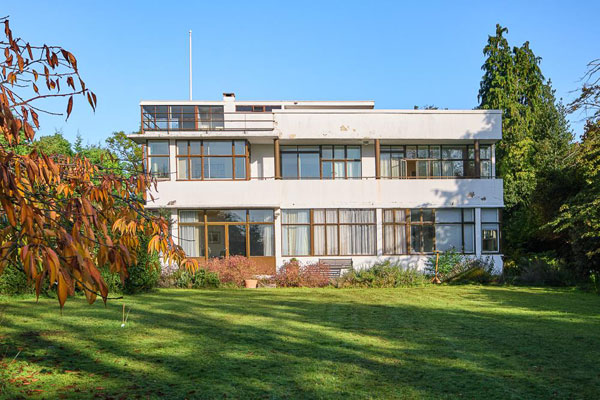 38. The Concrete House by Connell, Ward and Lucas in Bristol
A 1930s modernist icon, The Concrete House by Connell, Ward and Lucas in Bristol is said to be one of the earliest modernist concrete houses in Britain. Hence the name.
This 1934 design by the much-revered Connell, Ward and Lucas maintains most of its bold design features of the day. Again, like the exterior above, a bit of tidying up might be needed. But that's just a small thing when you see what you get in this house. Details you really cannot buy in the 21st century.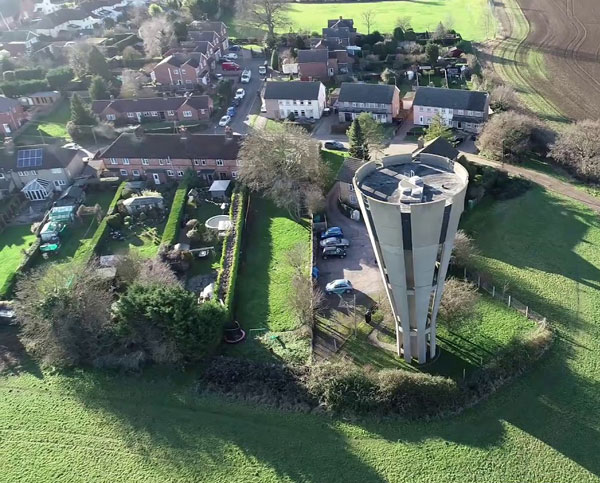 37. 1960s grade II-listed Tonwell Tower in Tonwell, Hertfordshire
Now, this is a project. But not one for the faint-hearted.
This is more of a Grand Designs project, turning an iconic tower into a futuristic living space. The plans are in place, all you need to do is buy it and find a team of builders to do the work.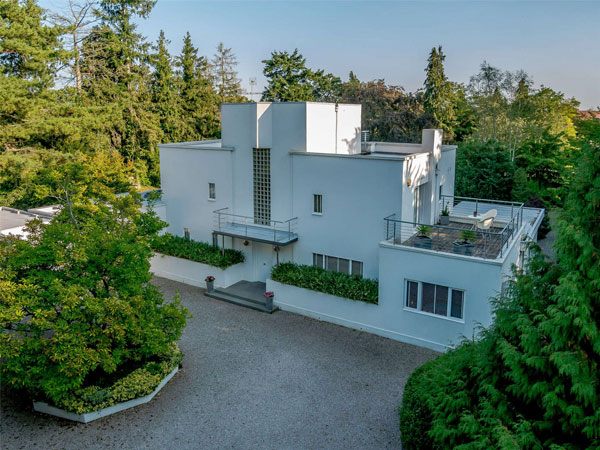 36. 1920s Thomas Tait modern house in Newbury, Berkshire
A lovely bit of early modernism, albeit a house that was heavily updated.
It didn't always look so good. It took the last owner around 20 years to bring it back to its best after not being so well looked-after by previous occupants. The original architecture and some key details remain, but with a fresh new finish for the 21st century.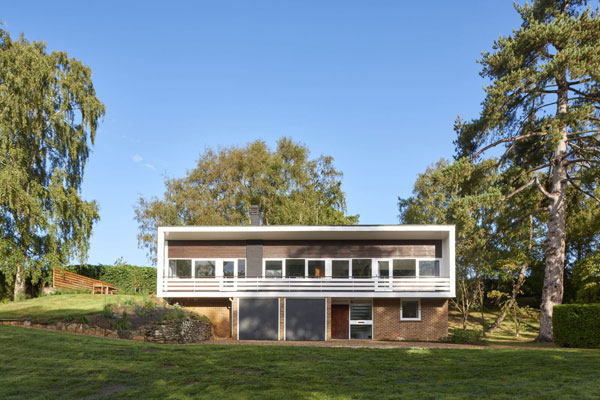 35. 1960s Candleriggs midcentury modern house in Lower Ufford, Suffolk
A before and after with the 1960s Candleriggs midcentury modern house in Lower Ufford, Suffolk.
That's because I featured Candleriggs way back in 2013 when it was offered for sale looking very different to the house you see here. The architecture remains but the finishes are so much better, bringing the house back to life and enhancing its modern-day appeal.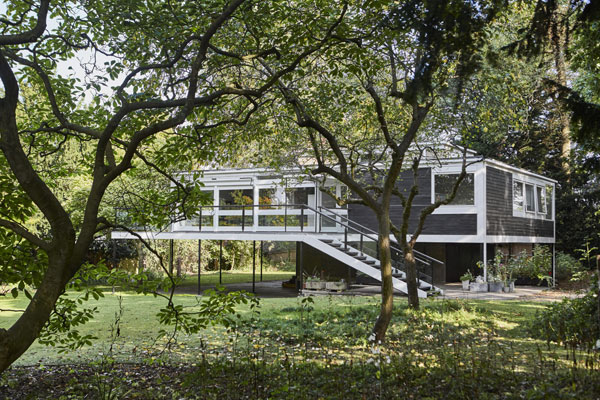 34. 1950s Rossdale House by Geoffry Powell in London N3
One of Britain's most architecturally significant modernist buildings, the 1950s Rossdale House by Geoffry Powell in London N3 was on the market this year.
It's also special because this 1959 grade II-listed modern house is the work of Geoffry Powell, better known as part of the Chamberlin, Powell & Bon practice, the only domestic dwelling he designed. Stunning inside and out and apart from some functional changes, much of that 1950s modernism remains in place.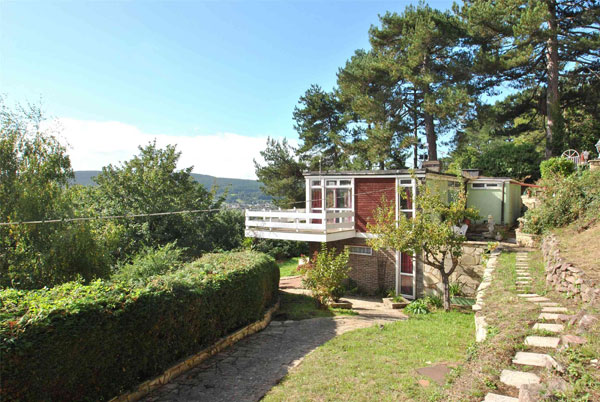 33. 1960s midcentury renovation project in Minehead, Somerset
From something perfectly preserved to a house in need of some attention. Although I'm sure a few of you will love it just as it is.
The exterior is amazing and some of the details inside are worth keeping too. But overall, this could be a very hip midcentury modern pad if you take a step back and rethink the finish and the layout. it isn't one for the faint-hearted, but it is an unspoilt example of 1960s midcentury modern architecture that deserves a second chance.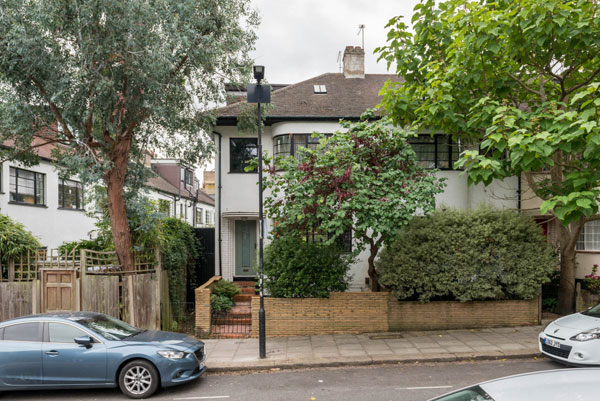 32. 1930s art deco house in London NW3
A lovely and authentic finish is the key selling point of this 1930s art deco house in London NW3.
This one dates back to 1934 and still boasts the original Crittall windows from that time. Beyond that, this is a house that has been 'sensitively renovated and extended' in recent years, adding an additional level of living space without destroying the look and feel of the place. Bags of character here.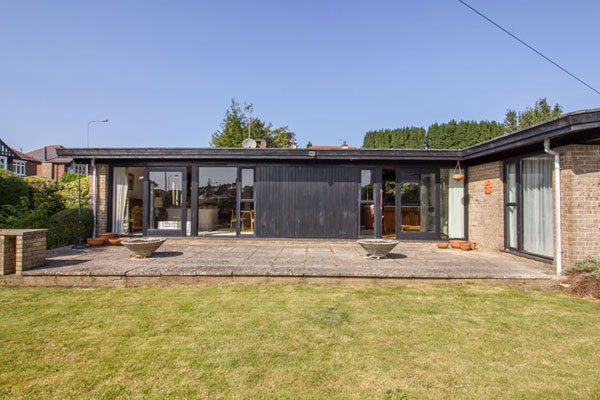 31. 1960s midcentury modern house in Penarth, Vale of Glamorgan
A couple of cool houses came up for sale in this area this year and both made the most popular houses of 2020. I think this is my favourite.
It was a first time on the market and had barely been touched in 50 years but despite that, this was still a very liveable house. Ok, the bathroom might not be that practical but that's about it really. Everything else has aged very well.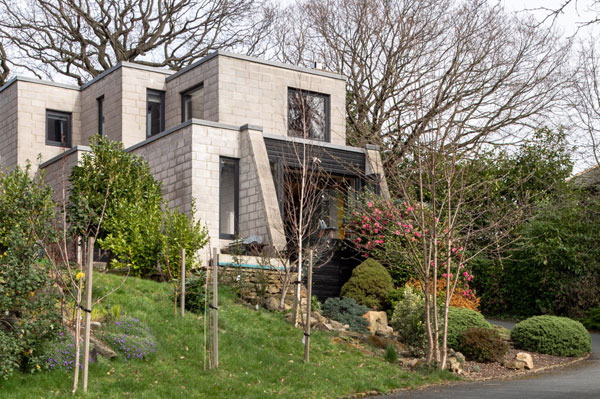 30. 1970s Brooks Thorp Partners modern house in Leeds, West Yorkshire
The last one of these I featured sold in days (to a WowHaus reader). This one was also very popular.
The house is part of Monkswood, a bold housing project made up of 10 houses, each one designed by architects Brooks Thorp Partners in the 1970s. Not just a random development, the houses were commissioned by a group of 'executives and creatives' from Yorkshire Television who wanted to be based around the Kirkstall area of Leeds. This one has been updated, but key 1970s details remain. A very desirable house.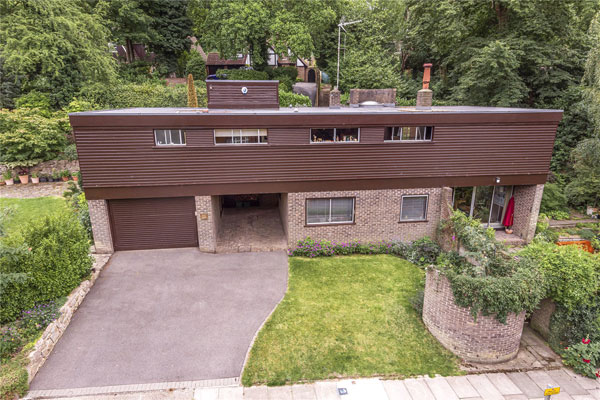 29. 1970s Geoffrey Carter modern house in Chislehurst, Kent
Modern houses are fairly common in the Chislehurst area, but this one is at the top of the pile.
Bold architecture of the day appeals, but it's the finish inside that seals the deal. It has been updated, but subtly enough to remain a house of the 1970s. Timber ceilings, exposed brick, angled staircase and more are still in place. But married with some more contemporary touches. A job well done.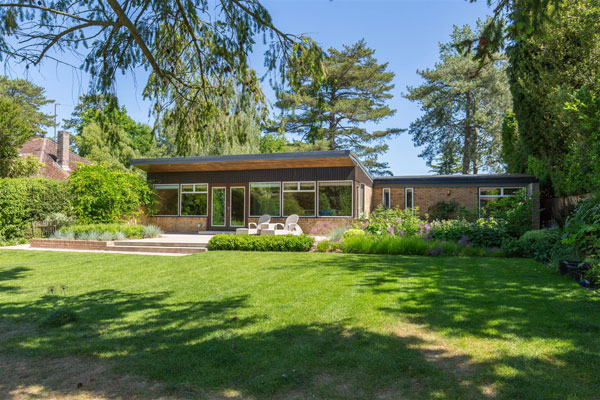 28. 1960s midcentury modern house in Uckfield, East Sussex
A Peter & Beryl Harrison design and one that was recently updated. But don't worry too much about that.
We are talking kitchen and bathrooms. But elsewhere the midcentury modern charm is still in place in this rather empty-looking house. It just needed some appropriate furniture to add the finishing touch.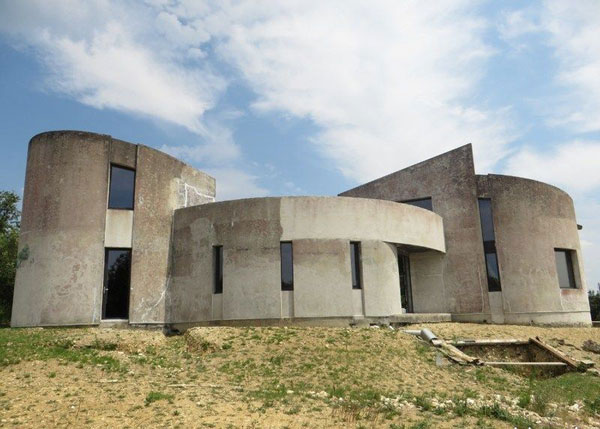 27. 1970s brutalist renovation project in Saujon, France
Everyone fancied taking this one on, myself included. No wonder it hit mid-table in the most popular houses of 2020.
This looks like a renovation project started, but not finished. Or is it a modern house never completed in the first place? Hard to tell. But the images show a brutal building that's effectively a shell right now and in desperate need of a new owner with vision. At just over £200k, plenty gave it serious thought.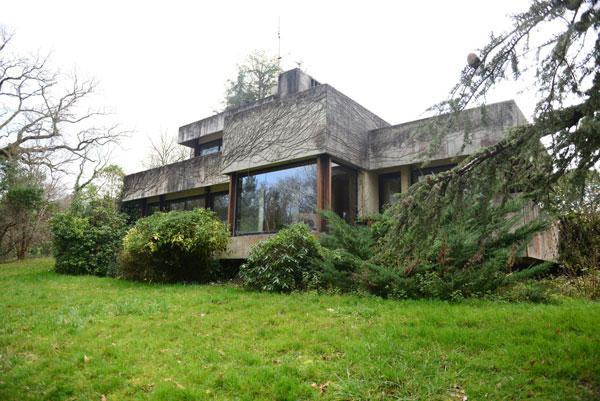 26. 1980s brutalist house near Bordeaux, France
Another brutal house in France, albeit one from a decade later.
Largely unchanged and a renovation project. Although more about the decor/finish rather than the structure looking at the images. A big house with plenty of land too.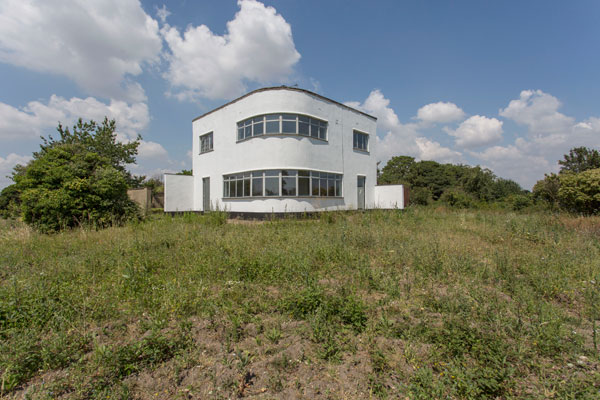 25. 1930s Wells Coates Sunspan house in Chadwell St Mary, Essex
I think this might have been in last year's round-up too. Because it does seem to hang around and move agents.
Why? Well, the comments offer up a few stories. But the bottom line is a rare Sunspan house with original details throughout. That's what brings the traffic here.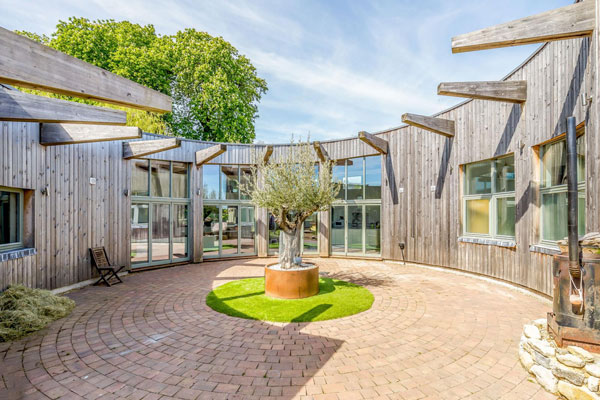 24. Grand Designs Roundhouse in Deanshanger, Buckinghamshire
A house from the Grand Designs TV show is always popular. Like this one.
This circular property featured on the Grand Designs TV show back in 2014 (season 14) and went up for sale in 2016, selling for around £900,000. It went back up this year for the same amount with no obvious changes. Still round and still with plenty of land to keep your round house private.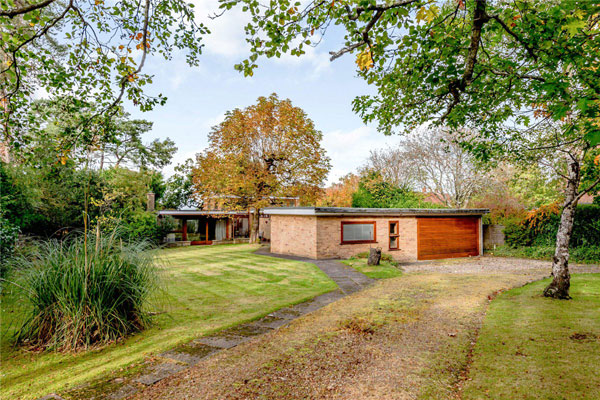 23. 1960s midcentury modern house in Newbury, Berkshire
A lovely midcentury modern house and a bit of a time capsule.
Perhaps a unit here and a fitting there, but pretty much nothing else of note. If this had an old TV and washing machine in place it might well look like something straight out a different era. Love the wood ceilings and exposed brick and obviously, you did too.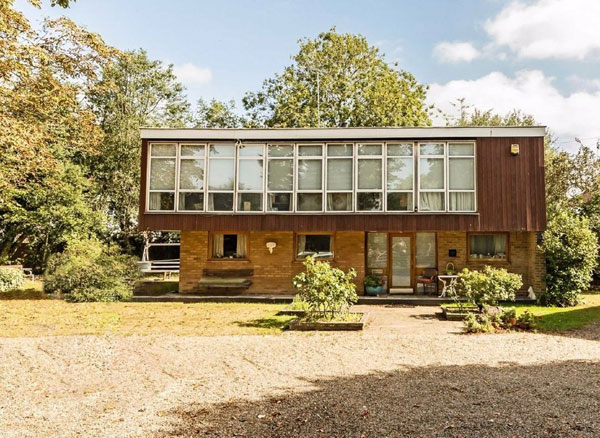 22. 1960s Kenneth Wood modern house in Hampton, Greater London
This was a house listing that left us wanting more. Which isn't necessarily a good thing.
The house dates back to 1961 and according to the agent, it was the Ideal Home 'house of the year' just after completion. So a house with a pedigree. It was also in a good spot, 'quietly tucked away' in Hampton village. But not enough photos for me. What was there showed a house that had changed little in almost 60 years.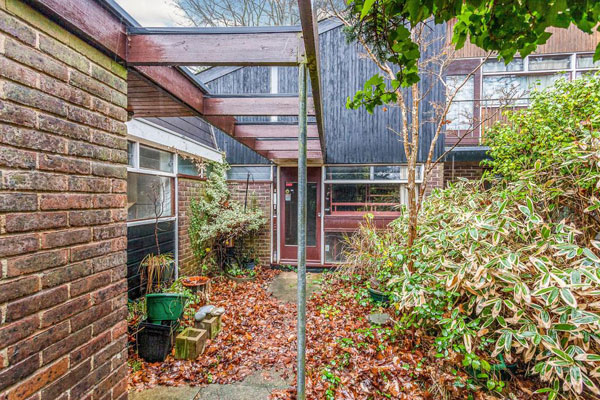 21. 1960s time capsule in Crawley, West Sussex
Featured this one just a few weeks back and as you might have guessed, it was massively popular.
So it should be. A 1960s house inspired by Scandinavian design, with all the beams and exposed brick you would expect. It needed updating, but that's perhaps because it hadn't been touched for decades. Came with its own one-bedroom annexe too.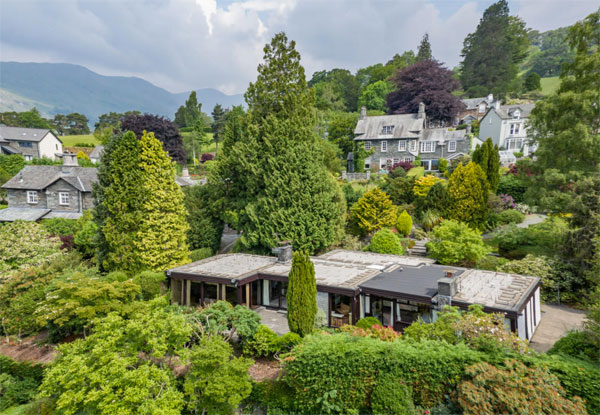 19. 1960s modern house in Ambleside, Cumbria
Ambleside conjures up images of quaint country cottages. Not 1960s modernism.
Perhaps that's why this one was so popular. This dates back to the 1960s and was the winner of a civic award back in the day. If I'm honest, the finish probably needed an update. But the bones of this one are still very appealing.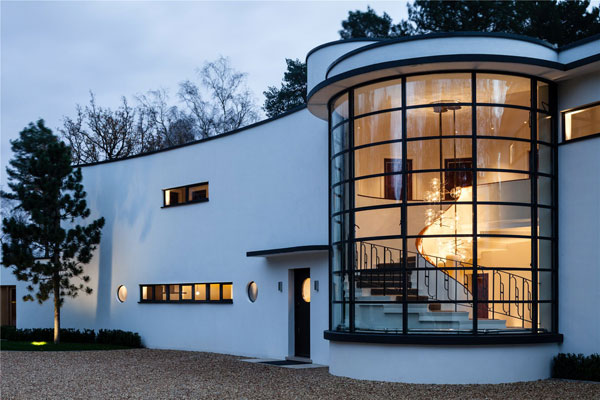 18. Oliver Hill's Cherry Hill art deco house on the Wentworth Estate, Surrey
The star of Pinterest (hence why it made the most popular houses of 2020), this has been on and off the market for some time. When you see the price you'll realise why it isn't one for the quick sale.
Pretty stunning though. Grade II-listed and updated recently by Avanti Architects after some years of being in much worse condition. Some might not like the end product in terms of its finish, but this is a premium affair that respects the original architecture and preserves it for future generations.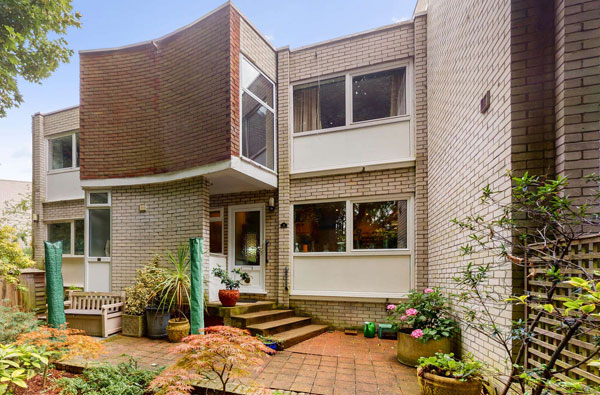 17. 1960s modern townhouse on Eel Pie Island, Twickenham, south-west London
Private island living in London? That's the selling point with this house.
It's an island in the Greater London area, accessed by boat or footbridge and with something like 50 homes, 120 inhabitants and two or three boatyards. This is your own community, with the footbridge private and parking for cars away from the island itself. It's also something on an arty community, with artists showcasing their work a couple of times a year. The house itself is interesting architecturally, but probably needed a bit of character adding in, looking pretty empty in the photos.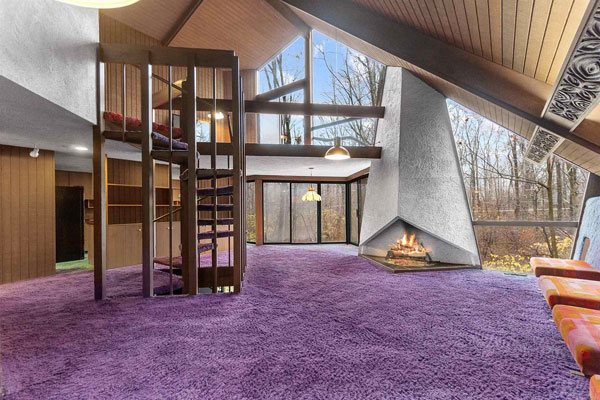 16. 1970s time capsule in Fort Wayne, Indiana, USA
Another interesting time capsule and one of a growing number of US houses in the most popular houses of 2020 rundown. More US house finds next year I think.
The outside hints at something special but the interior is still something of a showstopper. The fireplace, the carpets, the seating, the ceilings..everything really. I hope someone preserves most of it.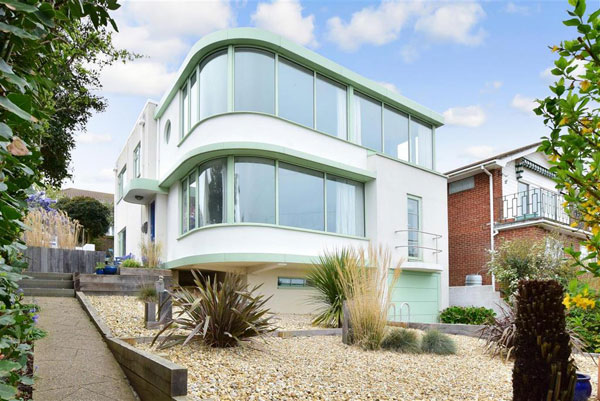 15. 1930s art deco house in Brighton, East Sussex
Another that was popular the year before, but went back up for sale in 2020.
A house that isn't quite what it looks like. Yes, it is an original art deco house and one that immediately catches the eye. But it has been updated and extended over the years, which has only increased its appeal.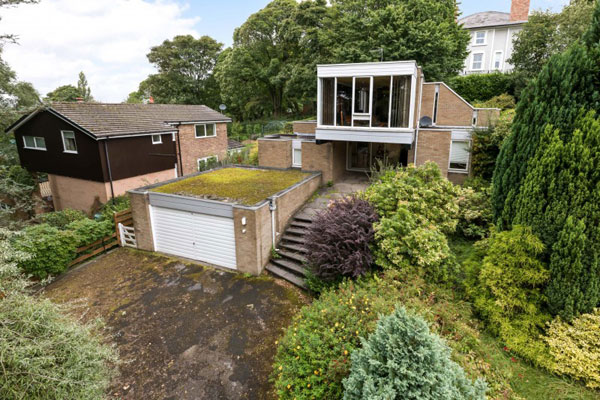 14. 1960s modern house in Parbold, Lancashire
I actually considered this one myself. Except that it was out of my price range and not the safest place for small children.
But a great opportunity for someone here. Bags of 1960s detail still in place, not least that amazing fireplace in the living room. A rather interesting design overall too. Your own piece of a bygone era in a rather attractive part of Lancashire.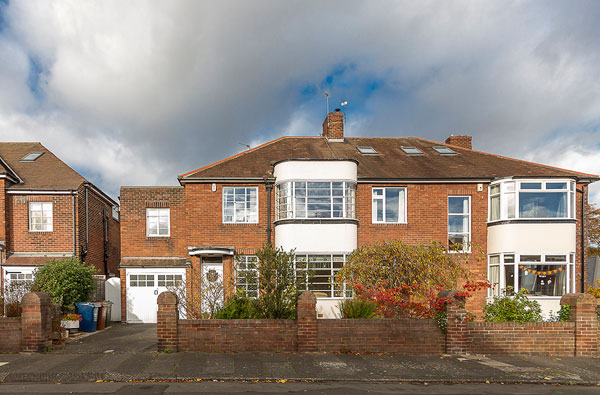 13. 1920s time capsule in Jesmond, Newcastle upon Tyne
Again, a time capsule hits big. Also, a house I would have missed but for a reader tip-off. I'm so grateful for all of those.
Some updates here and there, but the big period touches remain in place. The windows, the wood panels, perhaps even the kitchen too. No one is pretending that this one doesn't need a lot of work. It does. But a great opportunity for someone who loves this era.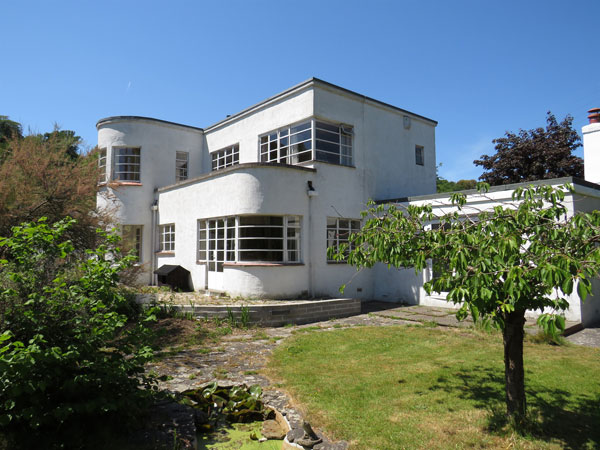 12. 1930s art deco renovation project in Clevedon, Somerset
Massively popular, but this house just hasn't been able to sell.
You might get an idea why by reading the comments. But on the face of it, Doris Hatt's former home should be the dream renovation project for art deco lovers. Maybe it's just a little too much work. I live in hope that someone will preserve it one day.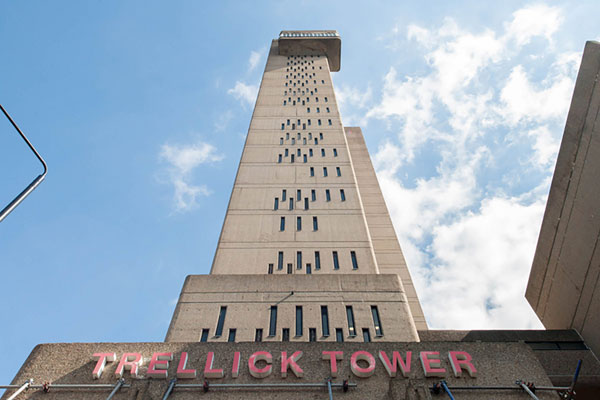 11. Apartment in Erno Goldfinger's Trellick Tower, London W10
Not long ago these apartments were always going up – and often fairly cheap. Less so these days.
I haven't seen many this year, which is why this one made its mark. Actually, there was more that that. This one is the best presented Trellick apartment I have ever seen, with the concrete walls and wooden floors being the stars of the show, with furnishings that match that finish and the original era. Lovely.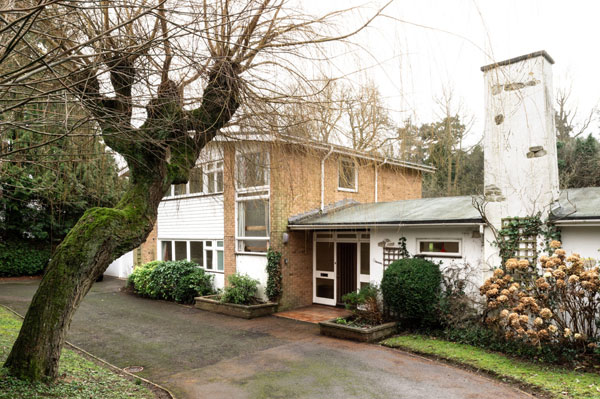 10. 1960s Dennis Darbison midcentury modern house in Maidstone, Kent
The one I'm perhaps most surprised about really. At least in terms of being in the top 10.
Not that there's anything wrong with it of course.
A 1960s house that isn't as attractive as some from the outside, but was you might expect from s first time on the market, packed with plenty of 1960s details within.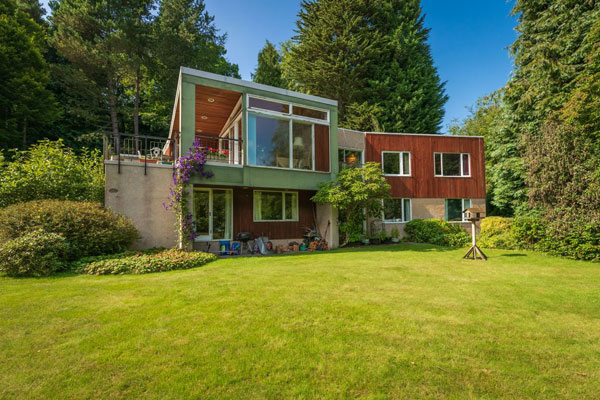 9. 1960s midcentury modern house in Rait, Perth and Kinross, Scotland
Much fantasising about the move to this part of Scotland when this one went up. Which is why this one hit so high in the most popular houses of 2020.
Lots of land, an interesting piece of 1960s architecture and a house in need of some updating, but still boasting its key design details from 50+ years ago. All for rather modest money.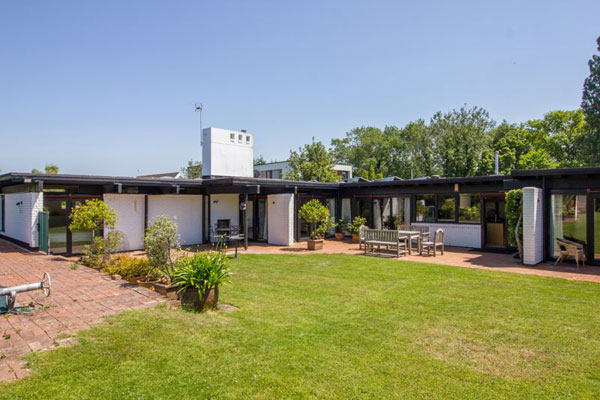 8. 1960s Hird and Brooks midcentury modern house in Penarth, Vale of Glamorgan
The second Penarth property in the countdown and another midcentury modern affair.
A single-storey house by renowned local architects Hird and Brooks, it can be found on 'one of Penarth's most popular roads' and essentially a British take on Californian style. Updated over the years, but the original character remains. Fans of brick finishes and wood ceilings will love it.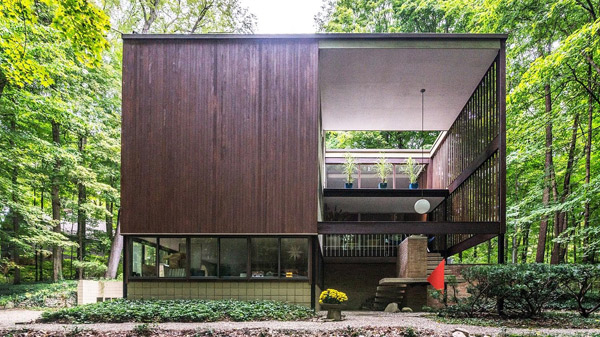 7. 1950s Tivadar Balogh midcentury modern house in Plymouth, Michigan, USA
A stunningly well-preserved midcentury modern home, dating back from 1957 and still looking like new.
The architecture is amazing, but the finishes and design touches within take this one to another level. Helped by all that designer midcentury modern furniture too. This is the dream.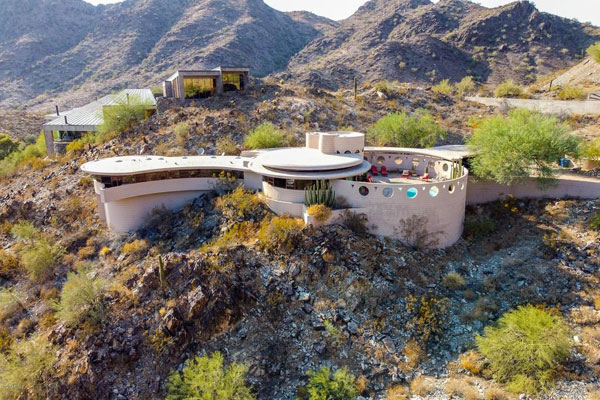 6. Frank Lloyd Wright's Circular Sun House in Phoenix, Arizona, USA
This one went mad at the start of last month. So much so that I presumed it would take the number one spot in the most popular houses of 2020. Not so.
The last-ever FLW design, dating back to 1959, with construction overseen by John Rattenbury, an apprentice of Frank Lloyd Wright. The architecture and location combine beautifully. So much so that the interior hardly matters. But the interior doesn't disappoint either. John Rattenbury was called back in the 1990s to oversee the renovation, bringing it back to its best. The ultimate Bond villain's lair.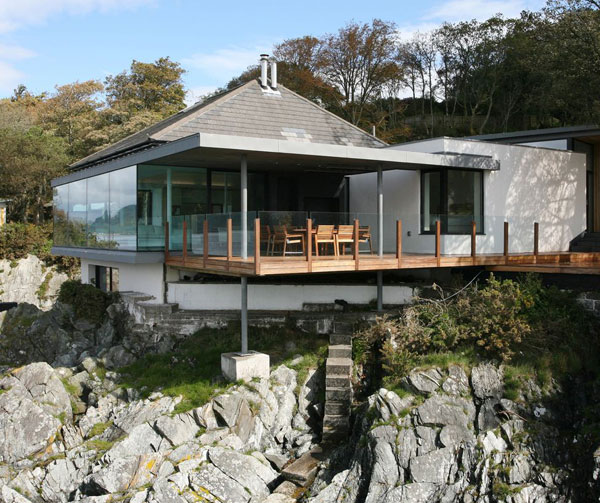 5. House from The Nest in Argyll and Bute, Scotland
Remember The Nest? It was a Sunday night drama about a surrogate mother (and more besides) on the BBC. Plenty of big-names in it, but the house was the unsung star of the show.
So much so that everyone went hunting it down, myself included. Interestingly, it was being offered as a holiday let. Although the current situation hasn't made things easy on that front. When the world gets back to normal a little more, this is one to consider if you want a break with great scenery and equally great architecture.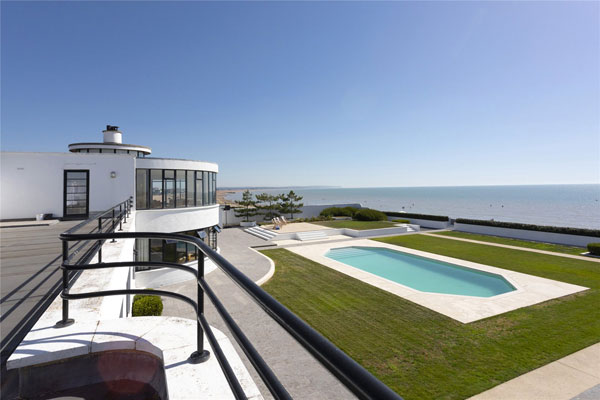 4. C. Evelyn Simmons art deco house in Pevensey Bay, East Sussex
Art deco or early modernism. Perhaps even moderne. The terms are irrelevant, This is just a beautiful piece of coastal architecture and a ceetainty for the top five of the most popular houses of 2020.
The house was created for the actor Nicholas Prinsep and his American wife Anita Elson, a celebrated 'jazz age' dancer and actress. It was designed, as you might have guessed, to take full advantage of those sea views, with most rooms offering at least some view of the sea. An extensive and sympathetic renovation has been undertaken more recently, with both the inside and outside picture perfect. If this is your era, then this is likely to be your dream house.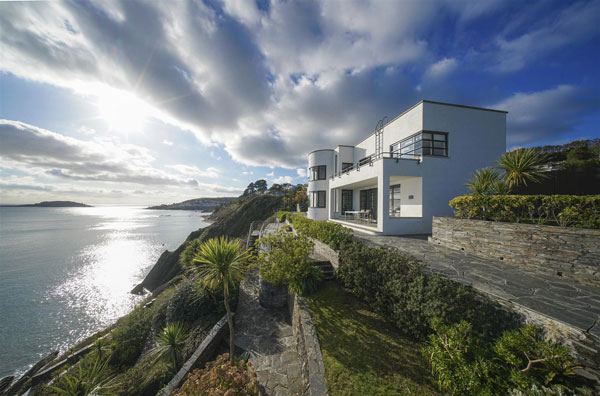 3. 1930s Gradna House coastal art deco property near Looe, Cornwall
Well, I say it's your dream house. This one might be too. Yes, more coastal art deco. There is a theme here.
Gradna House was built for the Wills Tobacco family in the 1930s as a holiday getaway, passing into the ownership of Lord Bath in the 1940s. For some years it was in disrepair before a local businessman saw its potential once more. The renovation took 10 years and more work has been done since to showcase the beauty of this one. Your own access to a rather lovely beach too.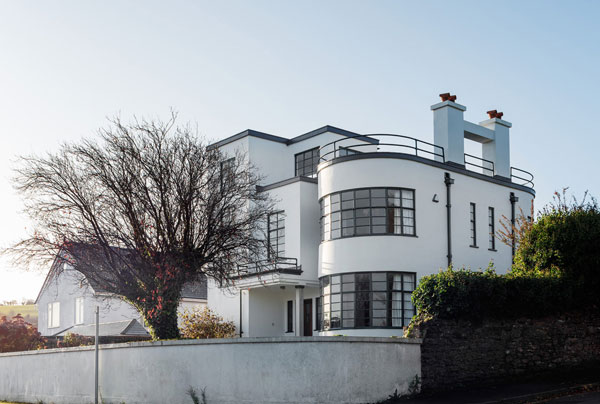 2. Sunpark 1930s art deco house in Brixham, Devon
I am not at all surprised that the return of this one hot so high. Probably the most popular find of all-time on WowHaus. Although an upcoming list on that front will confirm it. Either way, another I fully expected to be in the mix for leading the most popular houses of 2020.
This was up some years ago before selling after a lengthy time. It went back up for sale and again, was marketed for quite some time. That second time the house, which was as original as they come, had been subject to a very sympathetic renovation by the owners. This is one of them most original art deco houses out there. I can only presume the location is part of the reason for it not being snapped up instantly. It's certainly nothing to do with this amazing house.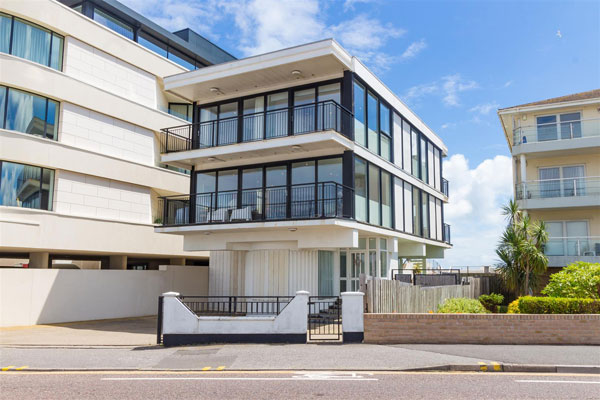 1. 1970s modern house in Sandbanks, Poole, Dorset
And the top house this year in the most popular houses of 2020 is…something of a a surprise!
Ok, not much of a surprise to me. I saw traffic to this one going through the roof back in October. Partly that was due to a 'famous name' connection that I removed because I couldn't 100 per cent confirm it. But the house remained the real star.
This is a rare find in the exclusive millionaire's playground of Sandbanks. A surviving piece of 1970s modernism and with the largest surviving garden due to a lack of development here.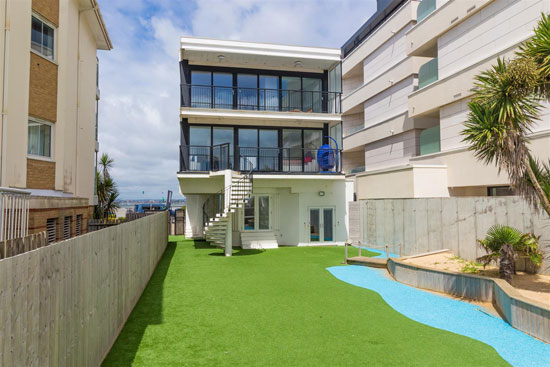 Updated of course, but key architectural details are still in place. The cantilevered floors, exposed steels, a central circular staircase cast in concrete and the walls of glass, for example.
The downside is the price. Nothing comes cheap on Sandbanks. But if you have a windfall and like the area, there's a 1970s house here in need of preserving. Congratulations to Luxury and Prestige for having the top house of 202o on WowHaus.
So that's the most popular houses of 2020 completed. Thanks again for all your help and encouragement. I'll be back with the new house finds for 2021 next week.