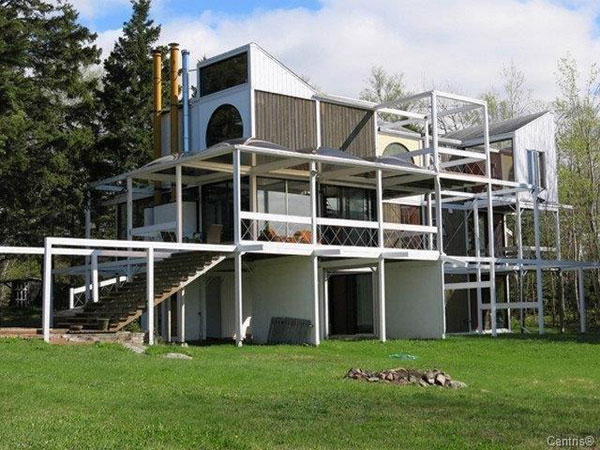 Back up for sale, this 1970s Jacques de Blois modern house in Saint-Damase-de-L'Islet, Quebec, Canada is a steal.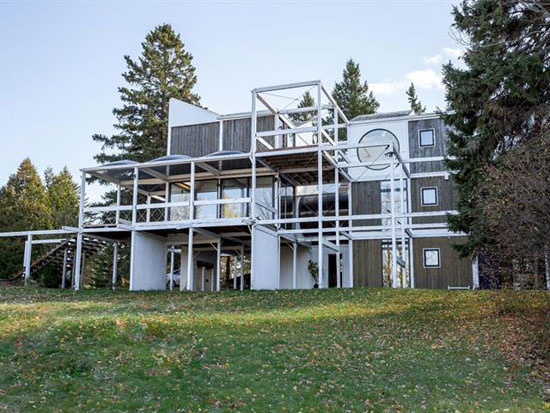 It's also a stunning piece of architecture, which is why I'm so surprised that the house hasn't been able to find a buyer. I don't know Quebec or the market there. But if this was in the UK at this price, the house would sell in minutes.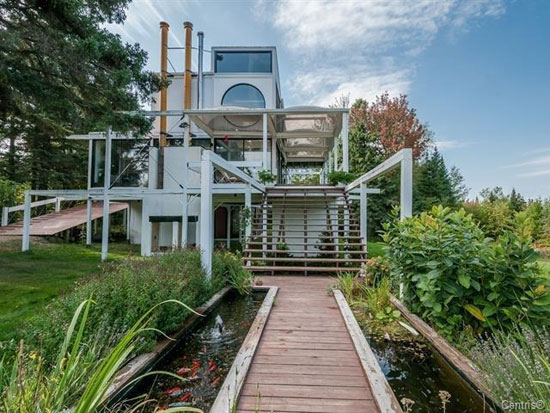 However, it isn't. So you need to be in that part of the world or be in the mood for moving there. If a house was going to convince me to do that, it would be this one.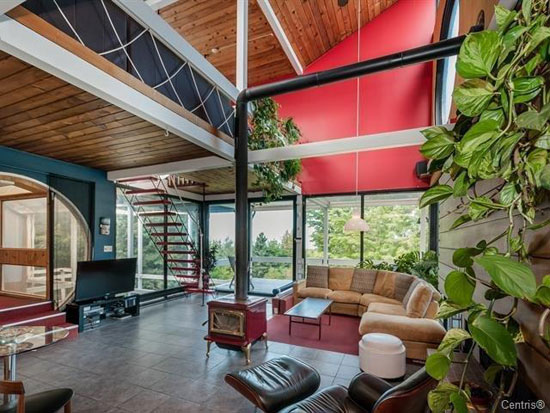 Not much in detail from the agent, but as it was up a couple of years back (and presumably didn't sell) I have some background on it. It's an interesting house and back story.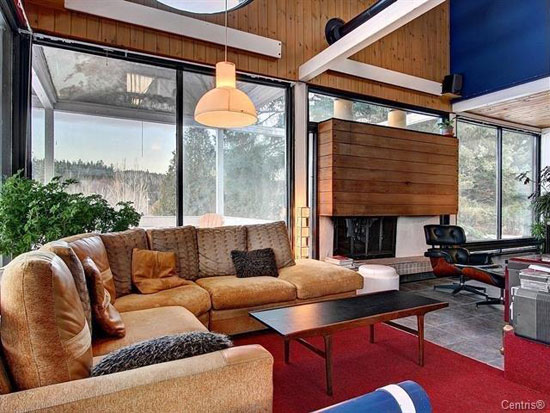 The house actually dates back to 1972 and as the title states, was the work of Jacques de Blois. It was designed and built for the Bombardier family and based on a design for the Cuban Pavilion at the Expo 67 in Canada, which the family fell in love with.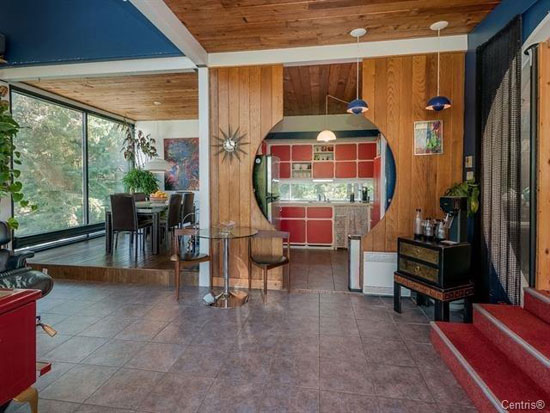 I love the idea of a family seeing something so bold and deciding that it was the design they wanted for their next house. Especially around 50 years back. Radical then and even today this is the kind of design that would stop you in your tracks.
Nothing seems to have changed since it was last up for sale (which is why I am presuming it didn't sell back then) and in truth, apart from a few little details, not much has changed since the early 1970s. If you want a house that's both a talking point and unashamedly retro, then this is the house for you.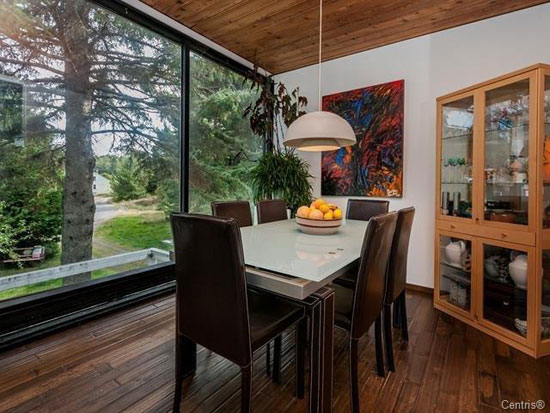 Saying that, how could you change it? The architecture itself with its open frame probably wouldn't take well to any kind of interference. The interior too for that matter.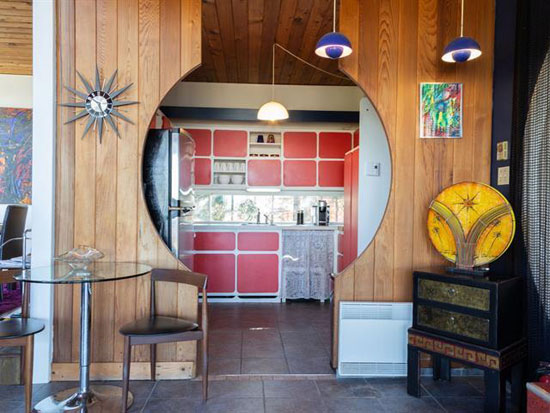 Head in and experience the vast open space of the reception space with the beams and walls of glass, not to mention open-tread staircase and feature fireplace. That alone would be enough. But there's more.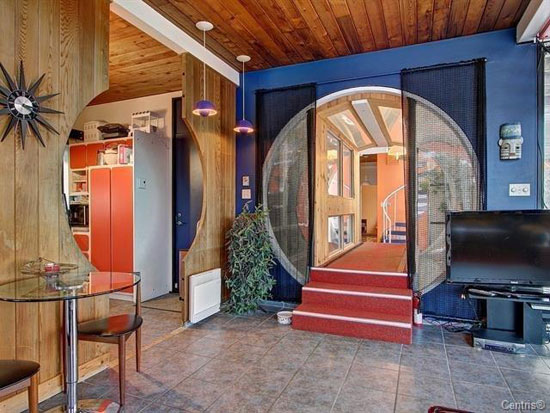 So many 1970s details still in place, a retro kitchen behind the cut-out in the wood panel, a circular walkway, more open-tread staircases, some bold colours, a space-age bar, feature circular windows (yes, circles seem a big thing here), a cool gallery area plus sizeable (and strangely conventional) bedrooms.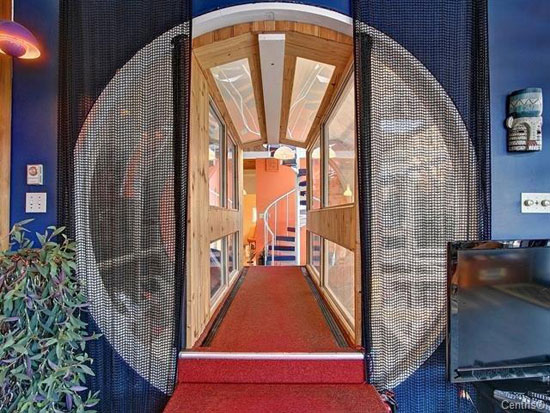 There is a lot to take in an. It isn't for everyone, but this still works as a family home. Ok, the open-tread stairs and gallery isn't particularly small child-friendly but if you have kids a little older, they will love this as much as the design-conscious adults. Probably more. This is like a grown-up kids' playhouse.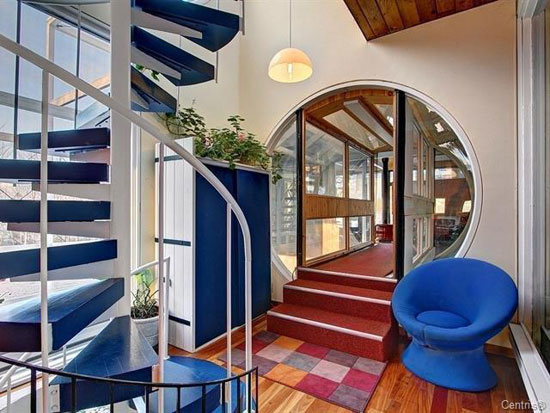 Terraces too, with a sunset view over the St-Laurent River and the Charlevoix mountains. 7,500 sq. metres of land as well and if you want to experience more of your surroundings you have direct access to hiking and snowmobile trails from a property at the heart of the Appalachians.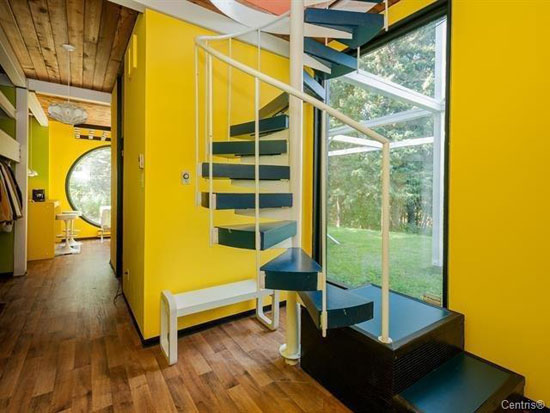 A lot of space inside too, covering something like 2,483 sq. ft. overall. The layout is over three floors, with the ground having two non-specific rooms, as well as a laundry and storage.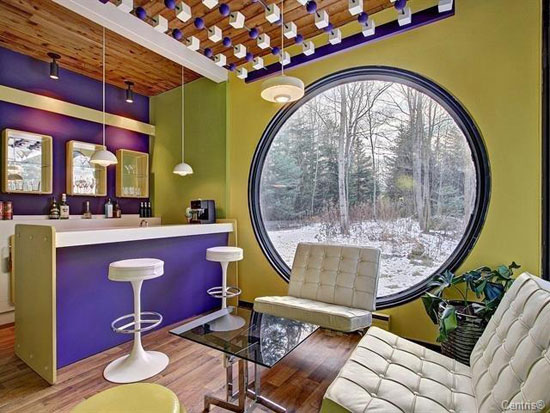 Much more interesting above that, with the next level hosting the living room, dining room, kitchen, more storage, two bedrooms and a bathroom.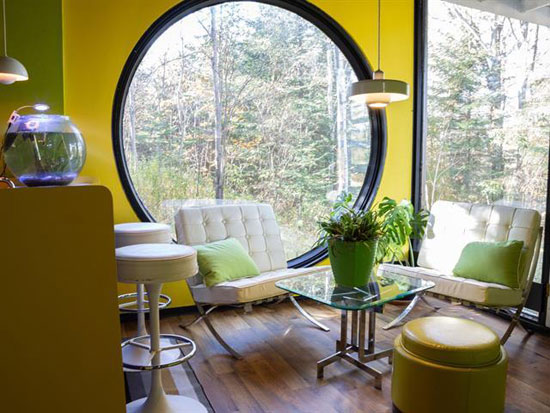 Finally, the third level has the master bedroom suite, a bathroom and a further sitting room. If you need more space, you might find that in the detached garage. Don't worry about parking the car there as this one has 26 designated parking spaces.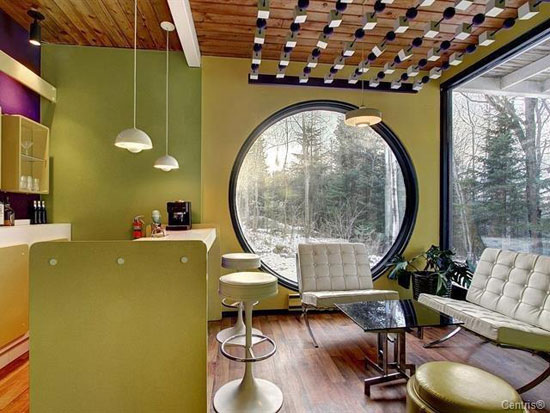 So much more to see, so do have a look at the listing for this one. As I said, a bit of bargain as the house has dropped to something like half of its price a couple of years ago.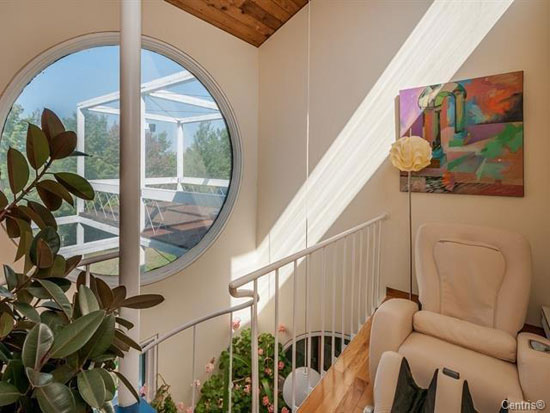 Right now, this is up for around $338,000, which today works out at something like £258,000. I know. In light of UK prices, this is ridiculously cheap.
Images and details courtesy of Realtor. For more details and to make an enquiry, please visit the website.