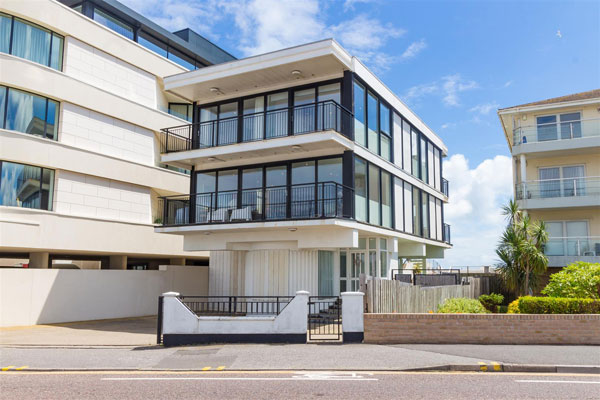 Set in a dream location, this is a 1970s modern house in Sandbanks, Poole, Dorset, which is up for sale but hopefully not for demolition.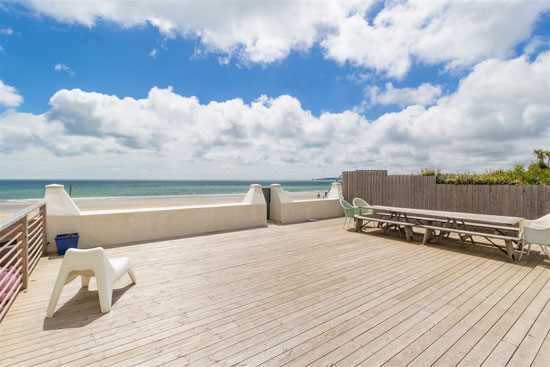 Yes, a house in Sandbanks, an exclusive area and one I have mentioned many times in the past. Sandbanks is home to some rather wonderful pieces of bold architecture.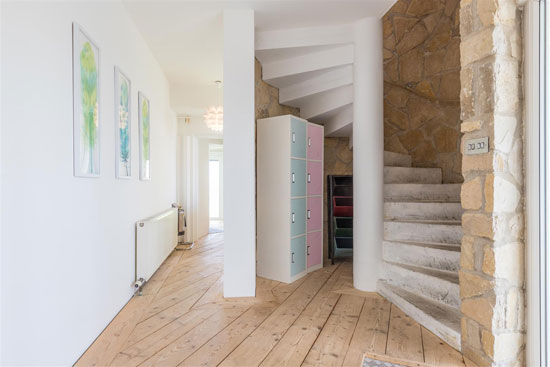 But many of the builds there are contemporary designs. This one has survived pretty much unchanged for decades on the sought-after strip. That is a big selling point for me and many others I would guess.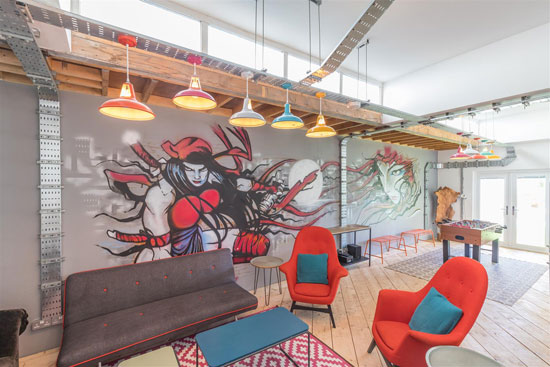 There has been talk of celebrity connections to this place, but none that I can 100 per cent confirm. As such, I am skipping over them for now and focusing solely on this wonderful house.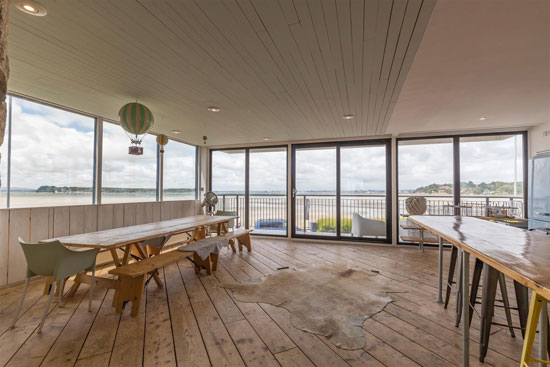 The agent confirms that this is a 1970s design, with the house actually dating back to 1973. It is also a ouse that and that 'won national acclaim in its day', hinting at its suitability as a Bond villain's lair. Back then, this was likely to have been the exception on Sandbanks, not the norm.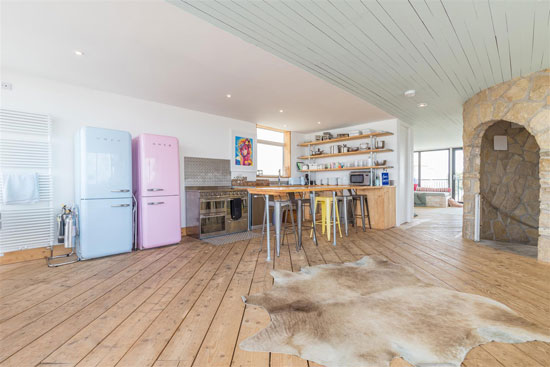 As I said earlier, Sandbanks is one of the most sought-after beach locations in the UK. Possibly THE most sought-after. The land is a huge asset here. Which is a positive and a negative, depending on where you are coming from.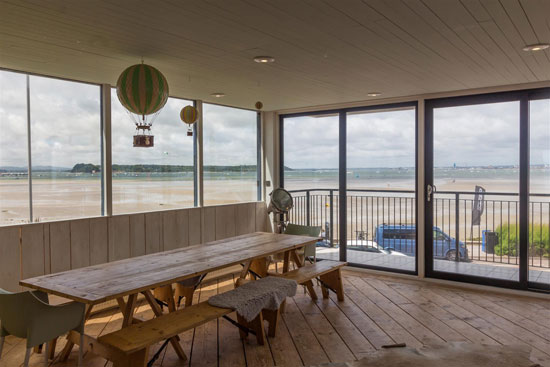 The plus is that the house is still standing and although updated over the years is still a striking piece of 1970s modern architecture. It doesn't need much, if anything, to make this a dream of a place to live. The current owners have already got that covered.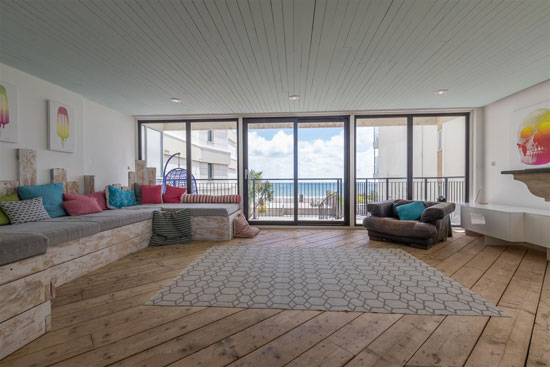 The negative, in terms of the property's future, is that the land is an asset in this area. There was planning permission (now expired) to enlarge and remodel the house, as well as planning permission to redevelop and turn it into apartments. The price takes all of that and the location into account, as you would expect. This isn't one for us mere mortals unless our numbers come up on the Lotto draw. But I know from past experience that some of you might in a position to buy something like this house.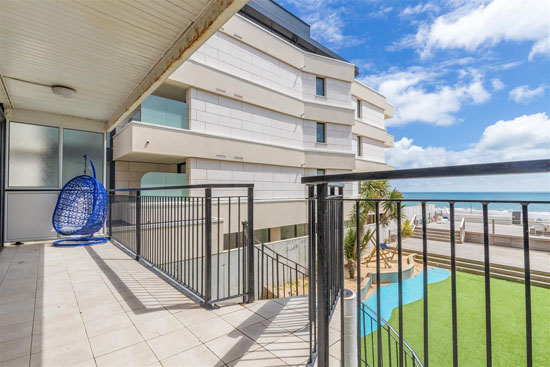 So if you happen to be comfortable financially and want something in this exclusive part of the UK, do think about saving this one and taking in its breathtaking views each and every morning.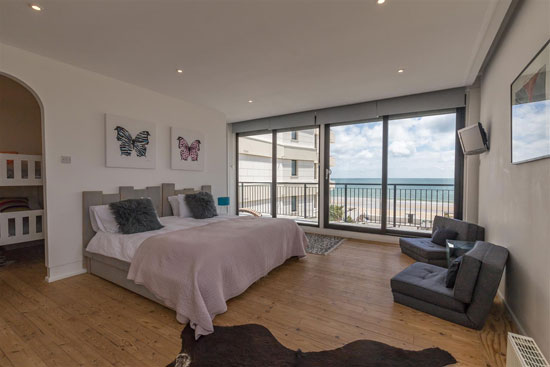 Known as Horizons, this is a very '70s design with its cantilevered floors, exposed steels, a central circular staircase cast in concrete and the walls of glass. The latter for good reason. As I hinted at above, there are some stunning views on offer from this house, with the beach on one side and Poole Harbour on the other. Its lack of development so far also means it has 'potentially' the largest garden on this exclusive strip of land.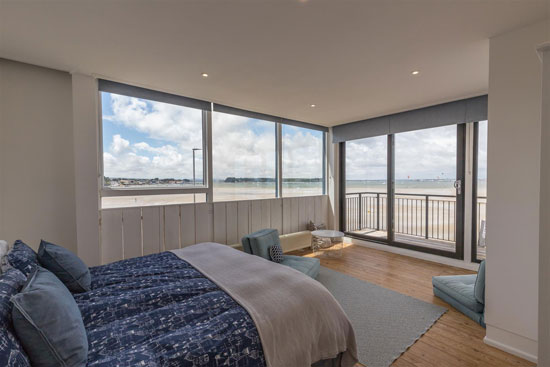 Inside it has been updated, but that statement staircase remains, as does all of that lovely glazing. But beyond that, this is a fairly neutral finish (outside of the mural), with wooden floors, white walls and an open, contemporary living space. As you would expect really. It's a design that has aged very well.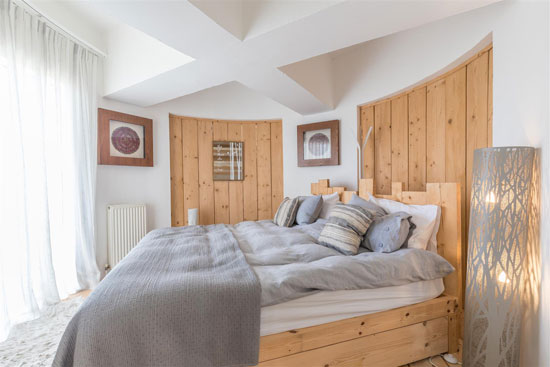 The ground floor has the entrance hall and foyer, as well as a guest bedroom, bathroom, laundry and large games room.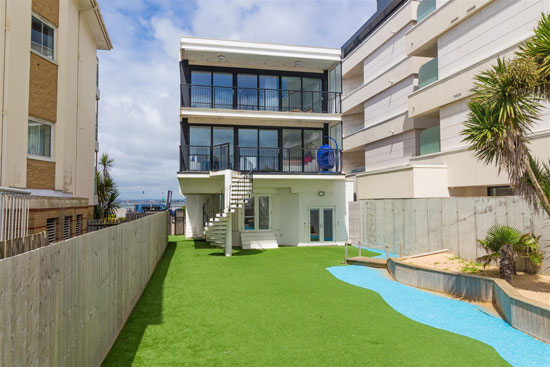 Head up the staircase to the first floor, which is the main living and entertaining area, with the spiral staircase at the centre of it. Space is used as a large living room. a kitchen and breakfast area, a dining area and a bathroom. Balconies to both sides and an external spiral staircase from one of the balconies too.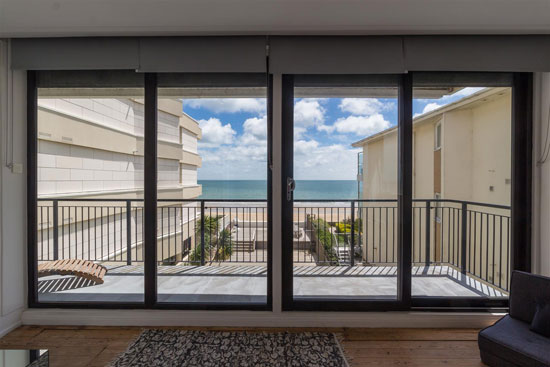 Head up the next floor, which is where you will find most of the bedrooms. A master suite has access to its own bathroom, with four further bedrooms here, as well as a bathroom. Again, balconies to both sides.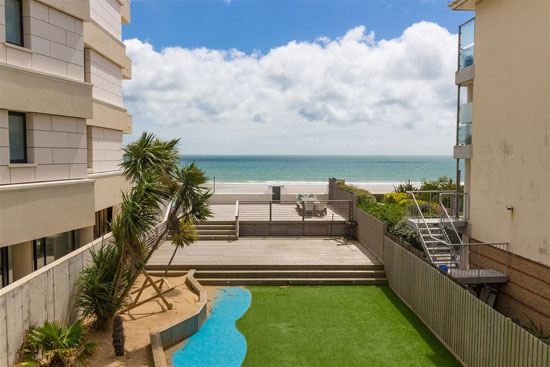 Let's not overlook the outside space, which is, as I said, something of a premium in this part of the world. A large beachside terrace area with some greenery and palm trees. The beach is just a hop and a skip away too.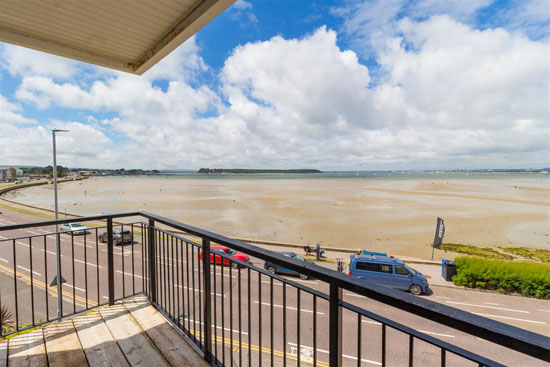 Fancy it? I know I do, but the £5,000,000 asking price means this remains very much a fantasy home for me. Hopefully, you are in a better position in terms of purchasing this one.
Images and details courtesy of Luxury and Prestige. For more details and to make an enquiry, please visit the website.
Huge thanks to the current owners for their help and feedback in putting this together.