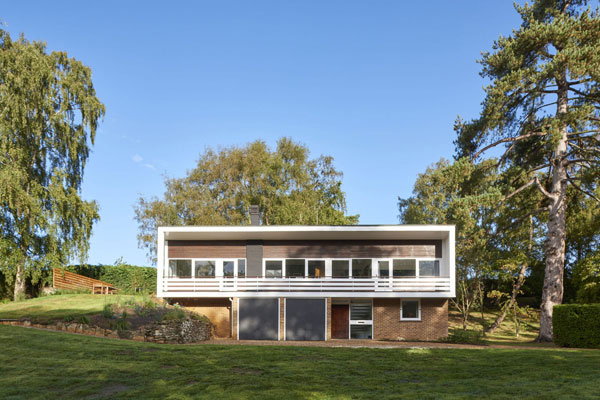 I love a before and after, which is what you get with the 1960s Candleriggs midcentury modern house in Lower Ufford, Suffolk.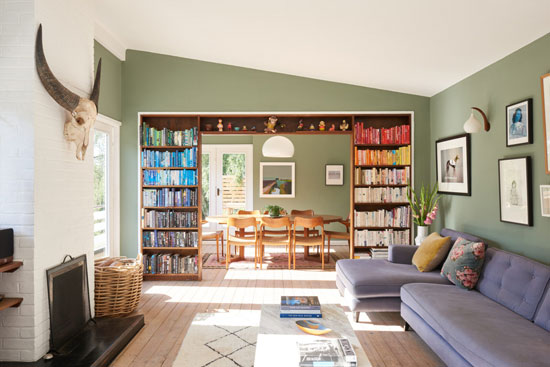 That's because I featured Candleriggs way back in 2013 when it was offered for sale looking very different to the house you see here. Have a look and compare it yourself.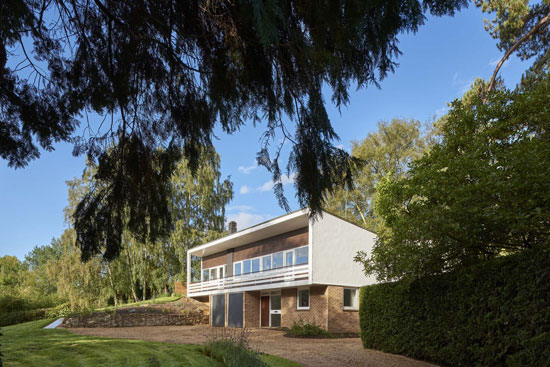 Structurally it didn't look a great deal different. The house has kept its original design for over five decades, which isn't always the case when it comes to modern houses of the mid-20th century.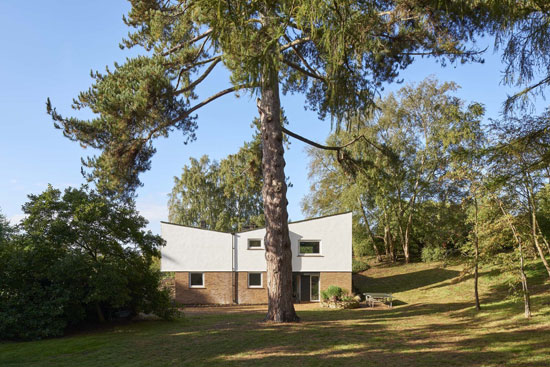 The difference was the finish. If you looked at the 2013 version of this house you'll realise that. I said at the time it 'does need some care and attention' and looked unloved. It needed someone to come in and give it the right kind of makeover. Thankfully, someone did just that.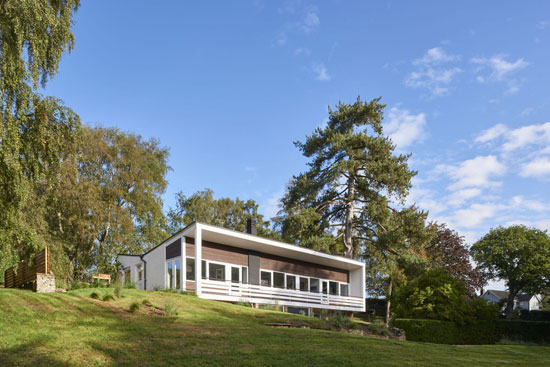 The place is now pretty much immaculate. Updated, modern, but still with enough period detail and character to turn heads. That's what you want for a house of this vintage. This is 'dream home' territory for me.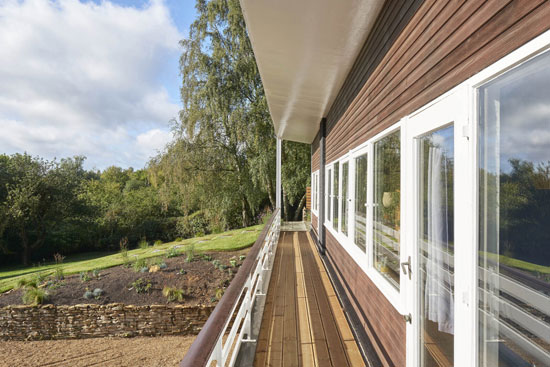 Yes, a lot of what is here might be new. But the right elements have been maintained. That architecture itself of course, with the full-length balcony, wood front door and wood cladding. That butterfly roof is rather special and not obvious from the front.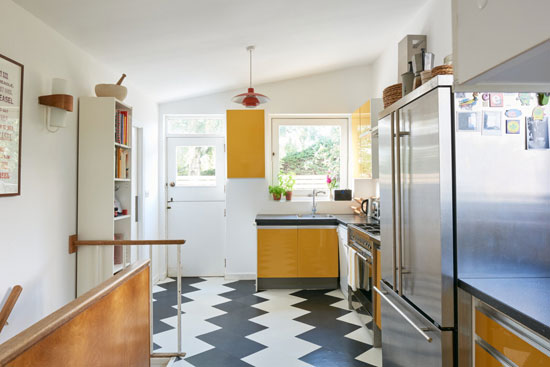 Once inside, there is still some exposed brick, the angled rooflines come into play and the original staircase is still present. But elsewhere, the current owners have gone through this with an eye for detail, from the furnishings through to the paintwork. Everything is 'just so'. A lesson in how to renovate a period house.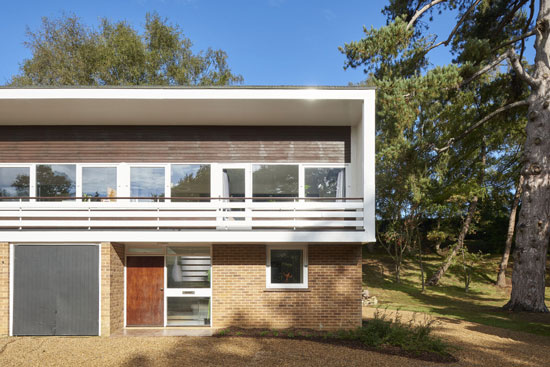 You will find it in over an acre of wooded grounds at the edge of Suffolk's AONB heathland, three miles north of Woodbridge and within walking distance of the sought-after village of Lower Ufford.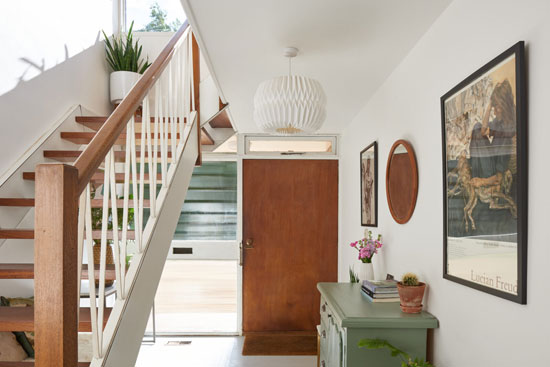 A substantial house too, which again might not be evident at first glance. You get 2,293 sq. ft. of living space, with planning in place to 'significantly extend the internal footprint' if you want to. Not sure I would unless the integrity of the design is maintained. But have a look at those plans if you are pondering this one.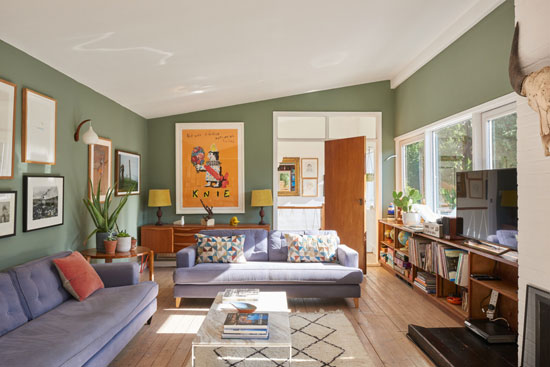 The house is approached via a 'quiet' country lane, set back from the road by an 'expansive lawned garden' that is bordered by mature hedging and a series of 'tall specimen trees'. A shingle driveway leads to a turning circle and the double integral garages.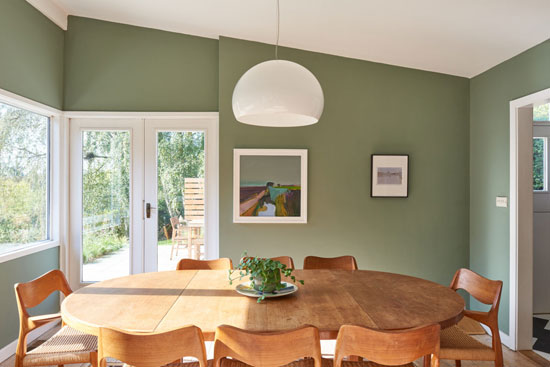 Head in through that I presume is the original front door, which is underneath the timber-framed balcony runny across the front of the house.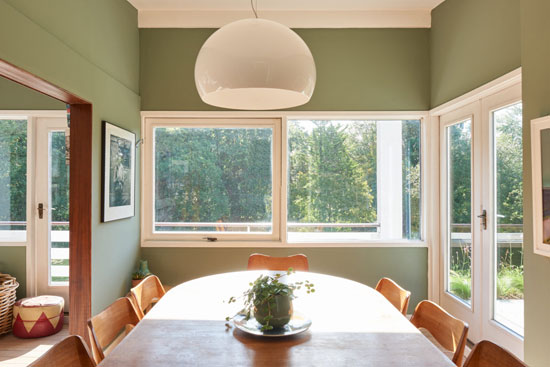 Three of the five bedrooms are, as you might have guessed, at ground level. All feature hand-crafted joinery, a good amount of storage and views across the garden. Also on this floor is the bathroom, along with a large utility area.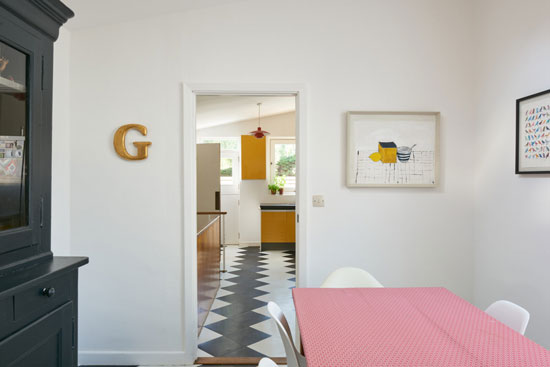 After that it's your first chance to experience that original open-tread timber staircase, taking you up to the wide/open landing and the upper-level accommodation.
The main reception is a wonderful and open space, complete with a white-painted brick fireplace in the centre of the room and a timber-framed doorway flanked by 'bespoke inset bookcases'. A solid wood floor too.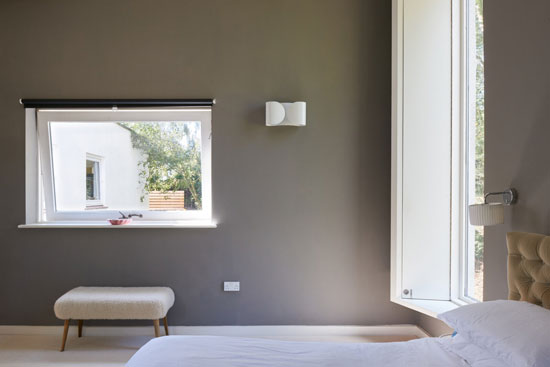 Beyond that is an interlinking dining room, with glass doors leading to the side terrace and that balcony. There is an additional reception room, further along, leading onto the suitably retro kitchen.
The main/master bedroom is up here as well, finished with 'long ribbons of glazing' and with access to a large en-suite bathroom. The fourth bedroom is also on this level.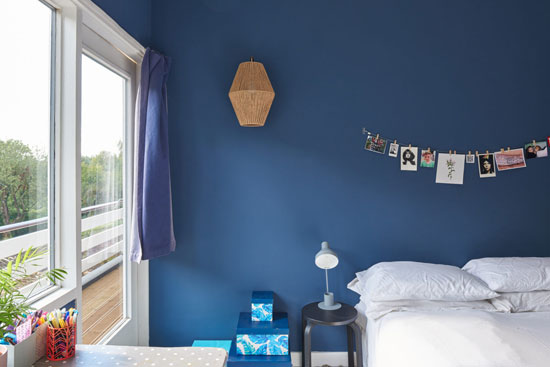 An additional bedroom, office or studio too, via a covered walkway on the ground floor. Self-contained and with its own bathroom, it would make a great annexe or an office if you want to separate yourself away from the house during the day.
I mentioned the gardens briefly, but to recap, they are mainly lawn with a woodland border. Some areas look newly-landscaped compared to the past listing, which is a bonus. Note that there is a Shepherd's Hut too, but that is available by separate negotiation.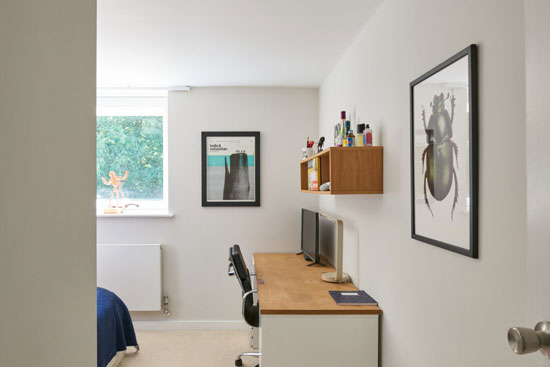 As I said, a wonderful house and one that has the potential to be extended further, both in terms of living space and landscaping. As you might expect, this one is priced higher than in 2013, with the current asking price at £825,000.
Images and details courtesy of The Modern House. For more details and to make an enquiry, please visit the website.
Update: Big thanks to there family of the original owner for adding in some extra details for this house.
We now know that the house was designed by local architect Kevin Dowse, with the carport and studio (now the master bedroom) added later in 1970. It goes by the name Candleriggs after an area of Glasgow, which was where the original owners came from.