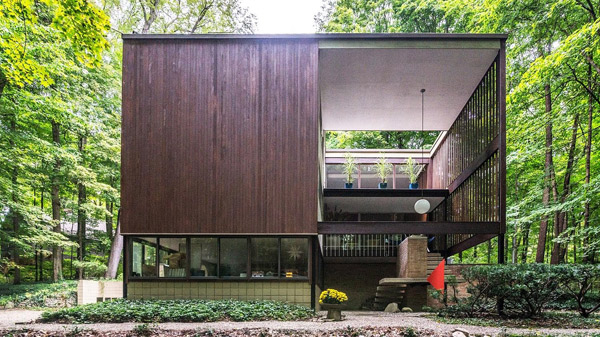 This marvellous 1950s Tivadar Balogh midcentury modern house in Plymouth, Michigan, USA,up for sale for the very first time, has had a price drop.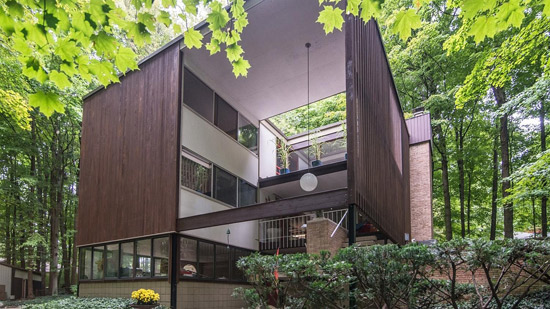 An award-winning design, it picked up the Progressive Architecture prize in 1957, with the house featuring on the National Register of Historic Places since 2013.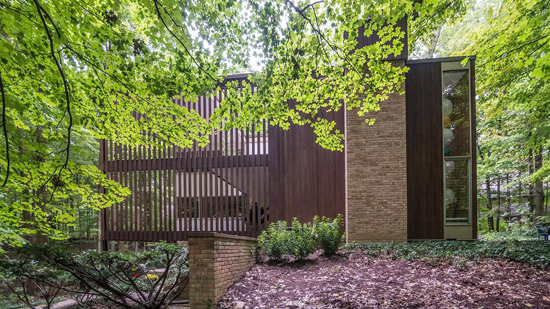 The architect-designed and built the house back in the late 1950s for the use of himself and his family. He lived here until his death in 2007, with his widow Dorothy staying on here until 2019.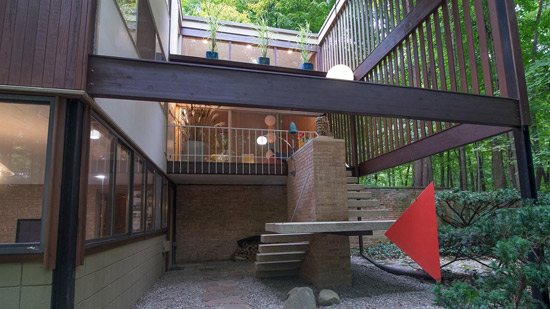 With that in mind, I can only presume that this shrine to midcentury modern architecture has been like this for many years past. I can't imagine major renovations taking place since August of this year. It's a credit to the architect's vision and a credit to the family for maintaining it over the decades.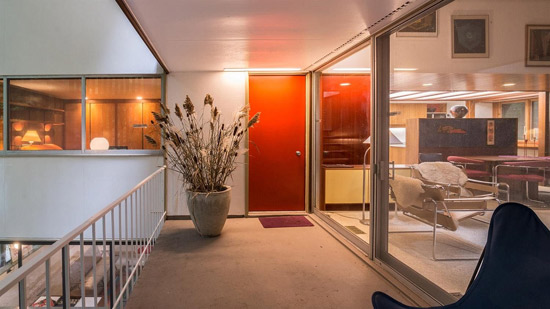 Affectionately known as The Cube (for obvious reasons), it is described as a 'lightbox floating in the woods'. Or at the very least, a box sitting in 2.7 acres of land.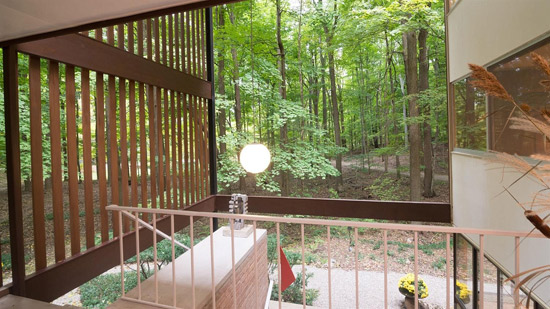 I'm not sure how much actual workable land there is within that acreage as it seems to be largely woodland in the photos. But with so much, I'm sure there is some clear space somewhere.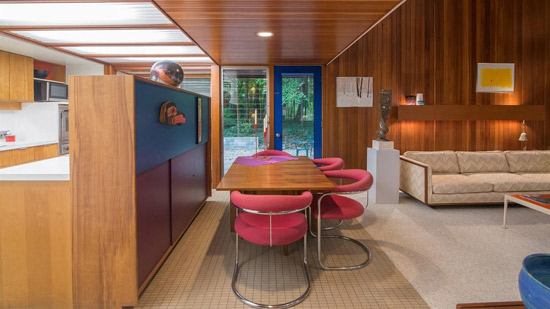 That 'Cube' is clad in redwood, with a stone staircase working its way through the open side of the house and into the terrace on the upper level, with views across the woodland below. After that, you get to enter through that bold orange door and enjoy the stunning period interior beyond.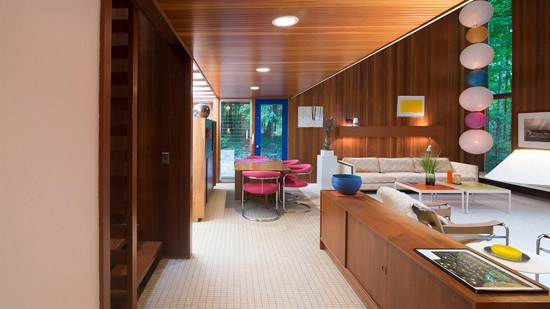 Everything inside is immaculate, which is why I had this down as a renovated project. But reading the details, the home has been painted and stained and had its carpeting replaced.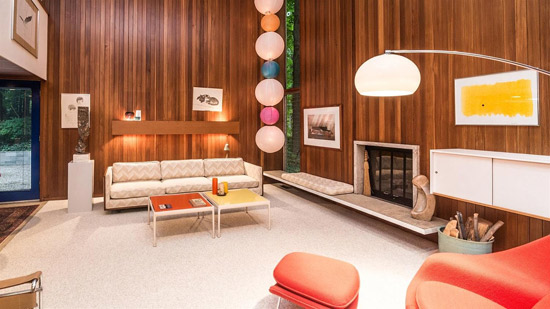 But even allowing for that, the condition is amazing with details unchanged from its original construction, which is the key thing of note.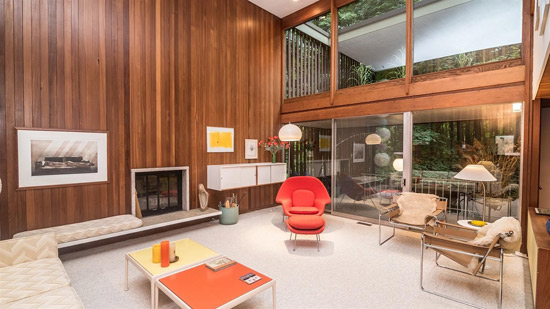 So much to pick out here, although my eyes are drawn to the numerous pieces of midcentury modern design scattered around the place, not least the colourful line of lights in the living room. I can't imagine those staying, so try and look past those and appreciate the architecture and interior as a blank canvas.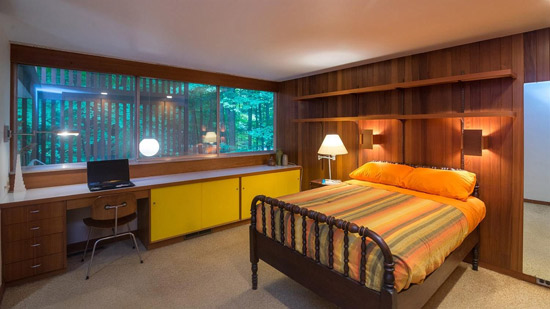 That's still an impressive option. The wood-clad walls and ceilings, the double-height reception, the open-tread staircase, the walls of glass that offer some amazing views outside, the built-in units and the understated kitchen design with vintage appliances. It's all here and more and all in a condition you can only dream about.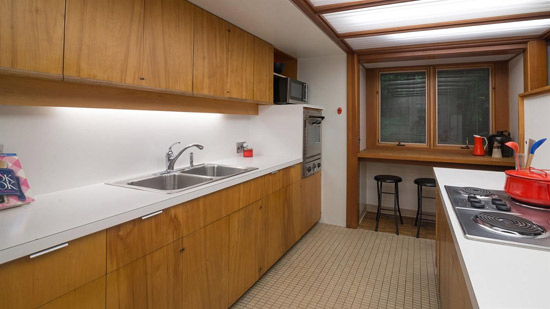 The main floor has the master bedroom, kitchen and that soaring two-storey living room with a wall of windows on the south side. The upstairs has an additional bedroom, full bathroom and a loft with an additional nook with skylights.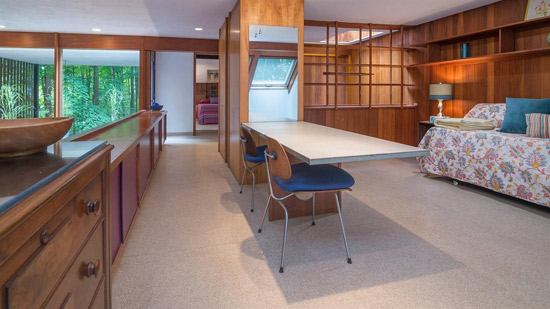 The lower level has a family room surrounded by windows which was formerly used as the owner's studio. Perhaps you can go down that route again if you need somewhere inspirational to work.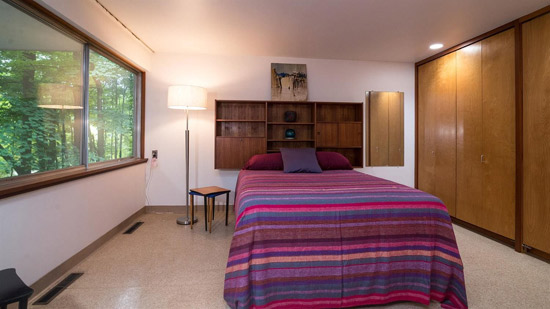 1,911 sq. ft, of internal living space in total, which may or may not work as a family home, depending on how many bedrooms you need and if you can reconfigure the existing space. As it stands the two bedrooms might limit its appeal on that front, although the recreation room and loft room might well adapt to bedroom space.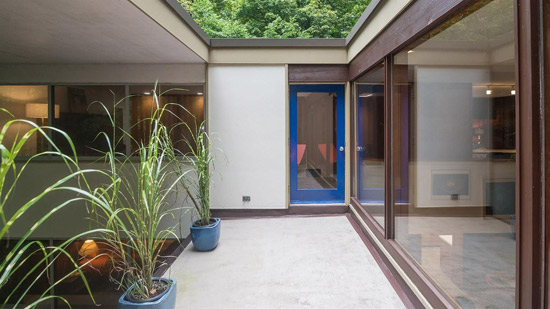 A separate garage too, which looks substantial and I'm not sure if there's some other outbuilding or separate structure too on the images. Something to check with the agent as the details don't really make that clear.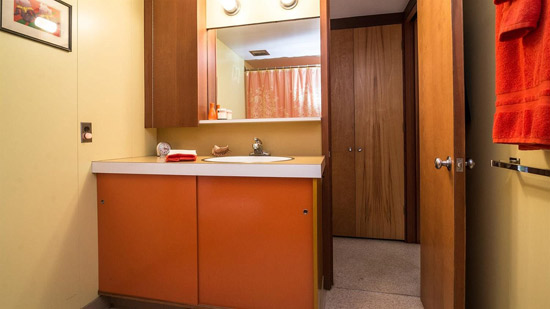 Regardless of what you do with space, a house of this quality will always find a buyer, although finding that buyer has taken longer than you might imagine.
If you want to be in the mix to be its next owner right now, this house has just had a price cut and is on the market for $635,000 (£497,000). That's some way down from the original asking price of $750,000.
Images and details courtesy of Zillow. For more details and to make an enquiry, please visit the website.