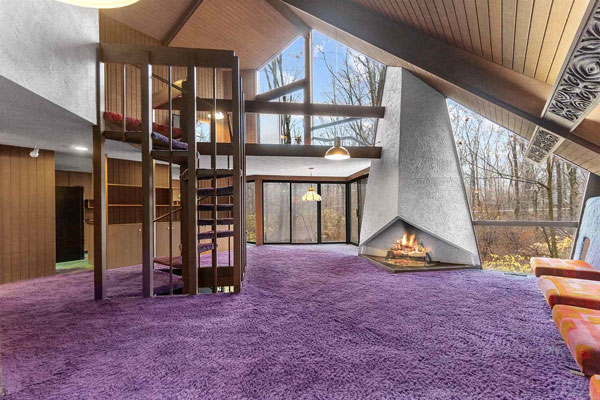 Fancy something retro and kitsch? This stunning 1970s time capsule in Fort Wayne, Indiana, USA is the house for you. Cheap as well.
Huge thanks to Andy for tipping me off about this one, which dates back to 1975 and hasn't been touched since. Sometimes you get the odd fixture and fitting updated, maybe some new appliances in the kitchen. This one hasn't been altered to updated at all.
Of course, to some buyers that might be their idea of hell. But if you are in the market for something unmistakably 1970s, kitsch and with 'retro' at every turn, then this is the house for you.
Well, it is if you happen to be house hunting in the Fort Wayne area or you think you could make the move there. I honestly don't know much about the place beyond what Wikipedia might tell us. A typical, medium-sized city from what I can gather and with all the amenities and opportunities that kind of place offers.
This place doesn't seem to be in the heart of it, with the location described as being 'tucked in' Concordia Woods, with a 0.66-acre site offering 'privacy and serenity'.
It also offers one of the most striking interiors you are likely to encounter. The house was designed in 1975 by 'renowned architect' James Sherbondy, who created this as his family's personal residence.
I can only assume that the house has never been on the open market before and that the Sherbondy family loved what James created and kept it exactly as he originally intended.
Whether the next buyer plans on keeping it that way is open to question. This is an interesting piece of late, midcentury modern architecture and you can see someone coming in and ripping out much of the interior, adding in their own modern take on the style. If I'm honest, that would make sense and with the price being pretty low, there is probably room in someone's budget for renovations too. But it would be a sad loss.
Images don't really offer a close inspection of the house, so work might be required. But I'm sure much of this could be maintained if you want to live in your very own 1970s retro party house.
The architecture is interesting and angular, with a wall of glazing to one side. But it only offers a hint of what lies beyond the front door.
It's a retro dream. An interior you really couldn't recreate if you had a bottomless pit of cash. This is a film set in the making. Actually, that could be a way of making some money back – hiring this out to Hollywood.
The glazing and vaulted ceilings offer space and light, the shag carpets are plentiful, the fireplace mesmerising, the seating distinctive, the staircase interesting (and carpeted) and the built-in units very much of their era.
As I said, even the areas you expect to be updated and still as they were back in 1975. The kitchen, for example, still has all the original appliances in place. Just look at that cooker.
The light fittings don't seem to have changed either, not has the bathroom. Whether you want a bathroom carpeted right up to the shower is something you might need to address. But you can't fault the period authenticity.
Ok, this might not be a case of keeping everything in place. But there is so much to appreciate and cherish here that you hope someone does come in with an eye on preservation.
TV and film set, novelty Airbnb or simply a retro home for someone with a passion for the decade. There must be a way of keeping the house firmly in the 1970s.
If you do have an interest then you will be interested to know that it has 2,476 sq. ft. of living space. That includes four bedrooms, three bathrooms and generous reception, not to mention that oh-so-70s kitchen and a finished basement. Note that those wonderful vintage appliances are part of the deal too.
There is also that 0.66-acre plot too, which includes a covered carport and garage as well as the woodland.
More facts and features about the house on the agent's site but I am guessing that you have already made your mind up about this one. If you have fallen for this time capsule, it is on the market for $159,900. That works out at something like £120,000. Quite a deal if you can make the move to Indiana.
Images and details courtesy of Zillow. For more details and to make an enquiry, please visit the website.