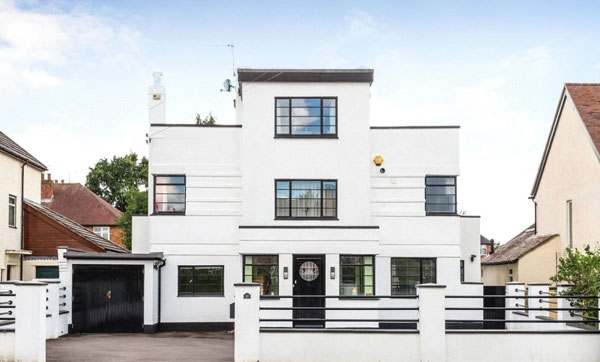 Plenty of properties have passed through these pages, but the WowHaus top 50 most popular houses of 2019 are the pick of the bunch.
I am always amazed just how many houses I do feature on this site. I wouldn't like to put a number on it, but it's always more than I think. But if you are signed up to the weekly newsletter, you'll know that.
The 50 here are the most popular with you, the readers of the site. Note that these are all new finds from 2019. Some houses from previous years have had more traffic. Perhaps as a sign of the times, the nuclear bunker for sale in Ballymena, County Antrim, Northern Ireland always outperforms pretty much everything on the site. Running it a close second is the Grand Designs section, which jumps up every time Channel 4 repeat the shows.
But I don't want to feature the same houses year in, year out. This is best of the latest crop, running in reverse order. Of course, you could scroll straight tho number one. But you will be missing so many amazing houses if you do that. I don't think there is a single weak one this year.
So without further delay, here are the most popular houses of 2019. New finds will return to the site later this week and into next week.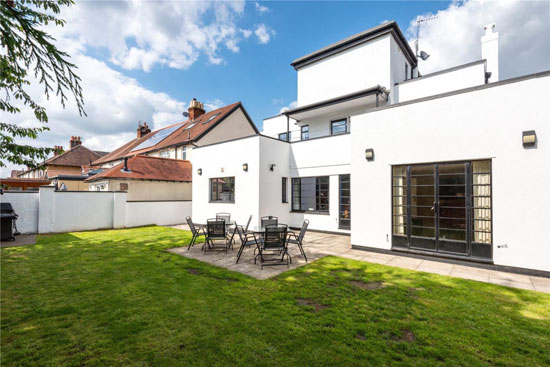 50. 1930s art deco house in Shrewsbury, Shropshire
A striking design and a sensitive renovation. Always a good combination when it comes to popularity.
The house dates back to 1930 and plenty of the details of that period are still in place. Elsewhere this has been updated, not least with the large, modern kitchen and the office space, but without taking away the character of the past.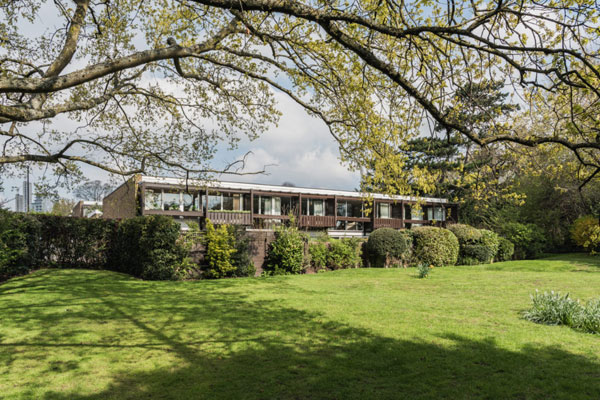 49. 1960s Atelier 5 modernist house on the St Bernards estate, Croydon, Greater London
These don't come up often, but two of the houses did come up for sale this year. The one here is the most popular.
Atelier 5 is best known for the iconic Halen Estate just outside Bern in Switzerland. The design team won a competition to design something as forward-thinking in Croydon, but only a small section was completed and is now very sought after. Some updating, but by and large this is the house designed 50+ years ago.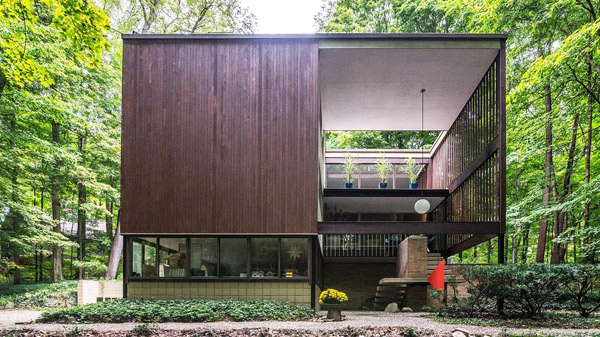 48. 1950s Tivadar Balogh midcentury modern house in Plymouth, Michigan, USA
This is jaw-dropping architecture and amazingly, up for sale for the very first time.
Dating back to 1957 and on the National Register of Historic Places, it was designed by the architect for his own family, who lived there until 2019. Some minor freshening up and it is back on the market with every midcentury detail intact. A dream of a house.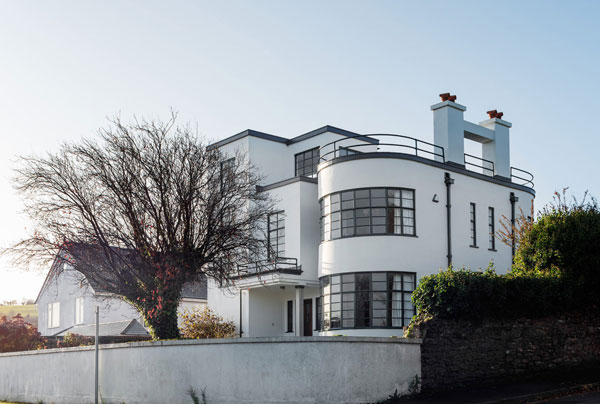 47. Sunpark 1930s art deco house in Brixham, Devon
The fact that I only featured this just over a week ago tells you everything about the popularity of this one. A couple of months earlier and it would have been at least top 10 in the most popular houses of 2019.
A familiar house to longstanding fans of the site, it was up for sale from around 2010. Its appeal is it being a largely untouched example of 1930s architecture. The latest listing shows a house renovated a little, but with all those vintage details still intact. You will struggle to find a house so faithful to this era now or in the future.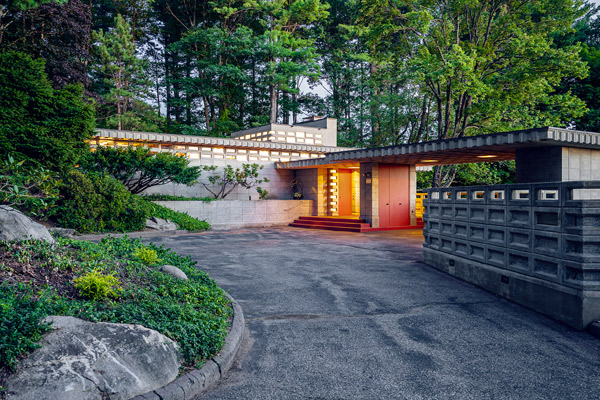 46. Frank Lloyd Wright's Toufic H. Kalil House in Manchester, New Hampshire
One of only seven Usonian Automatic houses designed and constructed by Frank Lloyd Wright, this is also one of the best-preserved.
So few because this was a form of self-build using concrete blocks, with construction being as difficult as it sounds. But Dr Toufic Kalil and his wife Mildred went down that road, doing an admirable job that is still impressive today. Originality inside and out, right down to the (working) 1950s audio system in the corner. A real step back in time.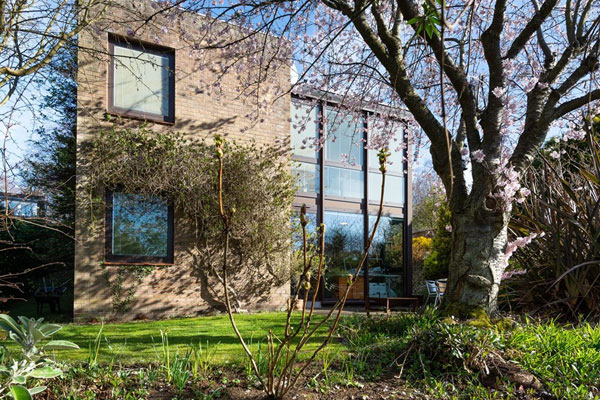 45. 1960s modernist property in Broughty Ferry, near Dundee, Scotland
A piece of 1960s modernism that is also a modern place to live rather than a time capsule.
You will find a recently-updated kitchen, an updated bathroom, new lighting and a freshness throughout, particularly when it comes to the bedrooms. But there's no mistaking the era when it comes to the architecture, as well as the majority of the fittings and fixtures within the house. Practical vintage modernism.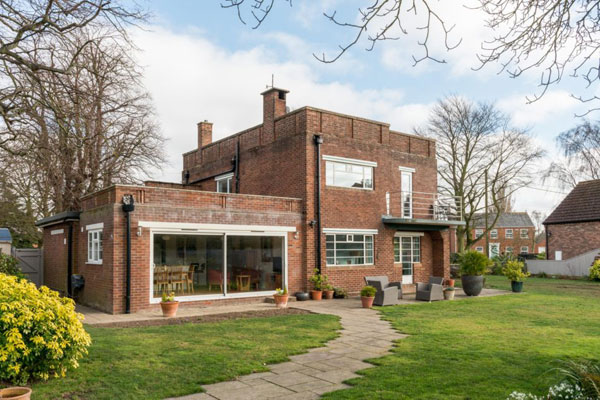 44. 1930s Norman Webster art deco house in Long Sutton, Lincolnshire
Not quite in its original state, but this 1934 design has a lot of originality about it, plus plenty of space, having been extended in recent years.
At first glance, you might not expect anything but an original house. But there is the extension, with the house now offering an open-plan kitchen and dining room with glazed doors out to the garden and patio. Elsewhere, an attractive mix of the old and the new.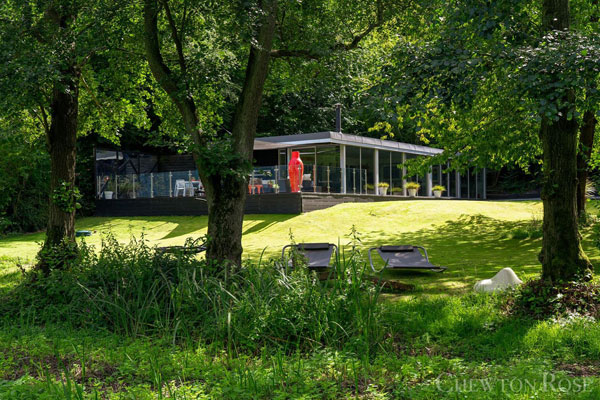 43. Glass box modernist house near Norwich, Norfolk
The title pretty much says it all. But this isn't as old as you might think.
Yes, it hints at something like the Ferris Bueller house but the construction is fairly recent, around 2006, with an extension more recently. A great spot too and a very eye-catching finish.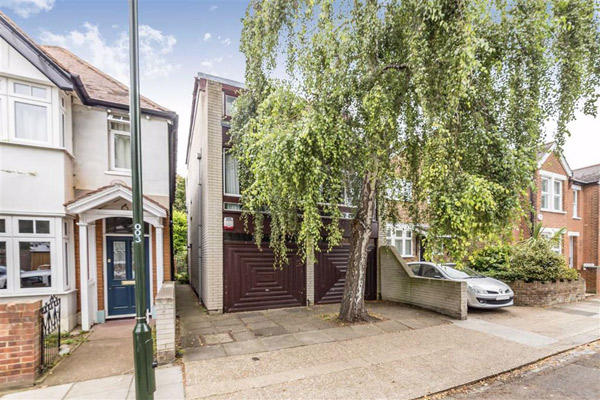 42. 1970s modern house in Teddington, south-west London
Yes, that one. Hidden behind the overgrown tree.
Maybe you can get that pruned to boost the light. Regardless of that, this is a renovation project, currently split into two apartments, but with most of the bold details of the original design intact. Keep it as two flats if you like, but this would make an amazing single townhouse too. As long as you trimmed that tree.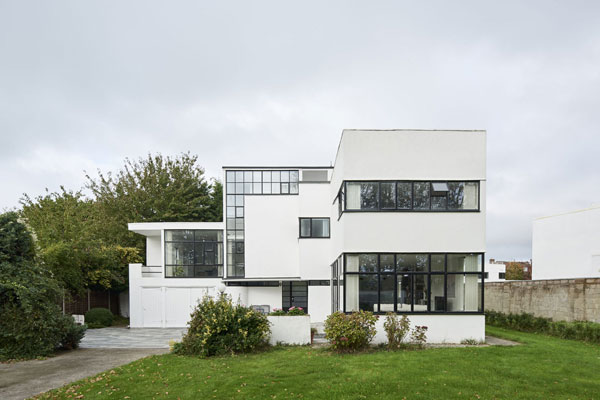 41. The Saltings 1930s Connell, Ward and Lucas modernist house in Hayling Island, Hampshire
The 1930s are strongly represented in this listing, but I expected this one to be higher up the final listing.
Perhaps it was because the houses listed the year before at a higher price. Now back on the market, this is the kind of early modernism we can only dream about owning. From the outside, still a Connell, Ward and Lucas classic, although heavily-renovated inside in recent years. Not badly reworked by any means and generally still in keeping, but still a modern finish for most of the inside.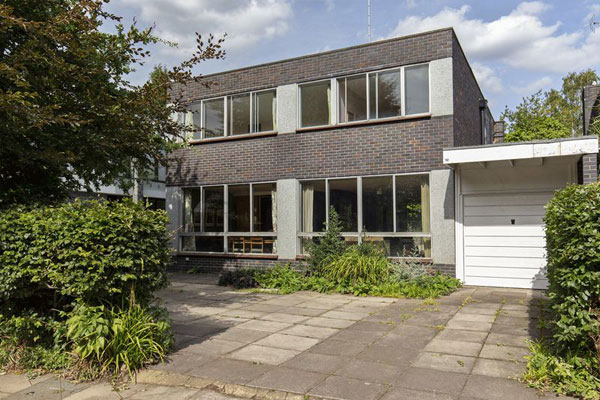 40. 1960s modern house in Kenwood, London N6
This one was offered for sale for the first time since construction back in 1960.
As you might have guessed from that, the house has changed little over the decades, with the exception of the kitchen. Beyond that, the exposed brick, wooden floors and ceilings and of course, the '60s staple of a spiral staircase. A rare find.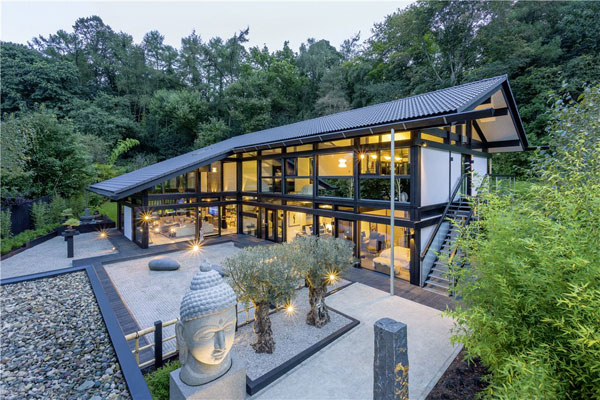 39. Huf Haus property in Kingston Hill, London SW15
It doesn't matter where it is if I feature a Huf Haus it is popular and a likely contender for the most popular houses of 2019. Finding one in the London area always adds to the appeal.
A typical example of the German Huf Haus, this is a sizeable one with six bedrooms, but retaining the open space, the beams and the glazing that is common amongst all of them. A rather lovely plot as well.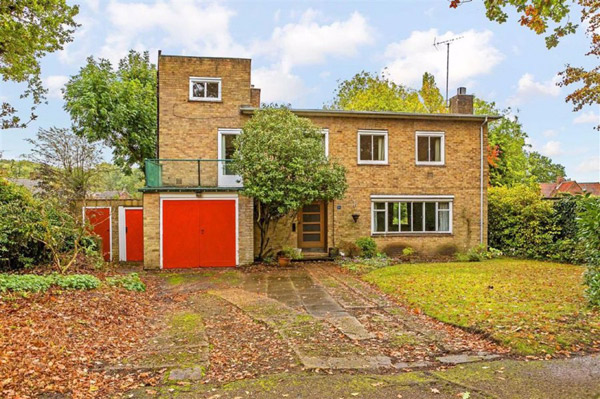 38. 1930s Paul Mauger modern house in Welwyn Garden City, Hertfordshire
A ridiculously original 1930s house, although some areas probably need a rethink.
The originality extends to the architecture itself, as well as much of the internal layout. However, some updating has taken place in some rooms, not least the kitchen and some of the bedrooms. Not exactly a deal-breaker, but money would need to be allocated for a partial renovation.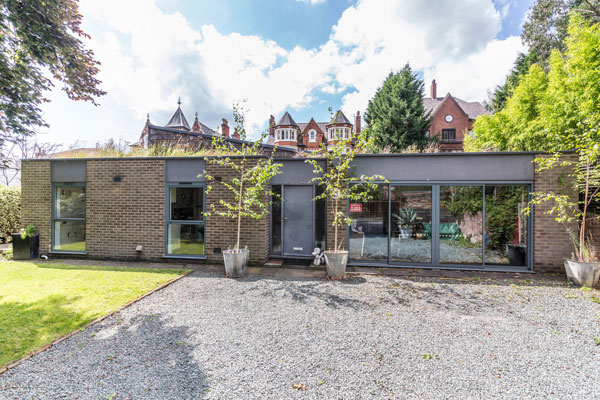 37. 1960s modernist house in Nottingham, Nottinghamshire
No need for a renovation here. This is a dream of a makeover.
Architecturally typical of the era, but this one comes into its own with the finish within. Going bold works wonders here, keeping the original layout and some details, but adding in bags of character and a kitchen you would struggle to beat.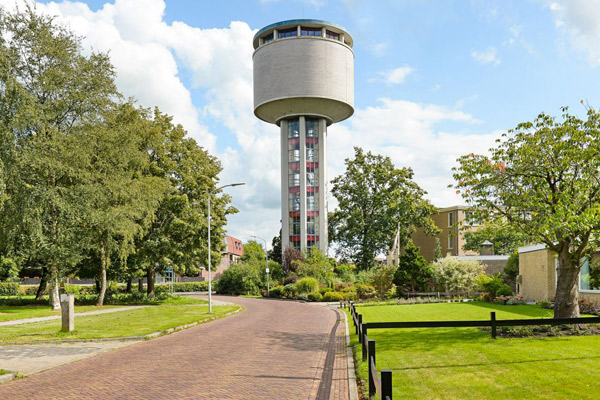 36. 1960s modernist water tower in Assen, Holland
Holland was the breakout country of the year and this tower was the pick of the property featured.
For good reason too. A modernist water tower in a central location partly renovated and waiting for someone to come in and give it a finishing touch. Best of all, it was (and maybe still is) on the market for just one Euro if you had a decent idea to bring it back into use. This year's bargain, which is why it made it into the most popular houses of 2019.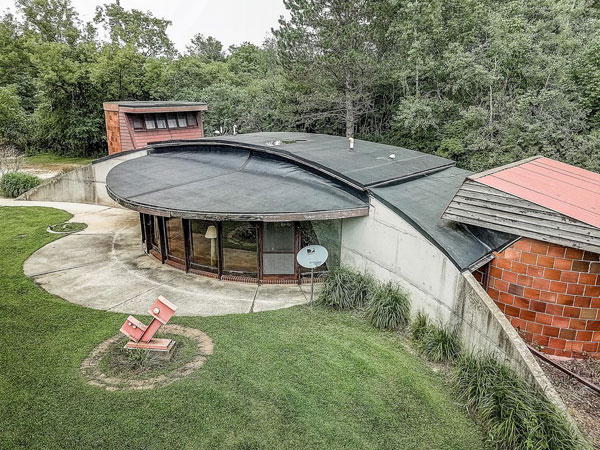 35. 1960s circular time capsule house in Hartford, Wisconsin, USA
A custom build from 1969, this house hasn't changed at all in 50 years.
That's largely a good thing as this bold piece of architecture is a time capsule of that era. But on the negative side, there are some updates required to bring this circular gem back to its best. When you see the price tag, you might be tempted to take that work on too.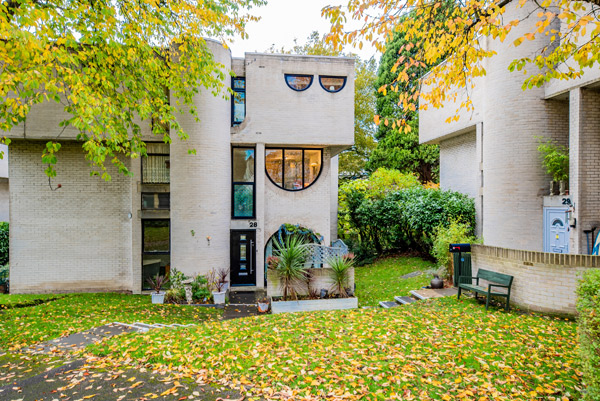 34. 1960s Lawrence Abbott modern house in Frimley, Surrey
A couple of these have been up for sale this year, with this being the most recent and most popular.
There are 32 award-winning and locally-listed houses in total, all designed by Lawrence Abbott in the mid-1960s and all unchanged architecturally. But the interiors do tend to be updated and this one is no exception. A fairly plain finish, but extensively modernised.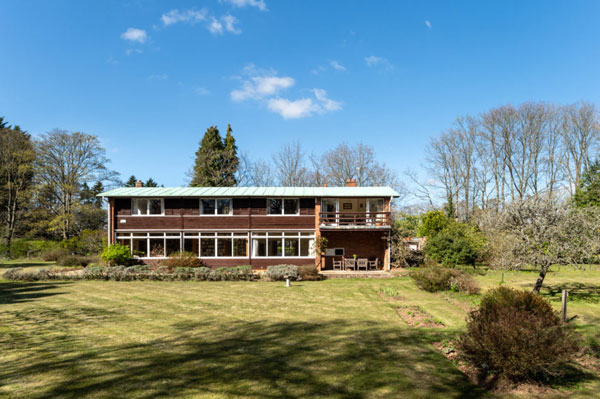 33. 1930s Overshot modern movement house in Oxford, Oxfordshire
This modern movement house was designed by architects Godfrey Samuel and Valentine Harding in 1937, who also happened to be founding members of the Tecton Group. It was commissioned by Art historian Sir Ellis Waterhouse and designed for his mother following the sale of the previous family home.
Grade II-listed, the house has most of its original details intact, not least the impressive library area and all of those lovely built-in units. A very special house.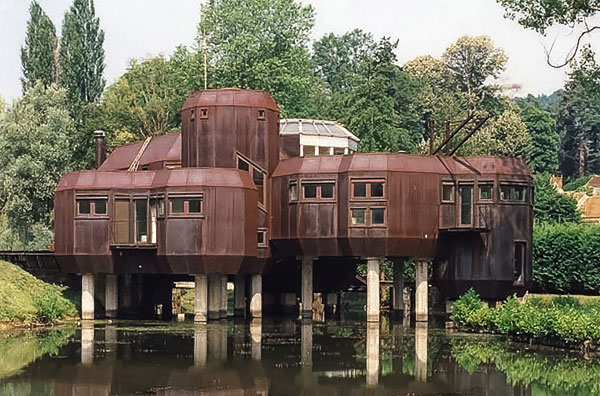 32. 1970s Marc Held-designed Maison de L'Utopie in Gif-sur-Yvette, France
If you want something unique, have a look at this one.
Built on land described as a 'swamp' originally, the house design won a competition to create something on this difficult piece of land. The end result deals with the practical issues of that, adding in a stunning finish inside and out. The space and proportion in the main reception are off the scale.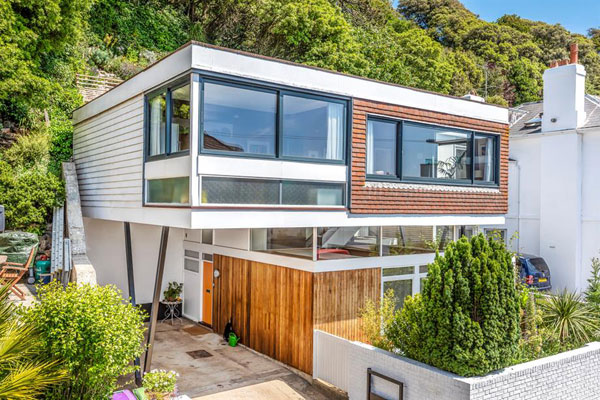 31. 1960s John Floydd midcentury modern house in Sandgate, Kent
Another old friend returned to the market this year. A house I have followed since 2011.
Each time it returns to the market it seems to have been upgraded a little more, with the price also rising accordingly. To be fair, the house has never looked better, a wonderful piece of coastal modernism with plenty of those all-important original details still in place.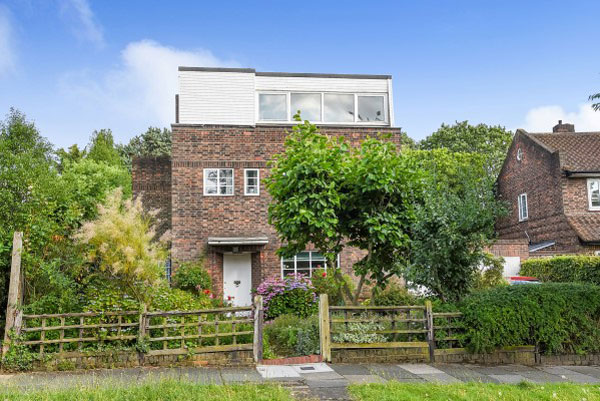 30. 1930s art deco renovation project in Eltham, London SE9
'Art deco' and 'renovation project' once again come up trumps in the most popular houses of 2019.
Not quite a time capsule, but this house still has many of the original details in place. But as you would expect, some updates over the decades that perhaps need to be reconsidered. Not sure about the extension over what used to be the roof terrace either. Fascinating nonetheless.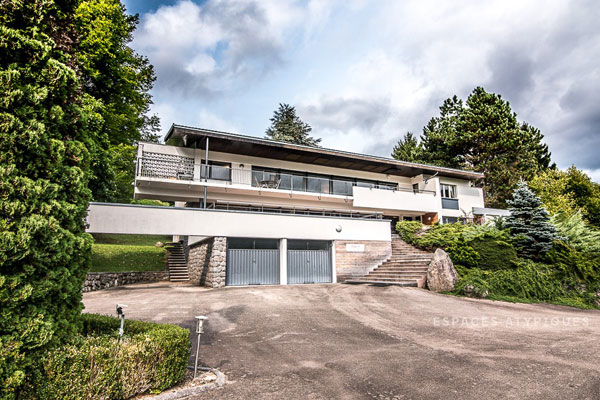 29. 1960s Dimitri Franchini modernist house in Cornimont, France
I need to feature France more in 2020 as finds there are always popular. This one certainly was.
A design by Dimitri Franchini, a former student of Le Corbusier, this one dates back to 1967. Its key features of the late 1960s are still in place, especially the balcony, the fireplace and the staircase. But overall the finishes are fresh and this is all ready to move into without any work on the face of it.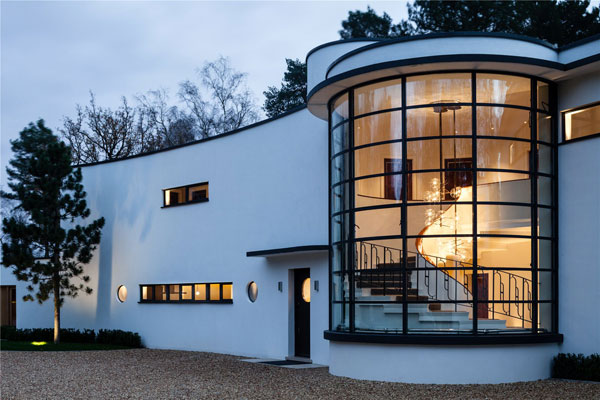 28. Oliver Hill's Cherry Hill art deco house on the Wentworth Estate, Surrey
Always a hugely popular house via Pinterest, Cherry Hill went back up for sale this year. Still with an eye-watering price though.
This is a grade II-listed property and one-time home of former U.S Ambassador John Hay Whitney and Betsey Cushing Roosevelt Whitney. Recently renovated by Avanti Architects who removed all the ill-judged additions, it now has all the premium finishes you can dream of and over four acres of land. But it also means this is the most expensive house on the entire rundown.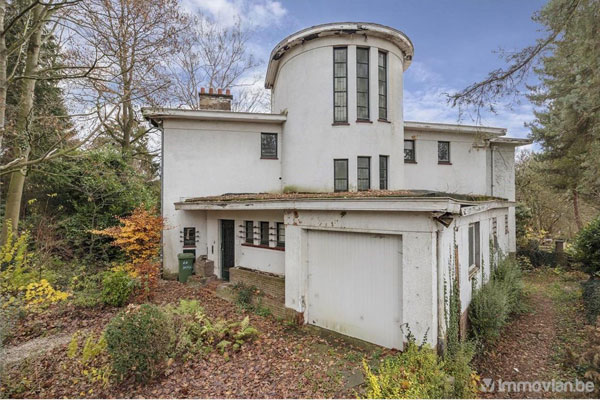 27. 1930s art deco renovation project in Uccle, Belgium
Yes, those magic words that always guarantee the popularity of a house.
Dating back to 1938 and set in 23 acres of land, it is largely faithful to the 1930s outside of one or two updates undertaken some years back. But this is a house in need of extensive work and also a reconfiguration of the layout. So much potential here if you have the money.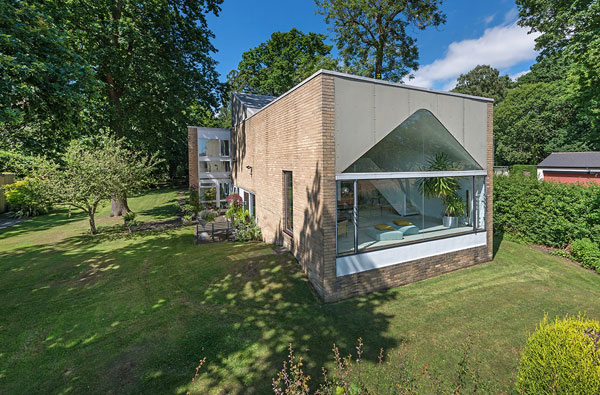 26. 1960s Ryder and Yates modernist house in Woolsington, near Newcastle
From a house in need of work to one on the receiving end of a renovation.
Grade II-listed and dating back to 1968, Trees was taken on by the current owners around 20 years ago, who have overseen that sympathetic restoration, one that is respectful of the original design too. The key features are intact and the house today is picture-perfect. No surprise to see this one in the most popular houses of 2019.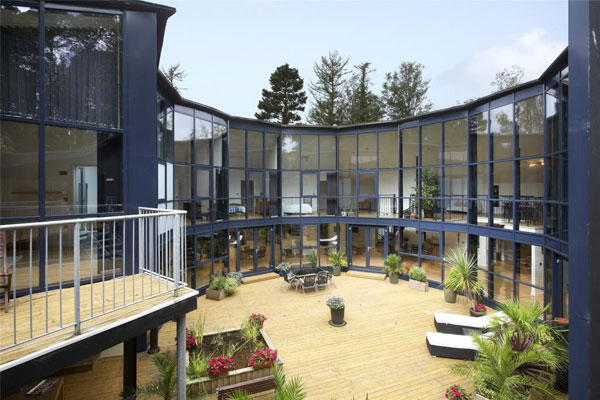 25. Former reservoir underground house in Sidmouth, Devon
Always nice to see something bold and contemporary in the most popular houses of 2019. Which pretty much cover this one.
It was built by retired couple Ann Hardy and Rob Lester around a decade or so back, using the basis of a former water storage tank to create the circular living space. Yes, this was very 'Grand Designs'. A surprising amount of light within thanks to all that glazing and the outside space is very cool too. Not for everyone, but I love it.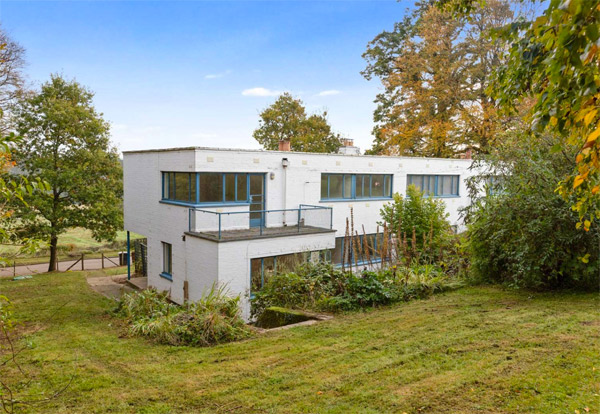 24. 1930s William Lescaze modern houses in Dartington Hall, Totnes, Devon
Not one house, there are actually three houses up for sale here.
The houses are on the Dartington Hall estate and form part of the largest collection of William Lescaze's work outside the US. Three have recently appeared up for sale, all for the first time in their history. Architecturally unchanged, they have period details, but all have been updated for the modern market. A great opportunity regardless.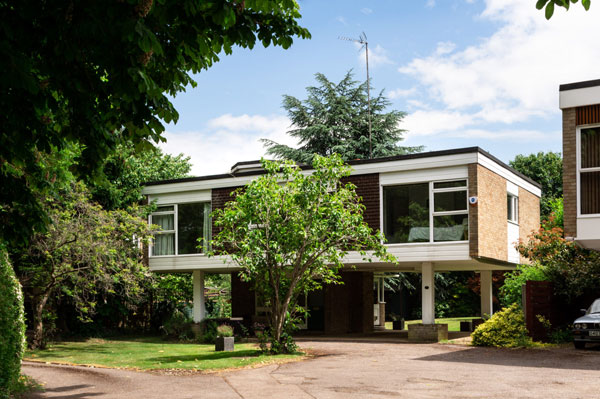 23. 1960s Ducketts Mead modernist house in Roydon, Essex
A big fan of this one, both in terms of location and design. One of five stilted houses by the river, this one is pretty much as it always has been in terms of the structure, but updated inside with a more contemporary finish, with some of the sixties still scattered around. A great view to wake up to, of course.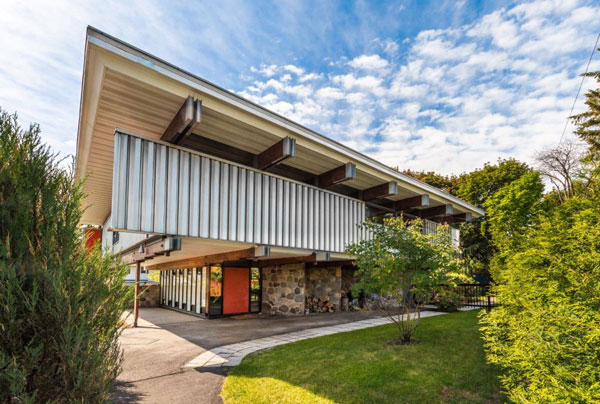 22. 1960s Roger D'Astous midcentury modern house in Boucherville, Quebec, Canada
An absolutely stunning piece of midcentury modern architecture at a price that might have you looking at the possibility of emigrating.
This one is immaculate. From the stone details to the wooden beams, not forgetting the open spaces, the parquet flooring and that amazing swimming pool hovering underneath. MCM houses don't get much better than this.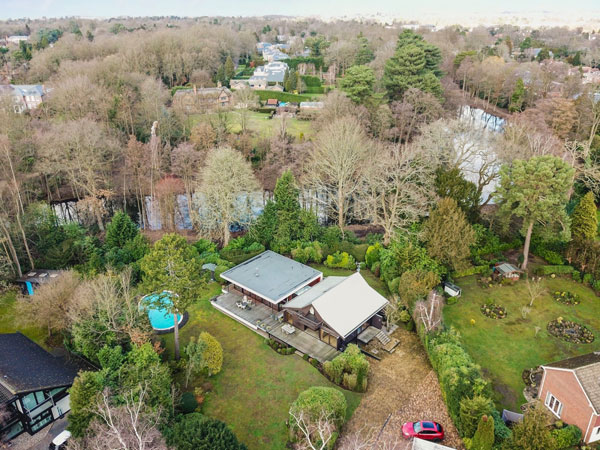 21. 1960s Rodney Gordon Turnpoint modernist property in Walton-On-Thames, Surrey
Not quite original, but impressive in its expanded form.
From the architect known for the likes of the Tricorn Centre in Portsmouth and Trinity Square in Gateshead, it was designed for himself and his family and still retains originality in the original part of the house. I say original because there is now a sizeable modern extension. One that works really well with the 1960s architecture, but is very much separate from it.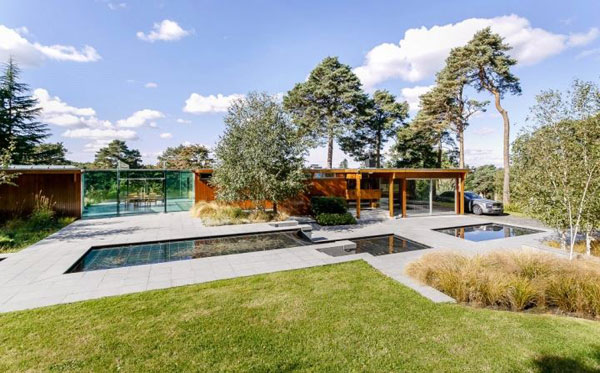 20. 1960s Erno Goldfinger Teesdale House in Windlesham, Surrey
The name itself makes this one interesting. The architecture tops it off.
This Grade II-listed house was built for Jack Perry, a businessman who made his money developing trade links with China in the 1950s and 1960s. A big budget on this one, with Goldfinger given free rein to express himself and his ideas. The end result is what you see here was little of substance has changed. A grand, open plan affair that works as well today as it did all those years ago.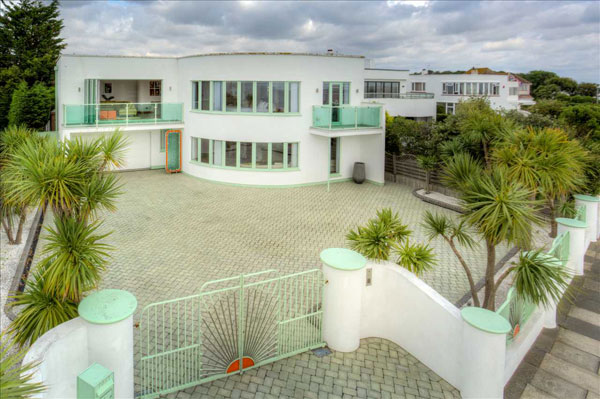 19. 1930s Oliver Hill art deco house in Frinton-On-Sea, Essex
More Oliver Hill. Might well be another coming up later in the most popular houses of 2019 round-up too.
Another of the showcase homes on the Frinton Park Estate, it keeps the design/shape of the original, but the interior has been radically updated by the present owner. Perhaps not one for the 1930s purists, but an extravagant interior that certainly catches the eye.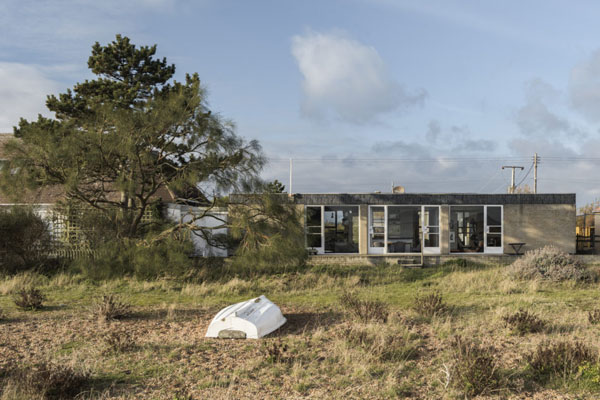 18. 1970s John Penn modernist property in Woodbridge, Suffolk
One of a number of houses this year designed by the architect for his own use.
Minimalist, coastal modernism dating back to 1970, with a strong influence from midcentury modern architecture in the US. it has been sympathetically updated over the years, so little material change. As a bonus, there is also a timber structure that's made up of a garden room/bedroom with en-suite bathroom and a carport. Great guest accommodation there.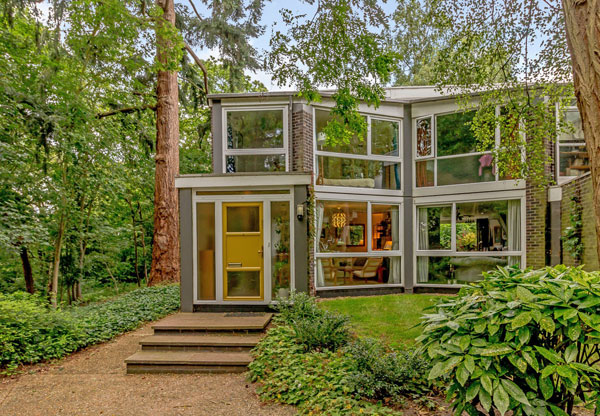 17. 1960s Templemere Estate Span House in Weybridge, Surrey
out of all the Span Estates, this is the one that tends to capture the imagination. Hence why it is in the most popular houses of 2019
It's the unusual design of the majority of the houses. Far bolder than the majority of other Span houses. Of course, the rather lovely setting also helps. Inside, this one is a bit of a mixed bag. Updated, but possibly not to everyone's taste. But you can always change the decor. You can't replicate this design very easily.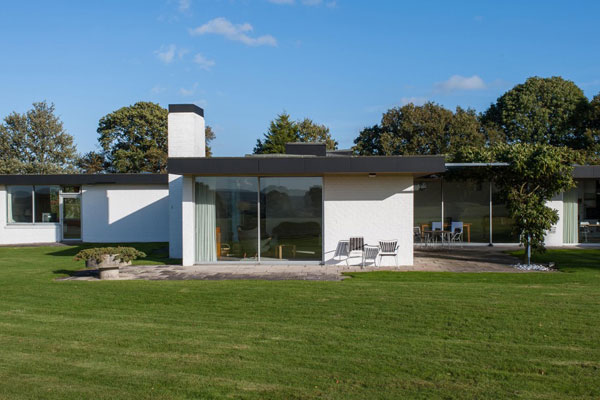 16. 1960s John Schwerdt modernist house in Rye, East Sussex
Surprised this one hit so high on the most popular houses of 2019. Not that there is anything wrong with it. Far from it.
I think it's because this one is quite unassuming from the outside. Its appeal really grabs you once inside. The current owners (only the second owners) have 'carefully maintained' the house, retaining all the original details, fittings and finishes where possible. This Grade II-listed house isn't a time capsule, but it isn't far off being one. An amazing flow to this one too and so much natural light from all of that glazing.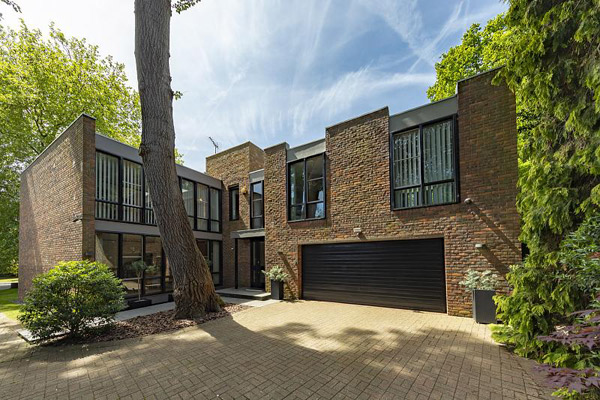 15. 1970s Royston Summers lakeside modern house in Esher, Surrey
As groups of houses go, this particular development is one of the most popular I feature.
For good reason too. Premium modernist architecture in a lakeside setting, with the majority unchanged architecturally and still possessing the key features inside. That's the case with this one, which has been updated but still boasts its original staircase, the exposed brick, wall of glass and swimming pool. I would move in tomorrow if finances permitted.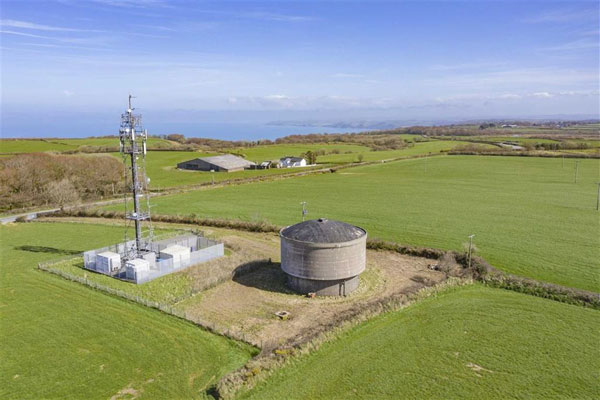 14. Grand Designs project: Water tower with conversion plans in Bideford, Devon
Sometimes the appeal lies in the potential, meaning rather odd properties make it to the top of the pile. Like this one.
A 1940s water tower with great views and bags of space. In fact, the plans already drawn up for this one would result in a five-bedroom house along with balconies to take in the scenery. All you have to do is find the money for the site and the work required.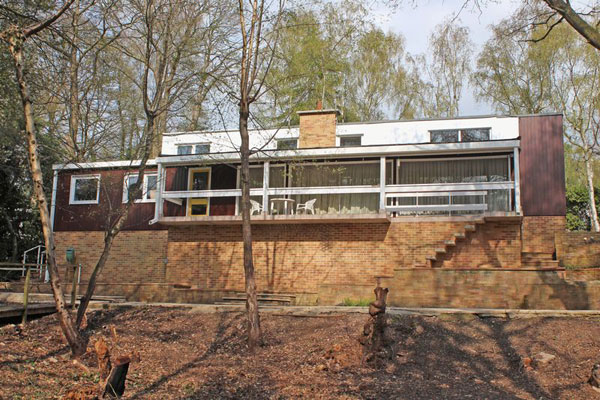 13. 1960s modernist time capsule in Southampton, Hampshire
Pretty much a time capsule inside and out. Well, almost.
Little has changed in terms of the architecture and the interior is a snapshot of the 1960s, right down to the Guzzini light fittings. The only obvious change is the modern bathroom, presumably added out of practicality. Fascinating nonetheless.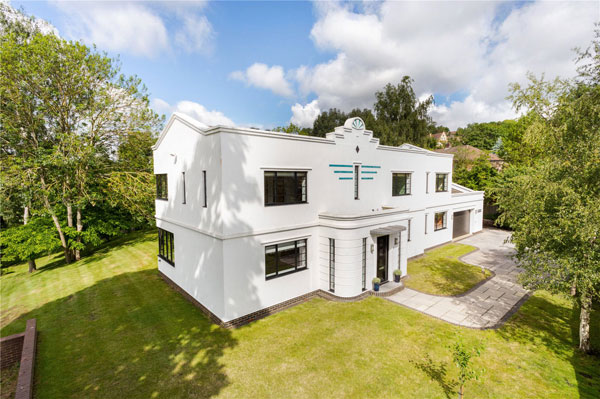 12. Grand Designs: The Art Deco House in Godalming, Surrey
No, not an original art deco house. But the idea was the recreate that original look.
This one was featured on the Grand Designs TV show, with the couple having firm ideas about the outside, but less of a vision from the inside. You can see how it ended up here. In fact, you can buy it as well if you love it.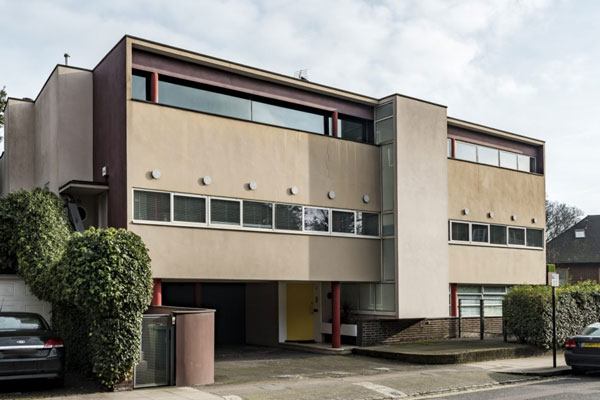 11. 1930s Connell, Ward & Lucas-designed 66 Frognal modernist house in London NW3
An architectural classic described by none other than Ian Nairn as the 'best pre-war house in England' went up for sale this year. Obviously going to hit high in the most popular houses of 2019.
Like many modern houses, time wasn't kind to it and as a result, the current owners commissioned Avanti Architects to design and undertake a process of repair, upgrade and alteration work to bring the house back to its best. That project took four years to finish and as a result, it was long-listed for the RIBA Stirling Prize, receiving a RIBA Conservation Award. A house we can only dream of owning (unless you happen to be a recipient of a Lotto win).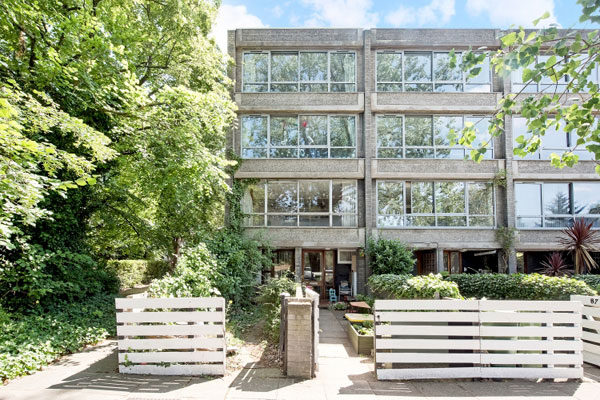 10. 1960s Arthur Rubenstein brutalist townhouse in Blackheath, London SE3
This one was popular because it was such a dream project.
Just look at it. The exterior alone sells it. But once inside you can see that it was a house barely touched over the years, right down to the old dial telephone. It needed a lot of work but was well worth the effort.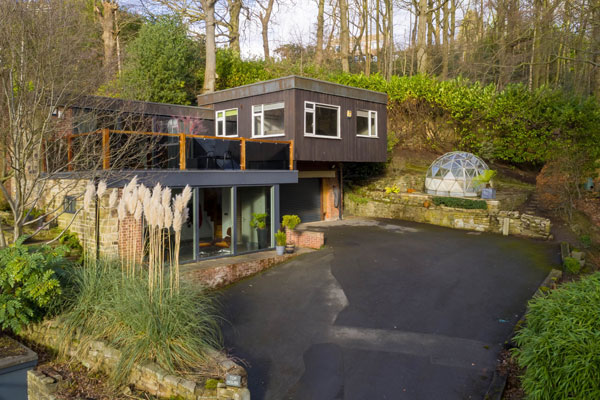 9. 1960s midcentury modern property in Huddersfield, West Yorkshire
Interesting to see this one in the most popular houses of 2019 listing as I think it is still on the market after some months. In light of its popularity, that is a surprise.
An individual architect design in a woodland setting, it has been restored over the years but maintains the general look and feel of the original era. A very hip family home.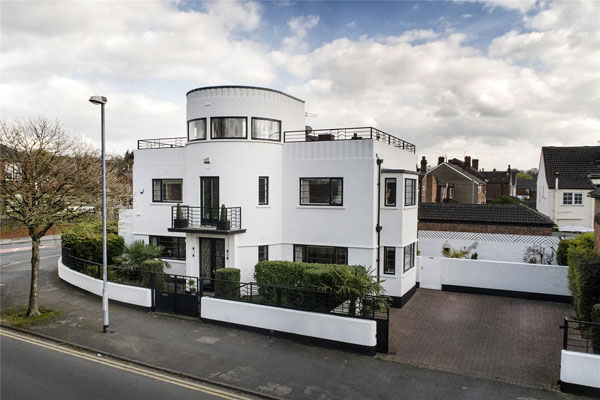 8. 1930s Blenkinsopp and Scratchard art deco property in Castleford, Yorkshire
Staying in Yorkshire for a house that has been up for sale a few times over the years and is always incredibly popular when it does.
A striking art deco design for this one-time doctor's surgery and an interior that has been updated, but still keeps a number of bold period features in place. Have a look at the bathroom for starters. Possibly the most popular art deco house I have ever featured. Well, one of two for sure.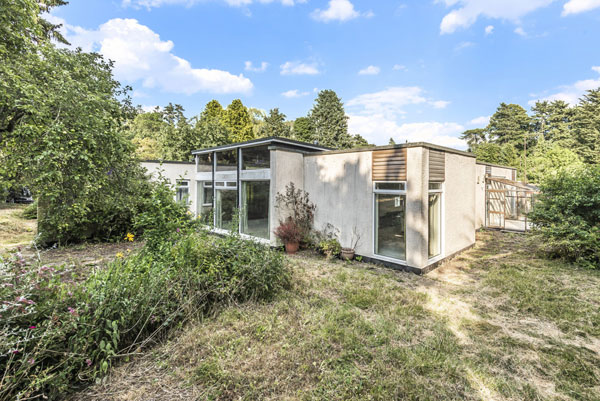 7. 1960s modernist renovation project in Brettenham, Suffolk
This one recently went back on the market should it catch your eye. But its popularity is based on the original listing, although nothing has changed between the first and second time on the market, pricer aside.
A bold piece of 1960s modernism and a time capsule too. This really is a step back into the 1960s. You also get over two acres of land and some brick outbuildings too. So your own country pile if you don't mind doing some work on it.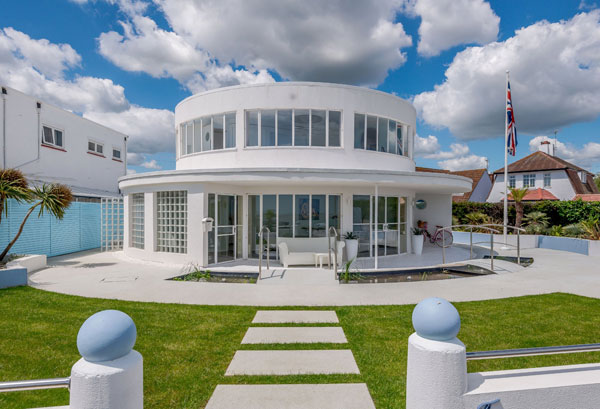 6. The Round House Oliver Hill art deco property in Frinton-on-Sea, Essex
Another Oliver Hill design in the most popular houses of 2019 and a magnificent one too.
It was last up for sale in 2016 but returned to the market unchanged this year. One of the most recognisable houses on the Frinton Park Estate, this was both a show home and an office for the development and still has the mosaic plan of the development on the floor designed by Clifford Ellis. Updated over the years as you might have noticed, it mixes a modern finish with period architecture and details to great effect.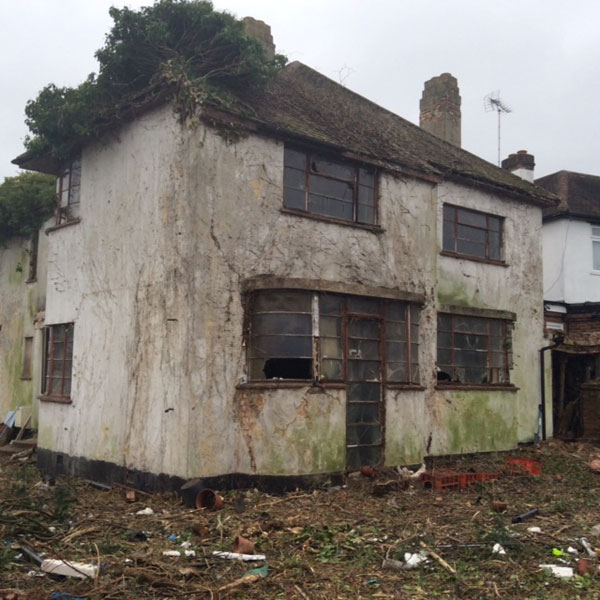 5. For demolition: 1930s art deco house in Rayners Lane, London
This one fascinated so many people. You can understand why.
A house that was effectively left to rot for decades, hidden behind plenty of foliage. When that foliage was cut back, the house reappeared, but not in a fit state for habitation sadly. Amazing that something like this can be 'lost' in a residential part of London.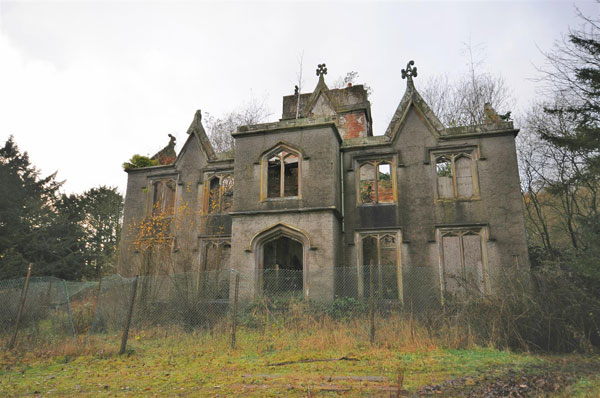 4. Renovation project: Gothic mansion in Great Harwood, Lancashire
Yes, another house on the verge of collapse. Except this recent find is being sold as a renovation project.
Allsprings House was built in 1838 by James Lomax, the son of Richard Grimshaw Lomax, a wealthy Lancashire landowner in 1838. The grade II-listed house has had a mixed past since but is now looking for someone to take on the renovation work. Price is on its side, but the investment required would be considerable.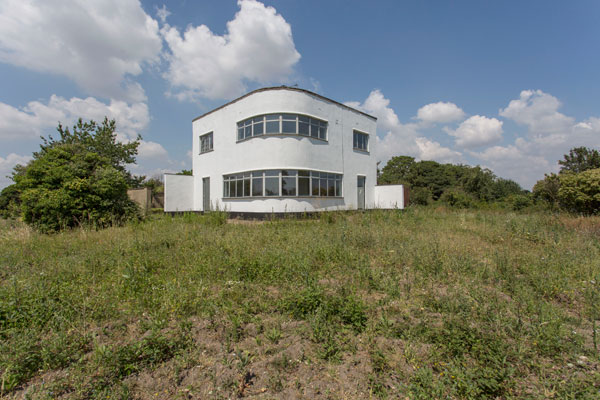 3. 1930s Wells Coates Sunspan house in Chadwell St Mary, Essex
Another that has been on and off the market and again, another renovation project.
Not many Sunspan houses have survived and this one has the added bonus of being in largely original condition. It was part-renovated, but all the original features were still in place. Lots of land too, although the location was said to be an issue for some. Make your own mind up.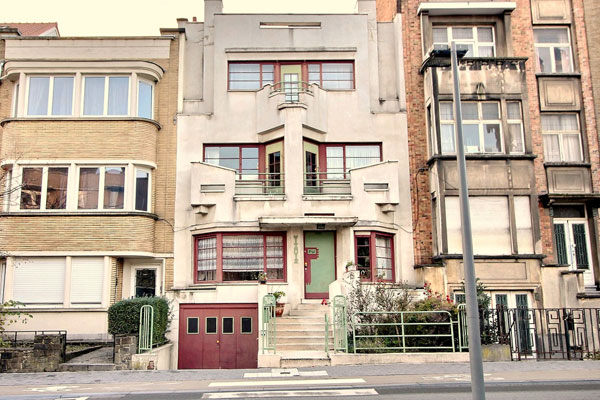 2. 1920s art deco time capsule property in Jette, Belgium
This one doesn't obviously sell itself from the outside. It is all about the 1920s time capsule interior. You will not see an interior like this one again.
Some minor changes have been carried out purely for functional purposes. A water heater here, a cooker there. But beyond that, nothing of note has changed since this one was designed back in 1927. The reason? The same family has always lived in it and the elderly children are now selling up. Just look at the photos to see this one for yourself. Everything is under a protection order inside and out thankfully, but this is still being sold as a potential home for someone.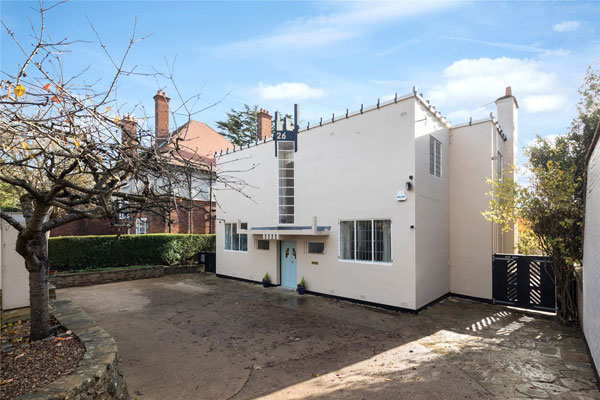 1. 1920s Peter Behrens-designed New Ways art deco house in Northampton, Northamptonshire
Well, it would take something very special to get to number one in the most popular houses of 2019 and I'm sure you'll agree that this is a very special house.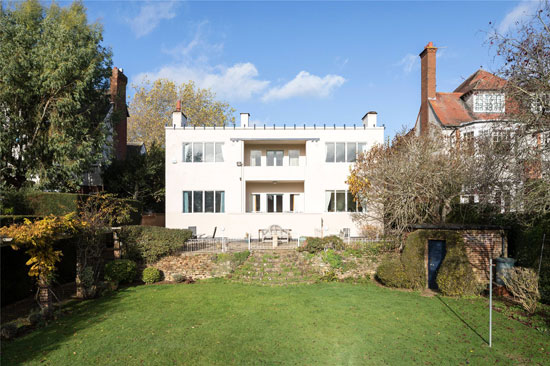 A Grade II* listed property, it dates back to 1926, when it was designed by industrial engineer Peter Behrens for Mr W J Bassett-Lowke, who has a factory in Northampton specialising in the production of construction sets, and model railways, boats and ships.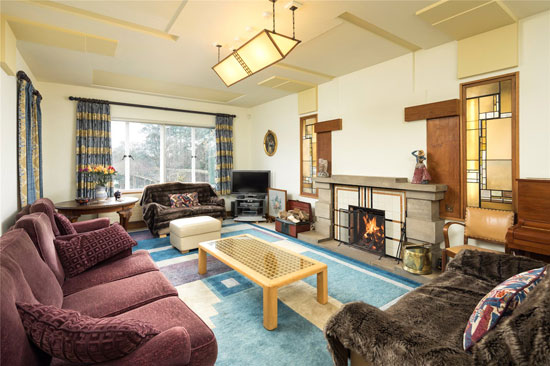 I went for the term art deco as a catch-all, but this is probably more of an early modernist property, with the house thought to have been the first property built in the UK in the German Expressionist style.
Note that the house was listed in 1952, Charles Rennie Mackintosh designed some of the internal features and plenty of original details have survived over the years, although this isn't a time capsule. It is a family home rather than a museum. A fascinating house and a worthy number one.
That's it for the WowHaus top 50 most popular houses of 2019. Expect more of the same throughout 2020 and if you want to see them first, follow the site on social media or sign up to the WowHaus newsletter.