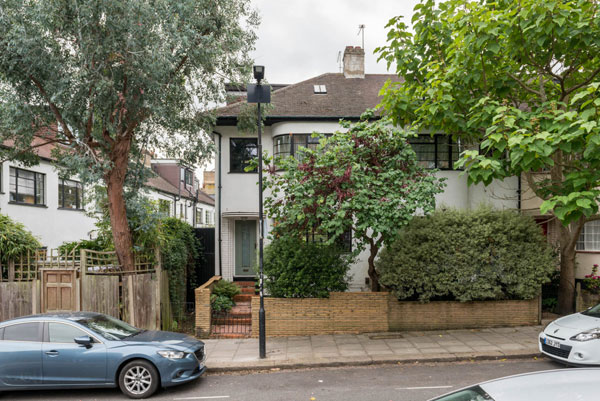 A lovely and authentic finish is the key selling point of this 1930s art deco house in London NW3.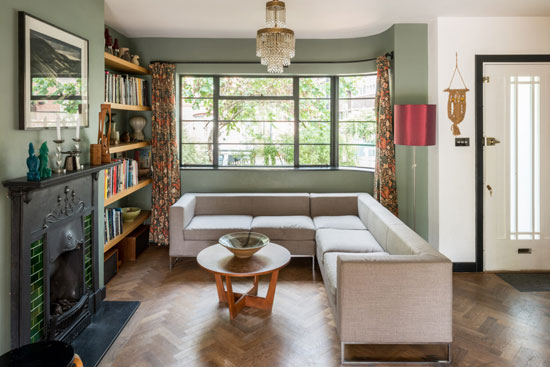 That's the thing really. All too often I see art deco houses that look amazing from the outside. But once inside, it's just a 'white box'.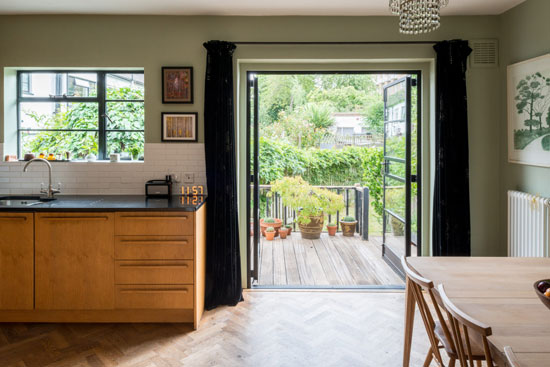 Yes, I know some people prefer modern and I'm not averse to that myself in the right house. But when there is an opportunity to keep a level of authenticity in an art deco house, you really should take it. That's not always possible if someone has gutted it in the 1970s or 1980s. But if it is, use the opportunity wisely.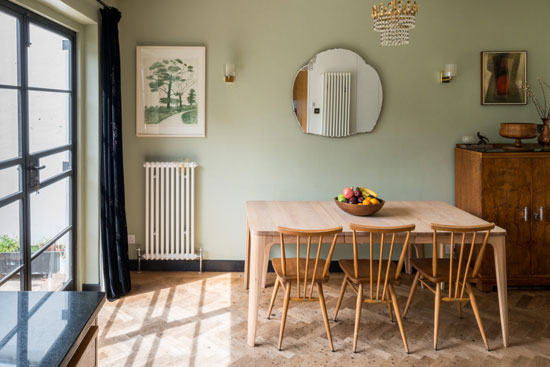 This one obviously did have some of that in place. But the period feel of this house is as much to do with what has been put in place rather than what has been left in.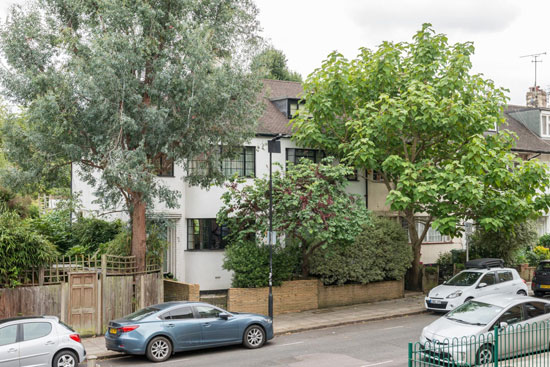 You will find it on a residential street in Belsize Park, just a few minutes walk from Hampstead Heath. Not sure I have featured this area before, but as you can see, there are a number of similar art deco houses here.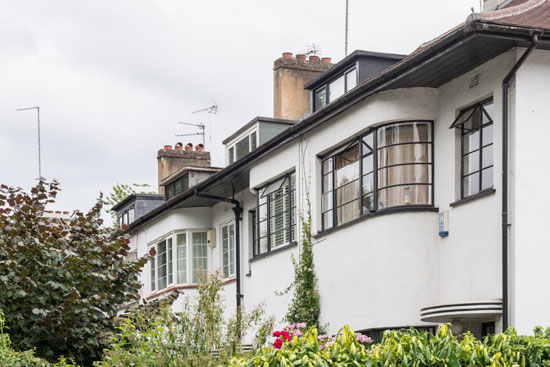 This one dates back to 1934 and still boasts the original Crittall windows from that time. That's a huge selling point, not least because of their preservation.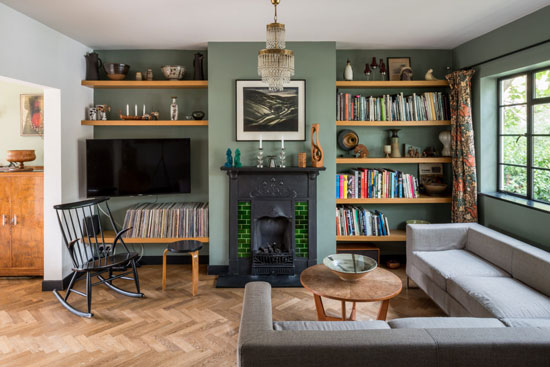 Beyond that, this is a house that has been 'sensitively renovated and extended' in recent years, adding an additional level of living space without destroying the look and feel of the place. It isn't 'statement' art deco architecture like some I have featured, but it's a good-looking house with all the right details and as I said, a feel for the original era.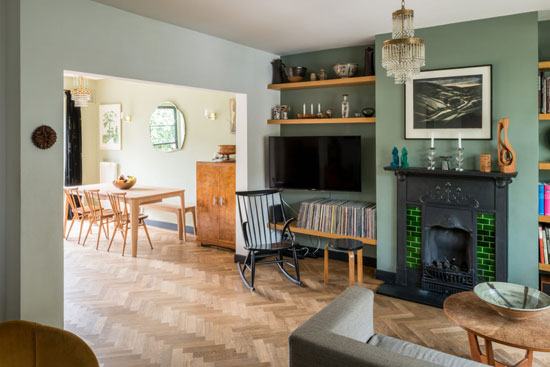 Yes, the exterior is a big part of that, but beyond that (rather nice) front door is the wonderful parquet flooring, a very stylish wood kitchen, vintage-style radiators, original internal doors, an interesting bathroom and a colour scheme that's just right for this house. Colour does indeed work.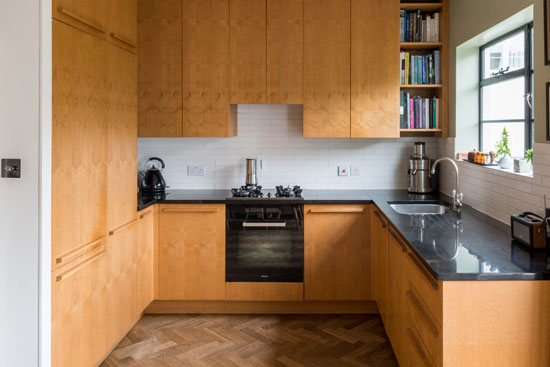 Head in via the art deco porch (with original curved portico and lamp) and access the slightly raised ground for the open-plan living space. As I mentioned, the parquet flooring is a selling point on this floor, which takes in a 'spacious' living room, dining room and kitchen.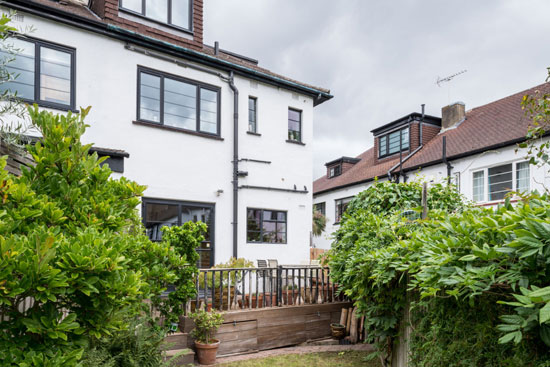 The dining room is positioned at the rear and opens out via Crittall doors onto a raised decking area, looking out over the garden just below. Love that kitchen too. Contemporary, but with the oak cabinets looking perfect for this house.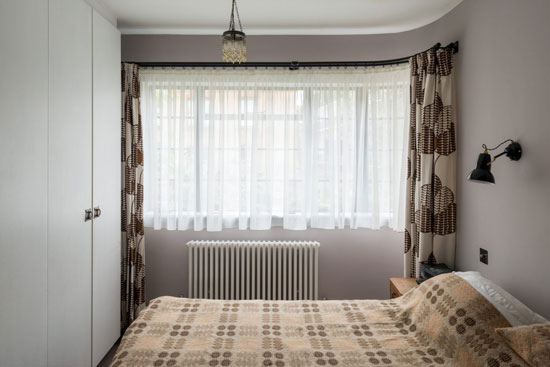 A decking area is at the rear, with a short staircase taking you down to the lawn which stretches to the foot of the garden, taking in a tree-house, some mature trees and shrubs.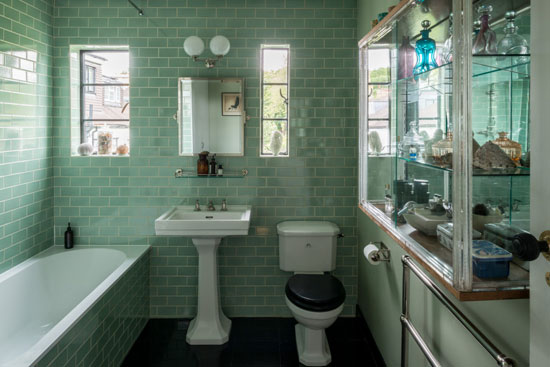 Head up the stairs and you are taken to the first floor and the bedrooms, Two double bedrooms here, as well as a single bedroom (currently an office) and a family bedroom, complete with a very cool glass cabinet.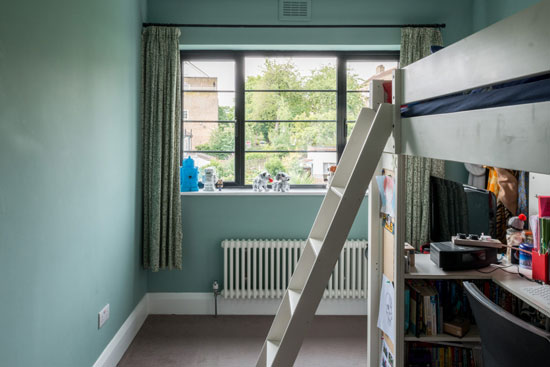 That second floor too, which has a large double bedroom with en-suite shower room and 'significant' eaves storage space. The newness means it lacks the character of the other floors, but it's useful, that's for sure.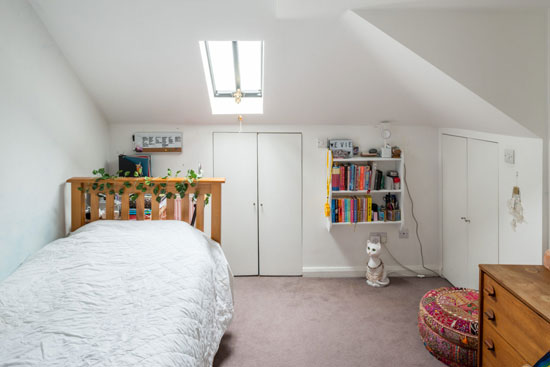 Note also that the current owner has pre-planning approval to convert the lower ground floor into a living space, along with an additional extension which incorporates the first floor and the current decked area of the garden. But you might want to consider that further down the line in light of the asking price.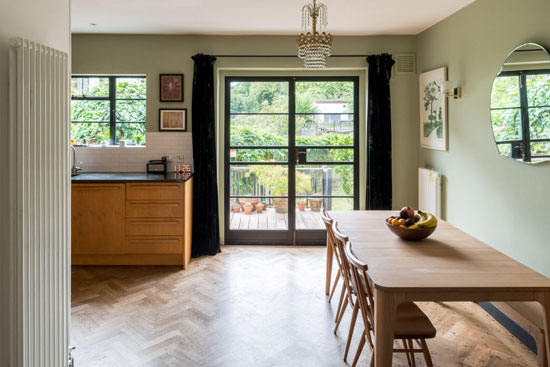 Not a cheap option, the house is up for £1,500,000.
Images and details courtesy of The Modern House. For more details and to make an enquiry, please visit the website.