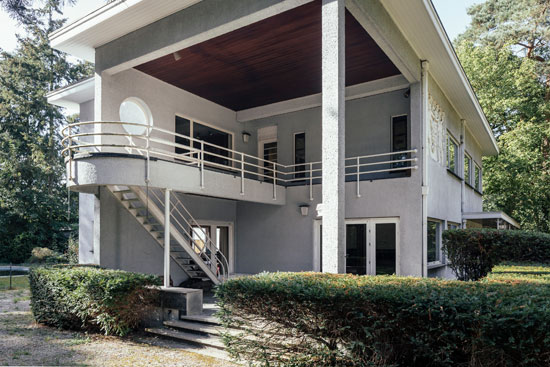 It's an area rich with interesting modernist houses, but when it comes to Modernist Belgium, these are the 10 most popular house finds on the WowHaus website.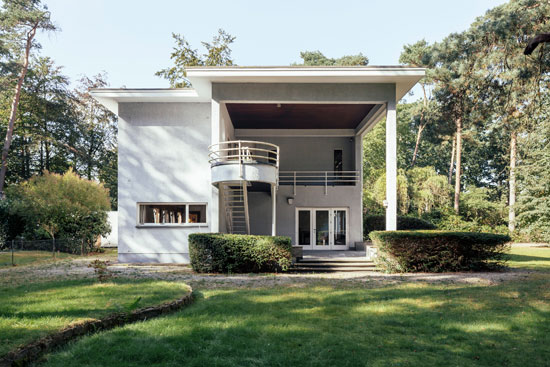 10. 1930s Leon Stynen-designed modernist property in Schoten, Antwerp, Belgium
The firsr entry in the modernist Belgium round-up is this one. 1930s modernism that has changed little over the decades.
The straight lines, the curves, the porthole windows, the external staircase, all key details here. Surprisingly original inside too. In need of work, but in a good way. Much to love and preserve here.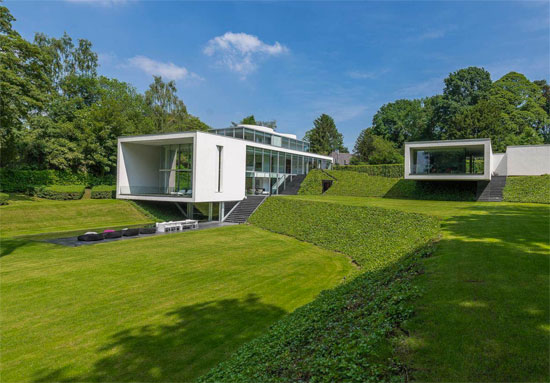 9. Bruno Erpicum-designed modernist property in Rhode Saint Genese, Belgium
From something vintage to something very modern.
Three houses in fact, but into the landscpaed gardens and with walls of glass, high ceilings and all the modern technology you could hope for. Right down to your very own garage elevator.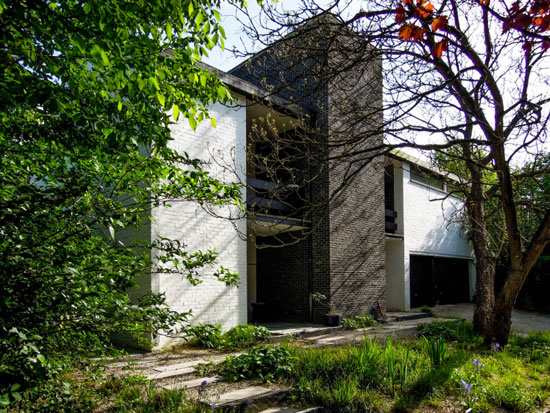 8. 1960s modernist property in Uccle, Belgium
Something that could only have been built in the 1960s.
1966 to be precise and looking around the place, little has changed over the decades. Well, the kitchen looks modern, but beyond that it's all white walls, exposed brick and plenty of period details.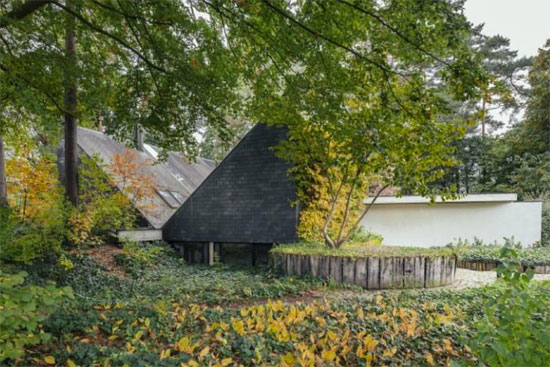 7. 1970s Gerard Cools-designed brutalist property in Westerlo, Belgium
Shifting along a decade brings us to this bold piece of brutalism.
It dates back to 1977 and I'd wager that the wonderful angular design would have got many of you hot under the collar on its own. But there's more to this one. The interior could be right out of a design magazine of the day. It's an amazing time capsule, right down to the vintage TV.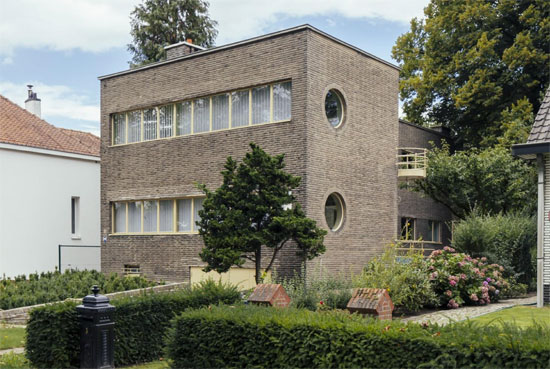 6. 1930s Eduard Van Steenbergen-designed Villa Peirsman in Brasschaat, Belgium
Belgium has some amazing 1930s property in largely original condition. This is another fine example.
This one dates to 1934, but a renovation back in 2011 is perhaps the reason for it being on these pages. All the original features preserved, from the windows and terraces through to the light fittings and bannisters. Almost a museum of the era.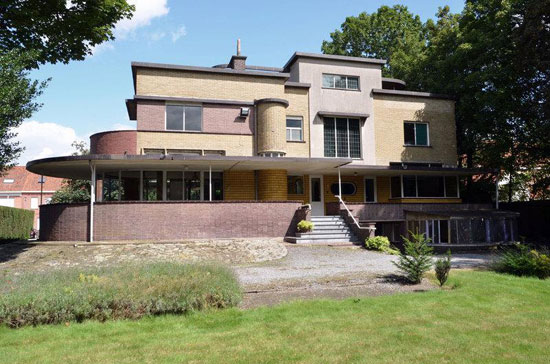 5. 1930s Gentiel Eeckhoutte-designed art deco property in Waregem, Belgium
Yes, another popular find from the 1930s.
Dating from 1939, it was constructed by and for local architect Gentiel Eeckhoutte and again benefits from being true to the original design both inside and out. You will probably never see a 'deco' bathroom as original as this again.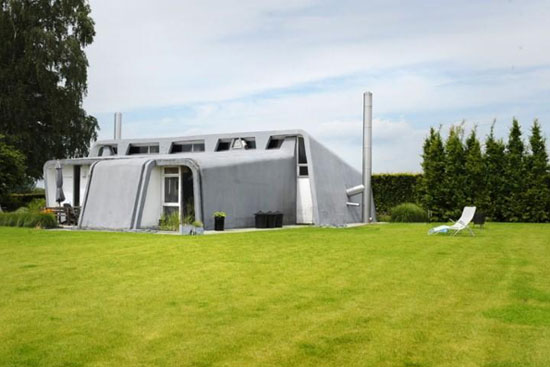 4. 1960s Willy Van Der Meeren-designed modernist property in Tomberg, Pajottenland, Belgium
Something weird and wonderful from the 1960s.
Dating back to 1962, it was designed and built for writer Maurice Roelant and is now a protected monument in the country. Downside? No internal shots. But the outside really is enough for us.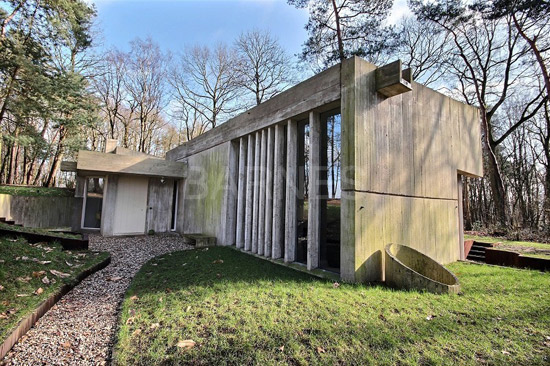 3. 1970s Marc Corbiau-designed brutalist property in Glabais, Belgium
Back to the 1970s and back to brutalism.
That concrete exterior still turns heads decades on. The interior doesn't disappoint either, although it's perhaps much softer than you might expect. Updated, but still a joy to behold.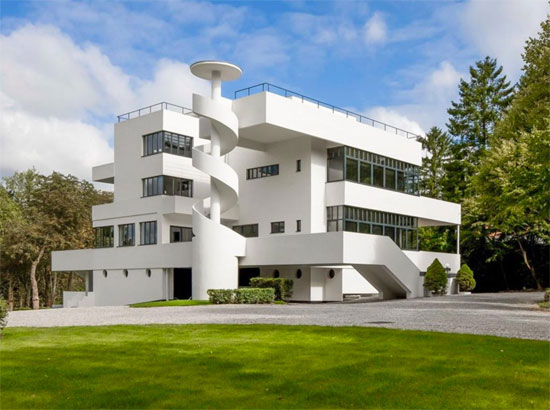 2. 1920s Marcel Leborgne-designed La Villa Dirickz in Sint-Genesius-Rode, Belgium
I'm frankly amazed that this doesn't have the modernist Belgium number one slot.
Surprisingly this house was left in some kind of disrepair in the 1980s, but in 2007 developer Alexander Cambron restored and modernised the building in conjunction with the heritage body in Belgium. The result is what you see here, with the kind of opulent finish inside that this place deserves.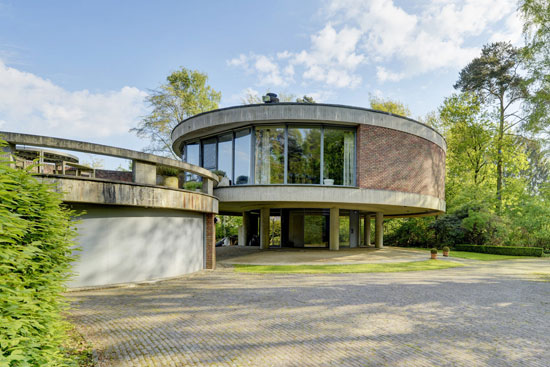 1. 1970s Jackie Cuylen-designed property in Herentals, Antwerp, Belgium
The above didn't make number one in my Modernist Belgium round-up because you all fell for this circular gem.
Dating back to the mid-1970s, it is based on circles both for the main house, the garage and of course, the pool. The architecture is unchanged, but the interior has been updated, but that remains 'in keeping' with the house itself. It all just flows so well.
If you want to keep an eye on our property finds in Belgium, do check out the Belgium section of the site.