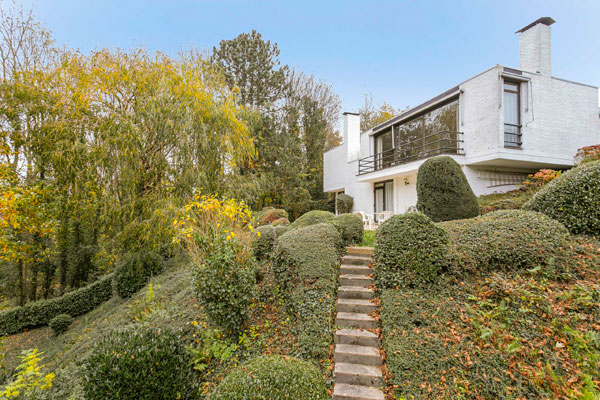 Not quite a time capsule of the era, but this 1970s Roger Vanhoof modern house in Leuven, Belgium isn't far from it.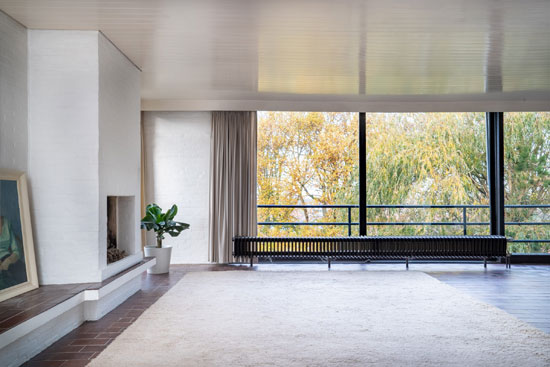 The house was built in 1978 to a design by Roger Vanhoof and this house is typical of his work in the 1970s.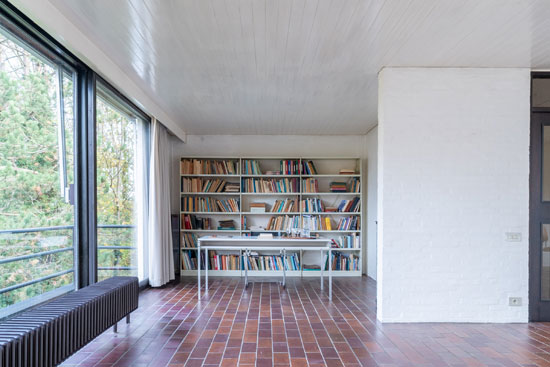 Straight lines, large windows and a smooth concrete finish. Fairly minimal too, which is perhaps why this one still looks so contemporary all those years on.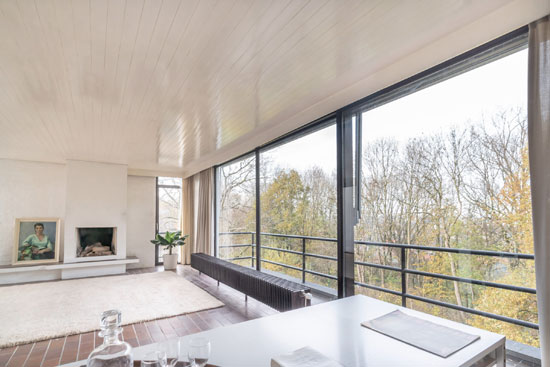 That's despite very little in the way of an upgrade over the years. At least, that's what I am getting when I look at the images here. Perhaps it has just been preserved to a very high standard? Either way, not a great deal of change since the builders left over 40 years ago.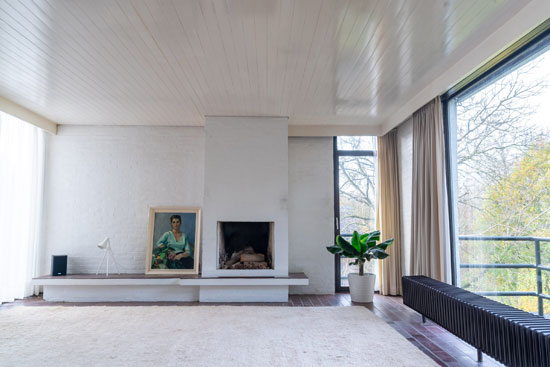 The finishes throughout seem unchanged, the finishing touches such as the lighting, the doors, the fireplace and the flooring all look as you would expect of a 1970s house. Even the decorative touches and furnishings still have that '70s vibe. It is literally a show home of the era.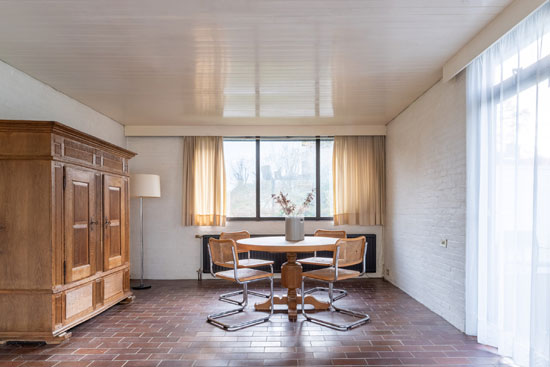 And if you want to seal the deal, the kitchen looks like it was fitted back in 1978 too. Of course, the staircase is rather special too. If you love this kind of modernism, especially with plenty of exposed bricks and heavy glazing, then this is a house for you.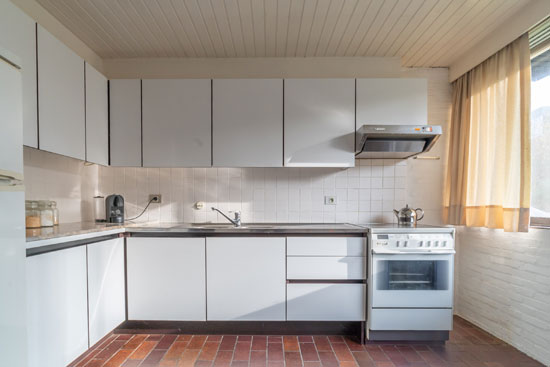 The only reason this isn't a time capsule is probably down to some of the flooring, which may have been upgraded, possibly an upgrade in the bathroom and the presence of a computer. Minor things. Outside of that, this is pretty much 1978.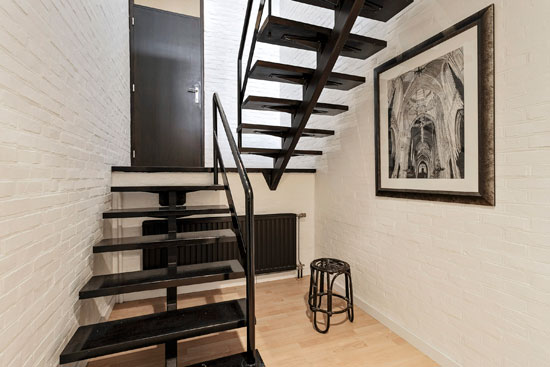 But as I hinted at above, the architecture has aged amazingly well. This could pass for a modern-era build in many ways and is perfect for anyone looking for a modern house with character and style. You might want to tweak the kitchen, but outside of that, it's really a matter of unpacking and moving in.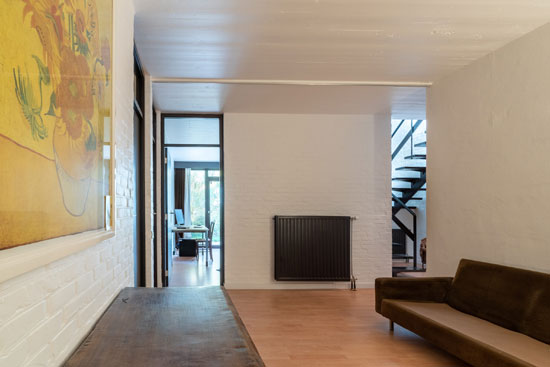 Accommodation is over two floors. The ground floor has an entrance hall with guest WC, a stunning and spacious living room with views over the lower-lying wooded garden and surroundings, a kitchen and what's described as a 'cosy' terrace. A built-in garage too.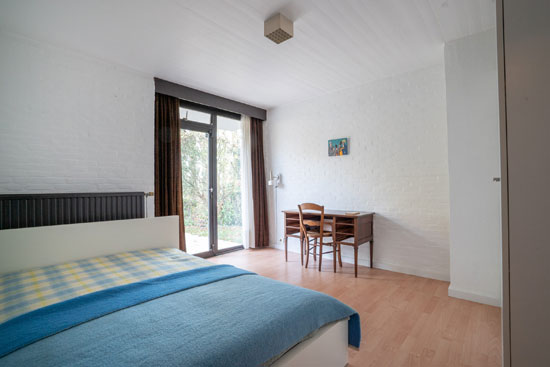 You would be expecting to go upstairs from there, but the second level is actually on a lower level. That's pretty much the bedroom zone.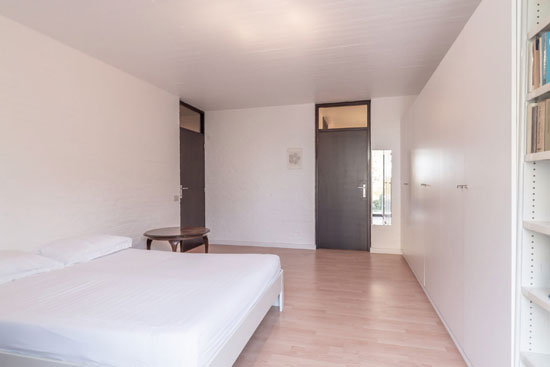 On this floor are three 'spacious' bedrooms with large windows and views of the terrace and garden. There is also a 'sitting area,' plus two bathrooms.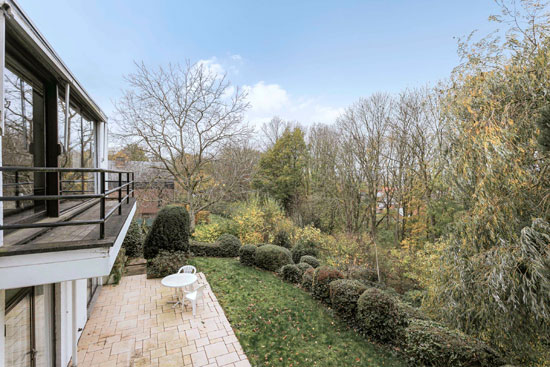 Outside space includes a patio just below the balcony, with steps down to the extensive garden area.
A very cool house and if you want to move in, the asking price is €715,000.
Images and details courtesy of Jes Vastgoed. For more details and to make an enquiry, please visit the website.
Thanks to Stefi Orazi for the tip-off.