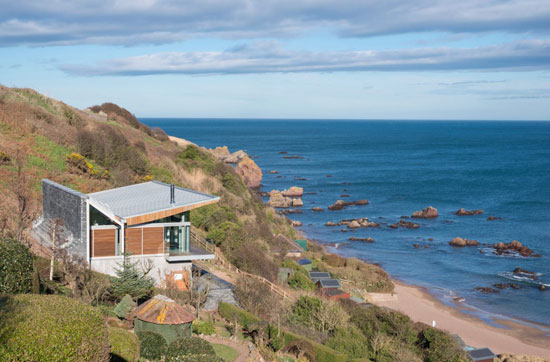 Hopefully you enjoyed numbers 50 – 41 and numbers 40 – 31. Now we have got to numbers 30 – 21 of the most popular properties of the year on WowHaus and again the rundown is in reverse order. Enjoy!
30. The Pavilion modernist property in Coldingham Bay, Scottish Borders (pictured above)
A house by the sea? Check out this wonderful place on the Scottish borders.
Occupying the site of a former Edwardian pavilion, this is a steel construction with stunning panoramic views and a very bright and stylish contemporary interior. Imagine waking up in this place each morning?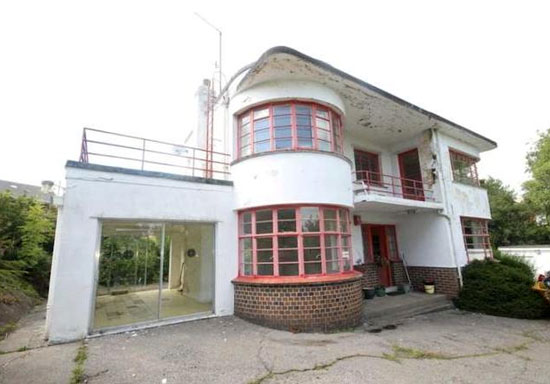 29. Shangri La grade II-listed art deco property in Pontllanfraith, Caerphilly, South Wales
Another art deco project and another with (we think) a happy ending. This place was up for sale, had a lot of interest, but no takers. Fast forward a few months and it went to auction. A lot of interest in doing the necessary improvements this time and thankfully a buyer to save the house, its wonderful period features, but perhaps not that 1970s kitchen.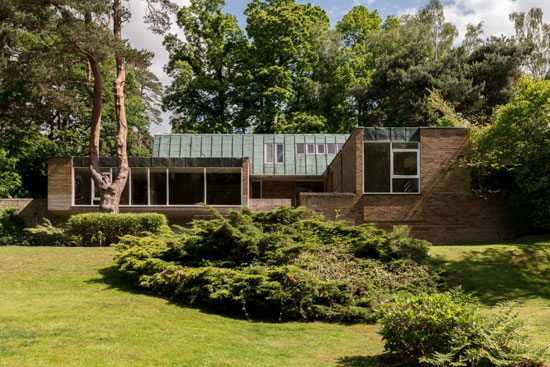 28. 1960s Leslie Gooday-designed grade II-listed modernist property in St George's Hill, Weybridge, Surrey
This really is something special. But you need to see the interior to understand just why.
Another pricey St. George's Hill property, but with a listing, which should mean its important and untouched 1960s features remain intact. Wood and concrete in perfect harmony.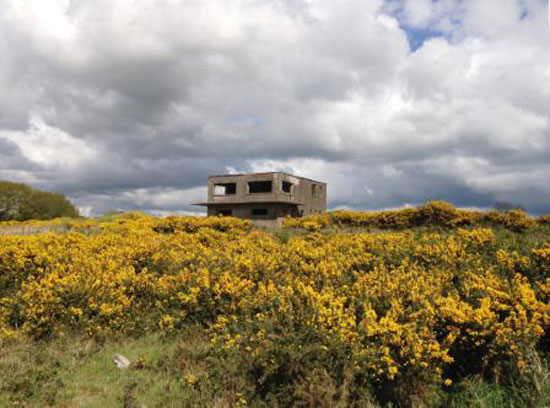 27. Former aircraft control tower and land in Winkleigh, Devon
It is surprising to see this so far up the charts, but once again, it shows how popular potential projects have become. Grand Designs has a lot to answer for!
You can understand why it was so popular when you realise this wartime relic had planning permission for turning it into a house and it came with 9.5 acres of land. Oh yes, it also has a guide of just £35,000 – £50,000 too.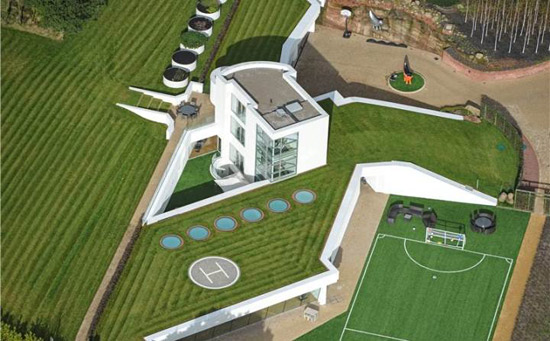 26. Steppingstone contemporary modernist property in Helsby, Frodsham, Cheshire
From one end of the spectrum to the other. Something very luxurious and cutting edge in Cheshire.
The modern, heavily glazed dwelling is only half of the story here. As well as all that bright, open living space inside you also get staff living space, a wine cellar, a sports pitch, a children's adventure playground, tree house, pool room and a helicopter landing area. Great if you have the money.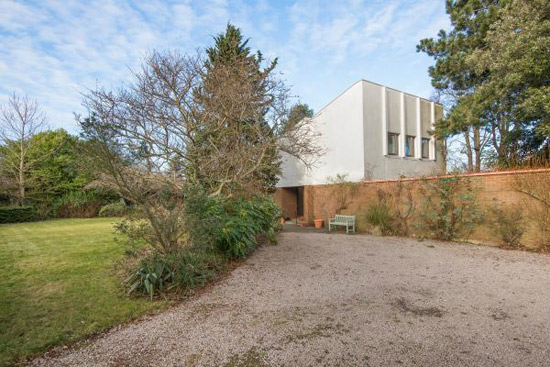 25. 1960s Morris and Steedman-designed modernist property in North Berwick, East Lothian, Scotland
From something cutting edge in the present day to something that made its marks back in the 1960s.
The first time on the market for this angular build, which still has all of its original features intact. So if you like the idea of walking back into that decade, this place is the perfect house for you.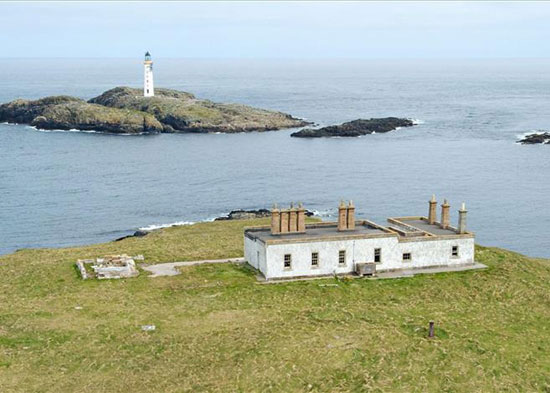 24. The Isle Of Grunay, Out Skerries, Shetland, Scotland
Talking of Scotland, how would you like to own your own island? You would? Read on…
The Isle Of Grunay hit the market complete with 55.5 acres of space, an airstrip, a deep water pier, beaches and some buildings in need of an upgrade. The guide price was £85,000 for your very own kingdom.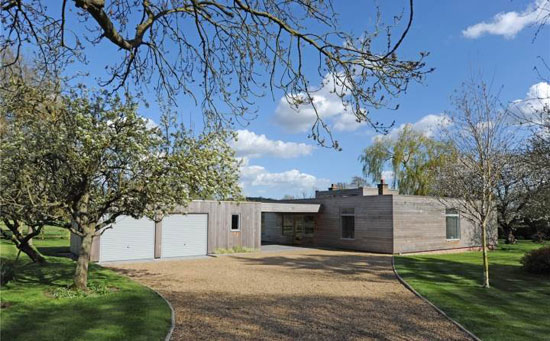 23. Church Meadow 1960s John Penn-designed midcentury property in Saxmundham, Suffolk
One of a group of nine Suffolk houses referred to as the 'temple' houses, all designed by the architect John Penn in 1966, with this one being on the receiving end of a fairly recent renovation.
A great job it is too, with the 1960s features preserved and sitting comfortably alongside the more recent additions and upgrades. A great example of midcentury design in the modern era.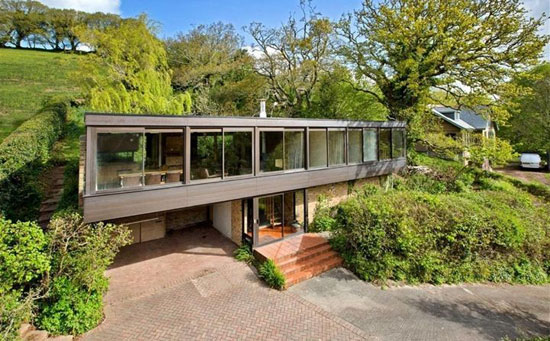 22. Bryan Tanner-designed Dominoes 1960s modernist property in Stoke Gabriel, Devon
More 1960s modernism, but in this case it all seems pretty much original.
A wonderful raised waterside location, plenty of glazing to take advantage of that position and inside, lots of open living space and as many period features as you could hope for. A great find.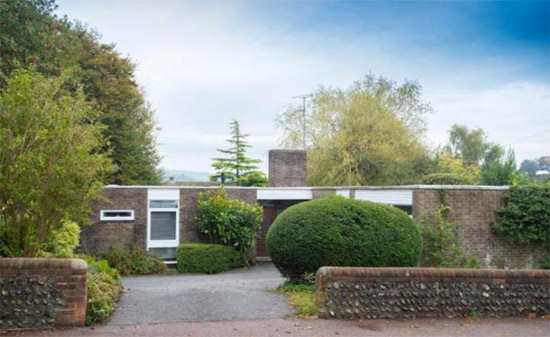 21. 1960s John Schwerdt-designed modernist property in Lewes, East Sussex
Completing our run of 1960s modernism is this place in East Sussex.
The original 1961 design is largely intact, but it might need a little updating depending on your tastes. Great location though, as well as excellent and flexible living space and a good amount of garden too.