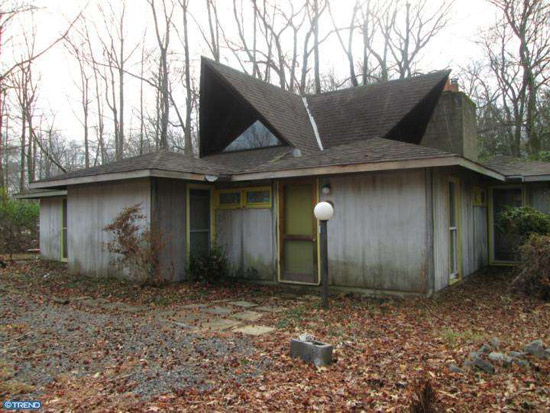 It is now becoming something of an annual tradition, the most popular properties of the year on WowHaus. So let's not waste any more time and go straight into the 2015 selection, numbers 50 through to 41. Yes, we are going in reverse order, like all the best charts.
50. 1960s Louis Kahn-designed Clever House in Cherry Hill, New Jersey, USA (pictured above)
The word here is (or was) 'potential'.
It was designed by Louis Kahn between 1957 and 1962 and by and large, remains in much the same style as that original build, with four large triangular gables, each with large triangular windows. A pyramid-style roof in the centre of the property too. All for a price that would get you pretty much nothing in many parts of the UK.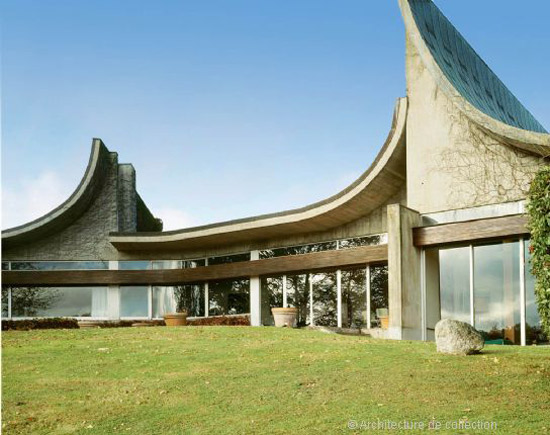 49. 1960s Claude Parent-designed modernist property in Bois-le-Roy, near Paris, France
This really is something special.
Designed in 1965 for French artist Andrée Bordeaux-Lepecq, the property still has its bold concrete roof with copper cladding, not to mention all of its internal concrete features. A well preserved architcutal statement, as well as a a stylish place to live in an equally stylish part of the world.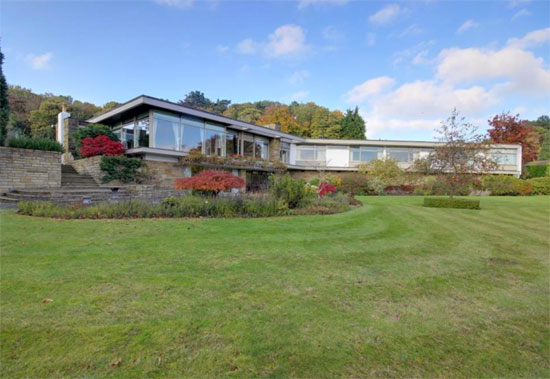 48. 1960s Elsworth Sykes-designed Garth House midcentury property in North Ferriby, East Yorkshire
Midcentury living in Yorkshire, courtesy of a local architect designing for a local entrepreneur.
Obviously a man of some means back in the day, this place was presumably quite a statement back in the mid-1960s and although some updates were made (we think) a couple of decades later, much of the original period detail remains pretty much as it started out.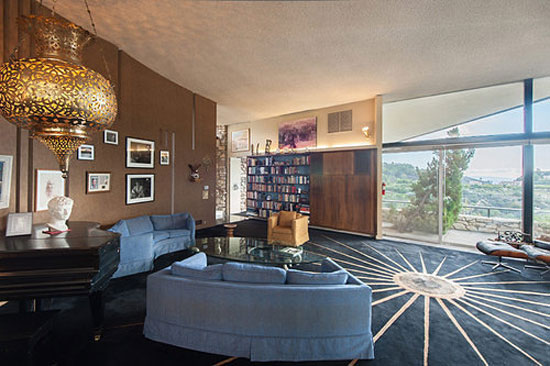 47. Charlton Heston's 1950s midcentury modern property in Coldwater Canyon, Los Angeles, California, USA
Yes, a celebrity home. Although this place might well have featured even without the connection to the legendary actor.
The work of architect William S. Beckett and dating back to 1959, it has changed little over the years, with the glass and stone, curved staircase and floating inner walls screaming the mid-20th century. Lots of space, lots of luxury and a tennis court, swimming pool and three acres of land outside. Wonderful.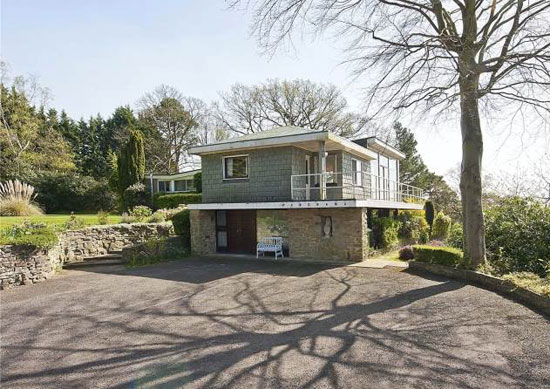 46. 1960s midcentury property in St George's Hill, Weybridge, Surrey
An area that has given us a lot this year, but relocating to St George's Hil never comes cheap.
In fact, the land is of such value that the house is often a secondary concern. Shame as this is something of a midcentury gem with plenty of originality. Sadly, with 1.37 acres outside, we don't think this place has much of a future.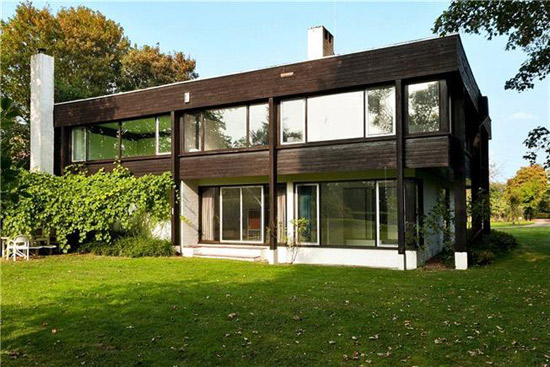 45. The Boathouse 1960s modernist property in Dorney Reach, Maidenhead, Berkshire
Well preserved 1960s modernism, but it comes at a price.
Extensive glazing, wood cladding, a galleried central living space – there really is so much to talk about here – and that's before we get to the fixtures and fittings. All well preserved and with the bonus of triple aspect views of the River Thames.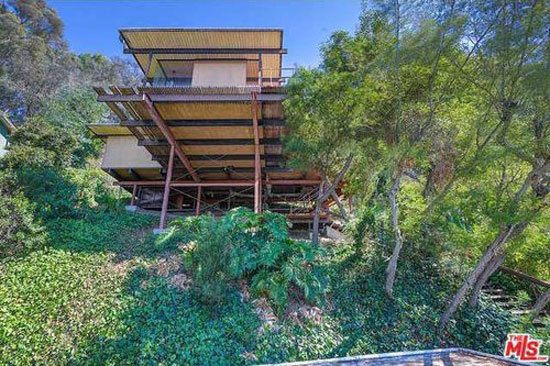 44. 1960s Raul Garduno-designed hillside midcentury property in Los Angeles, California, USA
Obviously you need to love heights to appreciate this hillside property.
Raul F. Garduno designed this somewhere around 1960 – 1962 with the kind of open plan, steel and glass, post and beam construction you would expect of the area. Very well maintained but looking just a little empty right now. It really does need someone to show it some love.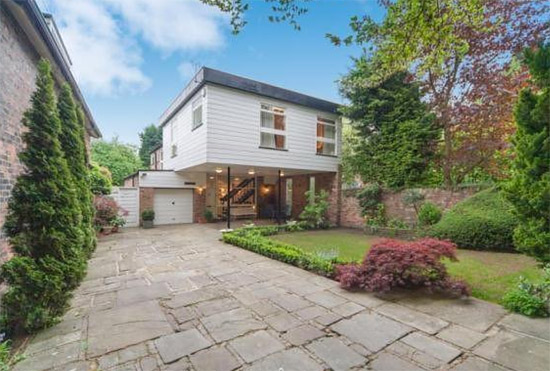 43. 1970s Frazer Crane-designed modernist property in Altrincham, Cheshire
Frazer Crane will perhaps always be most associated with the house he designed for George Best, but he was pretty prolific across Cheshire during the 1970s, with this being just one of his other works.
Compared to the 'Best' house it is fairly mainstream, but look closely and you'll see plenty of neat touches, even if some have been disguised by more contemporary upgrades.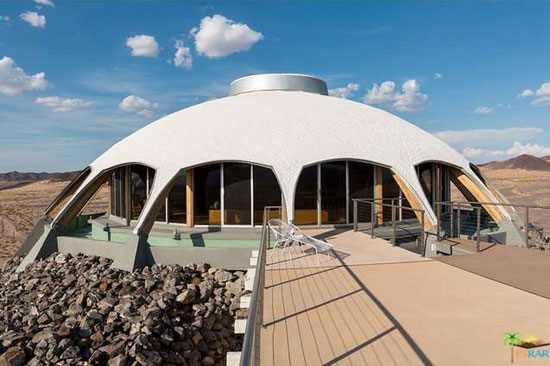 42. 1970s space age Volcano House in Newberry Springs, California, USA
A one-of-a-kind place. In fact, it's the kind of house you would expect to be owned by a James Bond villain.
So if you have aspirations on that front, get checking the bank account. A 1970s property with more than a hint of the flying saucer about it, Volcano House sits (as you might have guessed) on top of a volcanic cinder cone in the Mojave Desert. The inside is equally as stunning.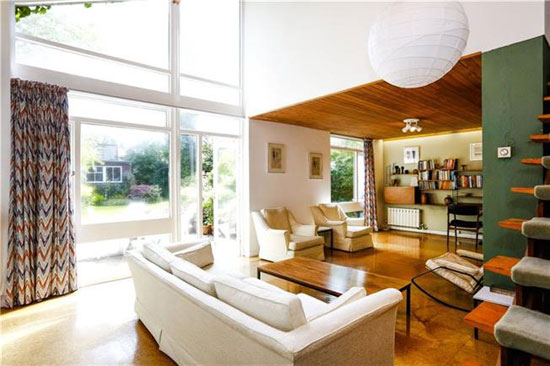 41. 1960s Norman Plastow-designed midcentury property in London SW20
A great example of 1960s modernist design.
Lots of lovely detailing still intact, from the windows through to the open staircase, the flooring, the wood panelling and the double-height ceiling living room. A good amount of space too, which is reflected in the price.