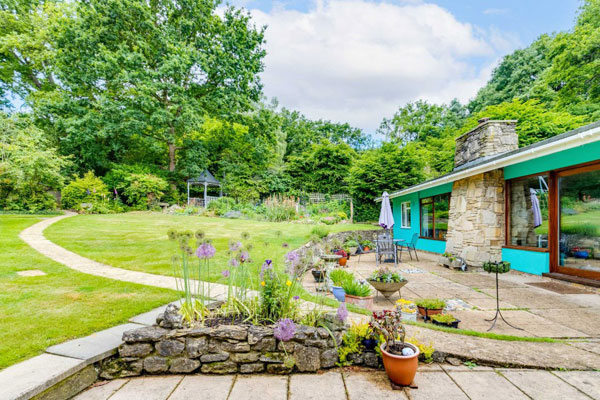 Not just a lovely piece of architecture, this 1960s midcentury modern house in Welwyn, Hertfordshire even has its own railway in the garden.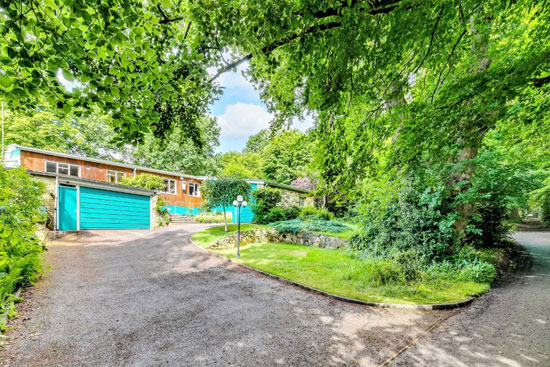 It has so much more too. This is one of the most fascinating houses I have featured in quite a while.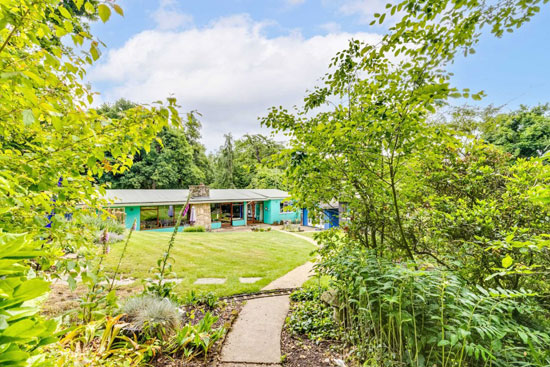 But first up, the background. The house was constructed back in 1961 and sits on 0.46 acres of land, with numerous appealing outbuildings and of course, the railway track, which I'll explain further down the article.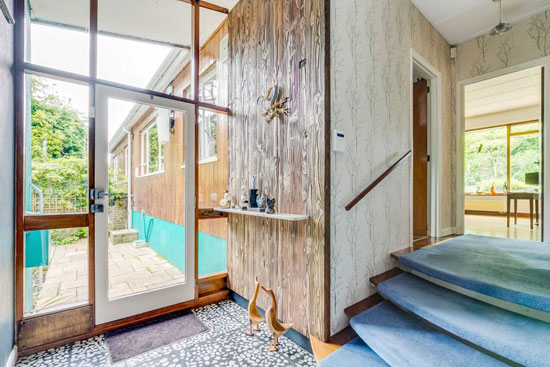 No named architect is attached to this one, but it seems at odds with British modernism of the time. This is the kind of house and design I would expect to find in the US rather than the UK. For me, that's the exciting part. It's something of a unique design and so well-preserved too.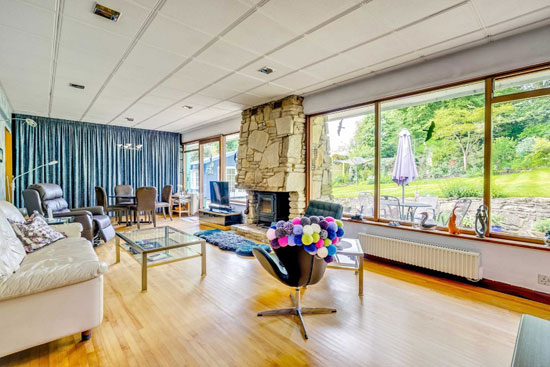 Many of its cutting-edge midcentury modern features are still in place. The architecture itself of course, with its large windows, stone detailing and angled roof with a design that is central to the plot and takes full advantage of the views. That alone would be worth writing about. But it's only one part of the deal.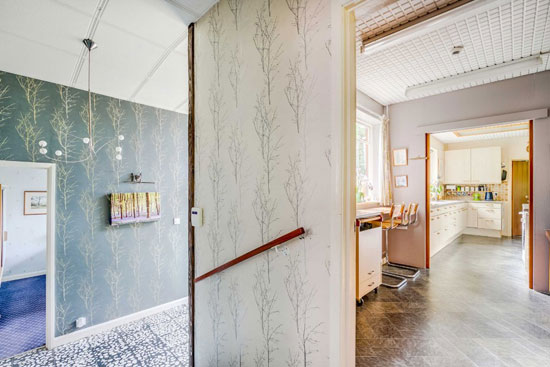 There has been some updating in terms of the deception and functionality, but many of the key midcentury modern details remain here. So wood cladding, hardwood flooring, terrazzo tiling, the large picture windows and a stone fireplace. Some built-in furnishings too if you look closely. All touches buyers of this style of house crave.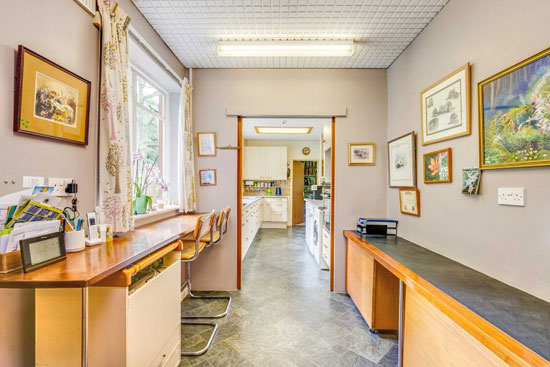 And with midcentury modern being so hot right now (these houses really have come around again) I suspect there will be no shortage of buyers for this one in its current state.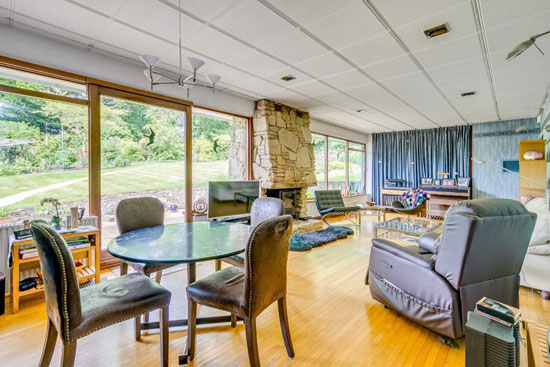 Yes, you might want to do some updating for your own taste. That's the case with any house you move into. But those core 1960s features are something to treasure and work around. If you have the budget, this could and should be the midcentury modern house of your dreams.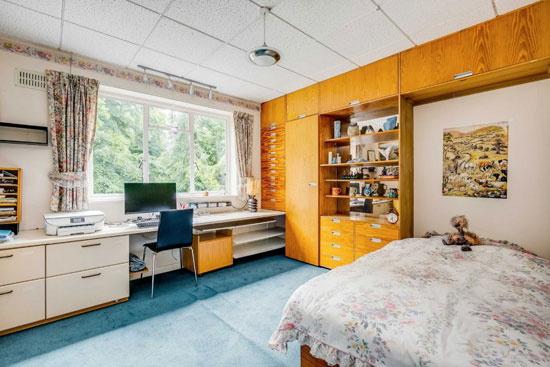 Not just inside. The outside space is something of a joy too. A good-sized plot as you might have noticed, there are plenty of added buildings here and that train track. Yes, you read that correctly. There is a train line here.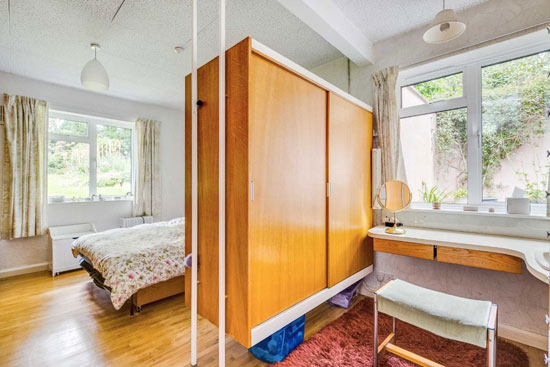 Specifically, the gardens of this house have a 5″ gauge miniature railway that runs around the perimeter of the garden. There's even a viaduct and a tunnel in place!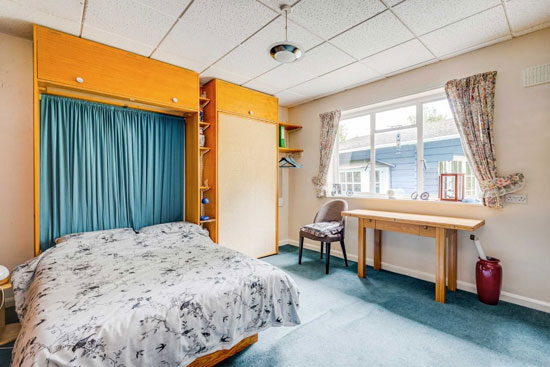 Does it run? I'm not sure. That's a question you might want to pose to the agent or at an open day/viewing. Like all these things, it would need checking and maintenance might well be required. But it's a fascinating feature and maybe a must-have for any railway buffs out there.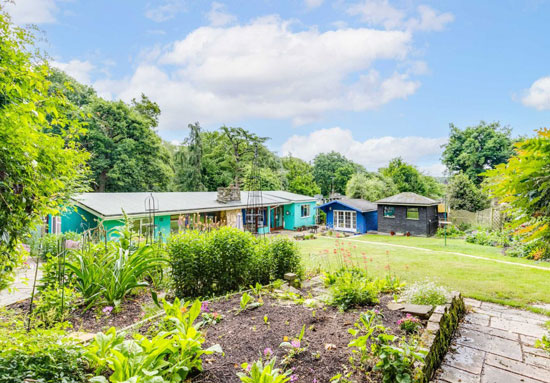 But as I said, it isn't the main selling point. That's the house, which is a good size and with a layout that tends to be both open and free-flowing.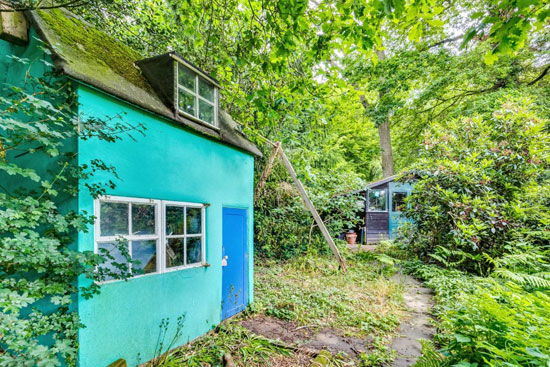 That accommodation is made up of a rather impressive entrance hall with high ceilings and plenty of light via the wall of glass in the entranceway.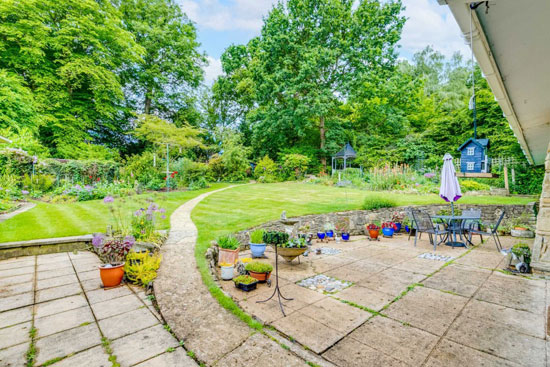 Beyond that is an equally bright sitting/dining room with a log burner and views across the garden. It's a significant space and a great space for a party.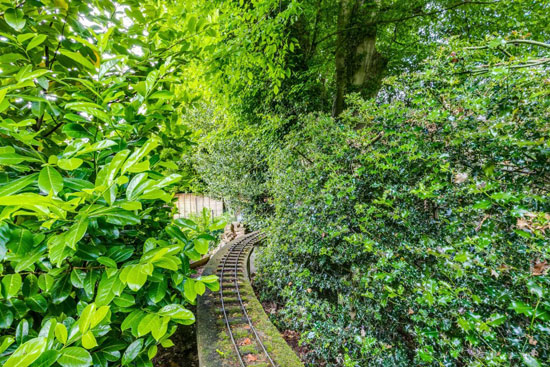 You also get a study, a kitchen with an adjacent breakfast room and a utility room, the latter accessing the garage.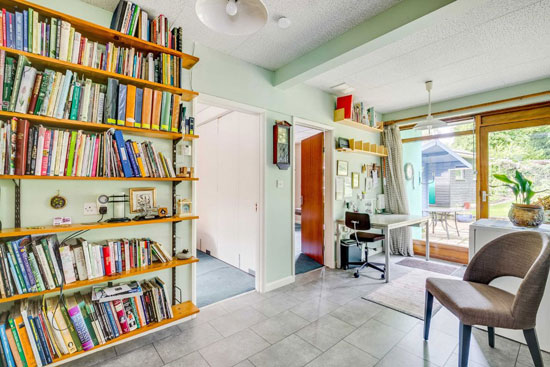 All four bedrooms are double bedrooms and I love the built-in furnishings that are original to the house. Not least the dividing unit between the bedroom and dressing area in one of the rooms.
Note that there is also a modern family shower room, a further shower/cloakroom and a third cloakroom. Between the main bedroom and the sitting room and also between bedrooms two and three, there are full-height concertina panels allowing great adaptability of the space. Nice touch.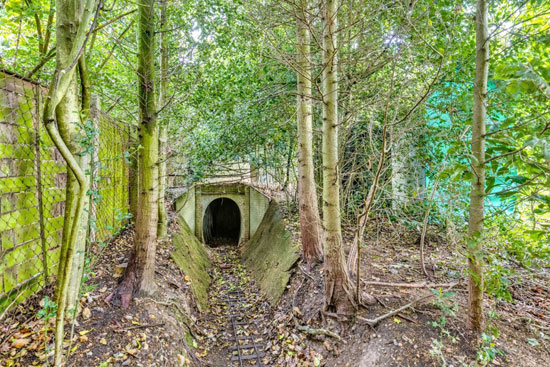 As for the outside, well that warrants quite a few words too. As I said earlier, 0.46 acres in total, which includes a patio area, lawn and 'meandering' pathways.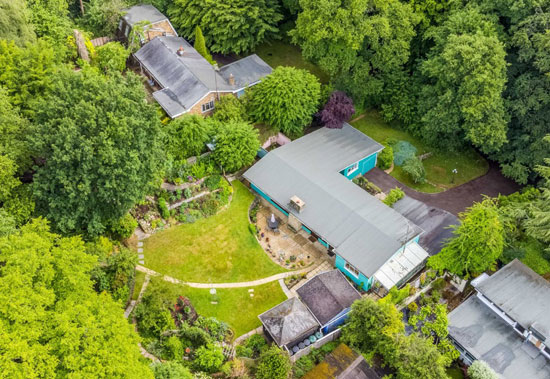 But you also get numerous sheds, a greenhouse, a rather cute summerhouse, a playhouse, a gazebo and a workshop. Yes, that railway too, which I have already covered in detail.
Attached to the house is a triple-width garage with an inspection pit too. I know a lot of car obsessives read this site and I know that will put you all on alert. Especially as there is a further single garage plus a drive that caters for up to six cars.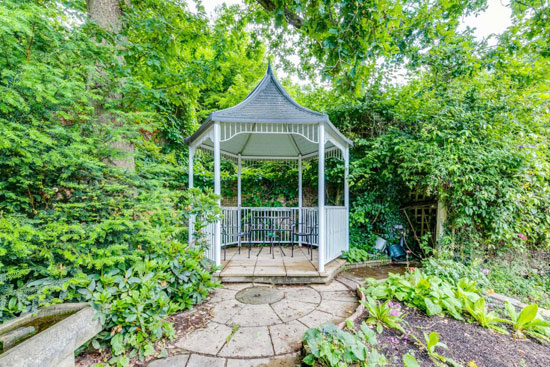 Finally, there is some useful cellar storage running under the house. Ideal if you like to hide your clutter.
So a very appealing prospect and just on the market. If you like the idea of moving in here, the asking price is £950,000.
Images and details courtesy of Putterills. For more details and to make an enquiry, please visit the website.