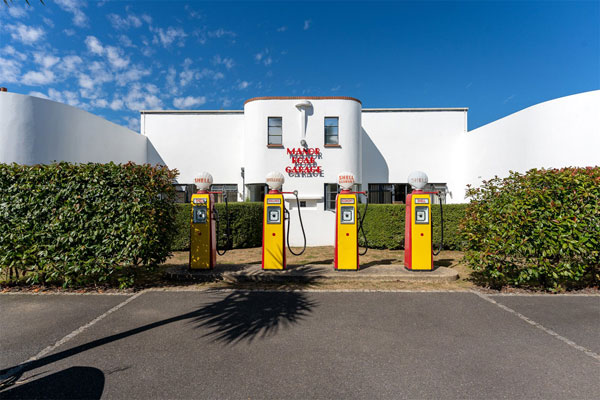 An apartment in the 1930s Manor Road Garage in East Preston, West Sussex, has gone up for sale, which is a great reason to shine some light on it.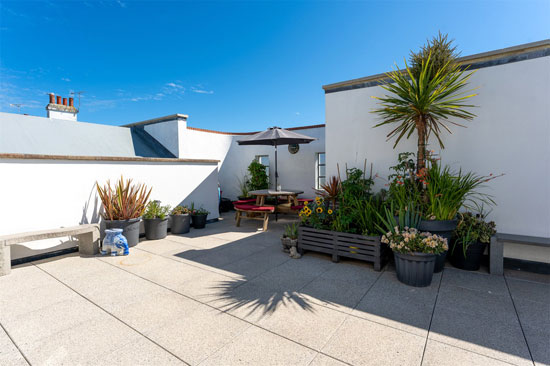 You might recall I have been following this particular building since 2011. Back then I spotted the derelict garage and plans to convert the Grade II-listed building into apartments.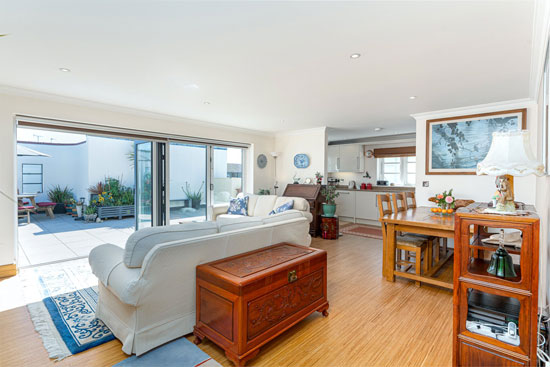 Fast forward to 2012 and the initial development showed itself, with the first apartments offered for sale. A couple have come up since then too, as well as one being offered as a holiday let. But this one is significant as it happens to be a rooftop terrace penthouse apartment.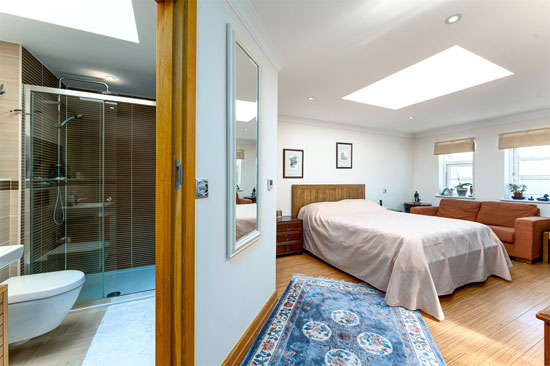 But it is still part of Manor Road Garage, an art deco-style building dating back to 1934 and operating as a garage until 1973. After that? Well, it was just left to fade away.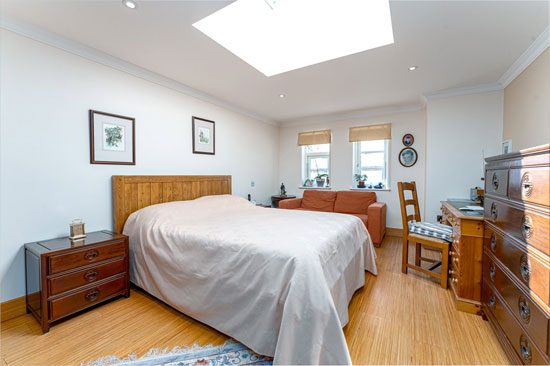 Thankfully it wasn't left to rot, with the building itself and those amazing vintage pumps at the front surviving enough for each to be renovated. That's the big plus here. If you want to see the 'before', do have a look at the old listings. It's an interesting contrast.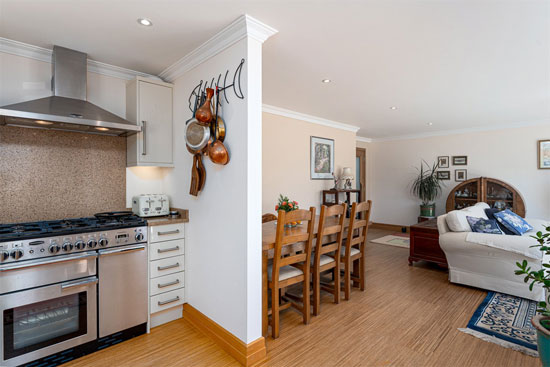 Manor Road Garage is now back to its best. A building with impact, one that really does stop you in your tracks. The restoration work is nothing short of stunning.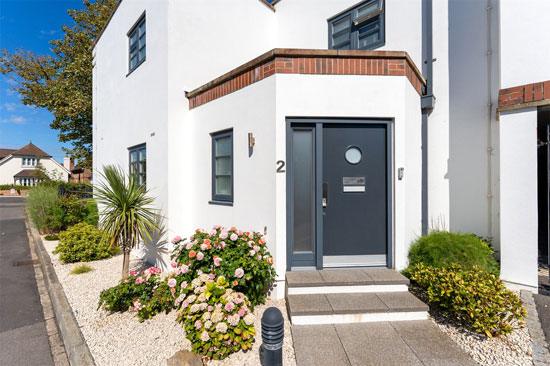 But inside is a different story. Not that I mean that in a negative way. It's that the building was a working garage rather than a domestic dwelling space. As such, all the living space inside this development is new.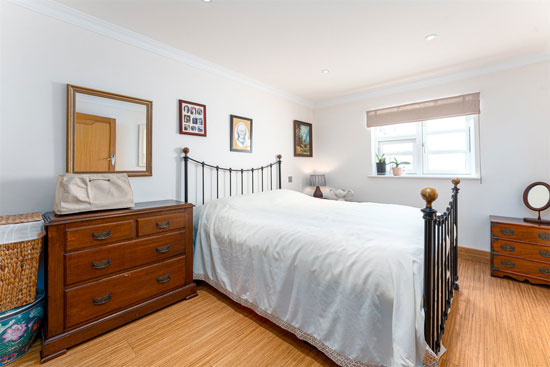 Inside is very much the clean, modern and premium space you would expect of a new build. But it's also fairly minimal. You can make of this what you like. If you want to go down the 1930s route then the right fixtures and finishes will aid you to do just that.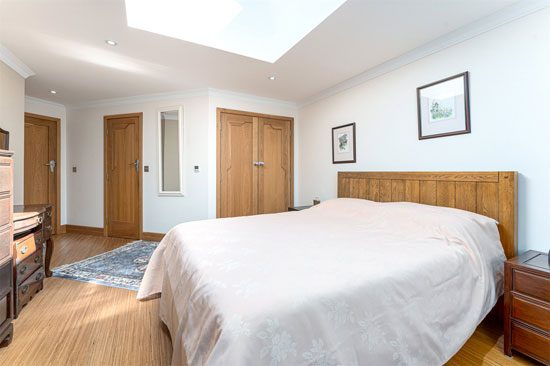 Obviously, the kitchen and bathroom space is contemporary, but outside of that, it's all about you stamping your own personality on it.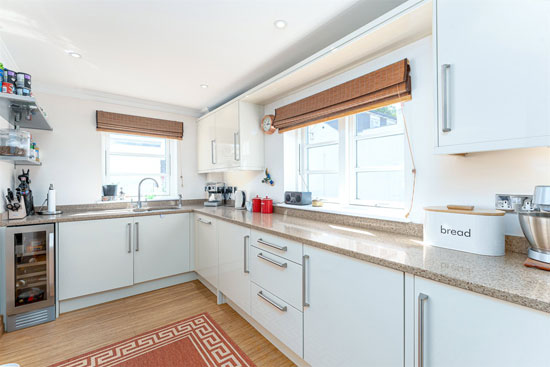 And of course, you have the outside space too, with the main reception opening out onto the enclosed terrace just behind the Manor Road Garage sign, which is a great area for relaxing or partying. Or just showing off.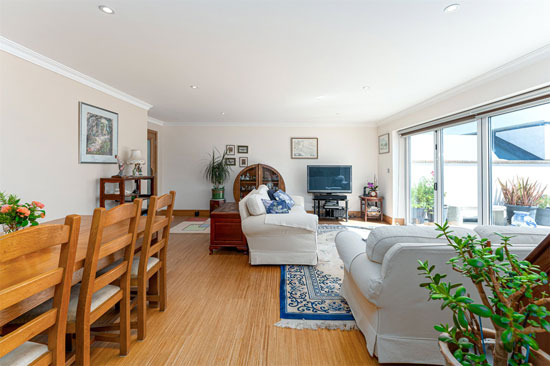 As for space, head in through the front door and up the stairs to see the full layout. That is made up of the large lounge area, with the kitchen just off it and as I mentioned earlier, that amazing roof terrace space that's hidden away on top of the development.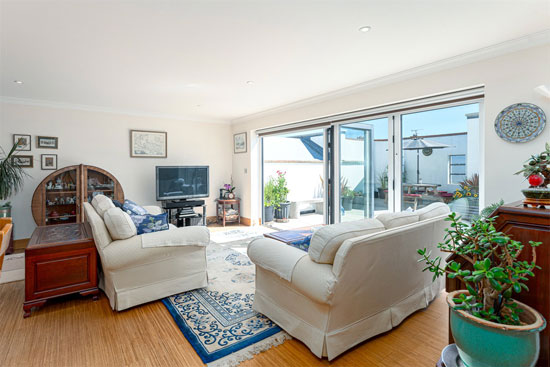 Behind all that are the two bedrooms, a couple of bathrooms and the hallway. Just over 1,648 sq. ft. including the roof terrace.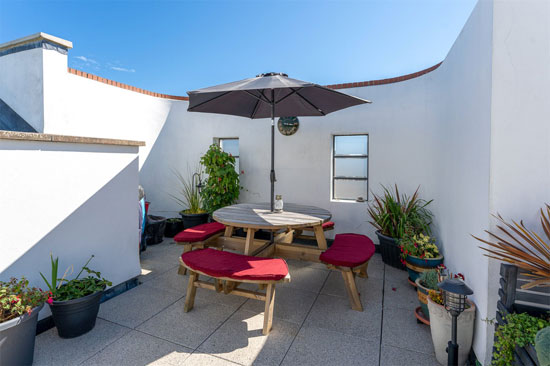 Location is also on its side, with Manor Road Garage ideally located in the picturesque coastal village of East Preston in West Sussex, with both the beach and its eateries within five minutes of the place. If you drive, you'll notice the parking space hidden away here too. When you consider its heritage, that's no surprise.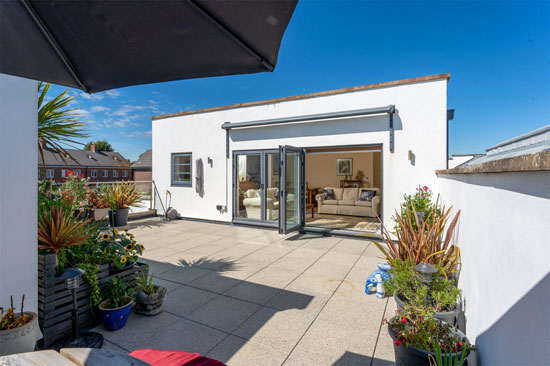 Fancy it? If you like the idea of spending long sunny days on the terrace, this penthouse apartment is available for £525,000.
Images and details courtesy of Brennan and Chatterton. For more details and to make an enquiry, please visit the website.