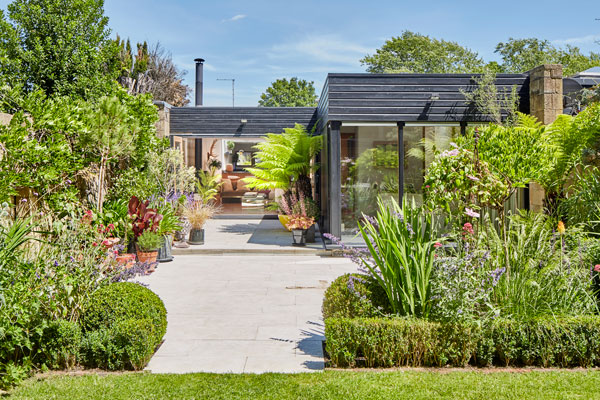 Updated, but with features intact, this 1960s Cockaigne Housing Group property in Hatfield, Hertfordshire is up for sale.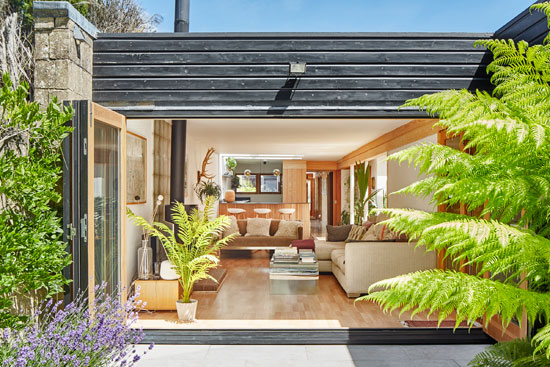 I have featured a few of these in the past, with the majority (if not all) in largely original condition and may be in need of some work. This one is at the other end of the spectrum.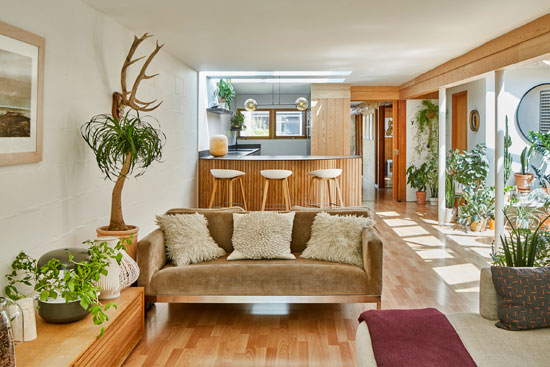 But this is still consistent with the other houses on this development, designed by architects Peter Phippen, Peter Randall and David Parkes in the mid-1960s, with the scheme described by English Heritage as 'the leading English manifestation of the courtyard house'. Grade II-listed, as you might have worked out from that.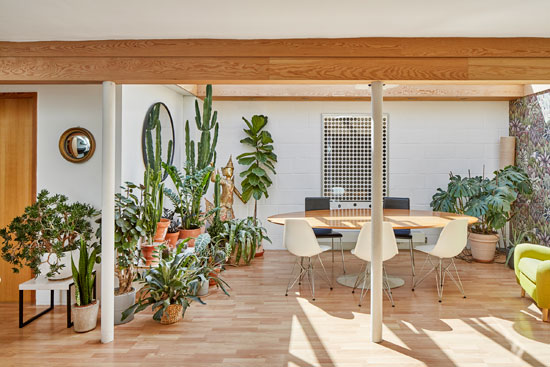 It's still a much-loved development, especially for fans of midcentury modern architecture. But it isn't only about the house designs. It is also about the layout of the scheme, which follows that forward-thinking 1960s ethos of giving its residents land and social space. Something we have long given up on today.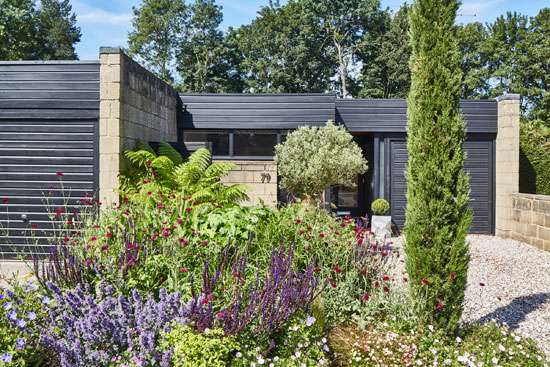 If you saw a patch of land now, the average developer would be looking at squeezing another house on, not a tennis court. More on that particular selling point in a moment.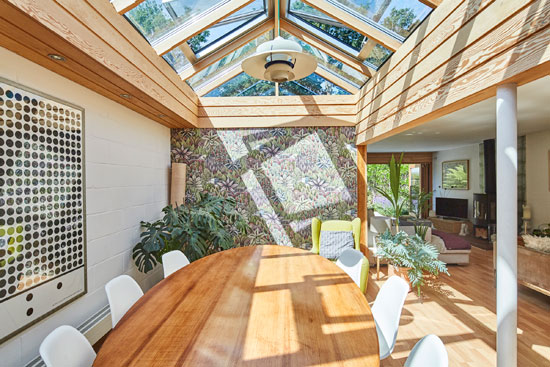 Accommodation here covers just under 1,800 sq. ft. in total and all on a single level. There's also the bonus of off-street parking, an integrated garage and a landscaped rear garden, along with an internal courtyard.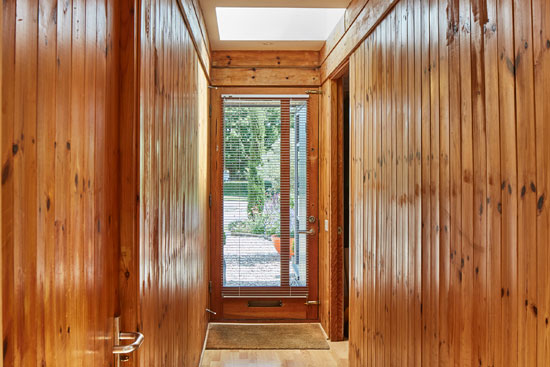 Head through the 'densely planted' front garden and into the house and you will be greeted by the 'versatile free-flowing, interlinking rooms' which form the layout of the house.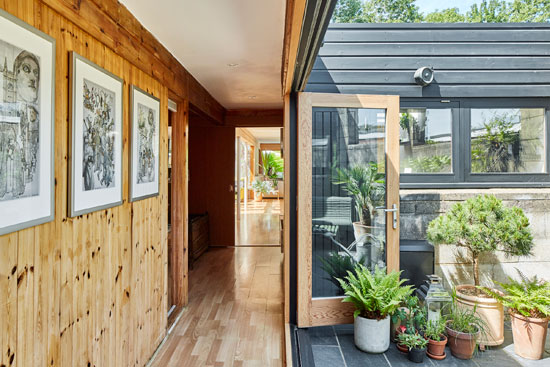 As I said, updated, but by and large it's all about the decor and the finish rather than anything radical. The original features such as interior cladding have been maintained throughout but elsewhere a modern finish prevails in terms of the fixtures and fittings. If you don't want that, you can always swing back to something midcentury modern with your own furnishings.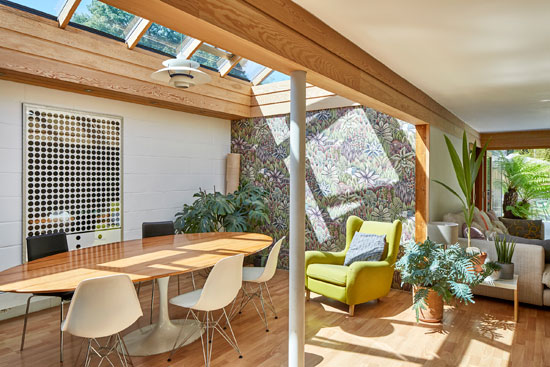 As for that layout, a bedroom (or study) is located at the front of the house, just off the entrance hall. Two further bedrooms are positioned on one side of the plan, both with 'deep set' skylights to boost the natural light within.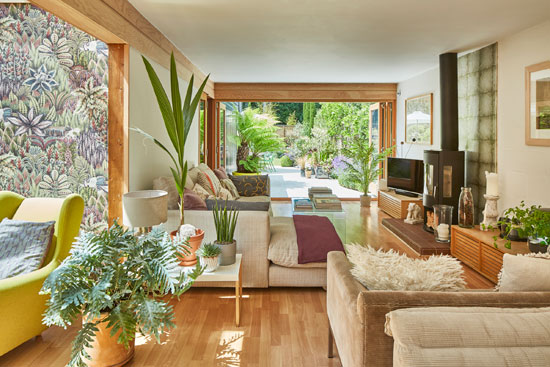 Bi-fold glazed doors open this section of the house onto the internal courtyard. A family bathroom is also in this part of the house, again with added light through a skylight.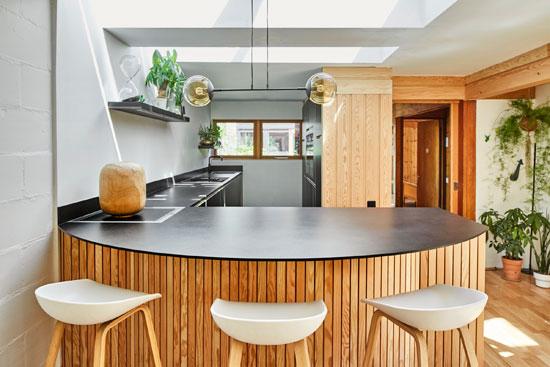 Beyond that is the most dominant area of the house, the open-plan living space. A bright room (like pretty much all of the house) with the original parquet flooring, a log-burner and a wall of glass at one end opening onto the garden. A dining area is on one side of the room with a glazed gabled ceiling overhead.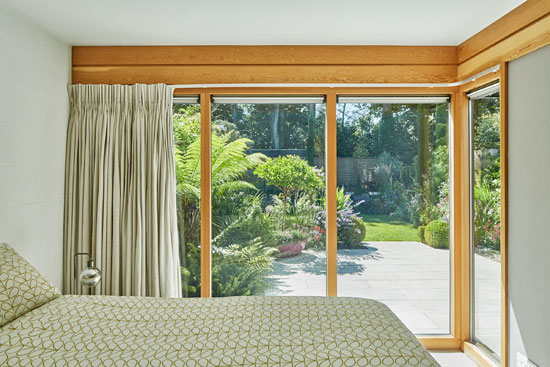 Finally, there is the recently-updated kitchen and the master bedroom with an interlinking dressing room, en-suite bathroom and floor-to-ceiling glazing looking out over the garden.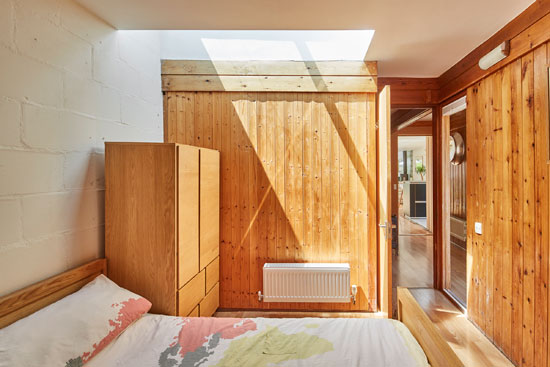 That garden is impressive and packed with eye-catching plants, with a patio area ideal for eating and entertaining. At the rear of this are a storage shed and gated access to the communal gardens.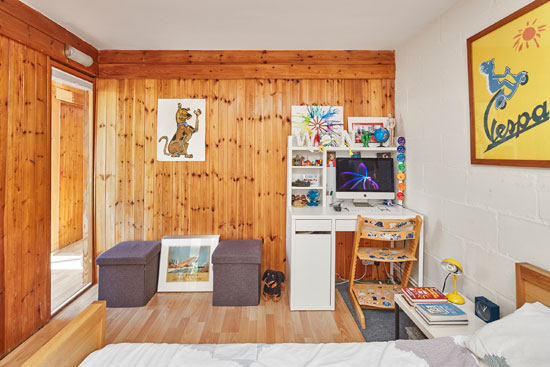 Yes, you get a communal space too. Just under three acres of it, taking in a tennis court and a secure children's play area. I know, unheard of these days. Access to a community house as well, which apparently plays host to yoga sessions, supper clubs and Christmas get-togethers. Oh yes, a self-contained one-bedroom guest flat is also on the site, which residents can book for visitors, for a 'nominal' fee.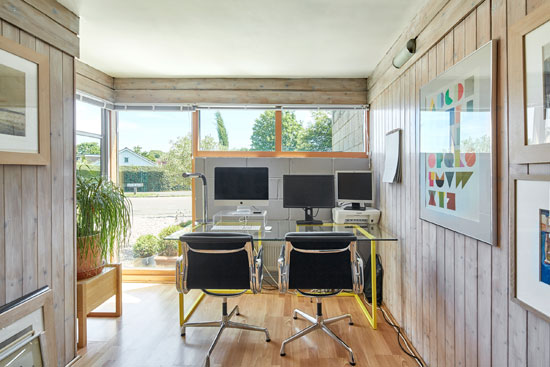 You can see why these houses rarely come up for sale. If this one has taken your eye, the asking price is £765,000.
Images and details courtesy of the Modern House. For more details and to make an enquiry, please visit the website.