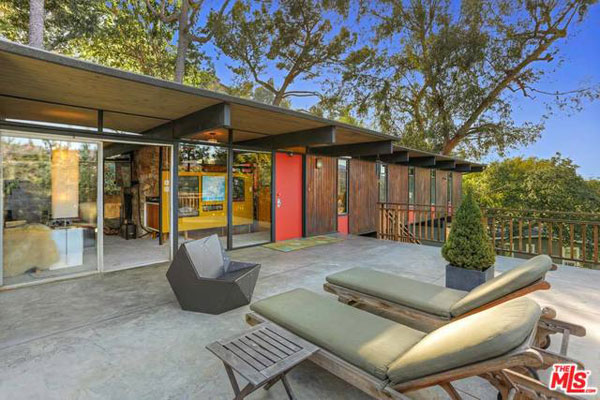 Originality is the name of the game with this 1960s Dick E. Lowry-designed midcentury modern property in Los Angeles, California, USA.
The house dates back to 1961, sat in half an acre of 'forest-like' land and still largely unchanged in 55+ years.
So much to appreciate here, including the walls of glass, the wood exterior with splashes of colour, the large terrace area to take in the surrounding land and of course, that wonderful open plan interior.
Indeed, once inside you can appreciate the beams, the wood ceilings, stone accents, wood-finished walls and a kitchen that looks largely original. In fact, the bathrooms looks pretty untouched too.
Saying that, work has been done to this place, with original elements restored to their former glory, plus updates to the plumbing, electrics and the structure itself. So on paper, it sounds like not a lot needs doing before you move in.
If you are considering it, you will want to know about the living space. That's around 1,430 sq. ft. in total, which includes that hip, open reception along with two bedrooms, two bathrooms and a 'powder room' for guests. Also, as a nice bonus, a detached studio workspace too. A dream if you work from home.
More images on the listing if you want them. Should it sound like your dream home, you can pick it up for around $1,249,000.
Images and details courtesy of Estately. For more details and to make an enquiry, please visit the website.
Save
Property Location