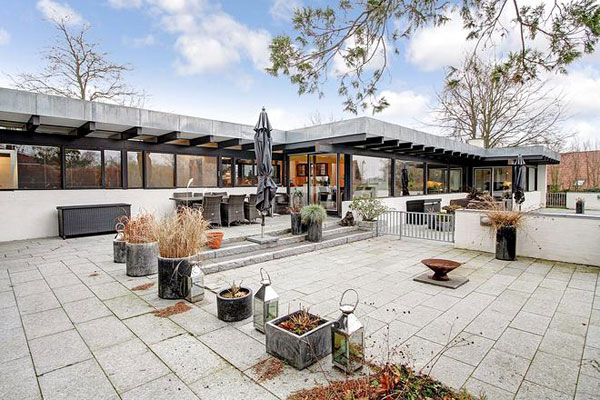 Huge thanks to resident Scandi spotter Markman for this 1960s Henning Larsen-designed modernist property in Birkerod, Denmark.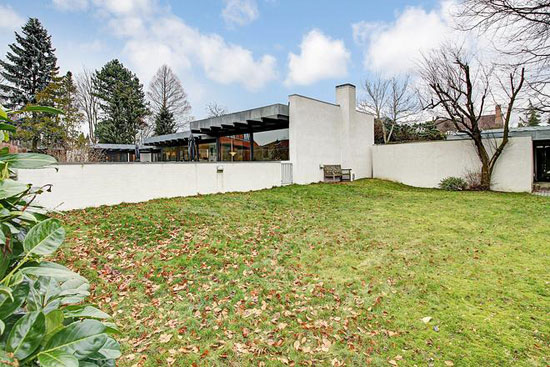 It dates back to 1964 and considering this is well over 50 years old, still has a good amount of originality about it. The listing also mentions 1985, which we can only presume means a significant upgrade was undertaken. Significant perhaps, but without taking away the midcentury Scandi character.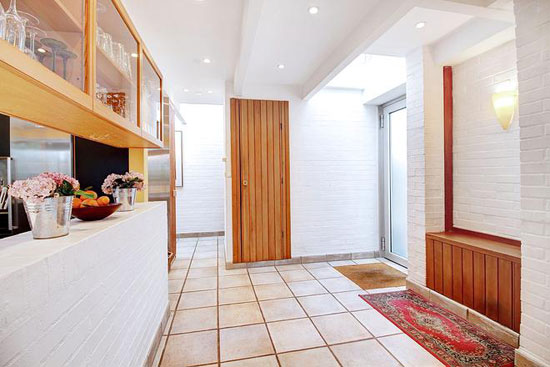 Clever piece of design too. On one side, this house is very understated, giving no hint of what is beyond the plain and understated facade. But on the other side, it's a very different story.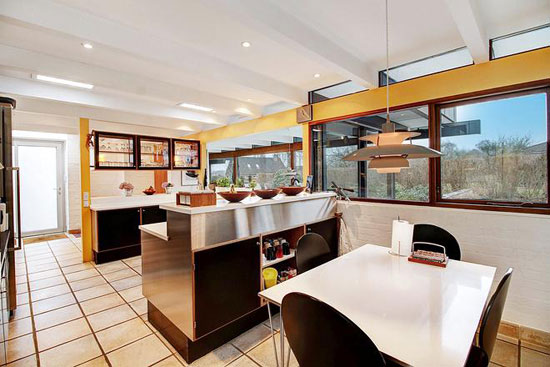 A single storey property with lots of glazing and as such, views over the patio / entertaining area and of course, the pool. Plenty of natural light too.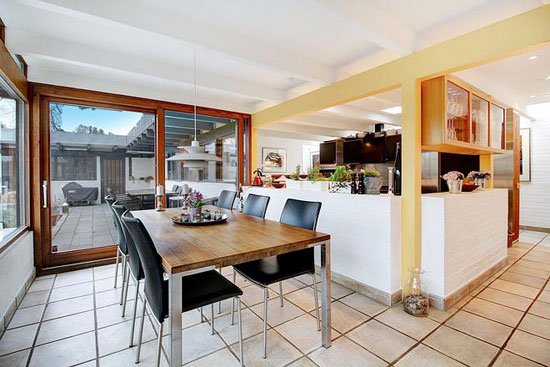 Inside, the wood and brick finishes keep the 1960s vibe strong, as do the beams and the open layout. But there is also quite a modern feel to the place too, down mainly to the fixtures and finishes. Things that can obviously be changed if you want this to be more about the past than the present, but it looks just fine to us.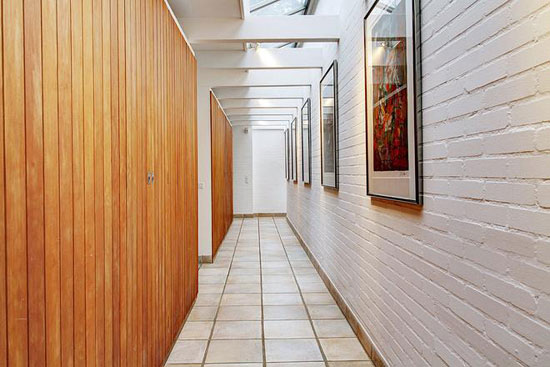 As for space, the entrance area leads onto the 'heart' of the house, which includes a renovated kitchen area (also known as the 'command centre'), which offers a view of almost all of the property as well as the landscaped gardens.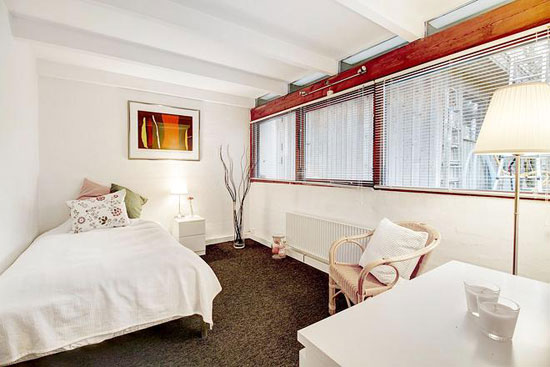 Beyond that is a separate children's section with three en-suite rooms, a large utility, plus a bedroom with attached office (the home worker's dream) and private bathroom.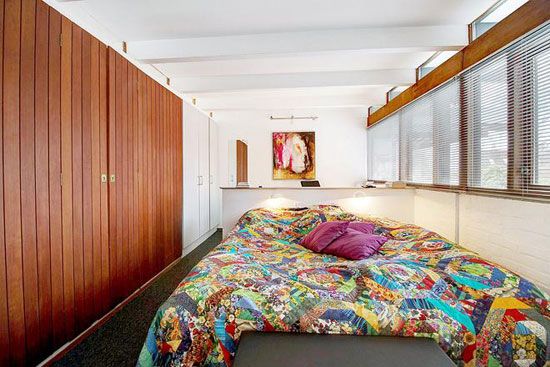 Also here is a large and bright living room with wood burning stove and fireplace, laid out at an angle and accessing the pool area.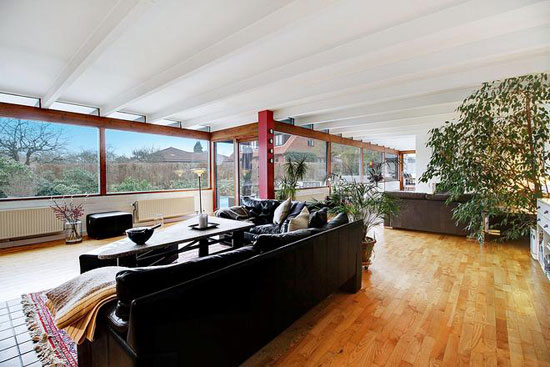 We have already hinted at the outside space, but it does include a double carport, the terrace area, the pool house and of course, the pool itself. In terms of location, you are just across from a stables (should you love horses) and just a short walk from the lake shore, which has a sailing club.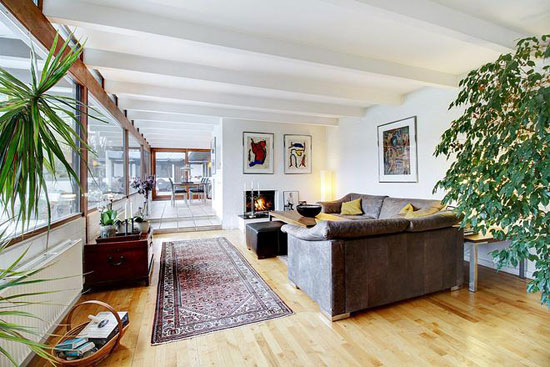 More details and more images on the listing if this ticks the boxes. If it does, you'll need around 7,495,000 Kr, which we work out as being around £850,000.
Images and details courtesy of Real Maeglerne. For more details and to make an enquiry, please visit the website.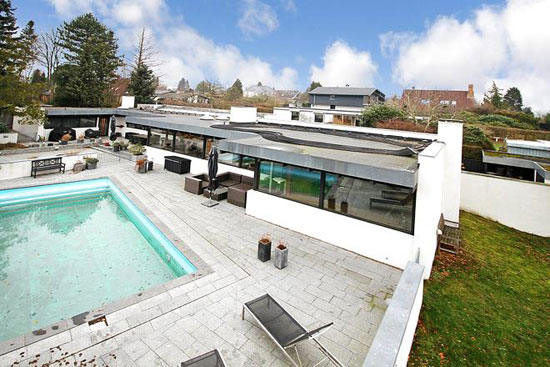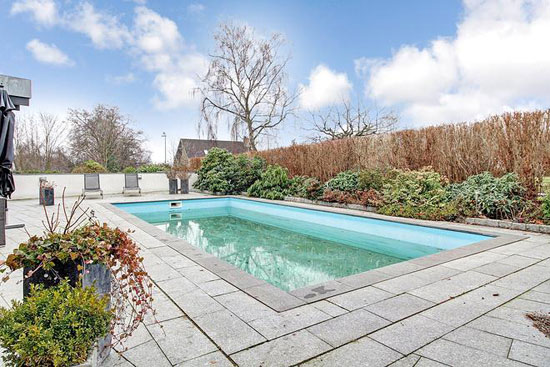 Property Location