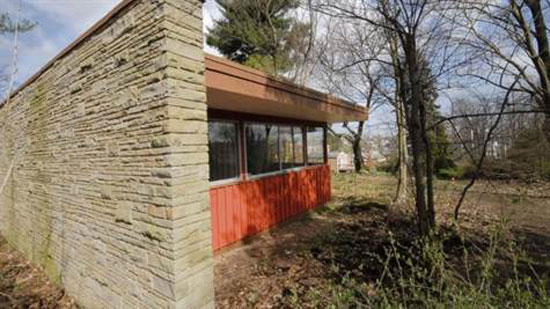 I'll be honest, I don't know much about the location (apart from what I've just read on Wikipedia). But the price of this 1960s Richard Neutra-designed midcentury modern property in Uniontown, Pennsylvania, USA is pretty unbelievable.
Of course, that could be for many reasons, the most obvious of which is supply and demand, condition of the place and even demand for properties of this type. But there is value to be had here.
Firstly, because this has the Neutra name attached to it. That's usually money in the bank. Secondly, it needs some work. The images aren't great, so we can't say for sure how much work. But what we can see is a house that has been updated since 1960, but by and large, the originality survives. Certainly the exterior, but also the general layout and some of the fittings, doors, exposed stone walls, built-in furniture and more.
The agent's description points to three bedrooms, two full bathrooms, an open plan living and dining space with views of the rear and side gardens, a den with stone fireplace and built-in cabinets, an eat-in kitchen, integrated screened porch, an open terrace, unfinished basement and a double garage.
All of that can be yours for $185,000, which we've worked out to be £112,000.
Find out more at the Ron Lovelace website
Property Location