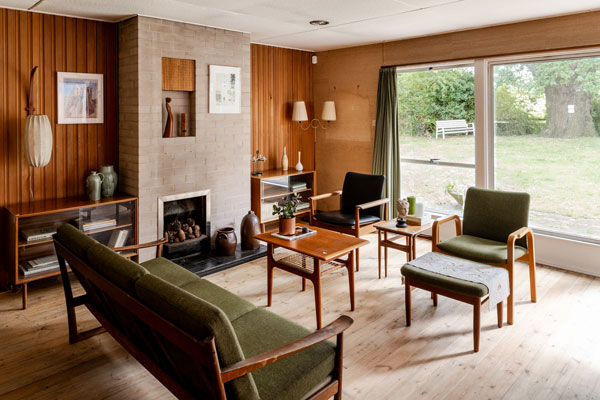 Although listed as a 1960s John Graham modern house in Harlow, Essex, this is actually two properties. Both are time capsules of the era.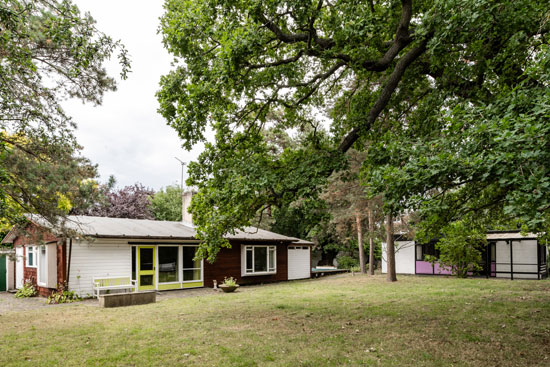 In fact, I would say this is about as 'time capsule' as anything I have seen of late. Some houses are designed to look like houses from a bygone era. Others keep key features of that era. But this one looks untouched in 60 or more years.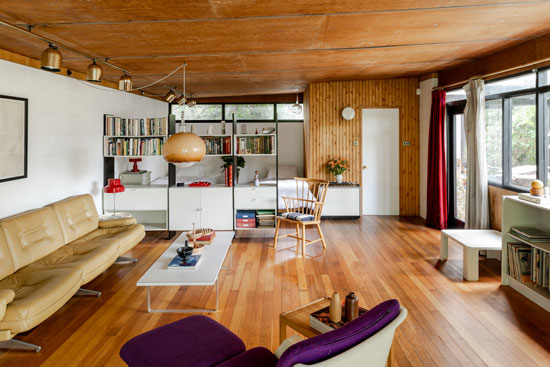 Well, someone with an eye for design has obviously been buying plenty of design from the 1960s and into the 1970s. But I'm not sure if this catalogue of midcentury modern interior design is staying.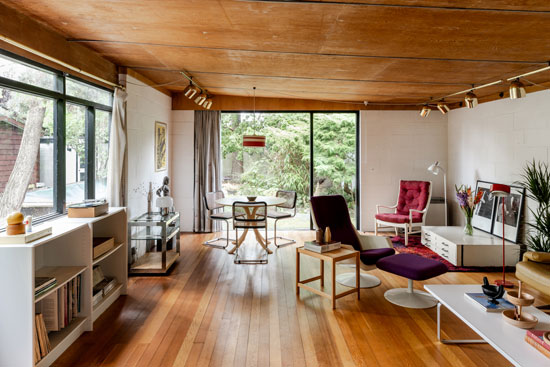 Some of the 'hardwired' details might well be, such as built-in units and light fittings. As for the rest, which includes everything from the Guzzini lights, a Merrow Associates trolley and a plastic Robin Day armchair (almost identical to one I used to own) through to some more subtle wood designs of the era, are likely to be up for discussion. They have a value, so they are unlikely to be included.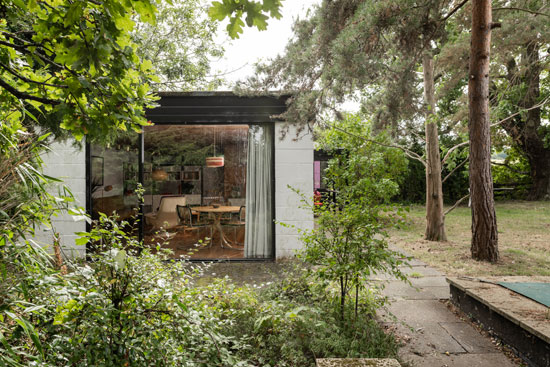 But regardless of what stays here, this is a dream of a renovation project for someone. The agent points out that the house 'will require updating' but adds that John Graham's original drawings for the house and garden will be included, which should make the job a little easier.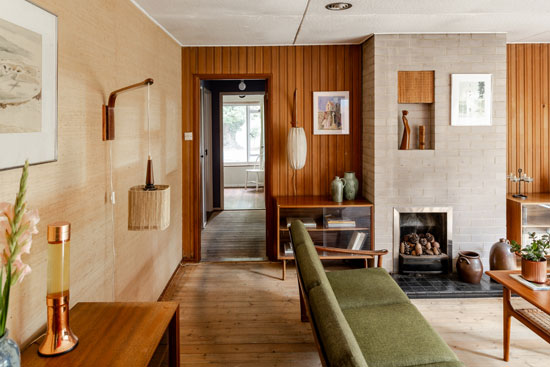 It is impressive at first glance, but a viewing will be required to see just what work is needed. I would guess much is on the practical side, either to make the house more efficient or to add in some modern-era practicality. I like the look of the kitchen, but I wonder if it works in the 21st century.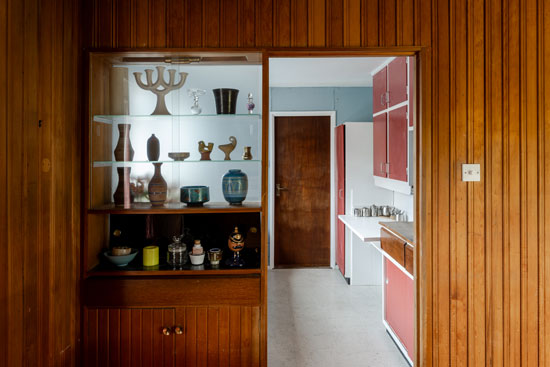 This is pretty much the case for any house over 60 years old and untouched. This one dates back to 1960, the work of John Graham, a leading modernist architect who worked closely alongside Sir Frederick Gibberd in the development of Harlow New Town.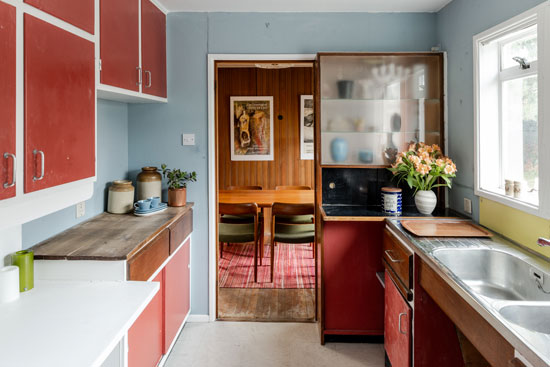 It was actually designed for the architect and his wife, made up of the timber-framed Colt House (1,600 sq. ft.) and the garden studio (over 500 sq. ft.). Both sit in a secluded plot, facing private south-facing gardens and a large ancient oak tree, with a swimming pool located on the easterly side.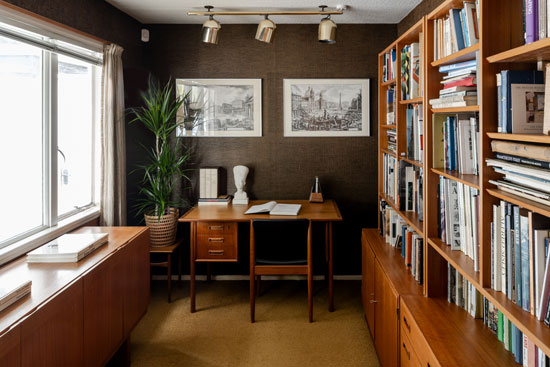 The house is set back from the road by a private driveway and garage (currently used as a gallery space), offering plenty of off-street parking.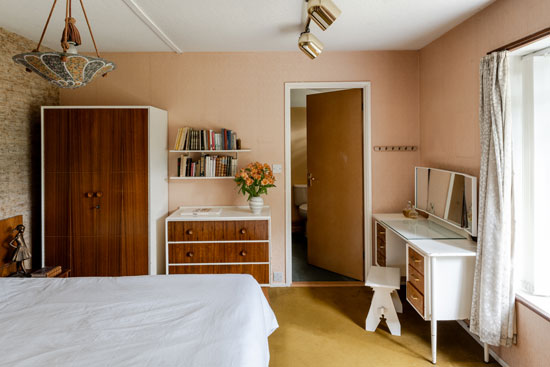 The primary entrance to the main house is on the side of a cedar shingle and brickwork facade, leading into the central hallway. That, in turn, leads to 'a series of free-flowing living spaces'.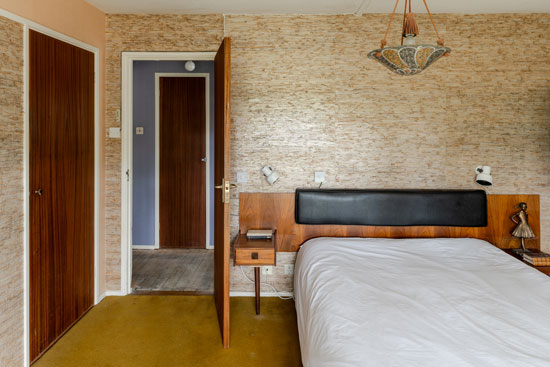 Those living spaces are pretty much a movie set of the mid-20th century. So little has changed, and the authenticity within is a massive selling point.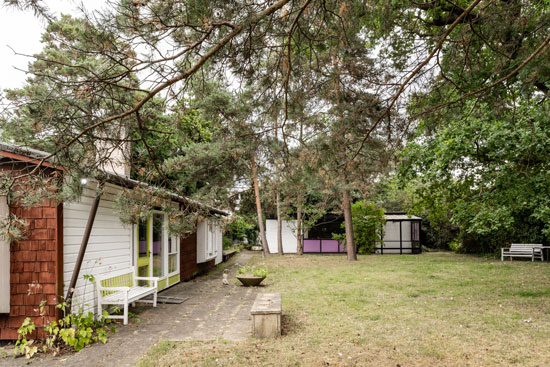 A trio of full-height picture windows extend across the southerly side of the living room, so there are great views and plenty of natural light as well. Note also the wooden flooring, the timber-clad walls and the original fireplace centrepiece with brick hearth.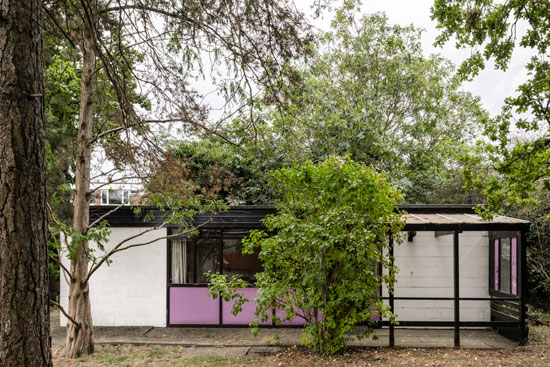 The dining area is on the westerly side of the room, separated by a folding curtain. The original glazed serving hatch connects to the kitchen, where the midcentury cabinetry remains intact. Please retain that. This also leads to the utility space with external access to the side passageway.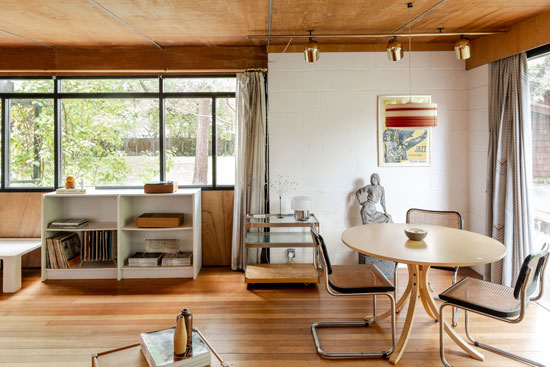 There are two bedrooms, a study which could easily be used as a third bedroom if you prefer (although home workers might appreciate it as is), and a family bathroom. The main bedroom has an en-suite bathroom, in-built cabinetry and great views of the gardens. Love that headboard, too, as well as the wall decor in here.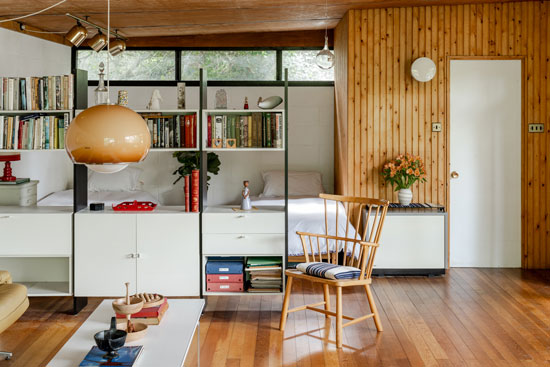 If that's not enough space, take a wander across to the garden studio, which sits on the easterly side of the site.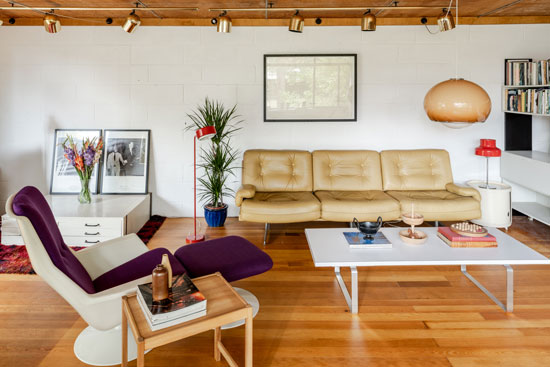 Flexible space here, as you might expect. That could be your own studio, a workshop, or even guest space if you need it. The building is constructed from concrete block with a plywood panel roof, while 'expansive glazing' ensures excellent natural light. Imagine having your own studio. If you work in the creative industries or like the idea of an artistic hobby, it's a massive selling point.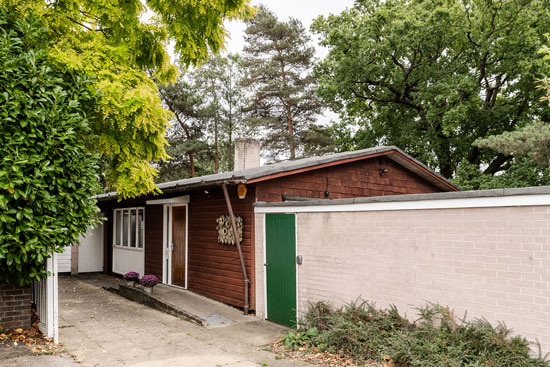 Plenty of land here, too. Primarily laid to lawn, an ancient oak tree is positioned centrally, and a swimming pool is just off. According to the agent, this is 'in need of some remedial work but could be re-instated as a fantastic feature'. Imagine that in summer?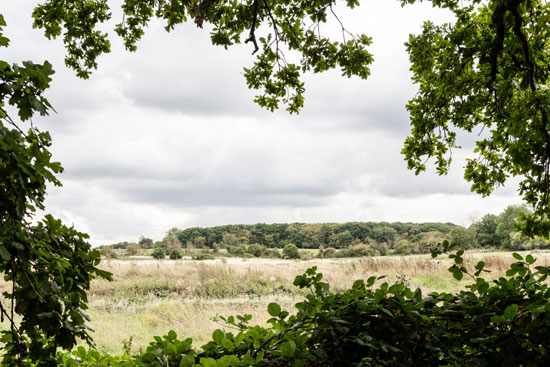 But before you get carried away, consider the price, which is £550,000.
Images and details courtesy of The Modern House. For more details and to make an enquiry, please visit the website.