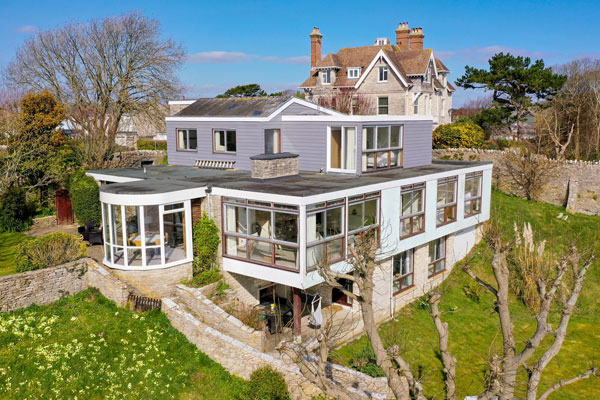 It's the first time on the market for this wonderful 1960s John Morgan modern house in Swanage, Dorset.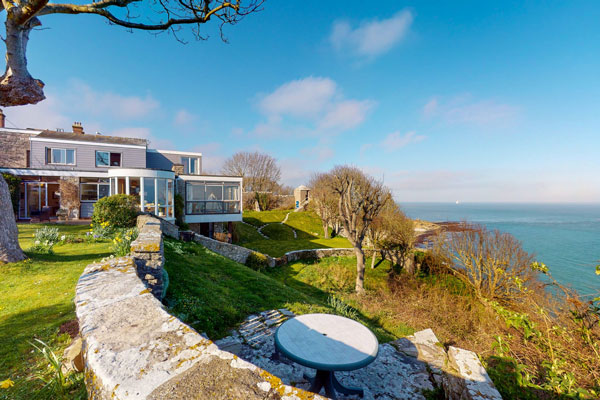 Known as Durlston Wall, it was acquired by architect John Morgan in 1961. The walled garden was originally part of a property to the south and was subsequently redeveloped as apartments.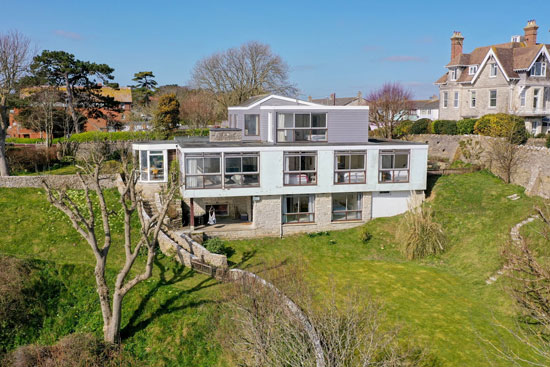 In 1961, John converted it into a holiday cottage for his family and at the same time work started on the main house, which involved 'several phases of development between 1961 and 2006'.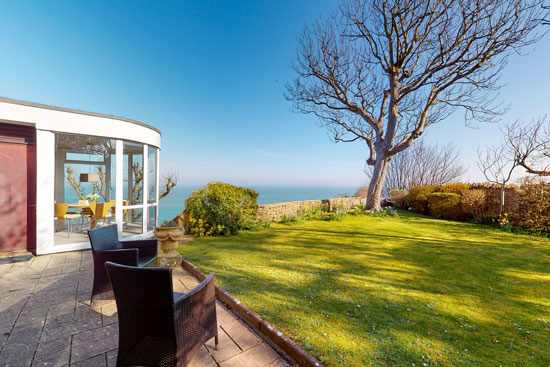 I think you can get that from the photos. Much of the design is an unashamedly bold piece of 1960s (and latterly 1970s) design that takes full advantage of both the location and the uninterrupted panoramic views of Durlston Bay.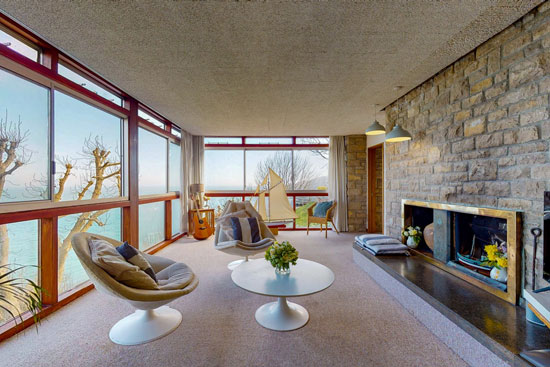 But it isn't entirely of that era. with some slightly more contemporary adjustments in place too.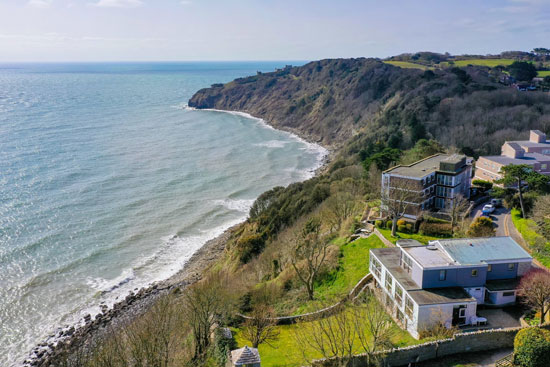 In terms of the architecture and much of the finish, the 1960s wins out. There are some very cool details here that have aged very well. Yes, some updating would be required and perhaps some consideration about whether this should be a single house or perhaps separate apartments. But there is so much potential here. A rare opportunity to put your stamp on something very special.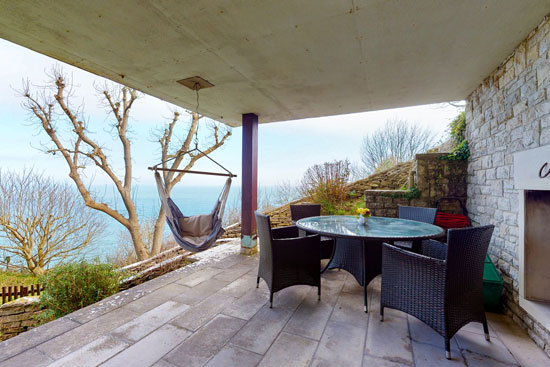 Over the period of ownership, the house has gradually been extended and remodelled with the accommodation now extending to over 4,000 sq ft. in total. This is why the design might work as separate apartments (which is already possible). Although for me, this would stay a statement single house.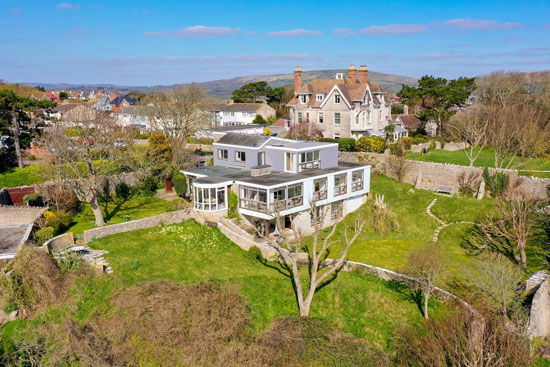 In terms of construction, the lower ground floor was initially 'partially excavated' into the bank, constructed from stone and concrete on rock foundations. This space was made up of one large room and an external terrace, with a small kitchen and a converted garage creating what was initially holiday accommodation.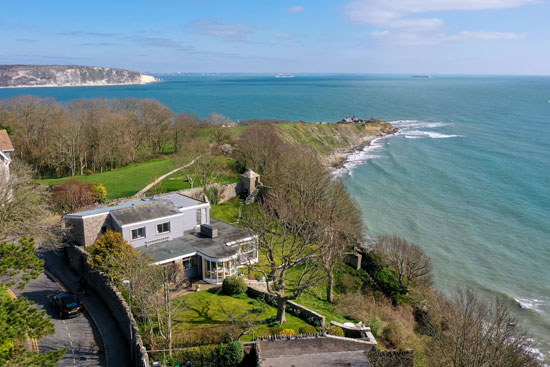 Between 1963 and 1967 the main ground floor was constructed mainly with timber frames and glass. That space consists of a living room, two bedrooms, a kitchen/diner and a bathroom.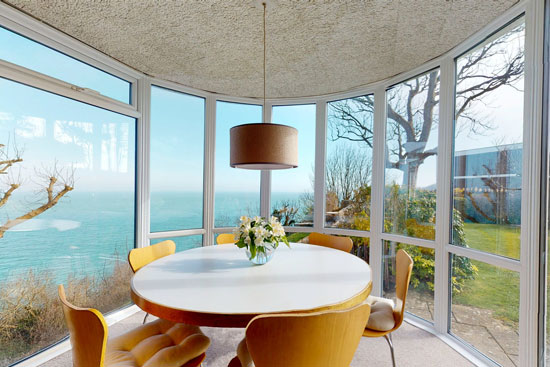 The master bedroom on the roof was next to be completed, with a spiral staircase linking the three floors. That staircase really is quite the feature too.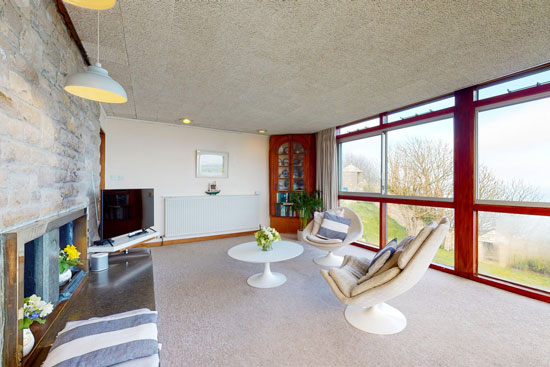 After that, the circular dining room was completed, which originally featured curved glazing rescued from a tea shop called Gunter's, in London. More development led to the addition of two bedrooms to the north side of the house.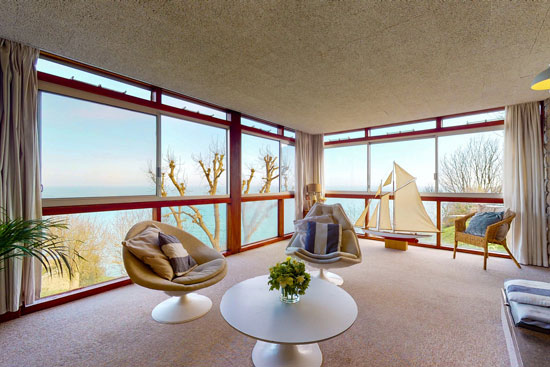 In 1973, a 'major phase of development' resulted in the rear of the house being completely remodelled. The ground floor was also extended back in stone towards the road, with a new hall, front entrance, kitchen, studio, cloakroom and garage.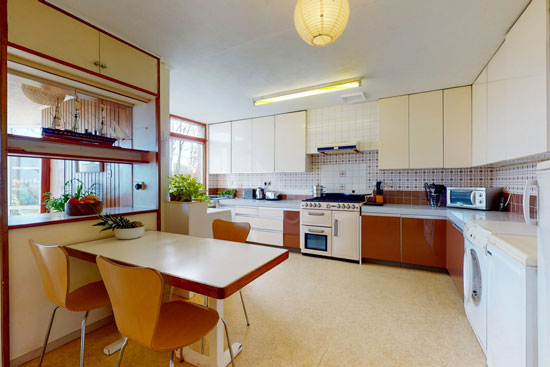 The final phase of housebuilding was in 1986, with the addition of the separate entrance and staircase leading up to the partly self-contained flat, with a living room, study and dressing room. This was directly linked to the existing master bedroom and bathroom on the first floor.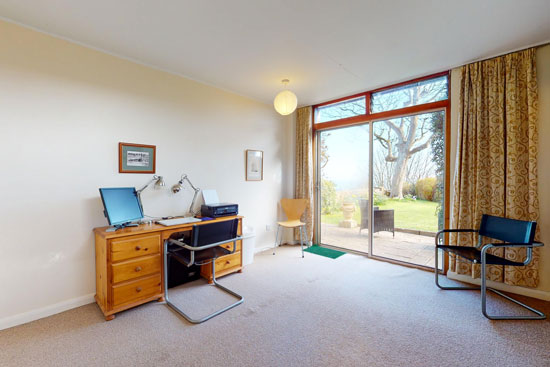 One further minor change came in 2006 when the void to the north of the lower ground floor was converted to a shower room. All of which leaves a house and a labour of love with six bedrooms, six bathrooms and four reception areas over its three floors.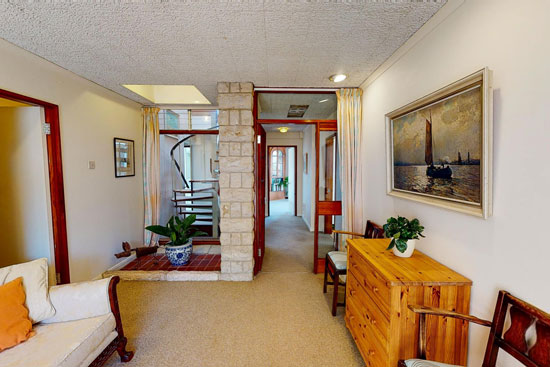 Yes, quite a project and despite all of the continuing work, the house sits well today as a single entity. That's what you get when an architect of note oversees the work. It doesn't feel disjointed.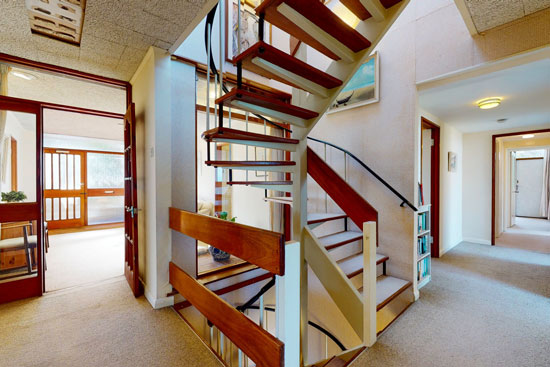 As I said, some of the earlier rooms may need a rethink in terms of finish and details. I love a retro kitchen and bathroom, but not everyone does. They might well need remodelling for the 21st century.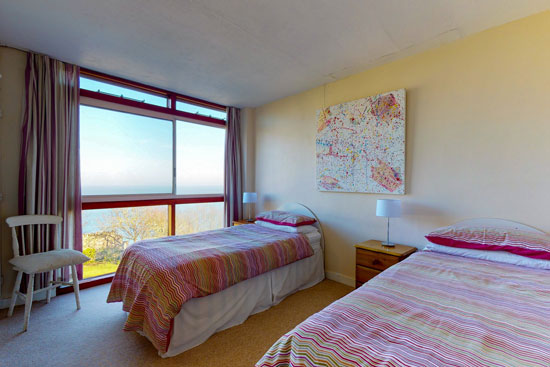 Likewise, some of the other finishes within. I would be loathed to remove any of the headline details, such as the stonework, the full-height windows, and the feature staircase.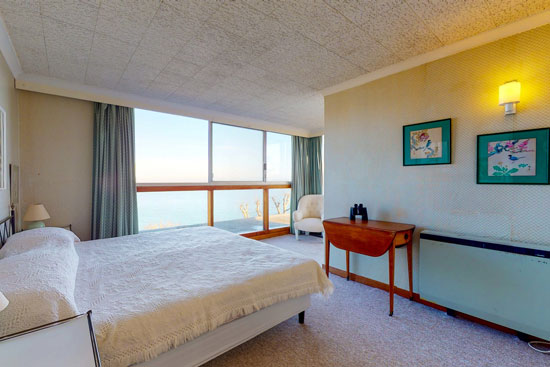 But elsewhere, the house perhaps needs that fresh finish. The right decor and some retro design here would create a dream of a house. And that's before you look out of the window!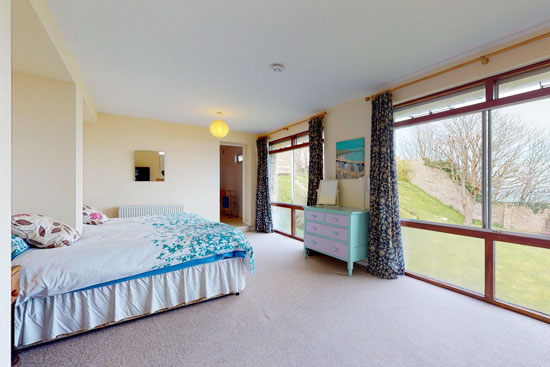 Talking of the outside, on top of the views you also get two terraces, a beautiful walled garden, a garage and secure parking. Yes, it's a beautiful spot outside or in.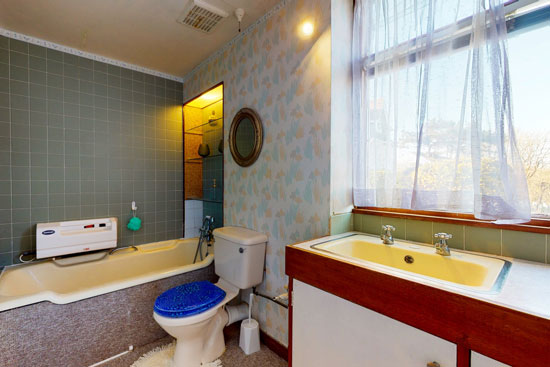 Of course, as well as overlooking Durlston Bay, the house is just a half-mile from the seaside town of Swanage, with its award-winning sandy beaches plus a variety of appealing restaurants, bars and shops.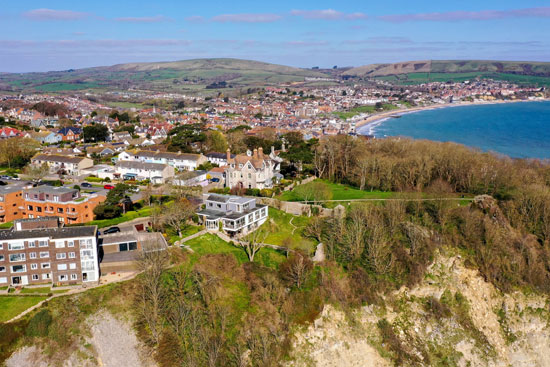 This is perhaps why there is already interest in this house. If you want to live here you will need to move fast. And you will also need something in the region of £1,750,000 to be a potential owner.
Images and details courtesy of Philippa Sole. For more details and to make an enquiry, please visit the website.