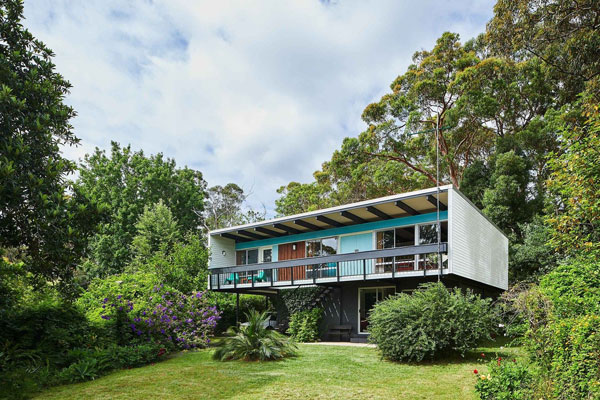 You will struggle to find a better looking house than the midcentury modern Beachcomber by Nino Sydney in Faulconbridge, New South Wales, Australia.
It's immaculate inside and out and a testament to both the architect Nino Sydney and its current owners, who have done an amazing job in restoring this house.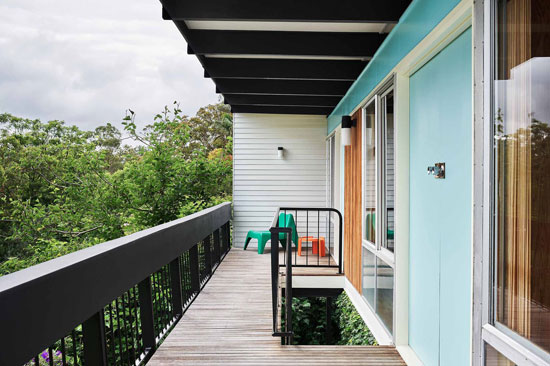 Such a good job that the house was awarded a National Trust Heritage Award in 2015. Everything here has been considered, right down to the smallest design detail and the choice of furnishings and finishes. If you want a 'how to' when it comes to restoring a midcentury modern house, this is as good a place as any to start.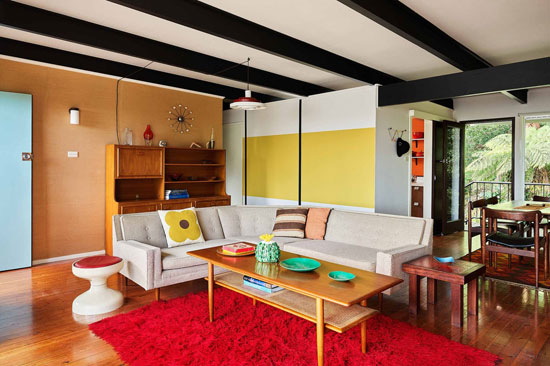 The house dates back to 1963. It was based on a design by Lend Lease chief architect Nino Sydney and intended as an affordable project home with a 'Bauhaus' attitude.
The original went from prototype to semi-mass market, with around 200 built over the next decade or so. A number still survive, but few as faithful as the one you see here. The agent describes it as the 'most intact example of this much loved (and copied) design'.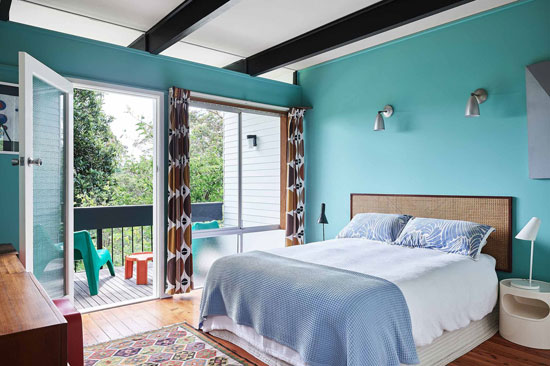 You can see why. This one could almost be out of a mid-1960s interior design magazine. Yes, that level of authenticity has been applied to the renovation. Ok, some of the furnishing touches give away the real date, but with so much great retro and midcentury modern design on the market in the 21st century, why wouldn't you indulge in a few contemporary touches?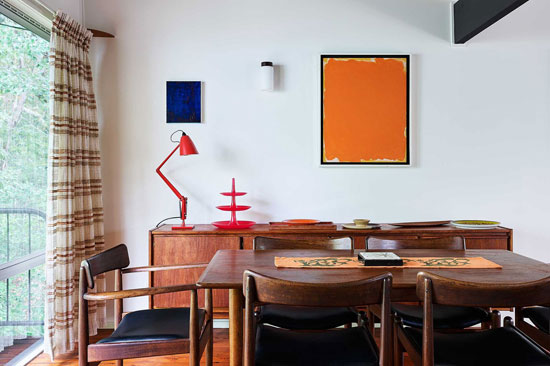 But at its heart this is still a 1960s house, with a design right out of the era. Not that the design concept has aged. Far from it, this is a house that takes fill advantage of its setting. In this case, a 'dramatic' cliff-view over the Blue Mountains.
And that idea of bringing the outside in and maximising natural light is something that will never fail to appeal. Especially if you have a strong rural or semi-rural setting.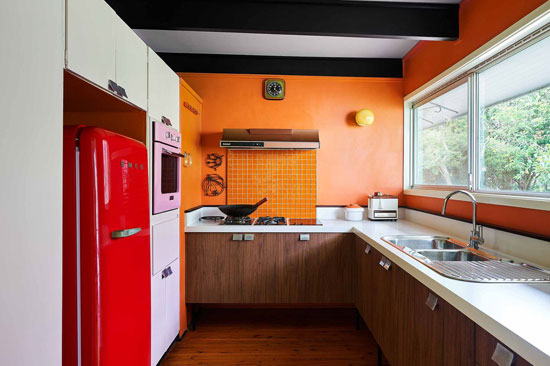 Surrounded by mature gardens that offer privacy to the owner, the house looks out over the land, with the owner able to enjoy the sunnier days on that wonderful full-length balcony, accessed via the house or the garden. I love the retro shade of blue on the frontage too. As much as the interior appeals. I could happily sit in that garden admiring the angled architecture for as long as the weather held. It really is a thing of beauty.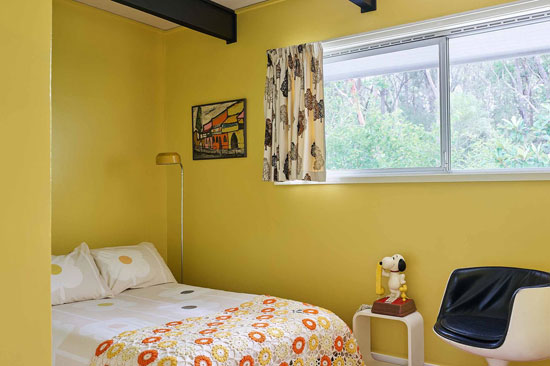 As is the interior, which is spot on. Unashamedly retro in inspiration, it doesn't fall into the trap of being some kind of museum. This is a retro home designed for living in.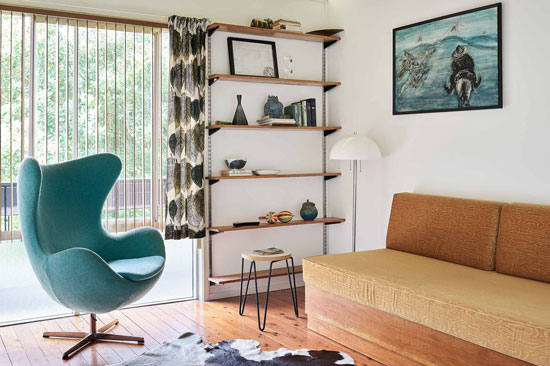 A stylish mix of period and modern-day retro design within a faithful frame. Yes, there are new kitchen units and a new stove, as well as the occasional recent furnishing. But this house has been restored in consultation with the original Nino Sydney Beachcomber House and as such, nothing is left to chance.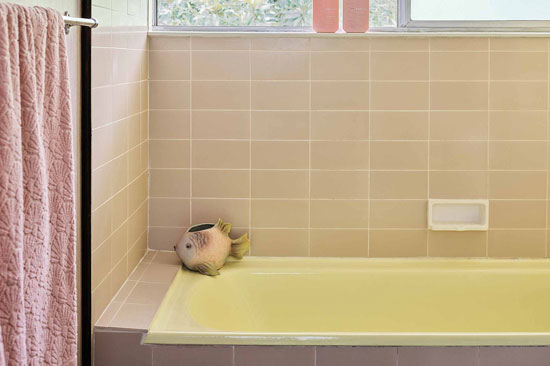 The finishes, the wall art, the flooring, the beams and the layout are faithful to the original house, complemented by a period-perfect colour palette. Some details have even been sourced from Beachcombers that were being demolished. Yes, someone would demolish something as beautiful as this.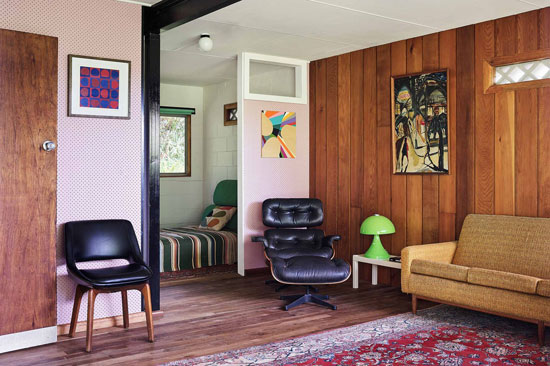 Everything is so careful thought-out too, These aren't the biggest of houses, so every detail needs consideration and all furnishings need to earn their place. This isn't sparse modernism, nor is it cluttered. It has the right amount of furniture and detail for both practical and visual appeal. Even that Snoopy telephone is an original mid-1960s design.
As for the living space, that covers something in the region of 2,909 sq. metres. The upper floor offers the reception/lounge, which access the full-length sundeck. As I said earlier, there is access to the upper floor directly from the garden.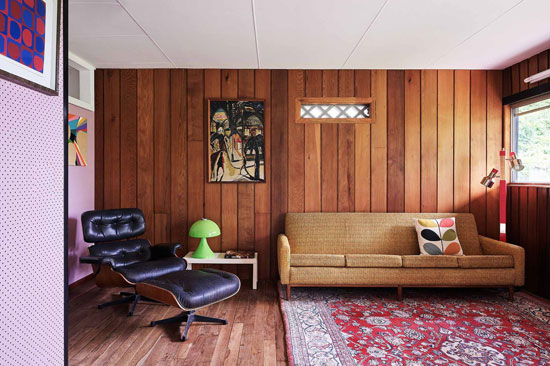 Beyond that is the newly-fitted kitchen, the bathroom and three bedrooms. But that's not quite all. As you can see, there is a lower floor offering more space too.
That's a separate living room, although it could work as a self-contained space too. Also on this floor is a laundry/bathroom, a further bedroom and a storeroom.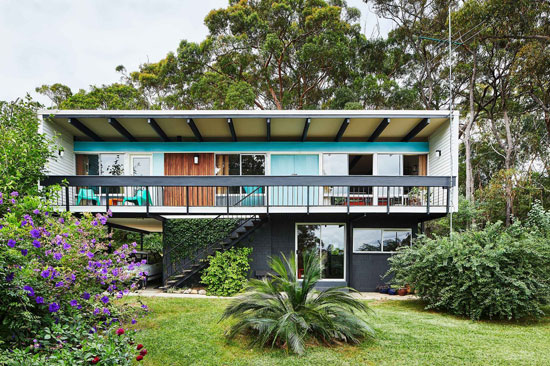 The mature and well-maintained garden is quite a pull too, offering both a lovely setting and a degree of privacy around the house too.
Fancy it? If you do, the house is now up for sale, with an expected price of between between $1.1 million and $1.2 million. That's around £597,000 and £651,000 at the current exchange rate.
Images and details courtesy of Modern House Australia. For more details and to make an enquiry please visit the website or view the Domain listing.