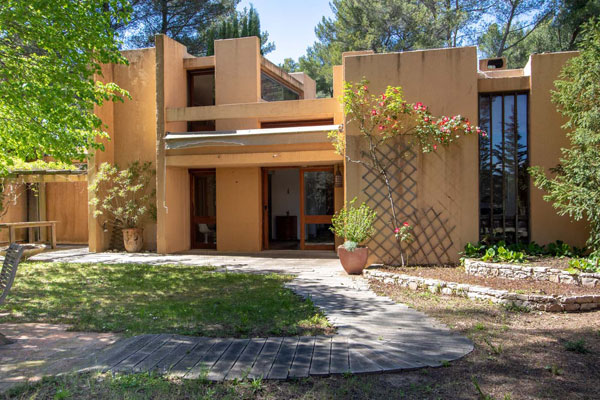 Remarkable and pretty much unchanged in decades. The 1960s Jean-Pierre Frapolli modern house near Aix-en-Provence, southern France.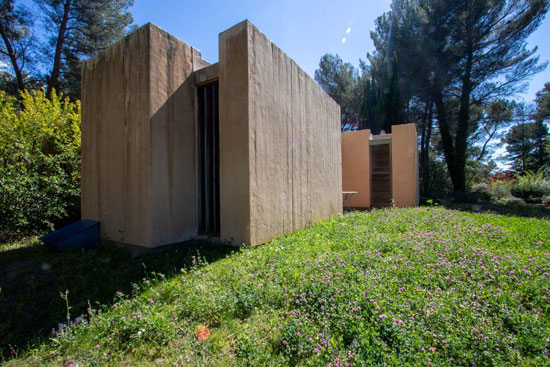 Sitting at the top of a hill and surrounded by tall pines, this wonderful house and its cubic volumes were constructed way back in 1968, the work of noted architect Jean-Pierre Frapolli.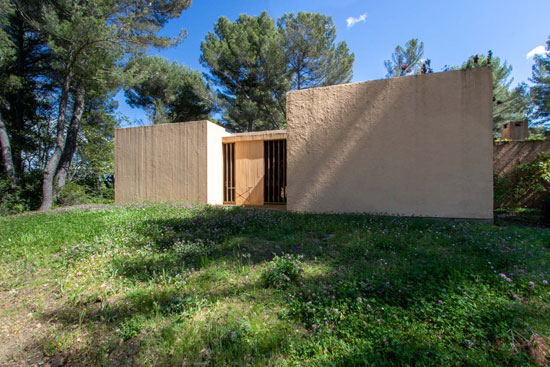 Quite a statement too. This is a house that could only have been designed in the 1960s. Minimal, but also with so much architectural detail catching the eye every time you look at it, from the brutal facade to the galleries and glazing, as well as the focal point of the central patio. This was quite a statement and to be honest, it still is.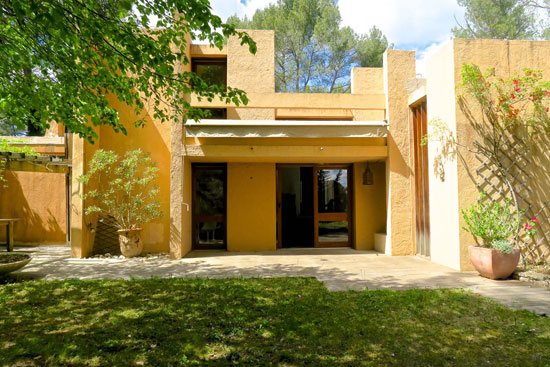 It's also likely a design you will love or loathe. This kind of stark modernism often is. But I have been writing this site long enough to know that many of you will love this design from the outside. If you don't, both the setting and the interior will likely seal the deal.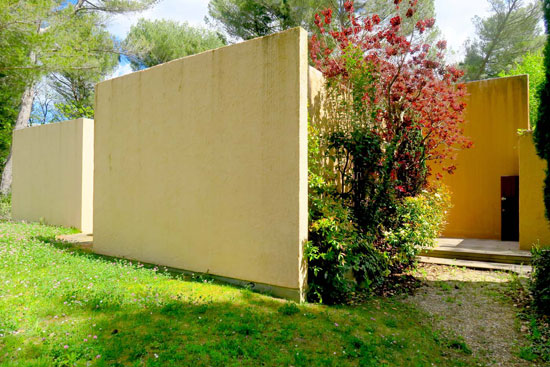 Yes, a big selling point of this house is an interior every bit as fascinating as the outside. And as a nice bonus, the interior looks to have changed little in over 50 years.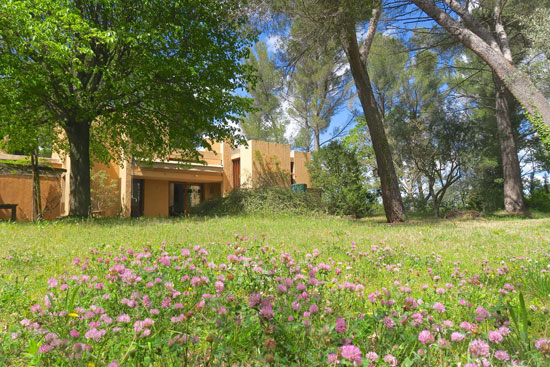 I honestly don't know where to start when it comes to the inside of this one. Something of appeal in every corner.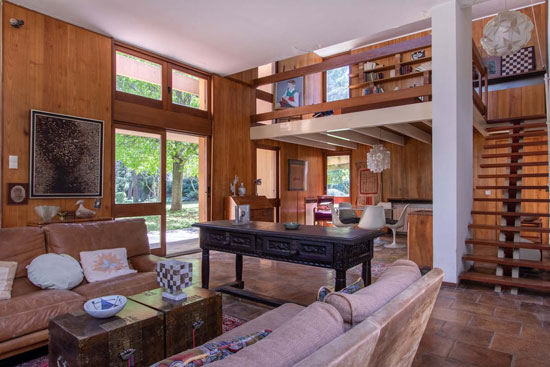 The double-height space and gallery in the reception is a good place to kick-off, along with full-height glazing, open-plan living, an open-tread staircase, wood cladding for the walls, original tiled floors, an original fireplace, a largely original bathroom with sunken bath and as I mentioned earlier, the central patio area.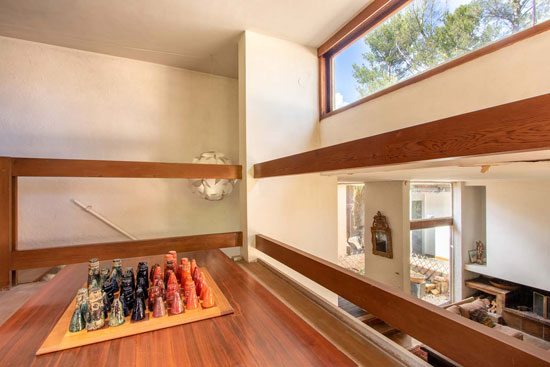 Of course, the furnishings, many of which look to date as far back as the architecture, take the house to a different level. But I can't imagine those are staying. But it is nice to see them in place and gives you an idea of what you could do if you wanted a 'time capsule' of the era`.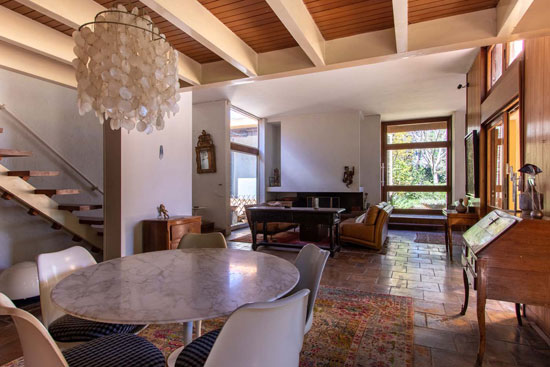 A lot of space too – and over two different properties. Yes, you get a bit of a bonus with this one. The main property consists of the house itself, which offers something like 183 sq. metres of living space. But you also get a caretaker's house, adding in a further of 65 sq. metres.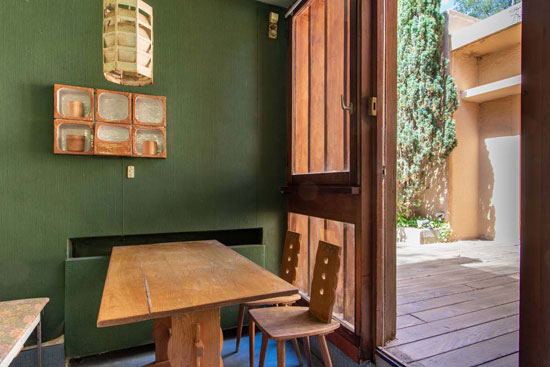 All of that on a rather picturesque plot of 11,540 sq. metres that include a swimming pool and offer some lovely views of the surrounding scenery too.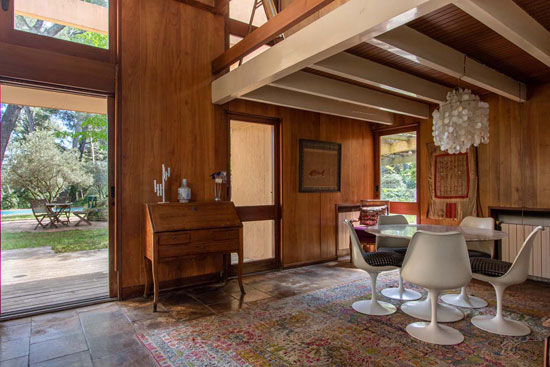 In terms of that main house, the layout is almost entirely on one level. The entrance hall opens onto the central patio, with the space broken down into a 'day area' and a 'sleeping area'.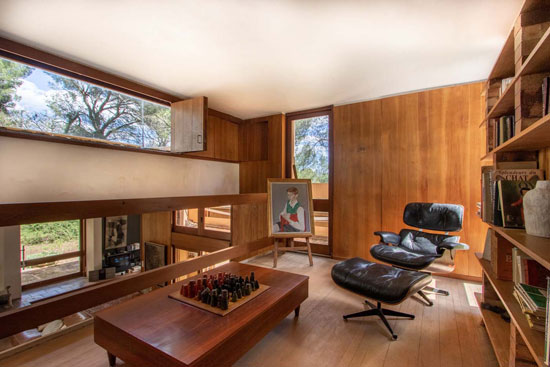 The day area has that amazing living room with a feature fireplace and a dining area. The volume of that space is just amazing and the light equally impressive. The open-tread staircase accesses a mezzanine with a terrace, which has been converted into a 'relaxation area' with a library space.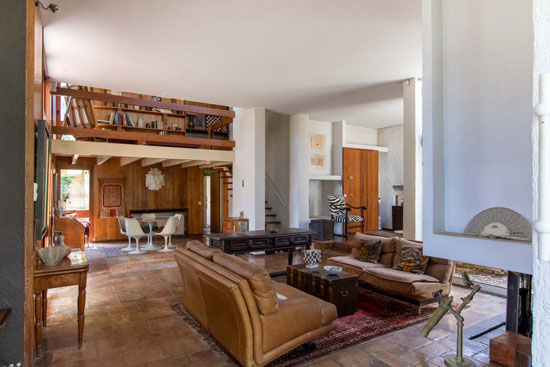 A separate kitchen with a dining area and a separate bedroom with a shower room complete this wing of the house.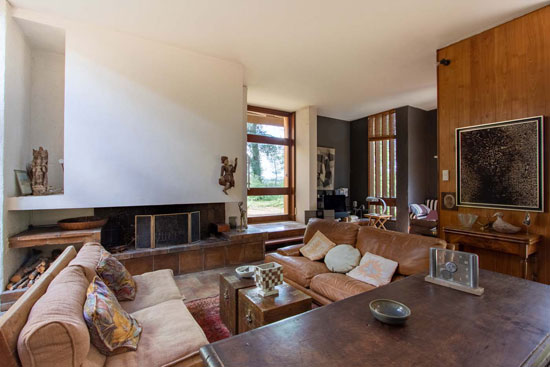 On the other side of the hall, which is served by a corridor revolving around the central patio, the night area consists of three bedrooms with fitted wardrobes, a bathroom, a shower room and a separate toilet. A fourth 'independent bedroom' with storage and bathroom completes the layout. Note that each bedroom also opens onto the garden through large bay windows.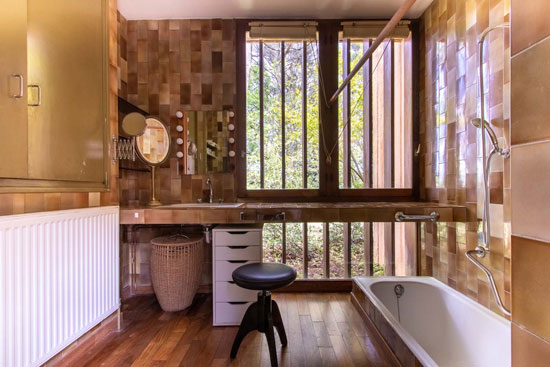 All of that space is built around a planted and fully glazed central patio, which acts as a skylight and 'diffuses natural and soft lighting' into the rooms.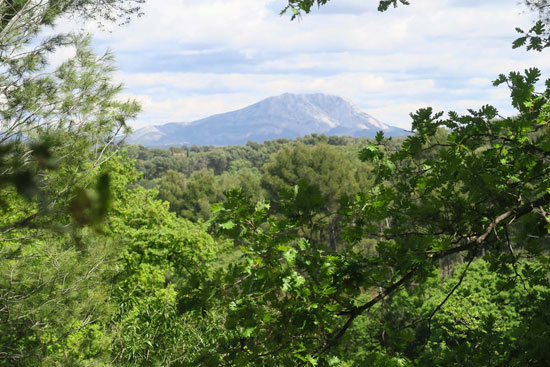 But that's not quite it for the living space. There's also the caretaker's house or guest house. Of a similar design, it is made up of a kitchen with a living room and two bedrooms with a bathroom. Great if you have people visiting. Might be a possible holiday rental too?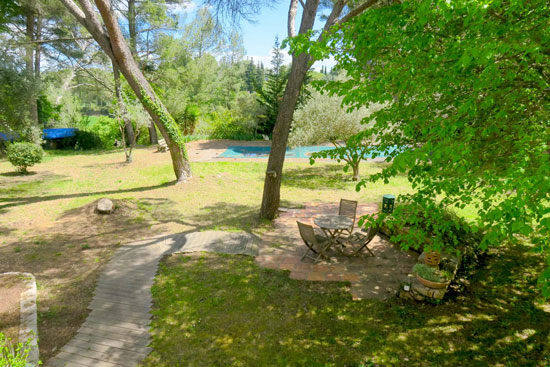 A wonderful piece of architecture and an amazing park-like setting, which you can see in the imagery above and below. That pool will be a blessing in the summer too.
If you fancy moving into the Jean-Pierre Frapolli modern house near Aix-en-Provence, you will need something in the region of €1,260,000. That works out at just over £1,000,000 at the current exchange rate.
Images and details courtesy of Architecture De Collection For more details and to make an enquiry, please visit the website.