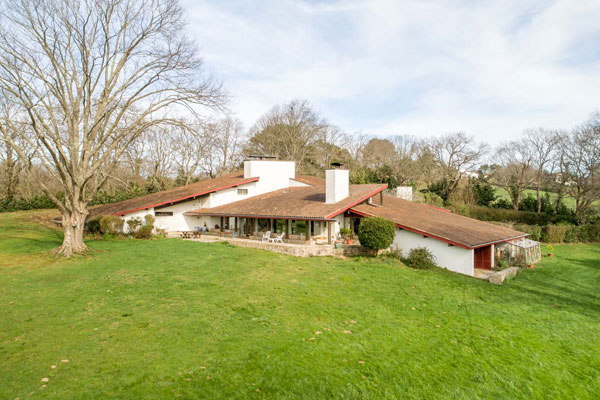 Barely changed since construction, this 1970s Jean-Raphael Hebrard modern house in Arcangues, south-west France is up for sale.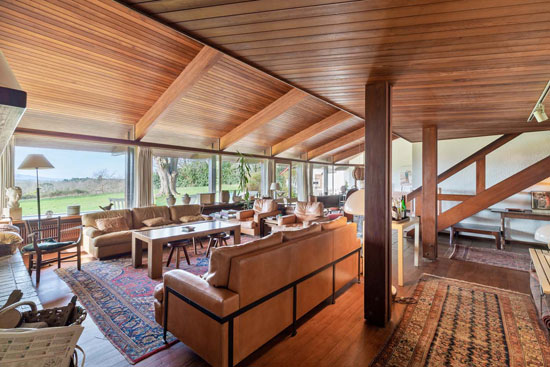 It's quite something too. Known as Maison Cherenda, it was designed by and built for Jean-Raphael Hebrard, with the architect moving in here with his family not long after it was finished back in 1971.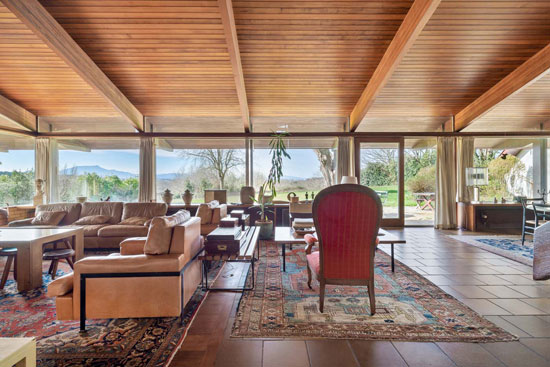 As for the style, that's quite hard to pin down. Modernist, traditional and midcentury modern in equal measure. All combining to create something rather unique and rather special.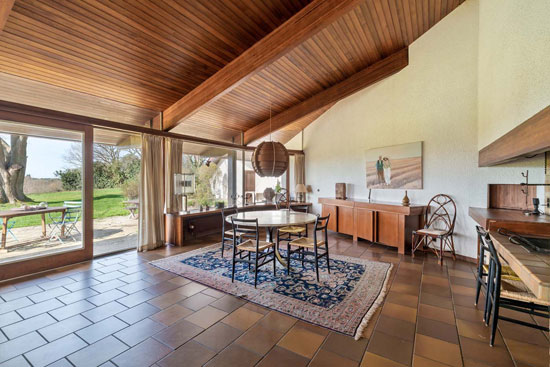 The best view of this one is from up above, where you can see the individual pieces all coming together. Almost like the segments have been pushed together. But there's much more to the design than that.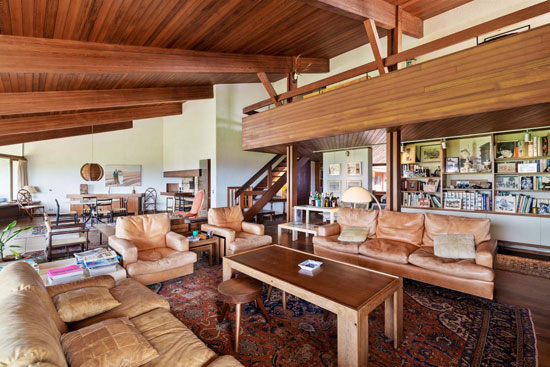 This is a house that stands in a 'landscaped park' of 1.2 hectares, with the unique shape of the house maximising the views across the Rhune valley and the peaks of the Basque country from all sides. A wonderful house in a stunning spot.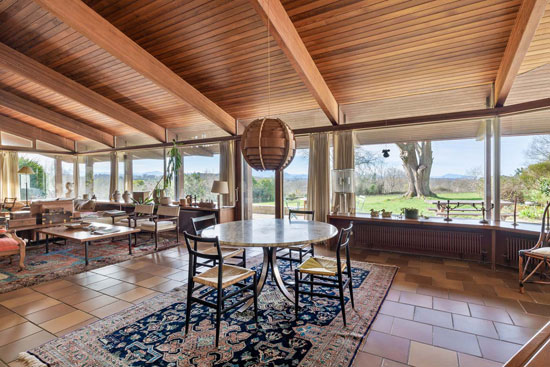 The architecture itself is worthy of talking about, but it's always nice to see an interior equal to it. Which is what you have here. As I said at the start, this is an interior barely changed in 50 years – and that's always a talking point.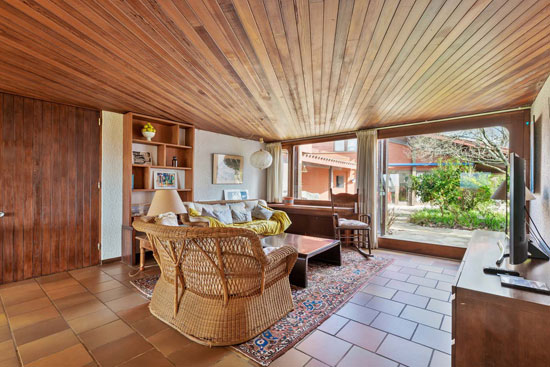 But the drama and the detail are rather special here too, as well as the internal space on offer. Something like 550 sq. metres of living space inside.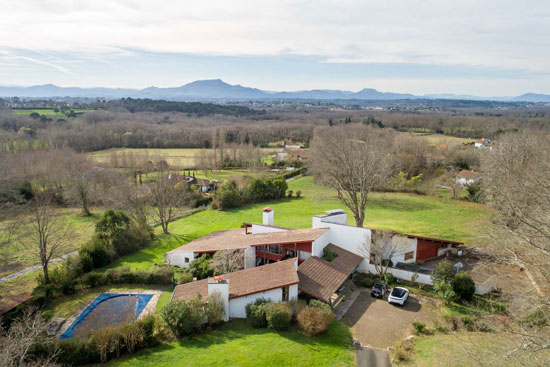 The angled, wood ceilings and the beams are perhaps the first thing you notice when you look inside, as well as the heavy glazing that frames up those amazing views. But there is much more too.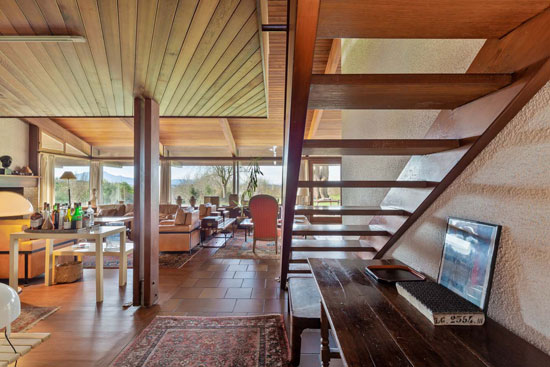 The tiles floors, the built-in furnishings, the open staircase, the large fireplace, the stunning gallery that overlooks the reception area, the original light fittings, original internal doors, possibly an original kitchen and almost certainly a brightly-coloured original bathroom. Maybe more as this one has multiple bathrooms.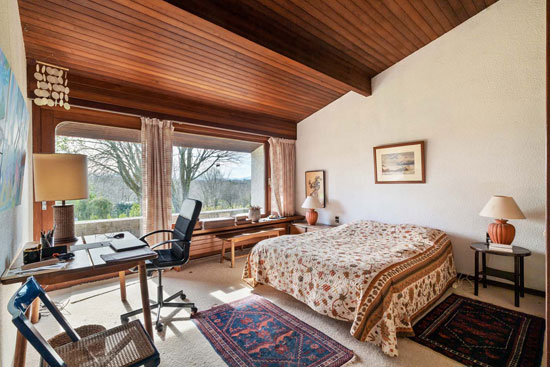 So many details that buyers of midcentury modern houses crave and all looking in well-maintained condition. This isn't the kind of 'time capsule' that has been left for years. As you can see, this is still a thriving family home and a very practical family space. At least, it is if you can make a move to the south-west of France work.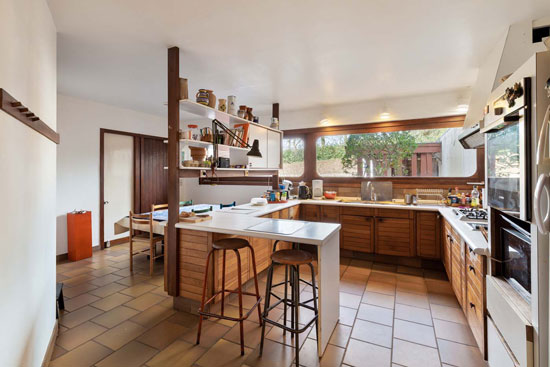 The living space is spread over two levels, with an entrance with cloakroom opening onto the league reception/living room, which covers something like 130 sq. metres.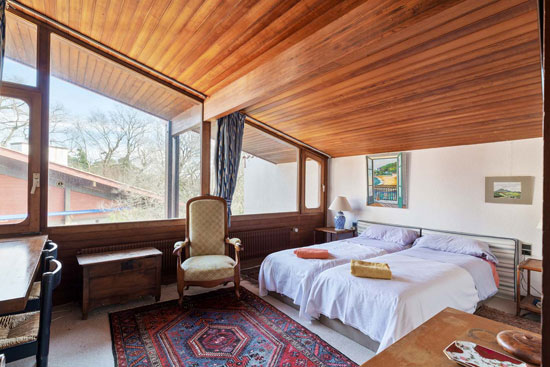 That area is packed with integrated modernist furnishings, as well as having the large feature fireplace and separate areas for the dining room, a dining kitchen with pantry, an office and mezzanine space.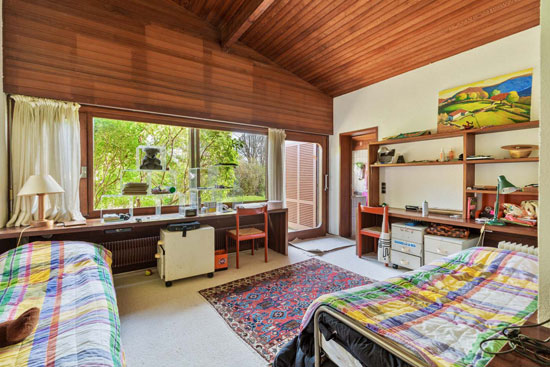 The facade of sliding picture windows leads onto a large terrace with views of the surrounding landscape and the river.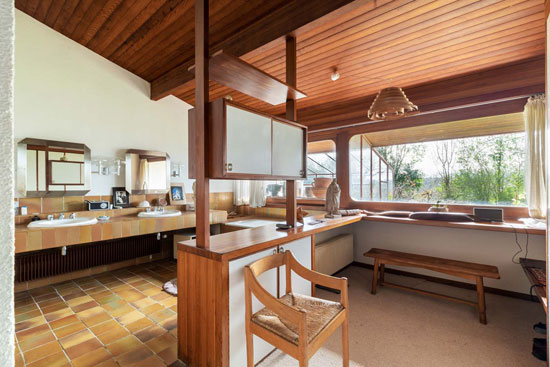 Beyond that is what is referred to as the 'night' area. That contains an impressive seven bedrooms and is built around a large patio that accesses the swimming pool.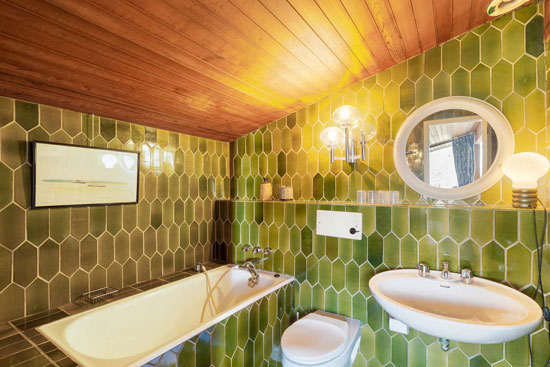 The ground floor has three of the bedrooms along with three bathrooms, along with two terraces. The first floor has two bedrooms and a bathroom plus an independent apartment overlooking the patio with two bedrooms, a balcony and a bathroom.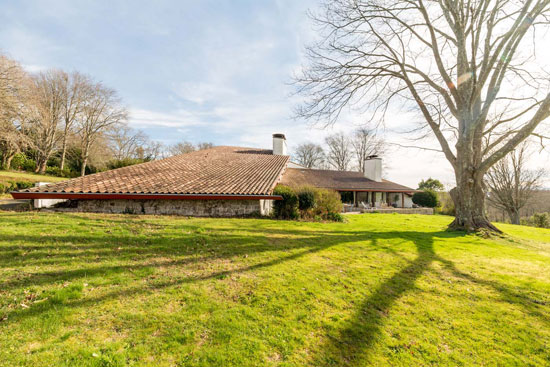 That's not quite all as this one also offers up a large basement with storage, wine cellar and boiler room, as well as a substantial garage and an 'independent building' housing a games room and a pool room. Space is not an issue here, inside or out.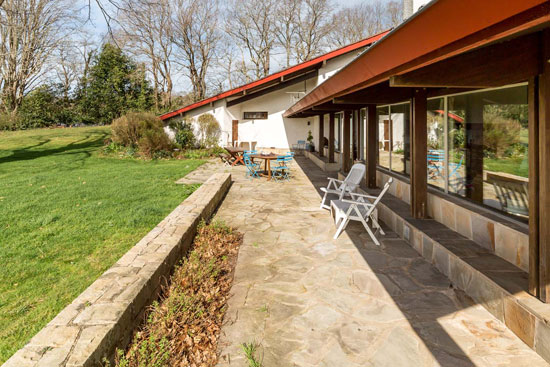 Also, if you want a change of scenery then jump in the car. You are just 20 minutes by car from Biarritz and the sea. An ideal spot.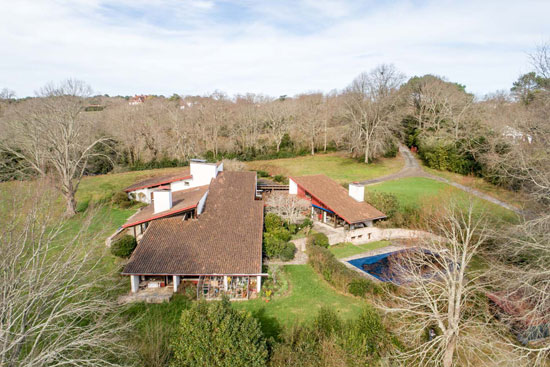 Of course, a house of this size and magnitude does come at a price. If you want to move into this modern house in Arcangues you will need something in the region of €3,500,000.
Images and details courtesy of Architecture De Collection. For more details and to make an enquiry, please visit the website.