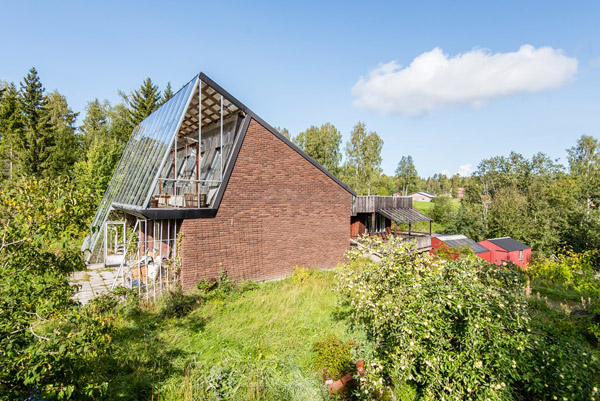 Now this is wonderful. A 1970s modernist time capsule in Sundsvall, Sweden has just gone up for sale.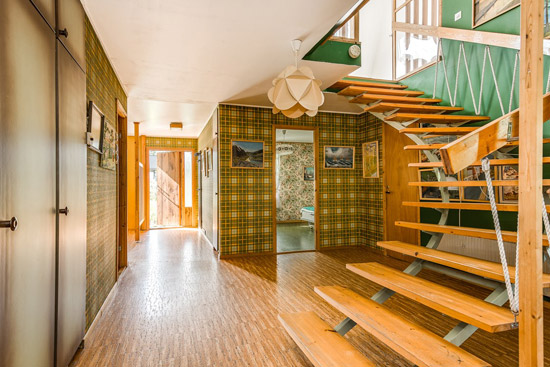 When I say time capsule, I mean it too. Little has changed in this one since it was constructed back in 1977, presumably as some kind of getaway or summerhouse.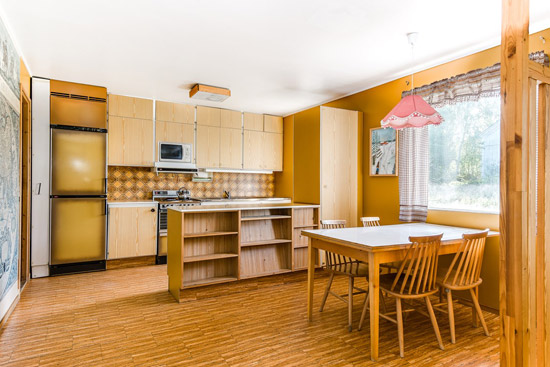 If you fancy getting away from it all in the countryside outside Sundsvall, do check it out, especially if hiking and ski trails are of interest, as well as 1970s interior design.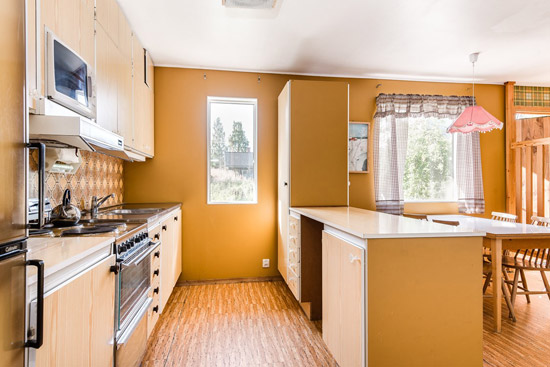 Not that it's just about the interior. The architecture is also worth talking about. The angular shape is obviously the standout feature here, as well as the semi-open glazed area on the upper floor. Presumably that's to take advantage of the nearby rural scenery.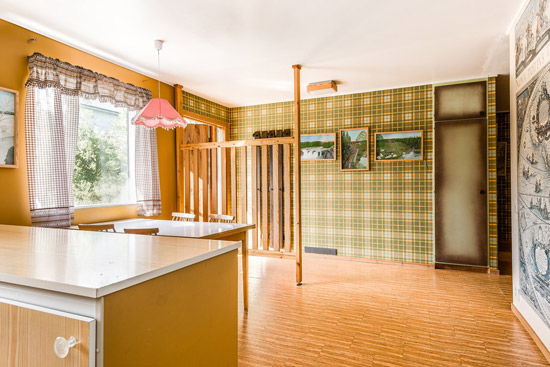 The angles are obviously a key part of the interior too. But they take a backseat compared to the finish within.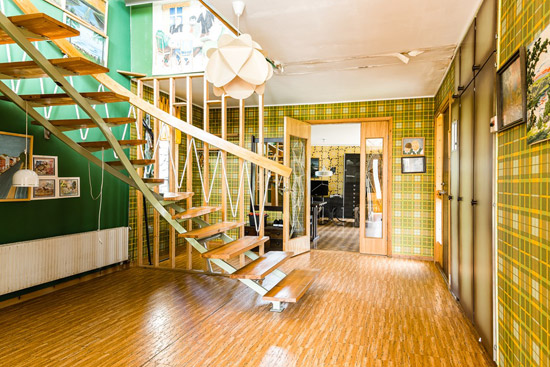 This is 1970s heaven or a '70s nightmare, depending on where you stand in relation to the decade. Me? I'm firmly in the camp of the former.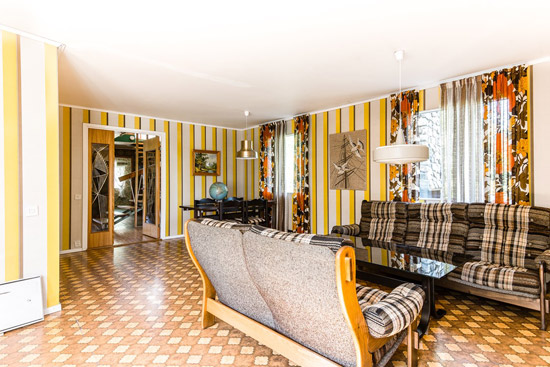 That open staircase with rope bannister is a statement piece for sure, but I can't stop looking at the walls. They are like nothing else I have seen. Sweden's take on brash 1970s decor. There's even a room with bold floral wallpaper complete with matching wardrobes. Although to be fair, it isn't all about OTT wallcoverings.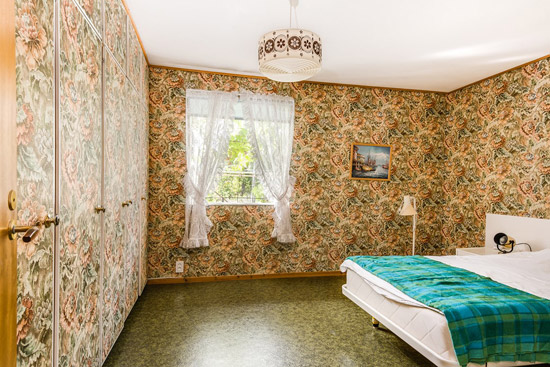 The original kitchen is more subtle and for me, still looking as contemporary and stylish as things on the market right now. The light fittings are very hip too and the whole place has a cool, midcentury Scandi vibe. Just as long as you don't mind colour and pattern.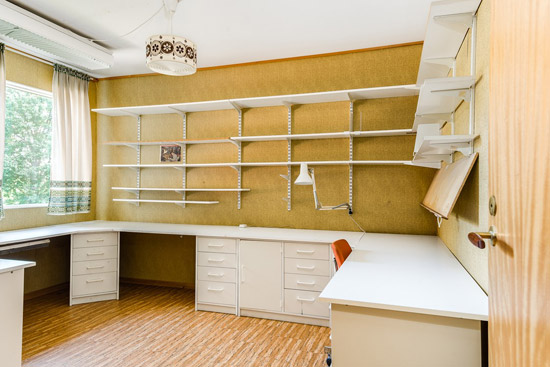 As for space, a hall with storage leads to the living room with balcony access, a shower room, a large kitchen with dining area, a laundry room, a large bedroom and one further bedroom.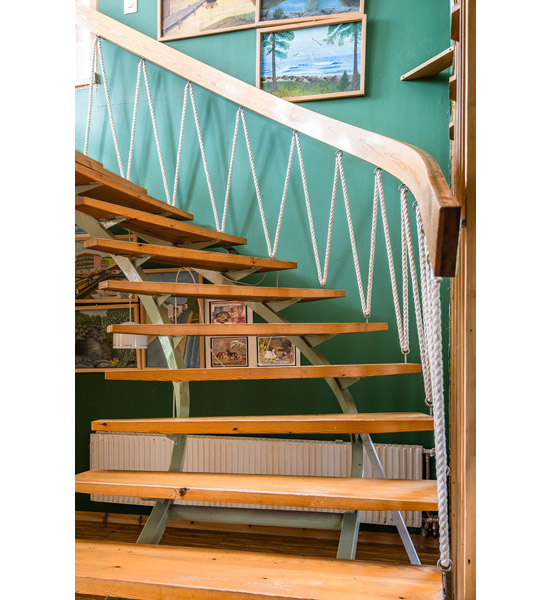 An upper floor has a further living room with large windows, a third bedroom and another bathroom (not currently in use).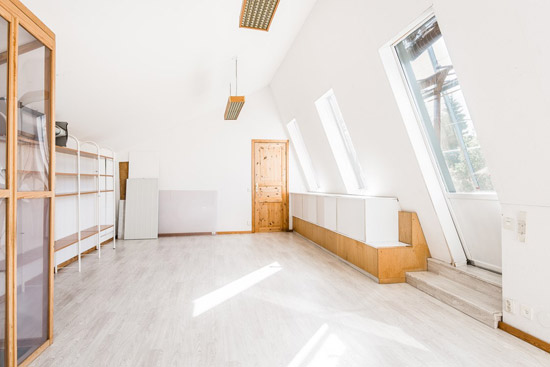 A good amount of space outside, although it sounds like it might need a bit of work. The house sits on a 'large' plot which has a nice garden with plants, berries and fruit trees. However the plot is now described as 'wild' sadly.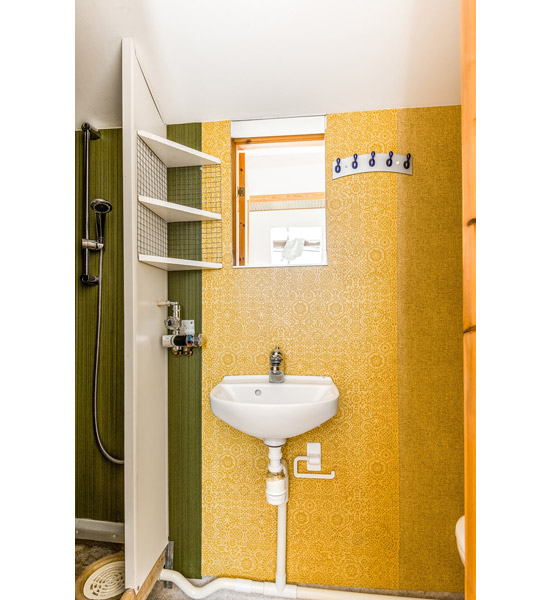 You also get a garage built into the house, a boiler room at the rear of the garage and a detached warehouse plus further outbuildings. So quite a lot of space to play with inside and out. If you need a hobby, that garden should keep you more than busy during your weekends and long holiday for quite some time.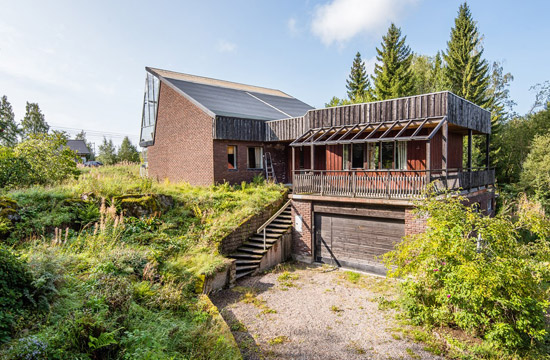 I say that because I believe this is a weekend place or hideaway place, although not exclusively so. What I do know is that the price is 1,300,000Kr, which actually works out at £111,168. Yes, it really is that affordable.
Images and details courtesy of Lansfast. For more details and to make an enquiry, please visit the website.
Huge thanks to Ann-Charlott for the tip off!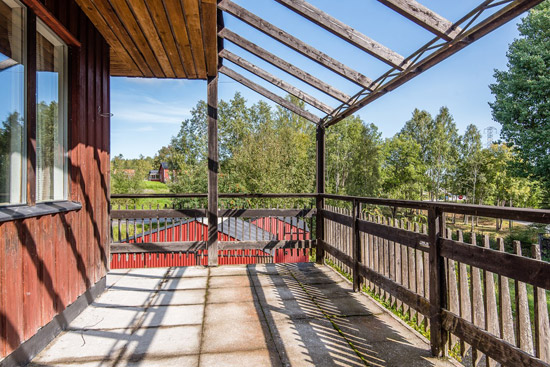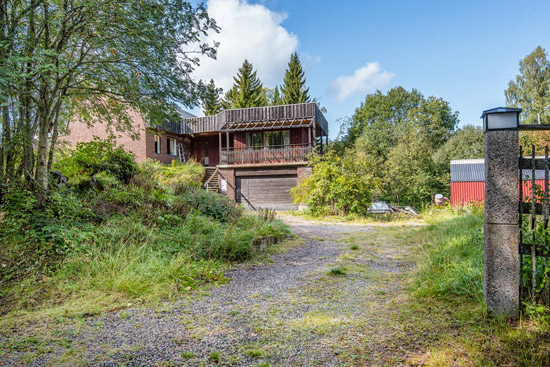 Property Location