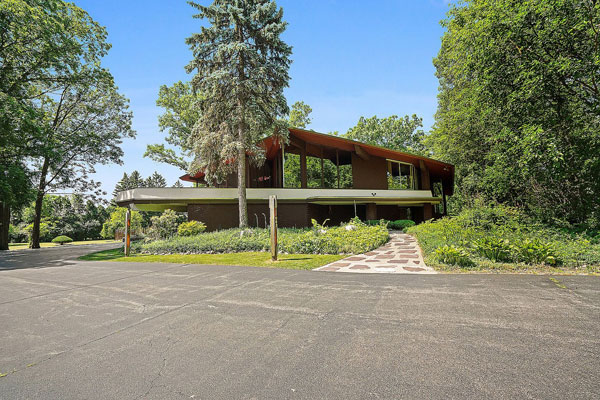 The architect is unknown, but he or she has their mark with this 1960s midcentury modern house in Palos Park, Illinois, USA.
According to the agent, this 'unique estate' (I'll come to that bit later) was the work of a student of Frank Lloyd Wright. But sadly, no one can recall the name.
The FLW influence is clear for all to see, both in the architecture and the finish within. Some of the wood and brickwork detailing inside are unmistakable FLW flourishes. But amazingly, not the first thing you notice. Perhaps not even top three.
It is the architecture, as well as the boldness and the volume of the interior that gets you first. This is a statement house of the day. Of that, there is no question. And little has changed since that day.
Let's talk about the architecture first. A fascinating angular design worth walls of glass to take in the surrounding views and terraces to take you out amongst the land and the well-maintained gardens. This is a house that hints at something special beyond the front door. Which, as you can see, is certainly the case.
This is a magnificent interior. Seemingly maintained to a good standard, but barely touched. Someone had money and they wanted the world to know. This is midcentury modern on a grand scale.
It's hard to know where to start. The volumes are amazing here. Whatever furniture you install in that reception area would get lost. But it is a wonderful space.
Just look at that brick fireplace, the redwood beams, the ceiling, those huge windows, the doors, the light fittings, the gallery and one of the first staircases you will see this year. That open staircase with its shiny metal rails would be the crowning glory in some places. In here it's just another feature. Ok, the carpet might not work, but outside of that, it is a very special place.
And there's so much more beyond it. The wood and brick (and more fireplaces) work their way through the house, with period details aplenty, whether that's an old school cocktail bar or a bathroom that looks like something out of midcentury night club.
But as I said, all well maintained and with some areas (not many) updated here and there. In truth, a few more could take an update too, whether that's in terms of the interior design or some of the fittings. Not everything has aged as well as it could have. Which makes this something of an opportunity for someone to bring it back to its 1960s best. Hopefully, without taking away the character appeal that sells it in the first place.
As I said, if you want some air, there are plenty of terraces too. In pretty much every direction. This sits on 4,36 acres, so there is plenty to see.
In total, this home boasts over 6,800 sq. ft. of space of living space. It's actually hard to work out just what you get in terms of the layout as there' isn't an obvious floorplan available. But you do get at least five bedrooms and five bathrooms here, as well as plenty of entertaining and reception space.
The latter includes that 'great room' that's the focal point of the house, as well as a family room/media room, a wet bar, games room, feature kitchen and so much more. If you want to know more and are a serious buyer, you can always go check it out yourself.
As for the outside, that's pretty much your own park or country club. You might have spotted that outdoor heated pool, but beyond that is space for a barbecue on the multi-level landscaped brick patio, options for games on all of that lawn and space just to hang out and chill within the manicured gardens. Privacy too, thanks to all that land.
Not cheap at $1,200,000, but you are getting a lot of house and grounds for your money here. With a few touches here and there it could go up another level too.
Images and details courtesy of Zillow. For more details and to make an enquiry, please visit the website.