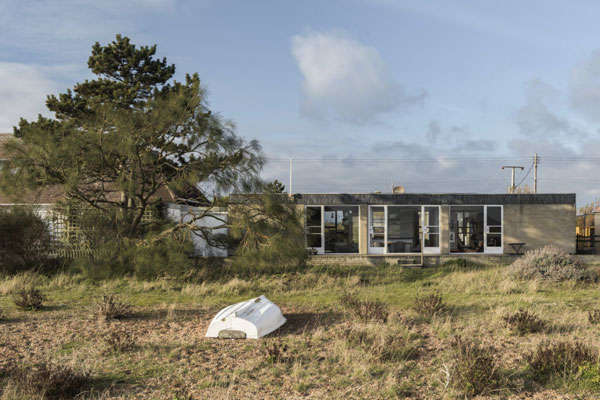 Very special, as this 1970s John Penn modernist property in Woodbridge, Suffolk was designed for the architect's own use.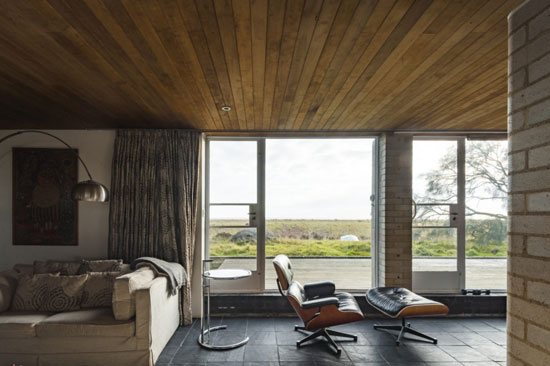 Specifically, you'll find this one at Shingle Street, sat just beside the beach. So a great location. The house isn't bad either.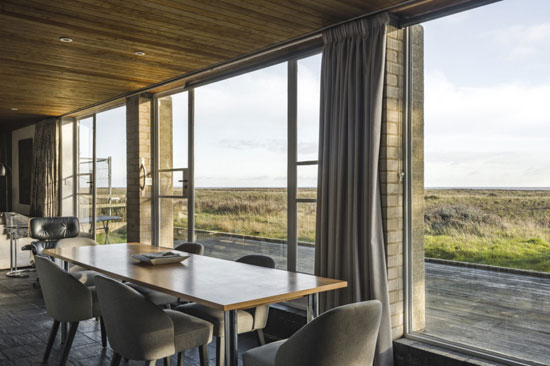 As I said above, the house, which dates from 1970, was designed and built by architect John Penn in 1970 for his own use, with the idea of building something that would have as little impact on the landscape as possible. Minimalist, but in a good way.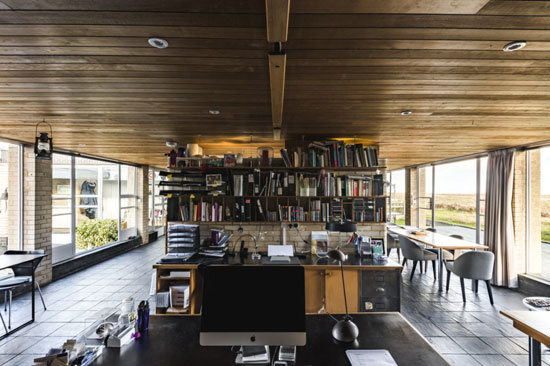 This is one of nine similar private houses designed by Penn over the 1960s and into the 1970s, all of which took inspiration from his time studying and working in the US.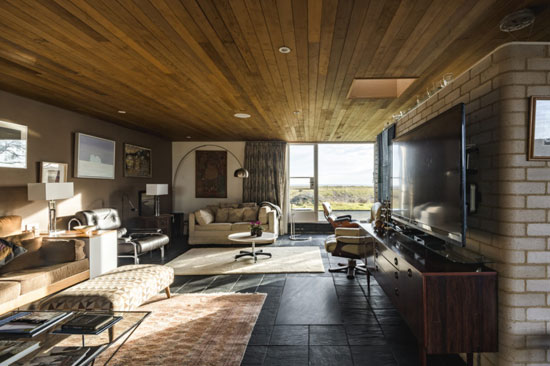 Yes, this is modernism that leans towards the midcentury modern end of the spectrum, especially when it comes to the interior and layout. The exterior is a little more austere than your average Californian midcentury modern house, perhaps more in keeping with the British take on modernism during that time.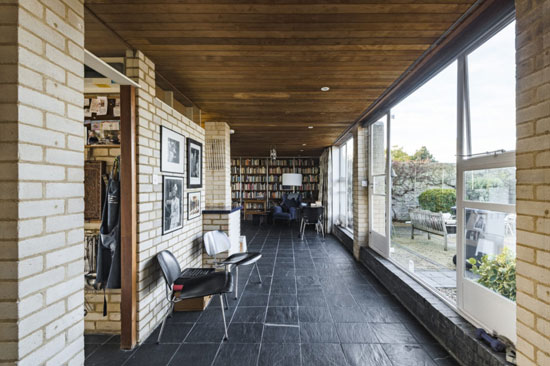 You will find it along a 'quiet cul-de-sac' that runs alongside to the sea. A driveway leads through a run of lawn and Tamarisk trees, which is said to be 'delineated' from the neighbouring gardens by simple wooden fencing.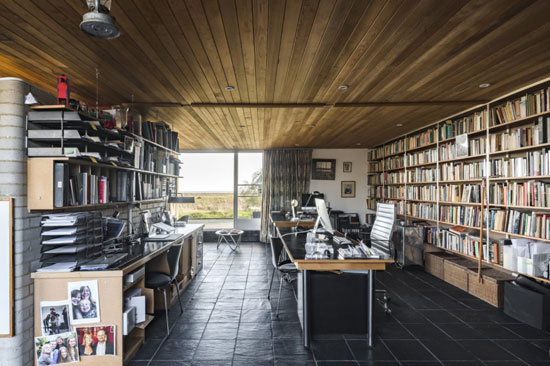 The main house (yes, there is a little bonus that comes with it) is L-shaped and according to the agent, it manages to 'cleverly and sympathetically' unite two previously separate brick and glass boxes, enclosing a 'sunny and secluded' courtyard garden.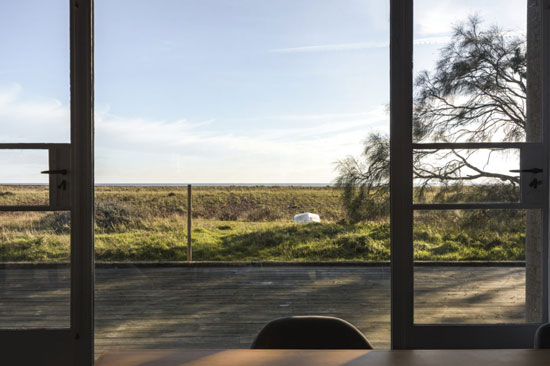 Three bedrooms, two shower rooms and laundry make up the 'landward' wing of the house, while the 'seaward' wing offers spacious and open living aspect, which takes in living, dining, library and work areas.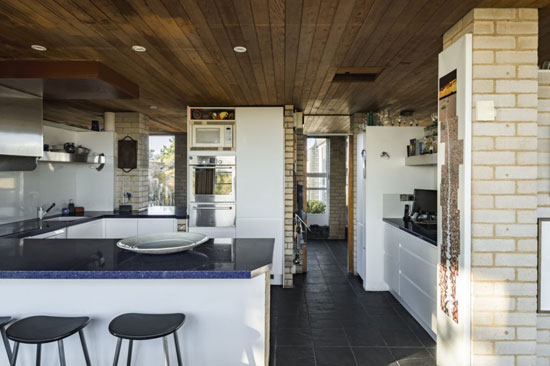 All of these surround a fully modernised kitchen with sea views. Long runs of steel-framed, ground-to-ceiling glazing form the walls, with underfloor heating keeping the chill out.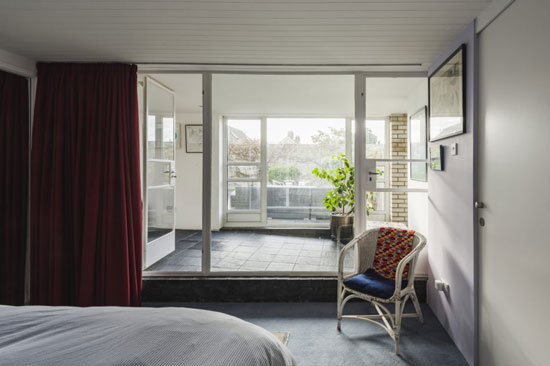 A series of doors open to a raised deck, with a small step down to the beach itself.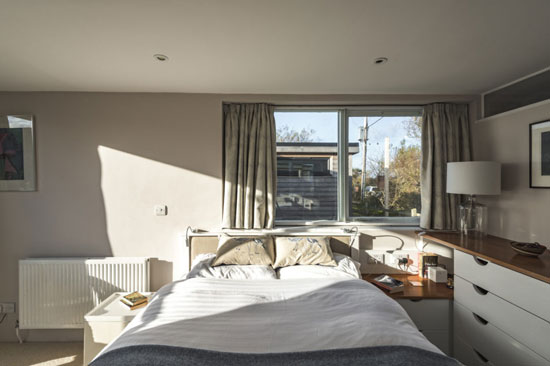 As I said, there is the little extra, which is a timber structure that's made up of a garden room/bedroom with en-suite bathroom and a carport.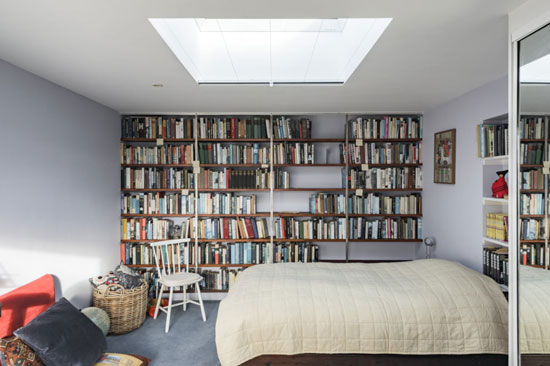 As for condition, well as you might have guessed with the updated kitchen area, this is a well-maintained property with some updates in place. But that's not the overall impression you might get when you have a look round.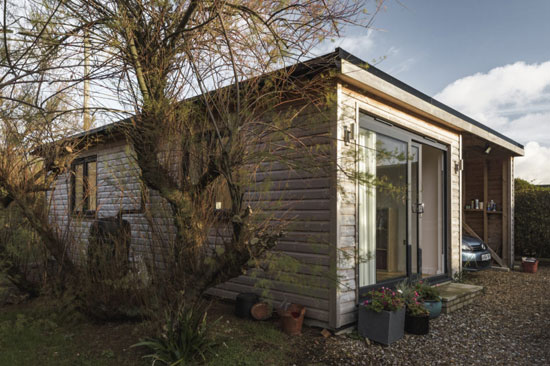 The house has been maintained impressively from the windows, the timber ceilings and the exposed brick through to the bulk of the fixtures and fittings. This isn't a time capsule by any means, but it is a house still faithful to the original era.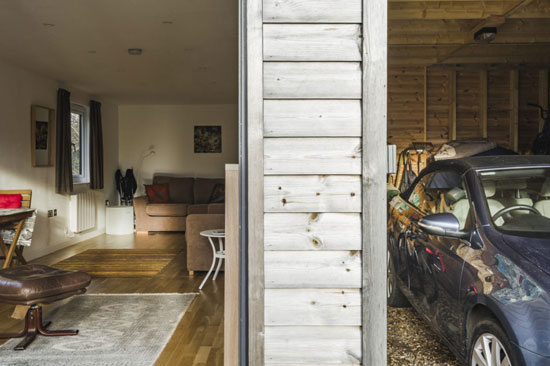 I would love to browse the books on all of those fitted bookshelves as well. My guess is that they are packed with enough interesting reading matter to keep you going for years. Just a shame that they aren't included in the sale. At least, not as far as I know.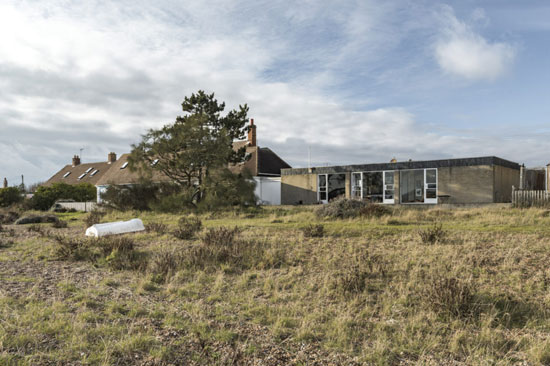 If you are worried about the location, Shingle Street's nearest railway station is at Melton, a ten-minute drive away, with hourly trains north to Lowestoft and south to Ipswich (23 minutes). Direct connections there go to London (a total journey time of one hour and 50 minutes), Stansted, Cambridge, and Norwich. So you might have an isolated location, but you aren't far from a major network.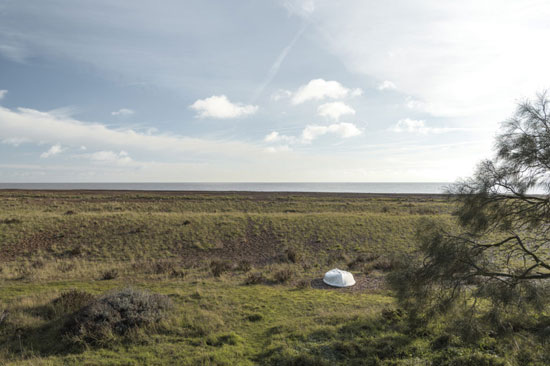 £900,000 is the asking price and there is a viewing day on Saturday 2nd February.
Images and details courtesy of The Modern House. For more details and to make an enquiry, please visit the website.