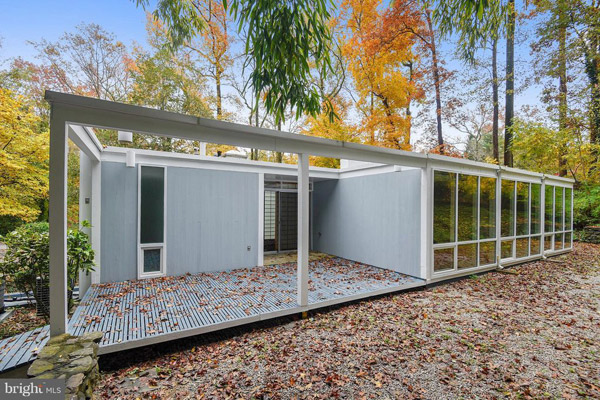 Not a lot of background on it, but the 1950s Charles Goodman midcentury modern house in Alexandria, Virginia, USA is rather lovely.
What I know for sure is that the house dates back to 1952 and is the work of acclaimed architect Charles Goodman. Beyond that, it's a case of what you and I can see.
I see a single-storey house with walls of glass and a rectangular shape and a design that really has stood the test of time. Hard to believe that this one is 66 years old.
Is it original? Well, originality is at the heart of this one, even if some updates have been carried out.
When I say updates, I don't mean in terms of the design. This looks to be incredibly faithful to the 1950s midcentury design and a credit to its past owners, not least the most recent one.
The architecture itself, the wood-panel walls, the slate and parquet flooring, the fireplace in the main reception and the bathroom all look to be from the original build. But there are a few tell-tale signs of this being renovated and restored.
That kitchen for one, but also the clean finishes for the walls and ceilings, some more recent flooring additions and the retro fixtures and furnishings. All in keeping, but definitely recent. This isn't a time capsule, it's a modern-day family home with character.
1,495 sq. ft. of family space too, which includes four bedrooms and two bathrooms, as well as extensive and open reception space and the kitchen. There's also an unfinished basement below. But I don't think that's it.
Although not mentioned in the listing, the outside space of 0.4 acres seems got hold a couple of surprises. It is listed as patio and lawn, which it is But the images also show a child's play area and what looks like a pool and pool house, covered in the photos.
But I'm not sure it is a pool. That's something you will have to take up with the agent to confirm. If it is, then it's definitely a nice bonus.
Pool or not, this one is on the market for $700,000, which works out at £545,000.
Images and details courtesy of Zillow. For more details and to make an enquiry, please visit the website.
Property Location