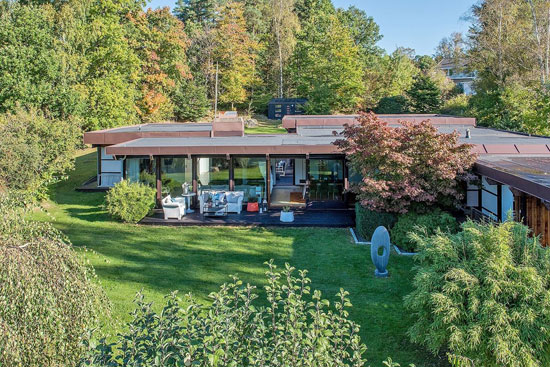 Much updated, but we still like what we see in this 1970s midcentury-style property in Lerum, Sweden.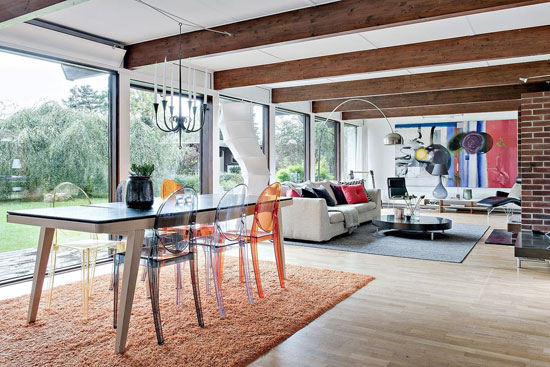 The property is actually a little later than you (and certainly we) might think, built in 1971 although the agent points to an inspiration from 1950s modernism, which is evident both from the exterior and interior.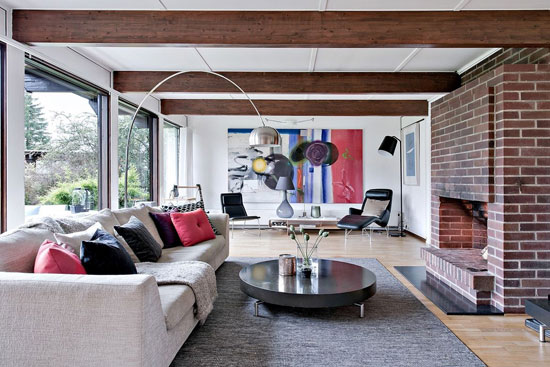 That exterior looks largely untouched and could be a midcentury find from the US. Of course, the setting and arguably the interior add in the distinctive Scandinavian vibe.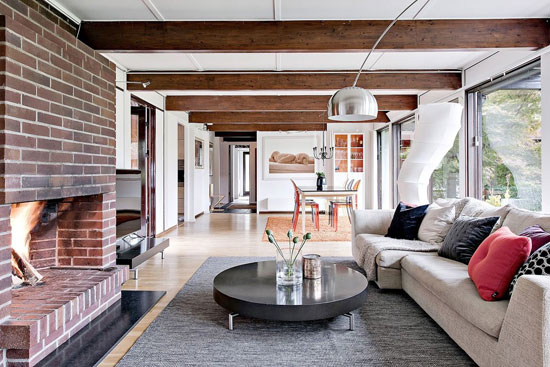 The house itself was planned to connect the outside and inside space, with this large windows and the cedar exterior ensuring that is very much the case. Once inside, you are looking at open living areas and plenty of natural  light across the 300 sq. metres of accommodation. Pretty much what you would expect of a house of this nature / era.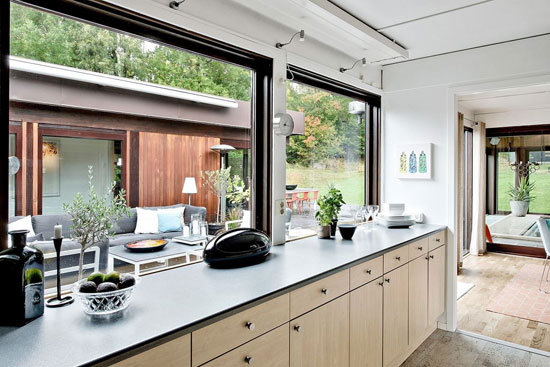 There's a good amount of land around the house too, which only adds to the appeal and of course, the privacy. Around 1,500 sq. metres in total, with the trees offering something of a 'buffer' between you and neighbouring properties.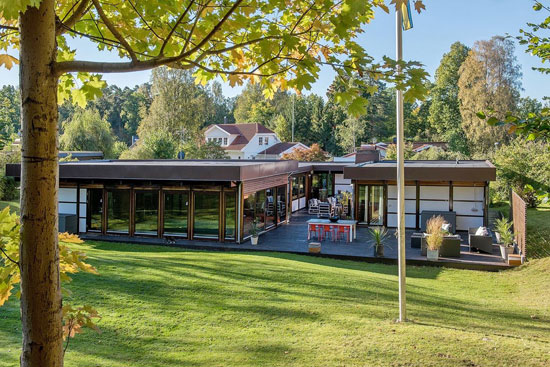 As for that interior, we love the original beams and as we said earlier, that lovely open, flowing layout. If you want more original features, you might be a little disappointed, as the property has been heavily modernised. Yes, there are some, such as that brick fireplace in the reception area (we suspect), but generally, much of what you see looks pretty fresh.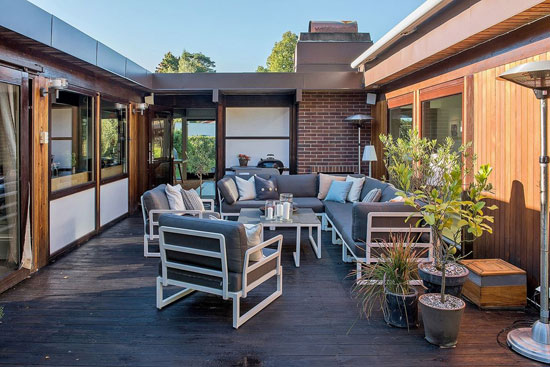 That's not a bad thing by the way. This place might well have needed an upgrade and the finishes here are subdued and stylish.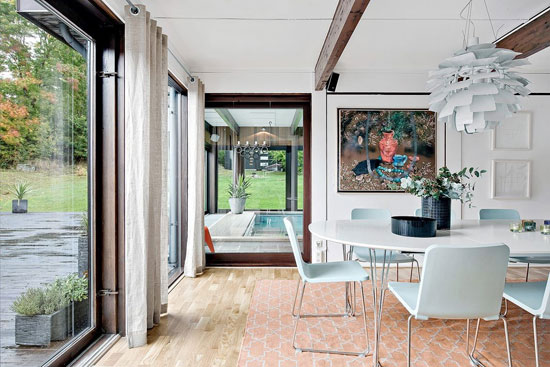 There are three large bedrooms on the right side of the house, along with two children's rooms, a recently renovated laundry room.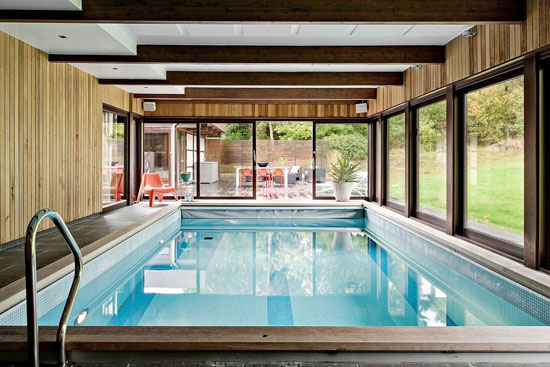 To the left of the inner hall is only a newly renovated bathroom plus a large guest bathroom and of course, the large living room, looking out onto the garden and accessing the terrace space outside. There's also a kitchen, which accesses the rear patio deck area and further reception space.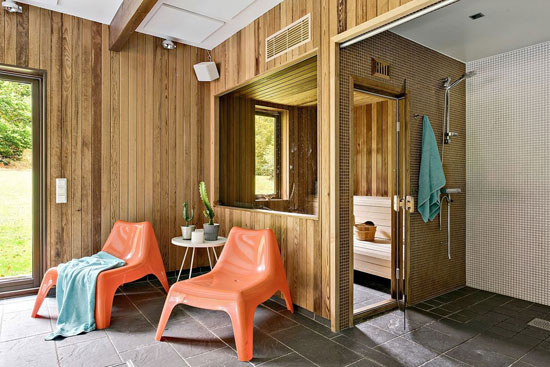 An addition from 2004 adds in two more bedrooms, including a master bedroom, while the 'relaxation area' has the heated pool and a shower area.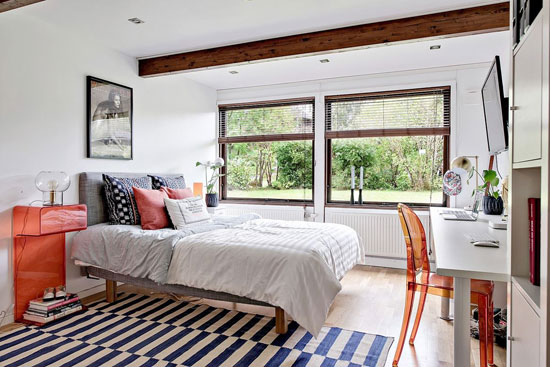 A very stylish space and one that is on the market for 6,250,000 kr, which we work out as around £577,000 at the current exchange rate.
Images and details courtesy of Bjurfors. For more details and to make an enquiry, please visit the website.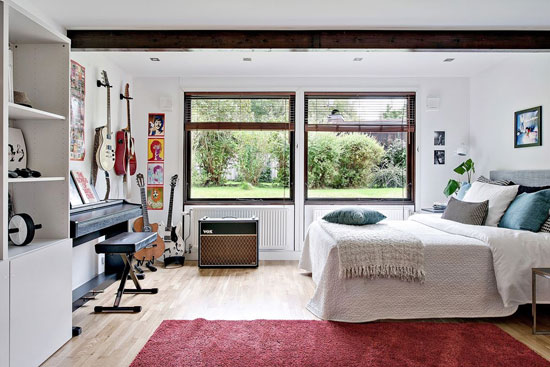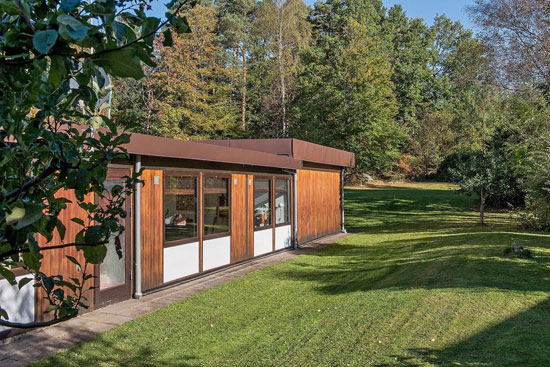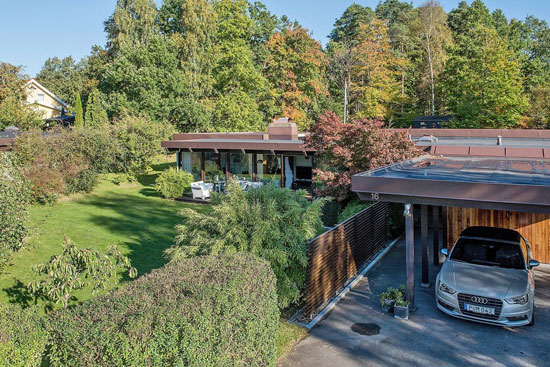 Property Location