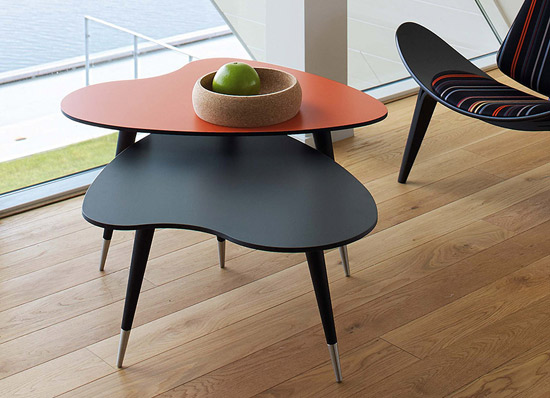 A classic look from the midcentury modern era, but these Strawberry Retro tables by Danish Retro are actually fairly new designs.
New and certainly not cheap. But they look so good.
Choose from a variety of colours or just go for the plain wood finish, with each table also offering that wonderful curved surface area and the angled, steel-tipped legs.
Take your pick from oak, walnut and ash, with the surface in either the wood or a high pressure laminate in either white, burnt orange, lavender blue or anthracite.
As we said, not cheap with prices from £890, but a wonderful look and a well-made piece of interior design. You can find out more at the Wharfside website.
Looking for a cheaper alternative? Check out the Flashback tables from La Redoute from £99 or the kidney bean coffee table by SC Woodworker at Etsy. Also worth keeping an eye on Swoon Editions too, which has similarly-styled pieces in limited runs now and again.