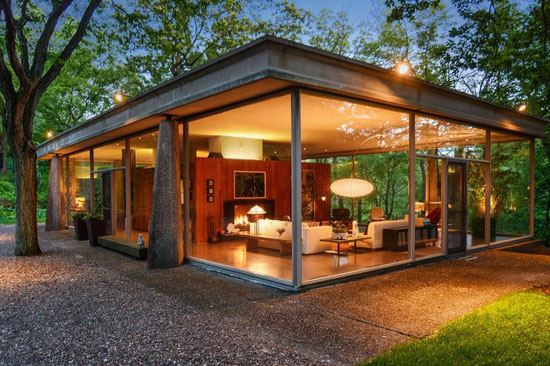 Now this really is something, with both the design and the price appealing on this 1960s H.P. Davis Rockwell House modernist property in Olympia Fields, Illinois, USA.
The house was designed by H.P. Davis Rockwell of the Brenner Danforth Rockwell firm back in 1964 for his own use. The architect was a student of Mies van der Rohe and his modernist ideas obviously rubbed off on the pupil judging by what you see here.
According to Curbed Chicago the design was a notable one back in the day too, with the American Institute of Architects presenting an award for its design back in 1965.
Some updating and maintaining has been undertaken over the following 50 years but by and large, this isn't far off the original, with period features at pretty much every turn. Indeed, if you want to compare and contrast, the agent has some photos from its initial build.
The expanses of glass, the concrete exterior, the internal doors, the spiral staircase and the floating wooden walls / room dividers all look like the kind of features that buyers of these properties fall over themselves for.
But the flooring, the kitchen and the bathrooms look more recent, indicating that someone has spent money on keeping this place updated. But don't take out word for it, contact the agent or secure yourself a viewing if you can.
As for the house itself, you'll find that in a secluded woodland setting, with the property offering around 3,600 sq. ft. of living space. That includes four bedrooms and three bathrooms, along with a dining room, family room, kitchen, living room, laundry room, study, den, workroom and storage space.
2.49 acres of land outside too, as well as what looks like a sizeable garage.
The house is up for sale with an asking price of $619,000, which works out at just £390,000 if you fancy the move to Illinois.
Images and details courtesy of the Baird and Warner agents. For more details, images and to make an enquiry, please visit their website.
Via Curbed Chicago
Property Location