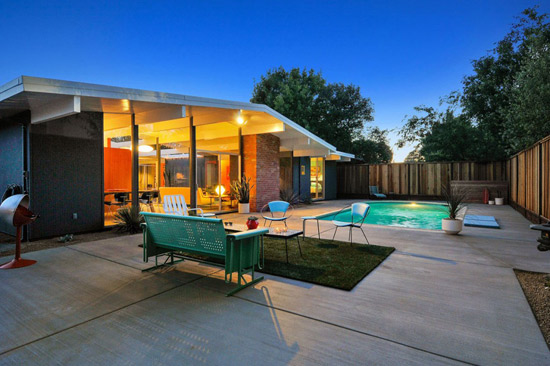 We have featured a few Eichler homes in the past, but this 1960s A. Quincy Jones-designed midcentury Eichler house in Concord, California, USA is perhaps the pick of the bunch.
According to Curbed, the overhaul of this 1963 build is the work of Blaine Siler, owner of Redux Stage Co, a company that rescues midcentury houses and returns them to their former glory. But this isn't a company house – this is his own home. It is certainly a good advert for the business though.
The agent describes it as 'impeccably preserved' as well as 'tastefully' modernised, words we can't disagree with. It's pretty much a picture guide to renovating a midcentury property. Very much of the original era, but without forgetting that ultimately this is a modern family home.
As an example, the kitchen features bespoke Berkeley Mills mahogany wood cabinetry and white Corian counters and surrounds, not to mention some high-end appliances, mixing it up with some mid-century globe lighting, beams and 'floating' walls. A contrast, but one that works.
As for the rest of the house, that totals 1,656 sq. ft of space and includes four bedrooms, two bathrooms, and a very open plan inside living area. But the star of the show is the glass walled atrium at the centre of the house, with newly-added concrete flooring.
The outdoor space flows effortlessly from the inside courtesy of the full height glass. Once outside, you can enjoy the pool, new concrete decking and lighting, all of which is perfect for a party.
Of course, the pictures say more than our words, so do check those out. If it appeals, the asking price is $675,000 (around £436,000).
Images and details courtesy of East Bay Modern. For more details and to make an enquiry, please visit their website.
Via Curbed SF
Property Location