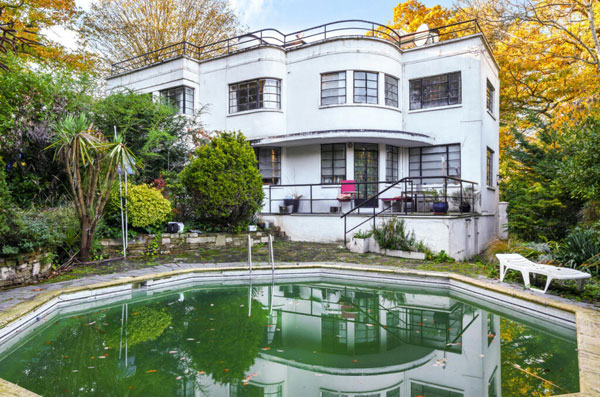 In need of some TLC, this amazing and listed 1930s Gilbert Booth art deco house in Bromley, Kent, is now on the market.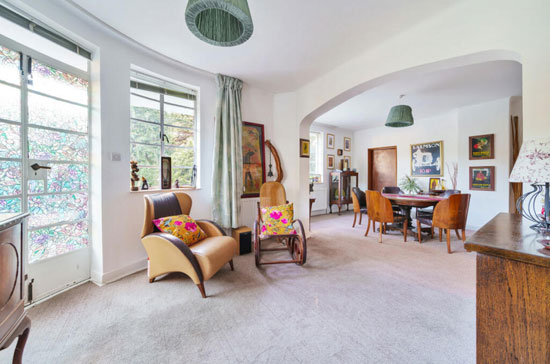 Some years ago, Stillness (that's the name of the house) was available as a rental, and I have a vague recollection that a WowHaus reader was one of its occupants at the time. If you follow that link, you will see what it was like back in 2013. It wasn't massively different, just a little better maintained when you compare the two sets of images.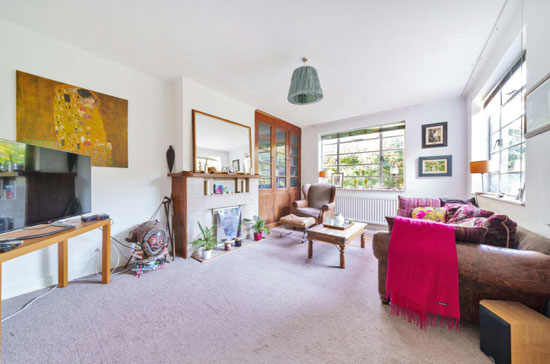 It now needs someone who loves it to come in and bring it back to its best. The architecture has survived the best part of a decade well, and the interior isn't in bad condition either. It just needs a modest makeover.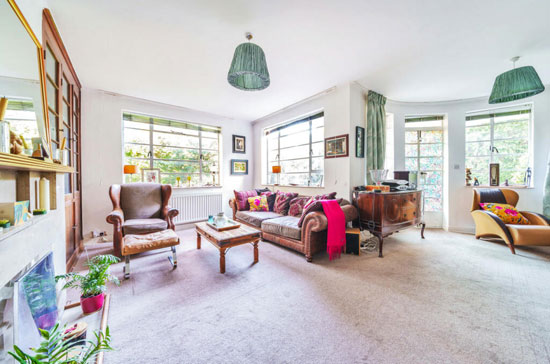 Stillness was designed by Gilbert Booth back in 1934; picking up the name because of the serenity of its surroundings. I'll come to that in a moment because it is a huge selling point.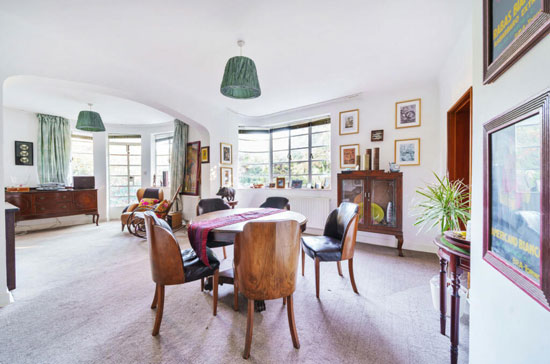 This is also grade II-listed architecture, and whilst updated, the house does retain a number of original details. The design itself has barely changed – with those curves and angles achieved via textured concrete over rendered brick. All of which are contrasted with black Crittall windows. This is picture-perfect art deco architecture from the rear, with a more modernist, austere frontage that has just as much beauty.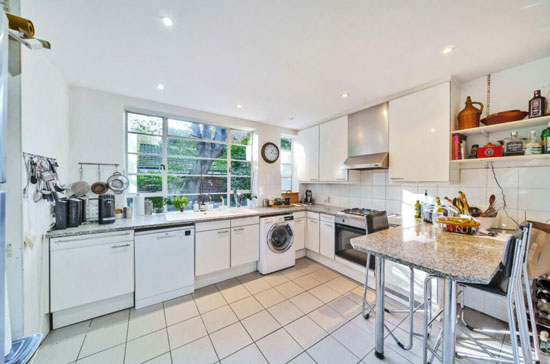 Inside, you get to see the flipside of those period windows in white, some original doors, a wonderful (and I believe, original) marble fireplace, and a lovely curved staircase. The agent also notes that the house, when listed in 2003, retained a number of other less-obvious details, such as the oak architraves and skirting boards, oak floorboards and the original servants' bells, the original door handles, fingerboards, door locks, window catches, light fittings and original switches. Amazing to think all of that has survived so many decades.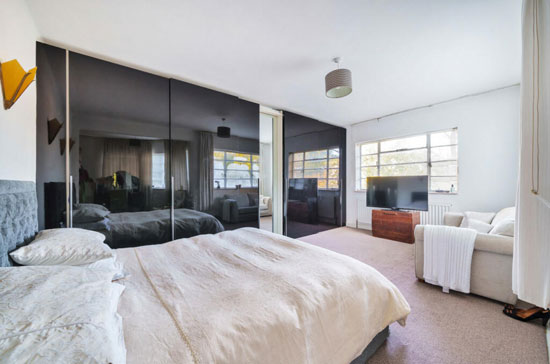 Elsewhere, the space is plentiful, the finishes largely neutral, and although some more contemporary updates have been made, it still retains the grandeur of a statement 1930s house.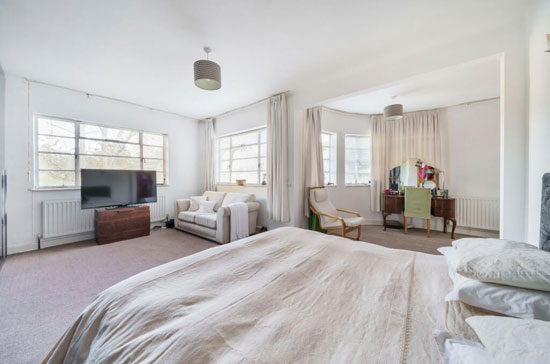 You might want to update or change the bathrooms and kitchen and consider if the bedroom storage works for you. For me, I would want to roll things back a little and go for something more in keeping with the original era or 'classic' if you like for all of those spaces. The rest of the house sells itself once you've freshened everything up.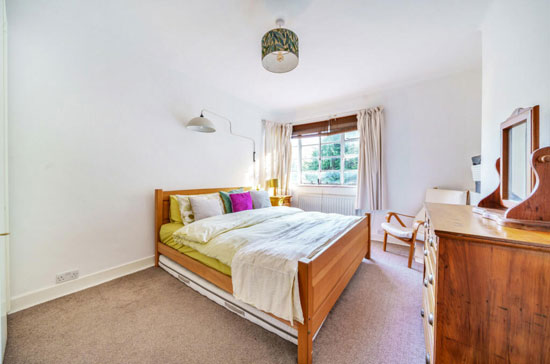 And that's a key point. You look at the photos from a decade ago, and this was a vision in white with a clear, blue pool. Not so now. But once that exterior has been brought back to its best, the pool cleaned, and the patio cleared, it will be again. In the grand scheme of things, it is unlikely to be a great deal of work. But a viewing, as ever, is essential to see it all close-up and discover the actual amount of work needed.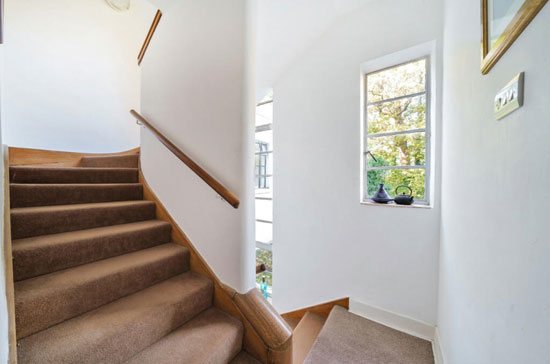 As I said, there is a good amount of space both inside and out. In terms of the interior, the gourd floor is made up of a large L-shaped living dining area, a study/second reception room and the kitchen, as well as some smaller storage/utility areas. Most of them take full advantage of the curved Crittall windows, with panoramic views of the substantial garden beyond.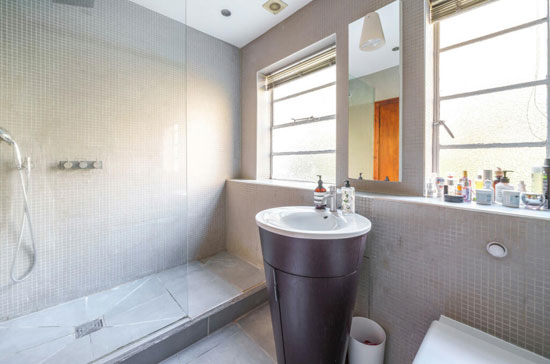 On the first floor are five 'spacious bedrooms', with the master bedroom occupying a large portion of the first-floor accommodation and, again, with far-reaching garden views. Two bathrooms complete the first-floor accommodation. An internal staircase from the first floor leads to the sun terrace with a metal balustrade. That's a selling point in itself.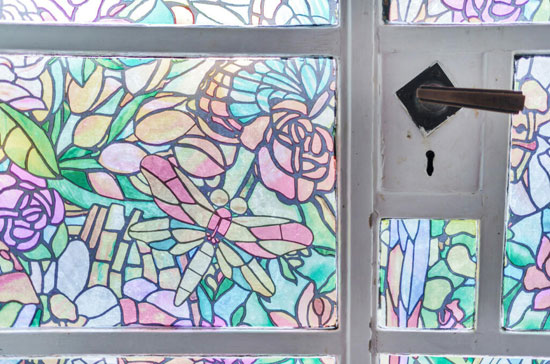 Immediately off the main living area is a raised terrace with steps which lead down to the hexagonal pool. Yes, it needs some maintenance, but that's another killer feature. The grounds offer privacy and seclusion, with a number of mature specimen trees wrapping around the property. It really is something of a hideaway.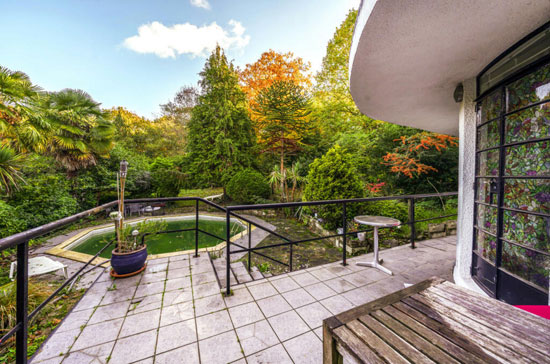 To the front of the property is a large driveway, integral garage and a lawn area.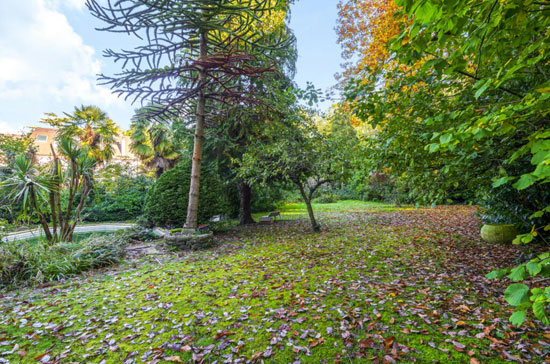 No one is shying away from the fact that this needs work to bring it back to its best, working within the listing guidelines. But houses like this just don't come up for sale often, and as such, this is a rare opportunity to secure yourself something very special. Although it inevitably comes at a cost.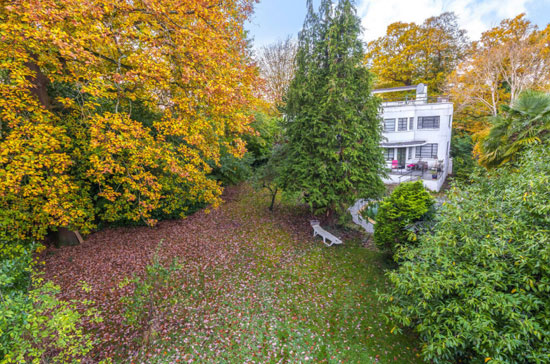 That cast is around £1,500,000.
Images and details courtesy of JDM estate agents. For more details and to make an enquiry, please visit the website.