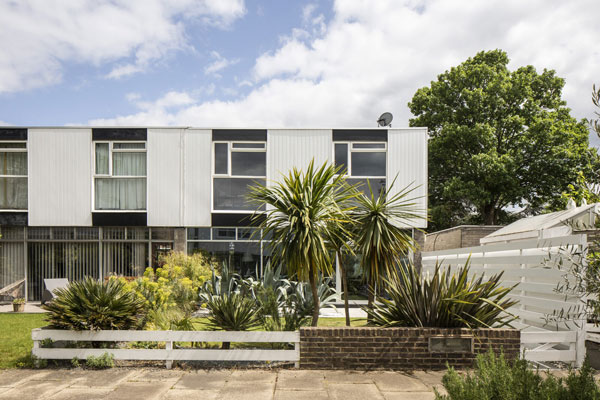 I have featured a few in the past, but none as eye-catching as this 1960s Edward Schoolheifer Manygate Lane house in Shepperton, Surrey.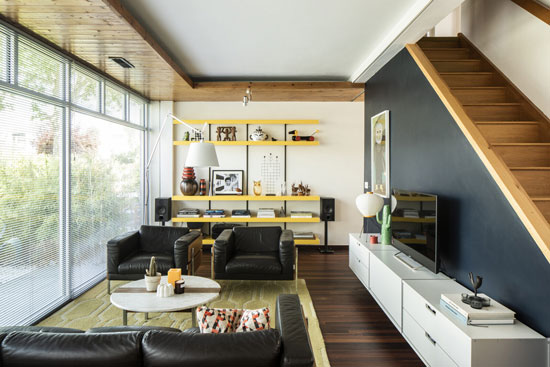 Not that it's in original condition. Far from it. But the house has been sympathetically updated to a high standard. Retaining the architectural appeal and some key details within. But adding in some contemporary touches in keeping with the build too.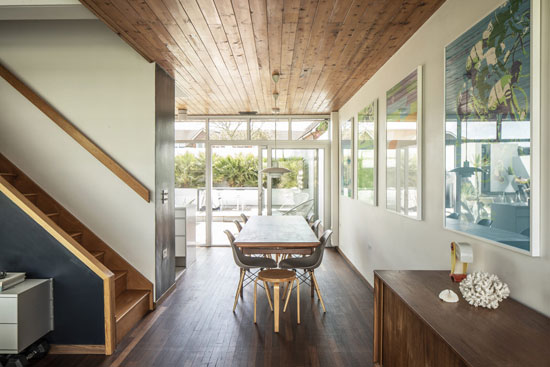 The estate itself is one of my favourite modern/modernist developments. Designed by the Swiss architect Edward Schoolheifer for the Lyon Group in 1964, this is design and setting in perfect harmony. They knew what they were doing in the 1960s.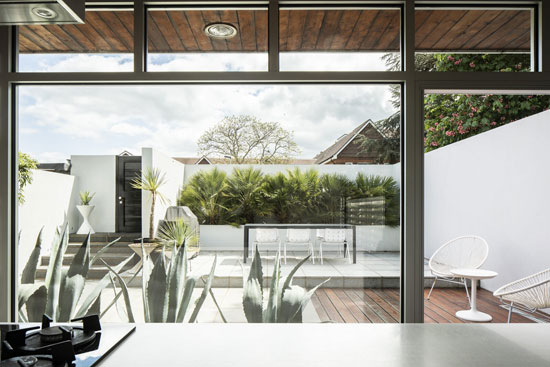 What they did (in some cases at least) was to create car-free estates that tended to focus on bright, open-plan living. If that wasn't enough, adding in courtyards and surrounding landscaped gardens too.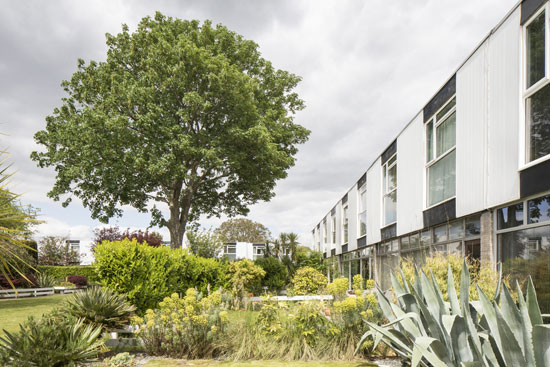 Ok, it wasn't a widespread approach, but the likes of Span and the Lyon Group laid down a template that should have been the future. The fact that these houses are so sought-after today tells you everything about their design merit. We'll not be hunting down 21st-century shoeboxes in quite the same way in 50 years time.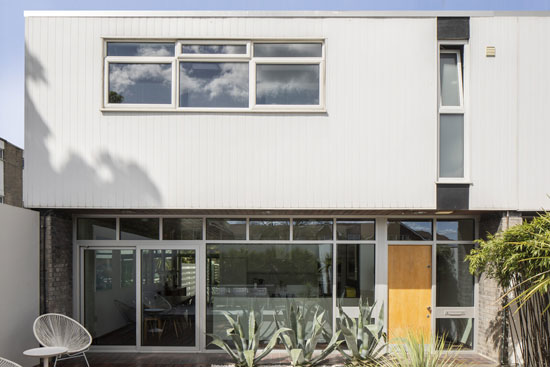 Just in case you were worried about the longevity of this development, both the houses and gardens at Manygate Lane were designated a conservation area in 2002 in recognition of their contribution to modernism in Britain. Not that anyone would change them. There's never a shortage of buyers wanting to live here. I would expect this one to sell very quickly.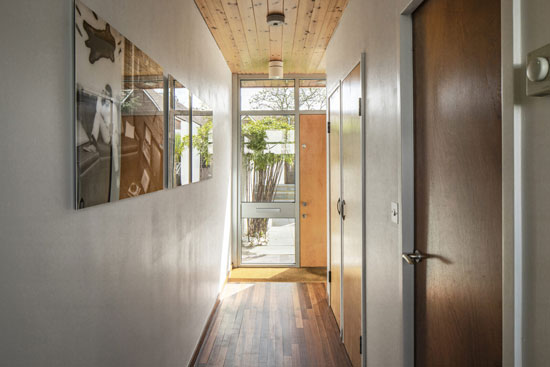 And likely to someone who loves modern design. More often than not, the interiors of these houses are very stylish and this one is no exception. As I said, original details and architecture are in place, but with contemporary touches very much in keeping with the original design aesthetic. It's a very cool place to live.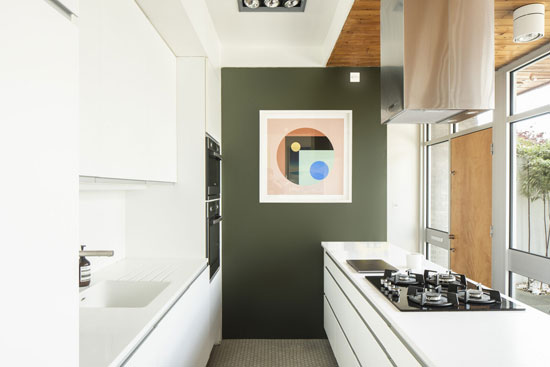 The houses are all arranged around formal courtyards lined with pedestrian walkways. Minimal modernism that has aged well. This one, like the others, is set against manicured gardens, with the white-painted, wood-clad first floor 'floating' above the aluminium-framed windows on the level below. Extensive glazing is pretty much the norm of all design-led houses now. Not so back in 1964, but essential in connecting the inside and outside space.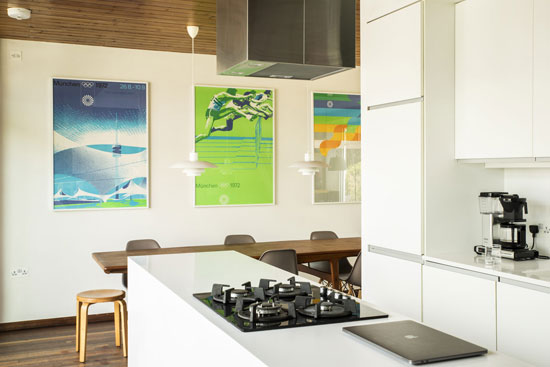 So where did all the cars go? Well, they didn't go away. They're just elsewhere. The estate has both residents and guest car parks connected via the footpaths that 'wind through' the gardens. So you can park, but you don't have to deal directly with the car noise and pollution. Safer for kids too.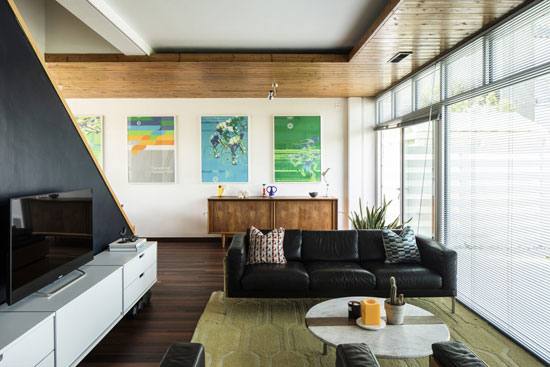 As for the house here, that's accessed through a sunken garden, which is paved with large stone tiles and landscaped with mature plants.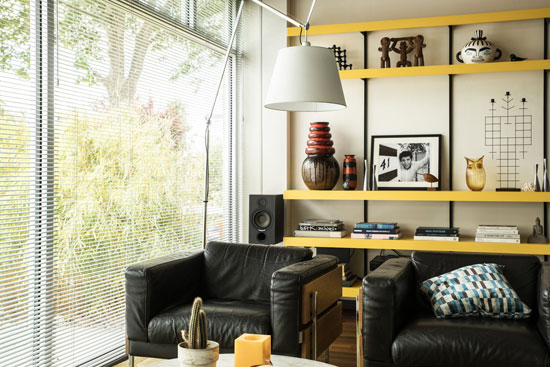 Once inside you'll see what I mean about the old and new. The layout and key details, like those wood-clad ceilings, are faithful to the original design. The windows have been upgraded, but are 'carefully replicated' from the originals. Elsewhere, it's a mix of the classic and the contemporary in terms of design and finish.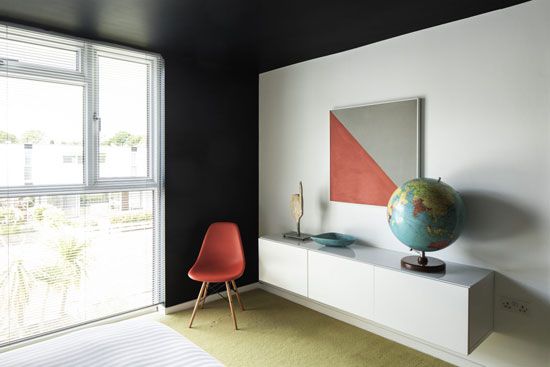 The ground floor living space wraps around a central core and is made up of a kitchen, cloakroom, powder room and the central staircase.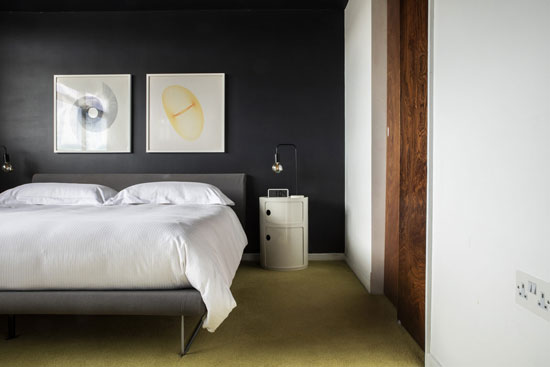 The kitchen is understated and contemporary, with appliances hidden behind white cabinet doors. The original joinery has been 'meticulously restored' in the dining and sitting room, both also benefiting from the wall of glass.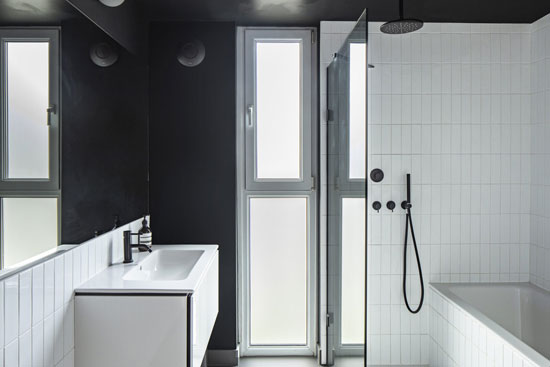 A staircase with a Parana pine balustrade takes you to the first floor, which is carpeted in an eye-catching shade of mustard, contrasting with the dark blue walls.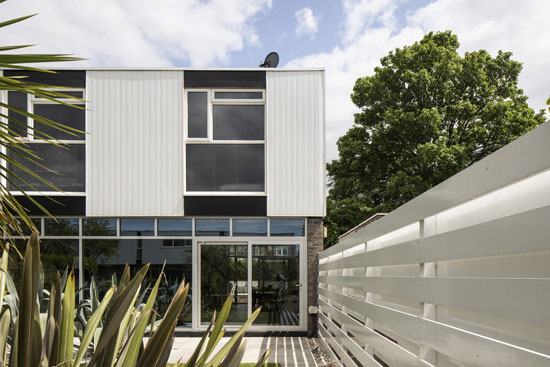 The three bedrooms are arranged around the central stairway and each has a large picture window with views across the gardens. The two largest bedrooms have built-in wardrobes, the third is currently configured as a study, but could easily convert back to a sleeping area if required.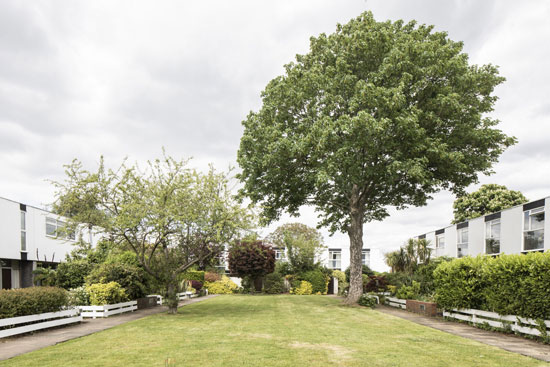 A rather cool white and black bathroom too (with a design I have my eye on for our own house), complete with a walk-in shower and bathtub.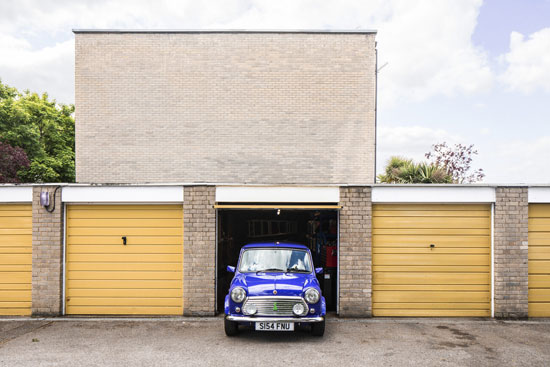 That's not quite all the story, as that outside space is a big pull too. Two private gardens, with the front 'meticulously landscaped' and designed for 'alfresco dining and entertaining', with outdoor lighting if the party goes on into the evening.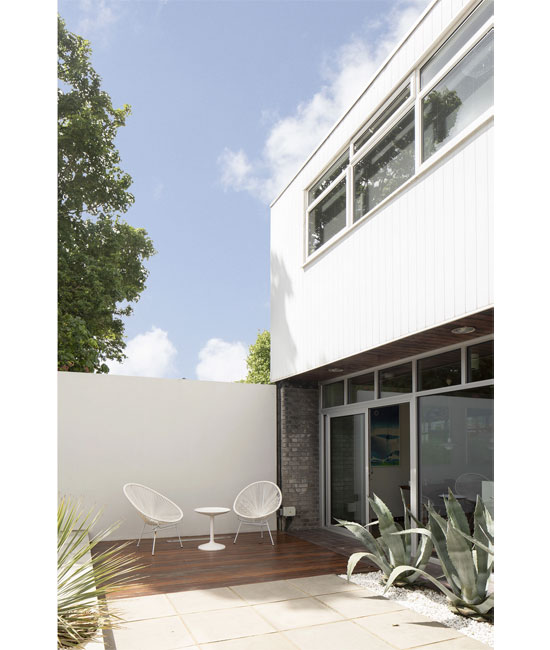 The back garden has been 'beautifully planted' and is laid to lawn and if you want to mix, the enclosed communal garden lies beyond a short fence and can be enjoyed by all residents on the estate. Also, as I hinted at earlier, you also have your own private garden.
Fancy this lovely bit of 1960s modernism? If you do, this Manygate Lane house is on the market for £650,000.
Images and details courtesy of The Modern House. For more details and to make an enquiry, please visit the website.