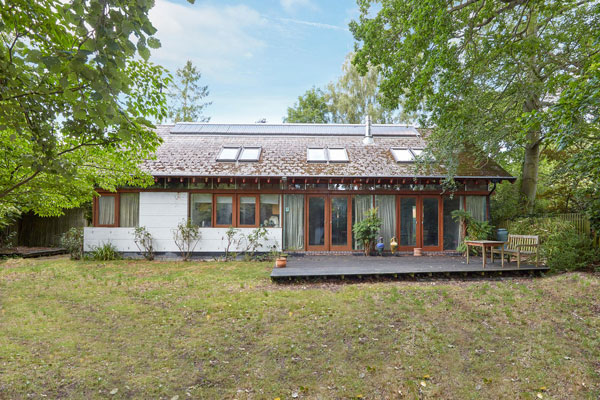 Still in largely original condition, this wonderful David Thurlow modern house in Cambridge is on the market.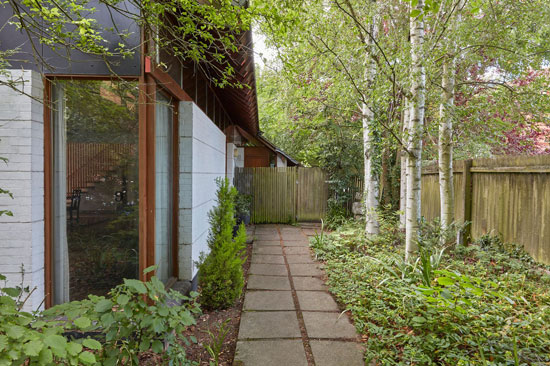 The house is known as Thurlow II, the follow-on and refinement of Thurlow I, which was a house he had designed for his family in Great Shelford.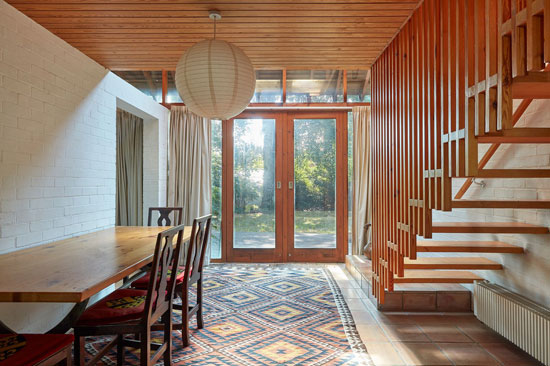 It actually dates from the 1980s, which might surprise you. If I was making a guess purely on the look of the interior, I would have gone for a good 20 years earlier. But no. This house dates back to 1986.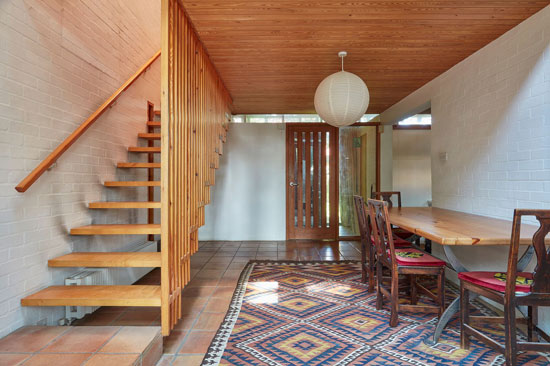 That's no bad thing. 1980s architecture has a habit of dating badly. But this house really hasn't. In fact, I would go as far as to say that it has come full circle. This is absolutely on the money for 2021.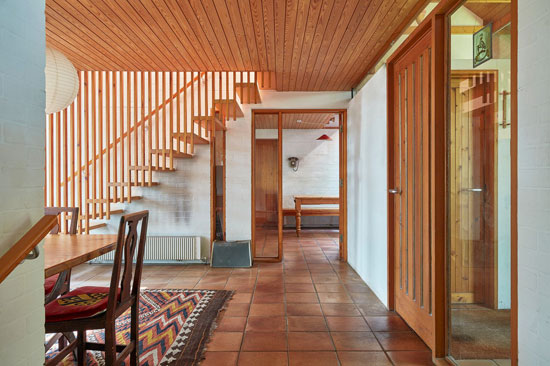 When the house was constructed, it also won a RIBA award for architect David Thurlow, a noted architect in the area and part of the much-celebrated Cambridge Design Group. Look down the page and you can see the plaque, which still sits on the exterior of the house. A nice thing to have in place.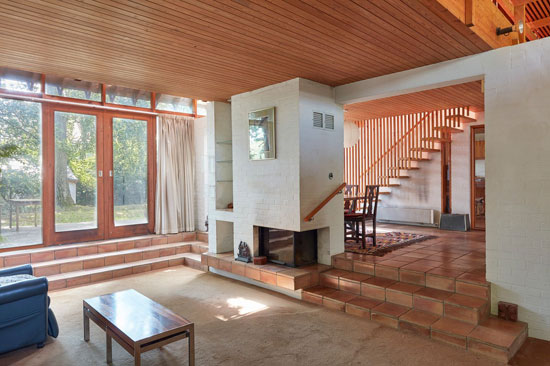 Not as nice as that amazing interior though. Not that I'm knocking the outside. That's rather lovely in an understated way too. But the interior is the real 'wow' factor for me and I'm guessing you too.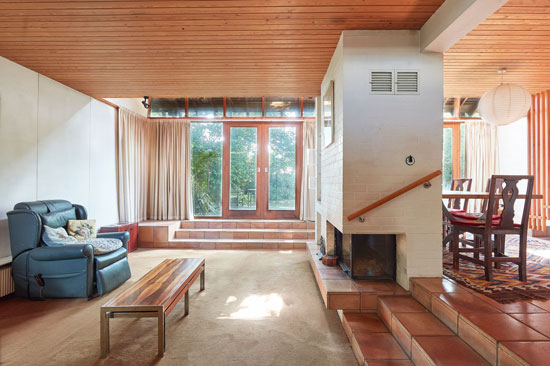 There's more than a hint of a Frank Lloyd Wright influence here. Or is it a Scandinavian midcentury modern? I'll leave that for you to decide. Either way, the minimalist mix of wood and exposed brick looks amazing and as I said, very much on-trend right now.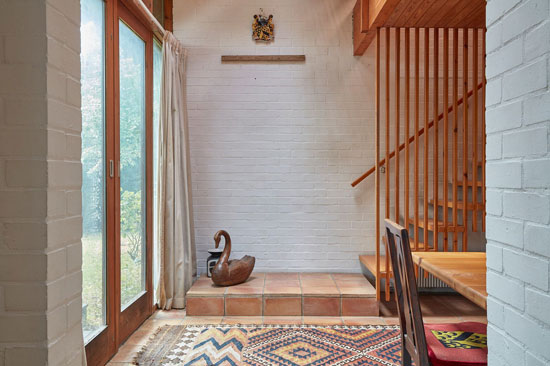 With the right furnishings and an upgrade here and there this should be a very special house. Nothing radical of course, just a few tweaks to bring it up to date. That's pretty much all this one needs to be your dream modern home.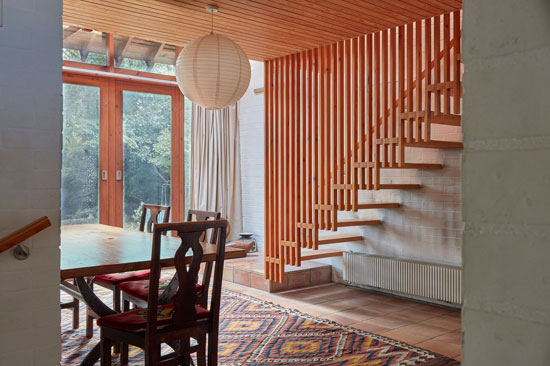 Love all that exposed brick, which is predominantly matched up with a tiled floor and all of that lovely wood. Oh yes, the wood.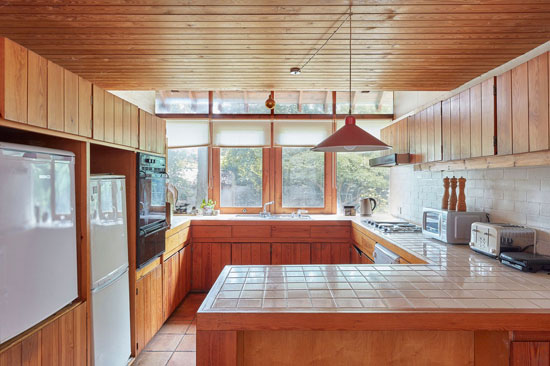 The wood-paneled ceilings, that amazing open-tread staircase with surround, the original doors, the wood-framed and full-height glazing, the custom kitchen units and the custom storage units throughout.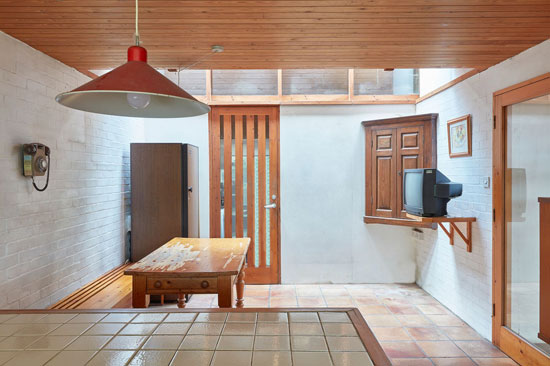 There's more too. Like those original light fittings, the sunken living room area, and of course, the fireplace that adds style and operates as a room divider too.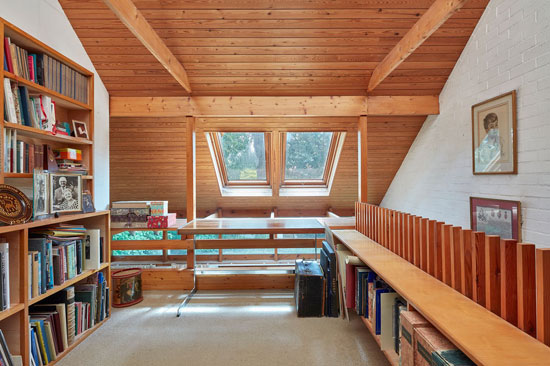 So much to catch the eye, but all in a cool, understated style that has helped it age so well. A good amount of living space too. Perhaps more than you would expect from a glance of the outside.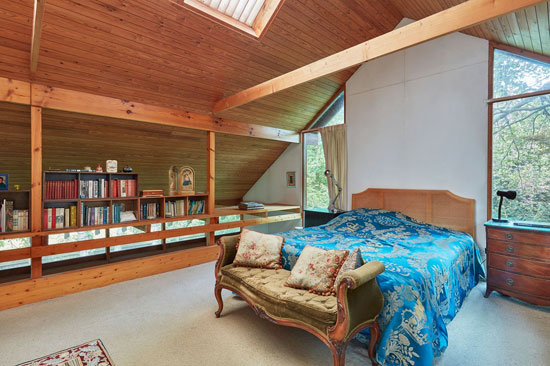 Head in through the solid timber entrance door and access the entrance hall and a first glance of the tiled floor, as well as the vaulted ceiling.
Beyond that is a cloakroom and the sitting room The latter features the open fireplace and shelving to the chimney, raised tiled hearth and semi-sunken space, along with part-vaulted ceilings, spot lamps and twin double glazed doors leading out to the garden.
The dining room has a tiled floor too and accesses that amazing open-tread staircase rising to the first floor. Sculptural as well as functional.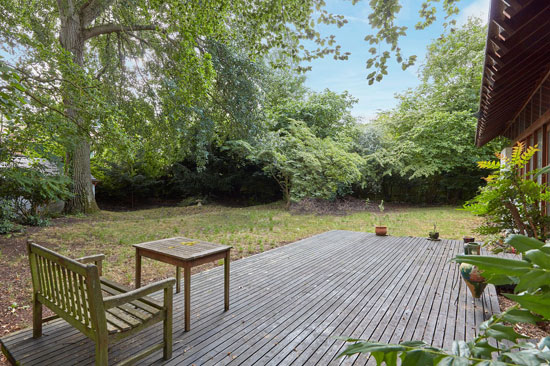 The kitchen/breakfast room has some lovely cabinetry and tiled surfaces, with a utility also featuring fitted cupboards and space for large appliances.
The ground floor also has two bedrooms and a bathroom, with more bedrooms on the first floor. The first one has a full-height vaulted ceiling, part transparent roof, and fitted storage, with a further bedroom offering much the same.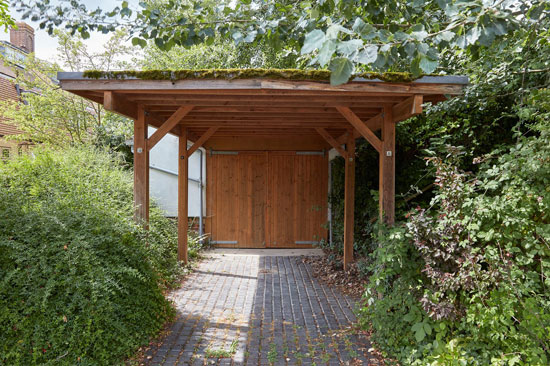 Finally, the upper has a study/landing area, a rear landing linen cupboard with slatted shelving, and the main family bathroom.
The outside space covers something like 0.22 of an acre, which also includes a detached garage, covered parking to the front, and a gravel driveway. Gardens too, with a mature front garden, a paved side garden plus lawns, mature trees, and a timber deck area to the rear.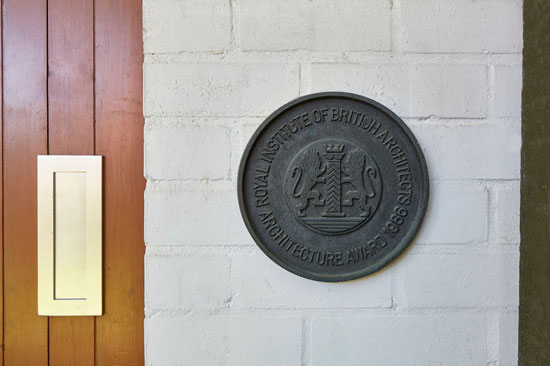 A lovely place to look at and almost certainly, to live in too. The house is on the market and reduced from its original price. The guide price of this is now £1,350,000.
Images and details courtesy of Cheffins. For more details and to make an enquiry, please visit the website.