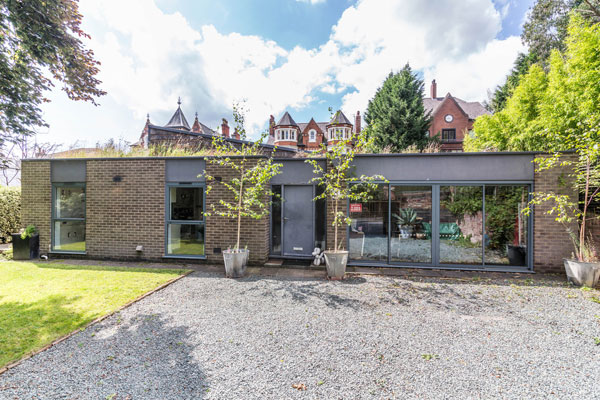 You come for the architecture and stay for the interior design with this 1960s modernist house in Nottingham, Nottinghamshire.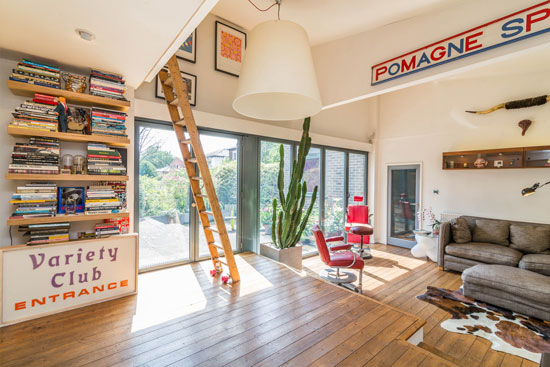 Not a great deal of detail available for this one as yet, but the images do tell most of the story. Huge thanks to Carla for pointing this one out, which is typical of modernist design of the 1960s.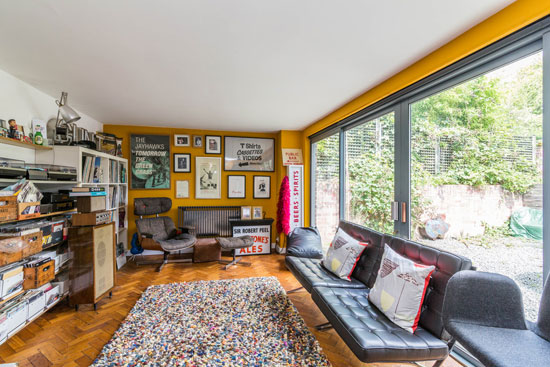 You could go either way with a house like this. You could go down the plain white walls and minimalist route. Or you could do what the current owners of this house have done and worked with the retro theme, throwing in bags of character along the way too.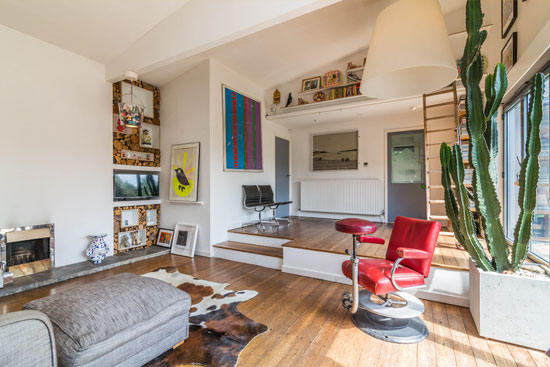 I just love the eclectic nature of this house. It looks to be a house owned by collectors and one that has been lived in by people who have a strong sense of their own style.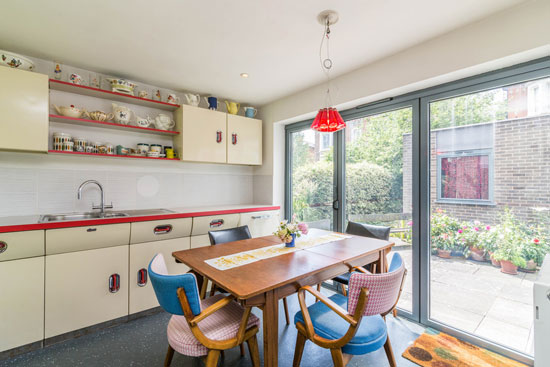 This isn't 'retro by the book'. This is a house that has been updated and modernised. I'm looking at the likes of the windows, the background finish and particularly the bathroom on that front. But with that later of character added in to take it to another level.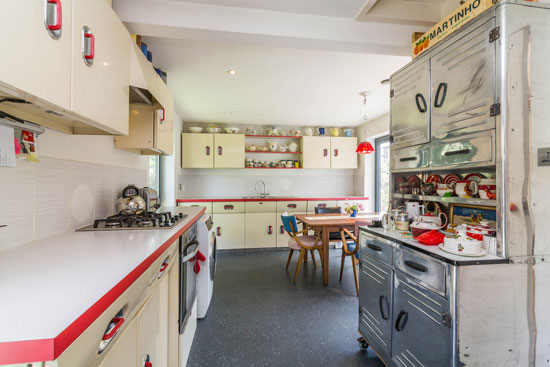 The issue – and something a prospective new owner will want to address – is just how much of this is going or staying. Much of it is removable interior design, such as the art, the furnishings and any freestanding units.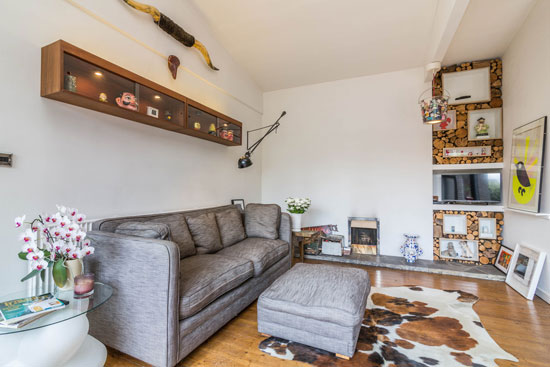 Of course, the likes of the wood and the parquet flooring will stay in place. But you wonder if the light fittings or that highly sought-after English Rose kitchen will be part of the deal? You would think so, but if someone has gone to the trouble of sourcing and fitting that kind of kitchen, they might not be keen to leave it. As I said, something to chat about at a viewing.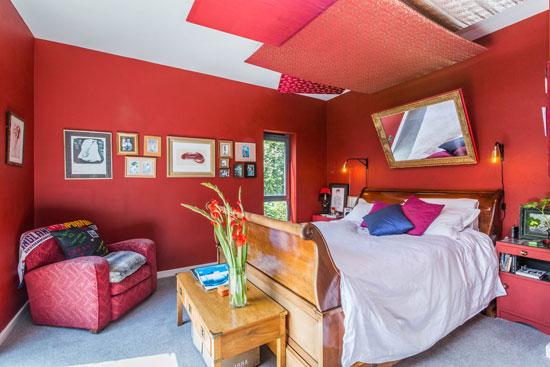 Outside of that, let's talk about the house itself, which is a single-storey property, but one that looks to offer a good amount of space, much of it open-plan and thanks to the full-height windows, quite bright too.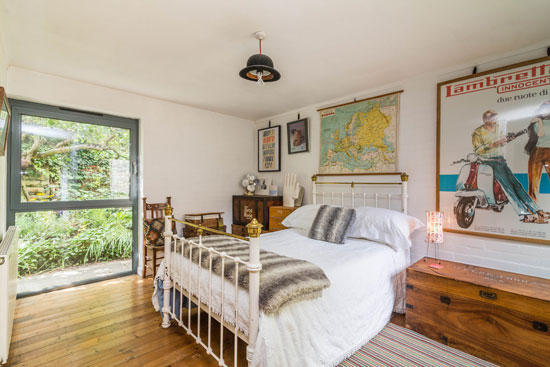 The layout is made up of an entrance hall, which accesses the sitting room and Wc, then beyond that, the large lounge space. The front part of the house also features the breakfast kitchen with storage space and a further storage area beyond the sitting room.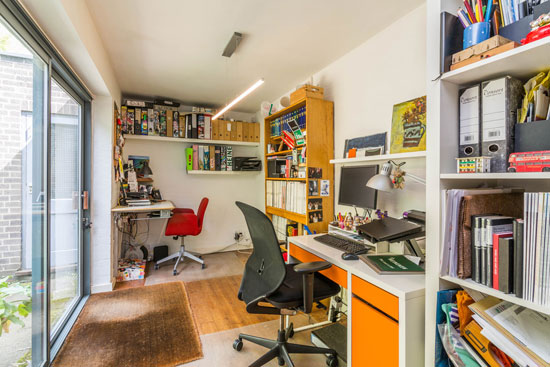 At the rear of the house are three bedrooms and a bathroom, with one of the bedrooms also accessing a dressing area.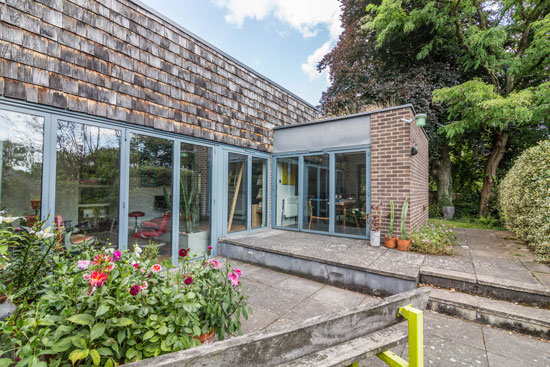 All of that in what looks to be a well-manicured private garden area with patio space. An equally nice place to hang out if the weather is right.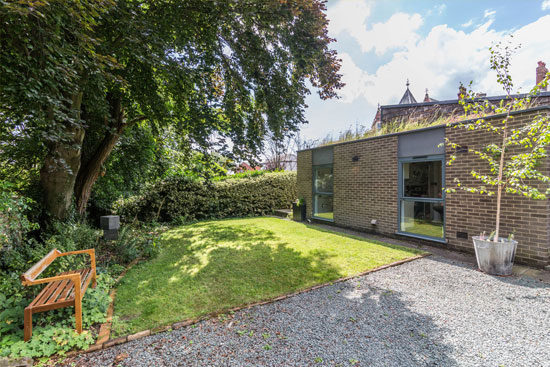 Fancy moving in? The house is being marketed at £550,000.
Images and details courtesy of FHP Living. For more details and to make an enquiry, please visit the website.