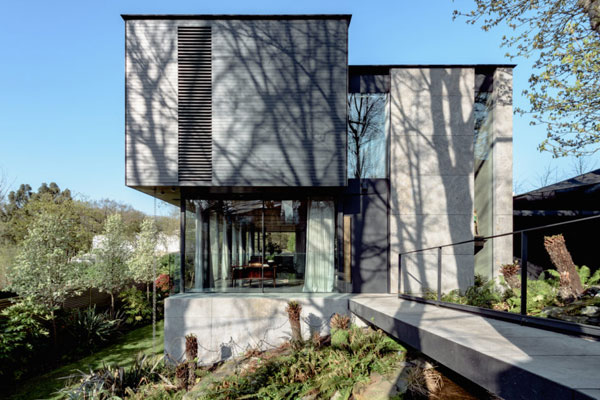 If you want something modern and stylish, check out this Stanton Williams modernist house in Fitzroy Park, London N6.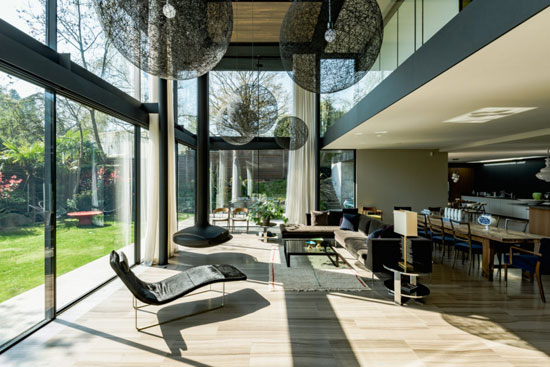 Yes, modern-era houses can be every bit as impressive as period or midcentury houses if done well. All too often, contemporary builds just go for the 'white box' approach, ignoring the character that sells a house. Not this one.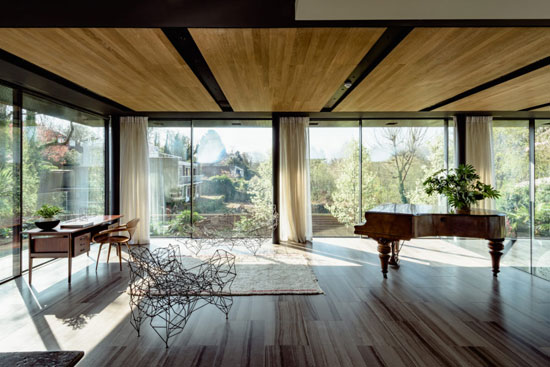 This one is packed with character. Architecture that ticks both the modernist and brutalist boxes and bright open spaces that put me in mind of some of the better midcentury modern designs. But despite all of that, this is very much a contemporary home, with all the details and features you would expect of such a house.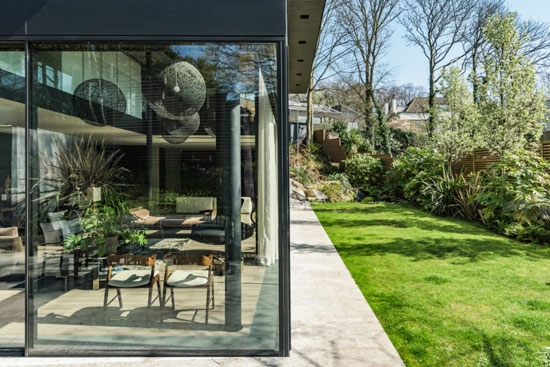 You will find it in 'arguably Highgate's finest road', sat amongst a landscape of ferns and mature trees and according to the agent, 'immersed in the soothing din of falling water'.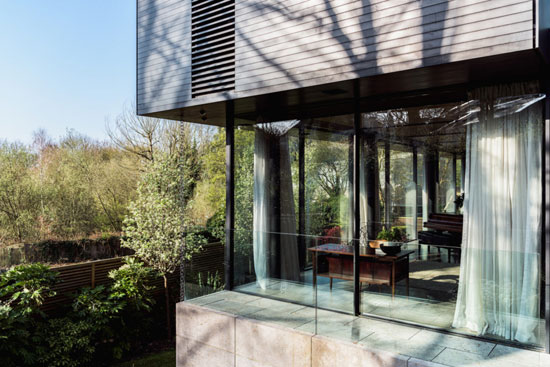 In fact, despite the headline architecture and the size of this place (it covers 6,200 sq. ft.), the house is a rather private affair, 'sunken' into the hillside and set back from Fitzroy Park, as well as overlooking woodland on the edge of Hampstead Heath.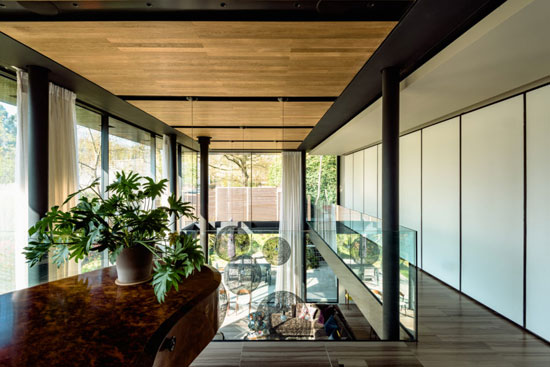 The design 'stacks and cantilevers' an Accoya-clad box, painted in dark grey, above a glazed middle section and a stone-clad lower portion and front facade.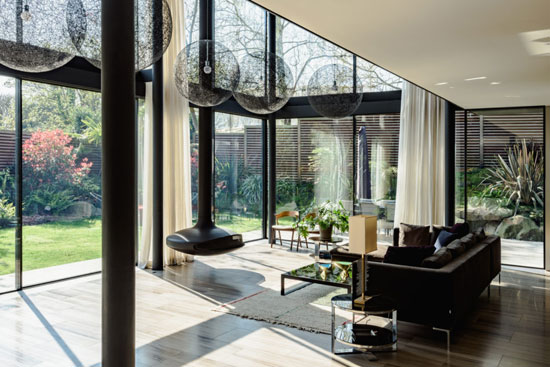 Pass a sloping rockery above an artificial stream and take a footbridge that leads to the main entrance, opening to the galleried reception space.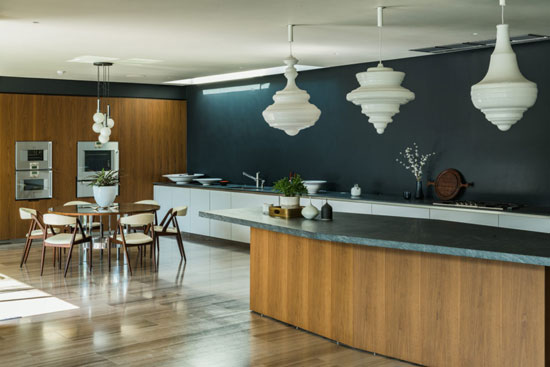 Ahead of that is a corridor which leads to the rear terrace and pool area. Yes, you get also get a swimming pool in this one.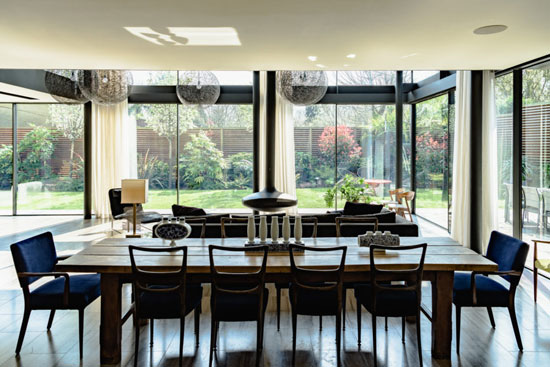 The corridor acts as a gallery, open to a void on its left, and a series of 'flush-fitting hinged panel's on the right that actually conceals a cinema room and two bedrooms, both of which are en-suite and with access to the pool terrace.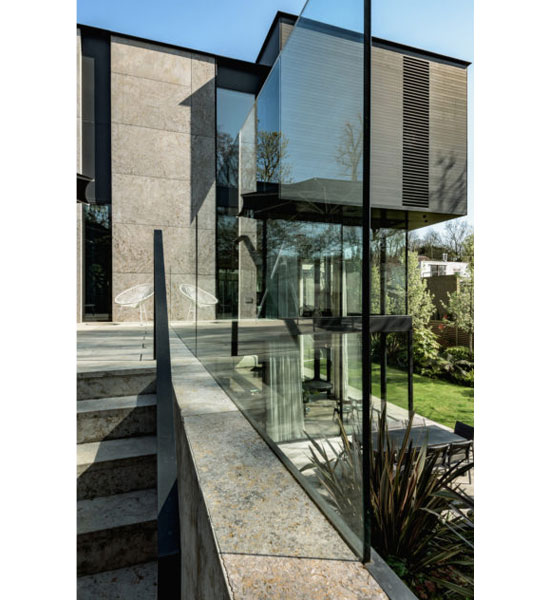 Also on this floor is access to and from the integral garage plus the external parking area, which has space for two cars.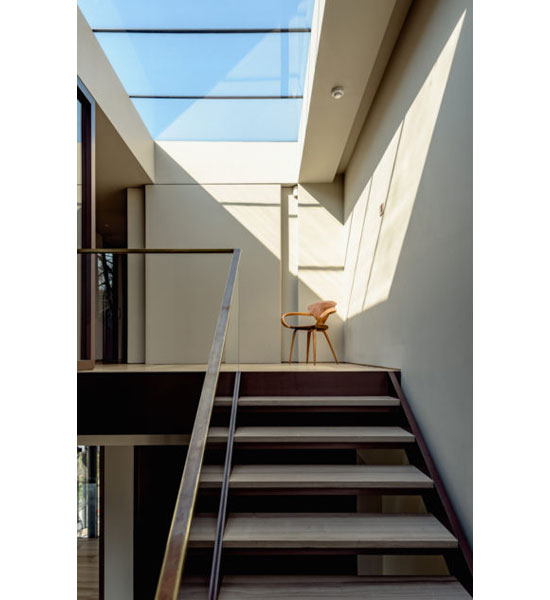 An open-tread staircase takes you down to the substantial ground floor space. Mainly open plan, it takes in living and dining areas, with the kitchen sitting beneath the upper terrace. The kitchen is as high end as you would expect of a property of this nature and with large internal sliding glass doors that provide separation from the utility area and the dining area.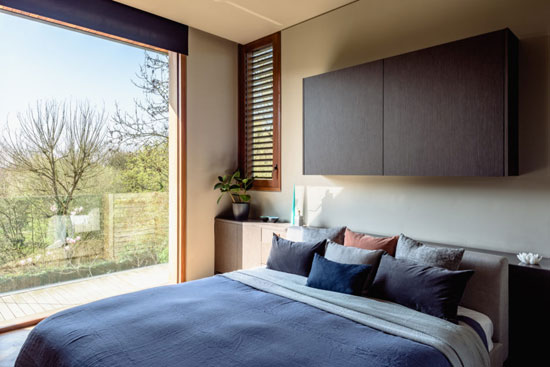 As I said earlier, this is the kind of design that takes some inspiration from mid-20th-century modernism, not least when it comes to bringing the outside space in. On this floor is floor-to-ceiling glazing, which also provides access to the limestone terrace that wraps around the lower level.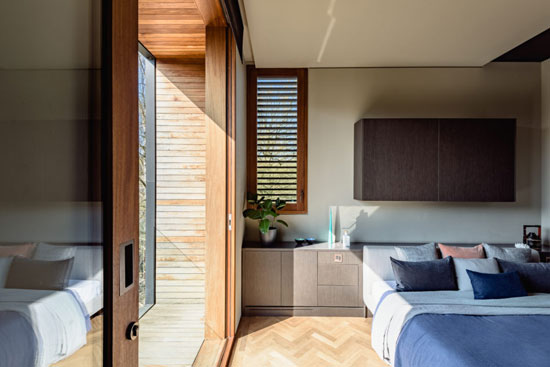 The upper section of the house is where you will find the majority of the sleeping space. There are four bedrooms each with an en-suite shower room and their own iroko-clad balconies. In the middle of the floor is a family bathroom, as well as a walk-in wardrobe which looks out over a sedum roof.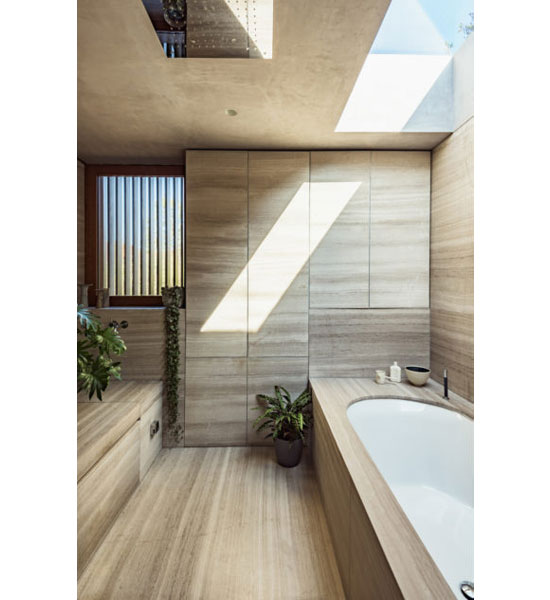 But for me, that's only half the story. Too many modern houses go for the white finish and metallic details, but this one jumps out because it does the complete opposite.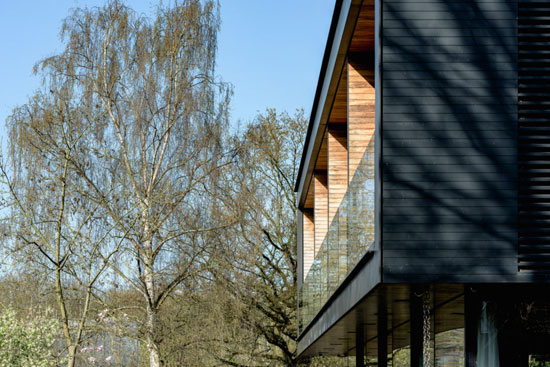 A mix of dark and light finishes throughout, plenty of glazing to bring in some natural light and some lovely design details too. That fireplace in the reception is stunning, as are the timber-clad ceilings and wood floors. This is a house that doesn't forget that character is a key part of any house.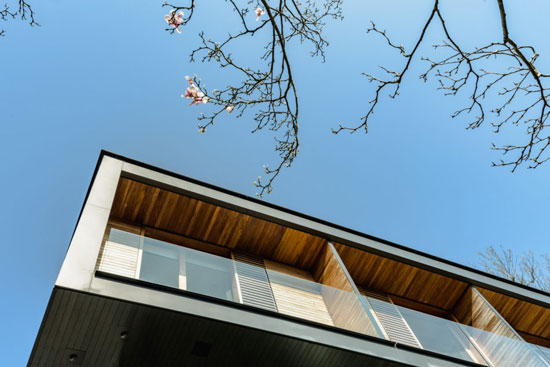 It is also a house that was designed to be energy efficient. There is natural ventilation through upper-level clerestory windows, reducing the risk of the house overheating in summer months, while the south-facing glazing maximises 'solar gain' in the cooler periods.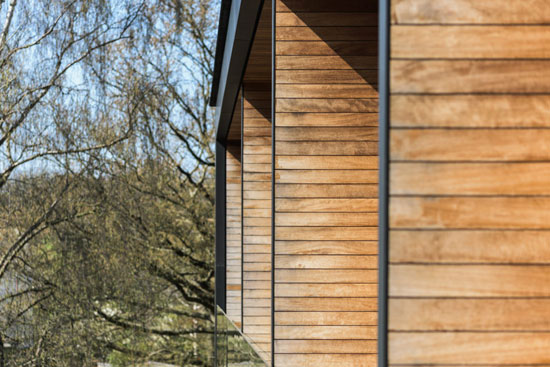 All of that and a location that's one of the most sought-after in the capital, at the north-east edge of Hampstead Heath and just a few minutes' walk from Highgate Ponds.
All of that does add up when it comes to the asking price. This was never going to be a bargain. You are looking at £9,950,000 if you want to be the next owner of this house.
Images and details courtesy of The Modern House. For more details and to make an enquiry, please visit the website.