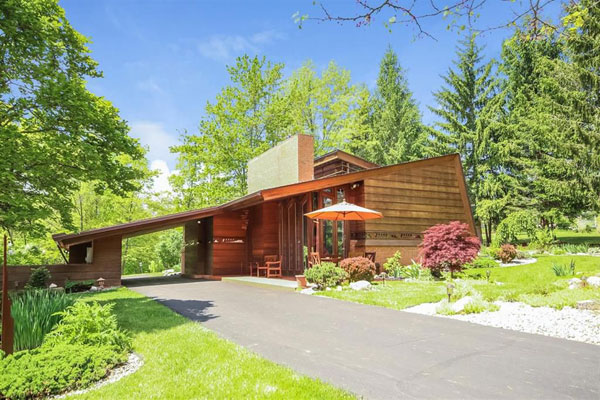 This is an interesting one. It is a Frank Lloyd Wright-designed Haddock House in Ann Arbor, Michigan, USA and up for sale. But there is more to this one than meets the eye.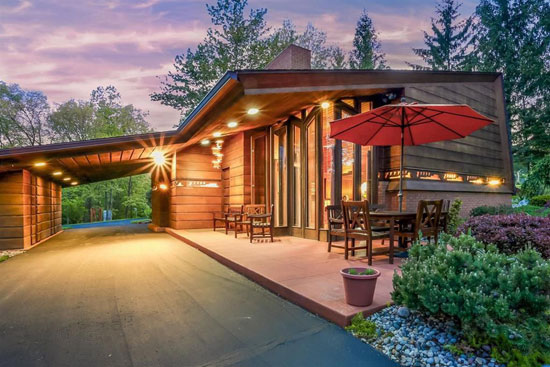 For one, the construction date of 1979. No, FLW didn't rise from the grave to build a house in Michigan, this was a design dating back to 1938, but one that didn't actually make it from the drawing board until four decades later.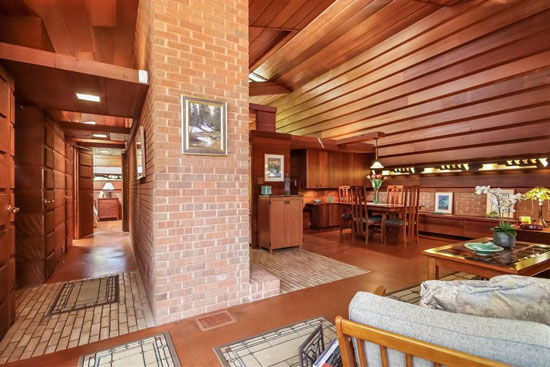 Astrophysicist Fred Haddock was actually the third person to be offered this particular house design, taking it on in the 1970s in conjunction with Charles Montooth of Taliesin Associated Architects, an the architectural practice founded by Frank Lloyd Wright.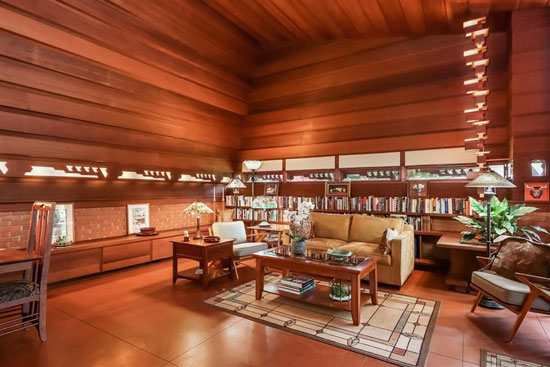 Not that you would know looking at the place. The attention to detail is breathtaking.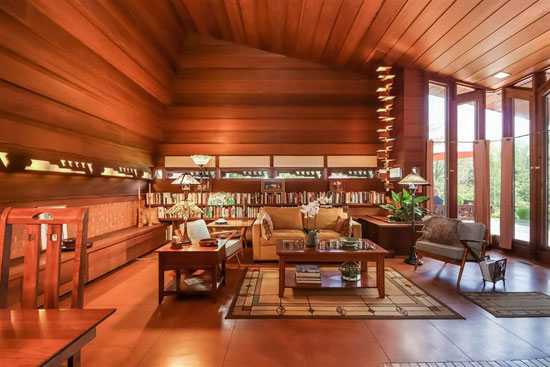 Sat in 10 acres of land, the house, which is on the market for the first time since construction, this Usonian-style home has a angular shape (originally designed to shed snow easily) and so much character within.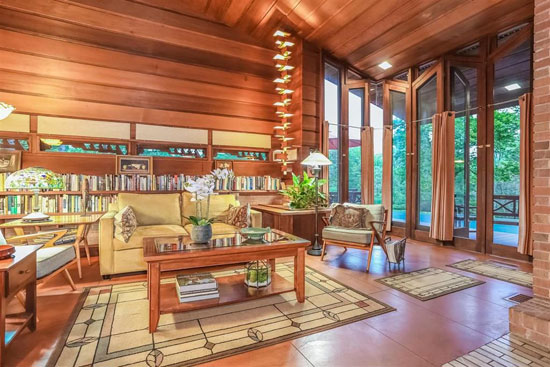 The red concrete floors, the wood cladding, the exposed brick, all those built-in units and plenty of FLW design pieces, which may or may not be staying. One to check with the agent about.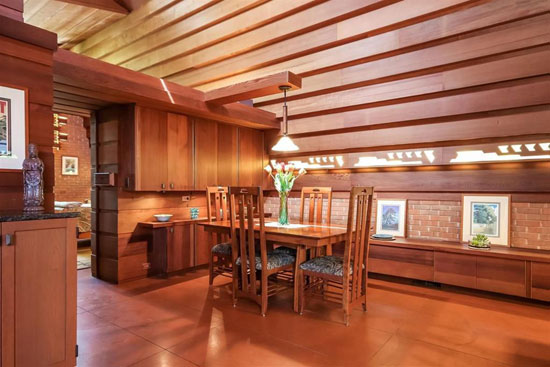 Oh and there's also that wonderful great room with its angled ceiling, full height glazing and sizeable brick fireplace. The master suite offers much of the same too, again with a brick fireplace, sloping / double height ceiling and full height glazing. Bedrooms rarely get more dramatic than this.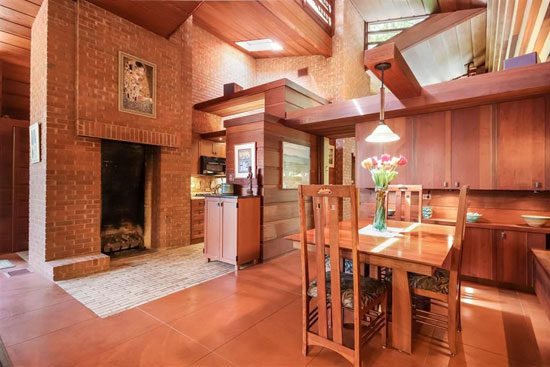 Of course, being a more recent build would suggest less maintenance required too, although you would have to double check that with a survey. From the images, this place looks in mint condition.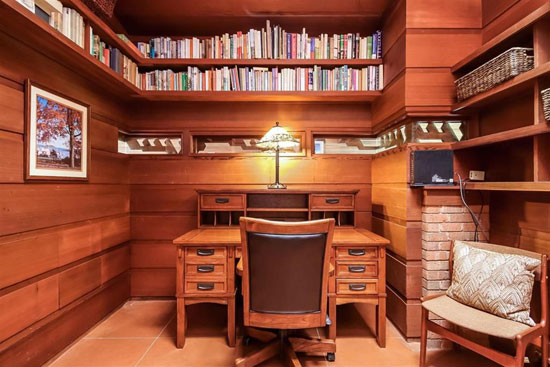 A decent amount of living space too, despite it looking quite modest from the outside. The great room and dining room space dominates the place of course, but beyond that is the kitchen, the master bedroom with bathroom, a further bedroom (and a further bathroom), office space, a foyer, a laundry and utility area, and beyond the main house, a deck area, patio and a separate workshop and storage unit. There is also a garage, which has a further studio space built in, plus more storage areas. 1,300 sq. ft. of living space in total.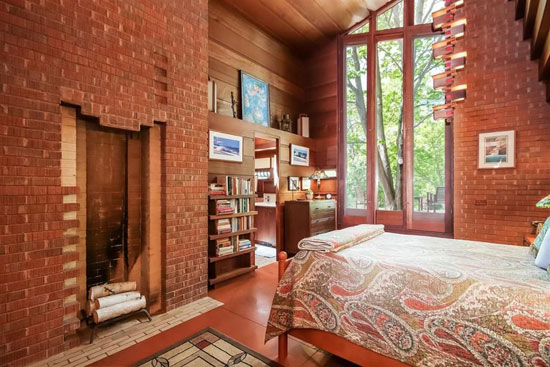 All of that lovely land too. As I said earlier, 10 acres or so, made up of gardens, sloping lawns and 'old-growth forest' overlooking Honey Creek.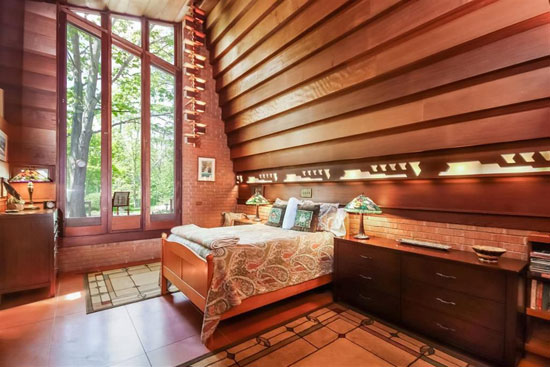 Very much off the radar until now, due in part to the owner wanting to keep the house out of the public eye, Haddock House is now on the market and looking for a second owner with around $1,200,000 to spare.
Images and details courtesy of Zillow. For more details and to make an enquiry please visit the website.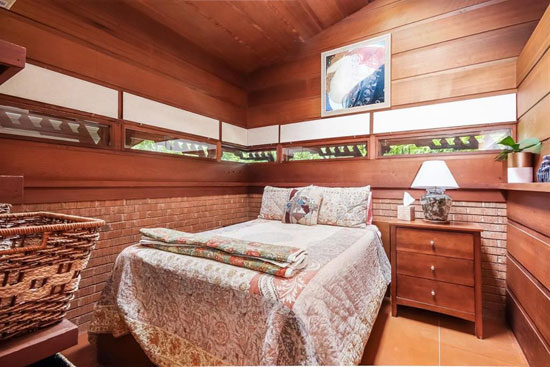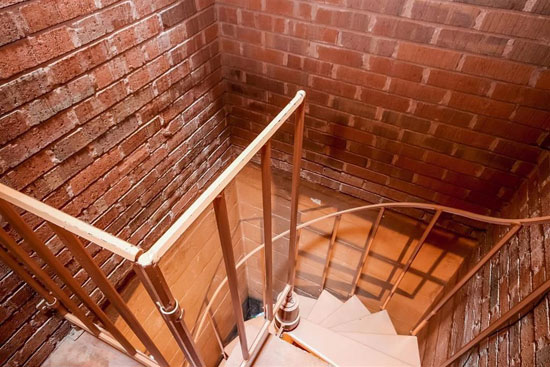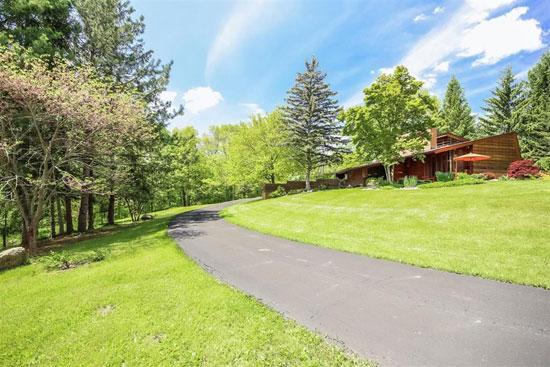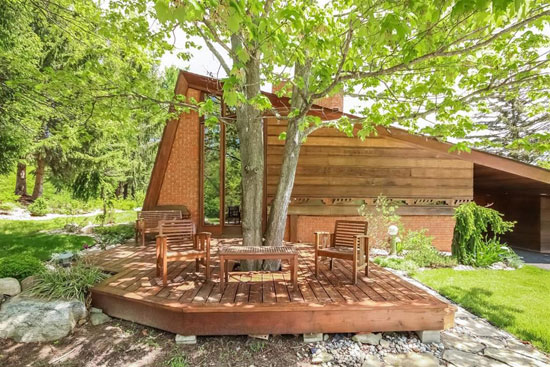 Property Location