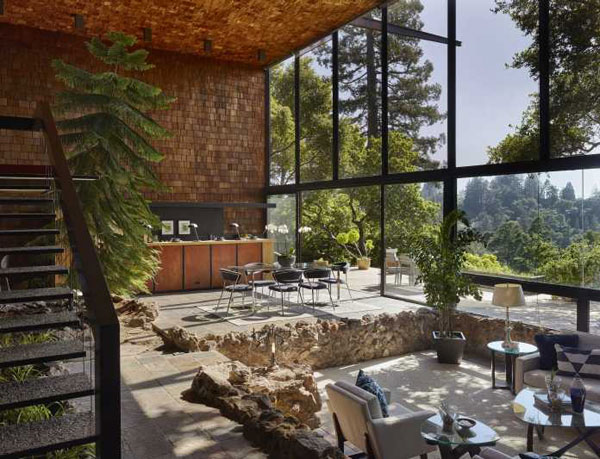 Remember us featuring Case Study House #26 in San Rafael, California? Well, the house of the man behind it just up for sale. The 1960s Beverley David Thorne Residence in Oakland, California.
The Case Study House was quite something and this one is too, although it looks very different, despite being built at almost the same time.
In fact, it was completed in 1964, shortly after completion of the last of the Cast Study House projects and completed with the help of family and friends. I can only presume that they were very skilled in their craft, as the finish on this one is, in places, jaw-dropping.
But it wasn't an entirely new build. Thorne had purchased what was a 'relatively non-descript' 1930s property that offered some wonderful views, but little else as it stood. Rather than tearing the place down, he 'remodelled' it to suite his own use and taste. An usual approach for a forward-thinking architect.
He converted an attached garage below the bedroom wing of the house into a family room, modified the roofing system and shingled the exterior, the latter to fit in with the style of the area. But that wasn't quite all he did, as you can see above.
The options for indoor/outdoor living (as many of the Case Study Houses promoted) were limited due to a sloping site. So he rethought the rest of the building, projecting a landing and 'dramatic' staircase into a grand steel box, completely shingled on the interior with a glass wall opening out to a wide cantilevered living deck.
The result is, according to the agent, 'one of the greatest residential living/entertaining public spaces in the Bay area'. I can't imagine many better, so I would have to agree.
So much to look at here, but I'm picking out that amazing double height wall of glass, the exposed brick, the open staircase, the bold terrace area beyond the glazing and that natural rock detailing within the living room.
Sadly, the rest of the house really can't live up to the main reception. But few houses could in truth. There is nothing wrong with the rest of the house, it just hasn't the same 'wow' factor and offers a stark contrast with the architect's final bold addition.
As for living space, there is 2,934 sq. ft. of that, with three bedrooms, three bathrooms and the reception spaces, along with a kitchen and utilities. Well maintained throughout and as far as I can see, updated where necessary.
A fascinating place and on the market for $1,206,000.
Images and details courtesy of Crosby Doe. For more details and to make an enquiry, please visit the website.
Thanks to Christian for the tip off!