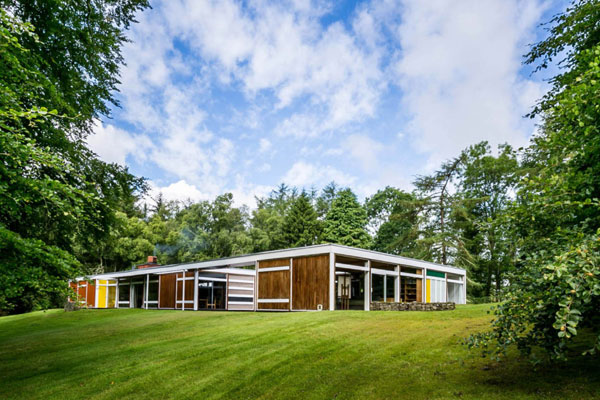 We have been hoping this would come onto the market and now that day has come. The 1950s Peter Womersley-designed Klein House in Selkirk, Scottish Borders is now available.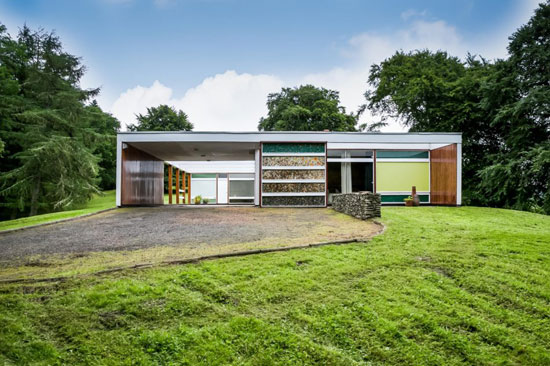 If you follow our Instagram account, you will know that we recently mentioned the amazing Bernat Klein Studio, which is also nearby in Selkirk and currently in a state of disrepair. Thankfully, the house commissioned by textile designer Bernat Klein a couple of decades earlier is in far better shape. As a result, it has a rare Category A listing from Historic Environment Scotland.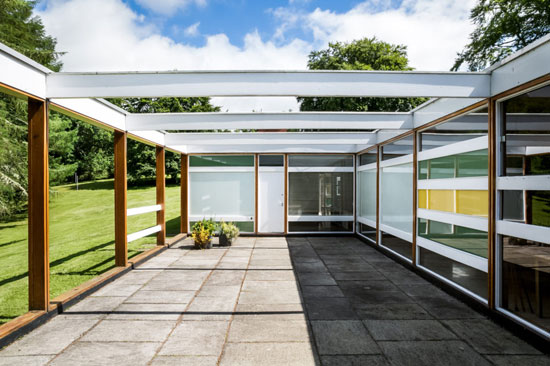 Dating back to 1957, this stunning single-storey, midcentury modern property sits in over three acres of land, offering some wonderful views of the Scottish countryside through its floor to ceiling windows.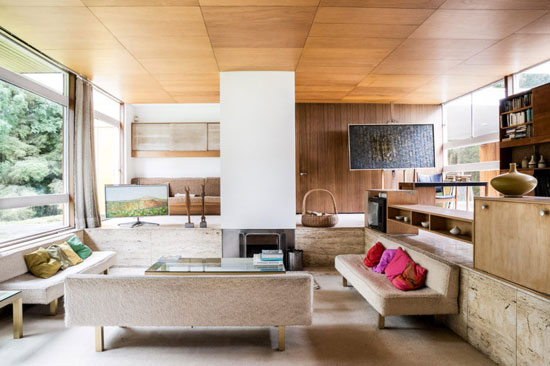 The house is described as a 'rectangle subdivided into eight foot modules', with courtyards and a carport within the structure of the building and is in largely original condition and with its original finishes. Those include travertine floor tiles and 'exotic' hardwoods such as idigbo and obeche, as well as colourful internal and external tiling, the latter the work of Klein himself.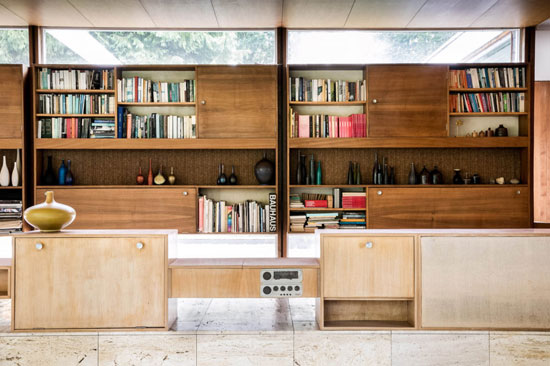 So many of the original built-in furnishings too, which are just a joy to behold once you get beyond the front door. All of which are preserved perfectly. Judging by the photos, they could be newly fitted.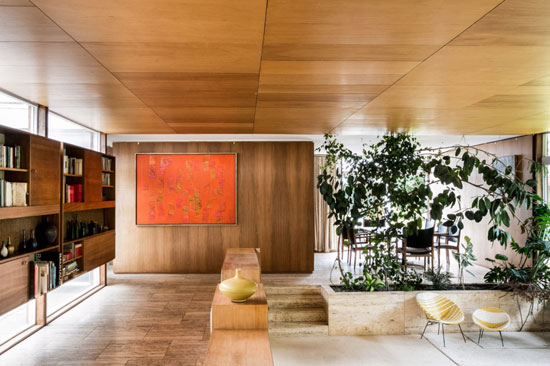 Talking of the front door, access is via the car port, leading into an entrance hall and the main living area. The agent describes this as 'one of the most spectacular spaces seen in any residence of the period' and complete with those travertine floor tiles, a polished obeche wood ceiling, bespoke fitted furniture and a sunken central seating area. The walls are finished with hardwoods including idigbo, rosewood and walnut and floor to ceiling glazing takes up one side of the room.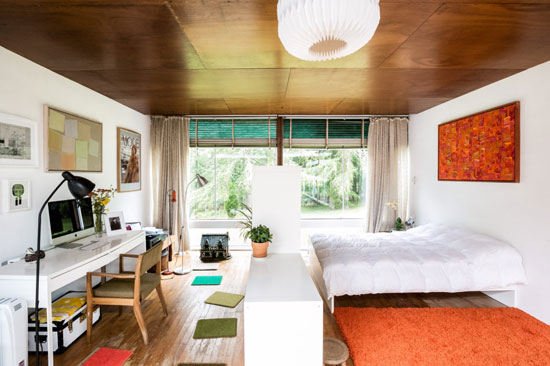 The living area includes a study area and library, with a 'wall of plants' separating it from the dining area. This space also leads onto the master bedroom with a dressing area and en suite bathroom.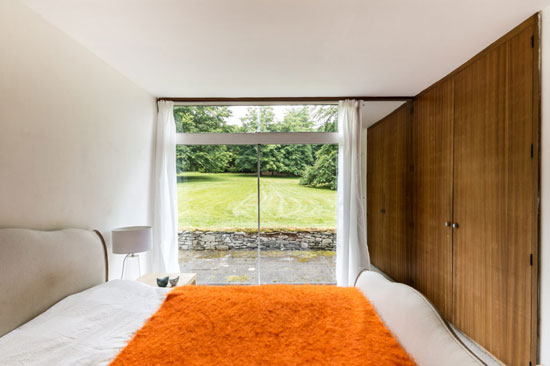 The dining area connects to the kitchen, which still has its original units, with a shower room, utility room and small bedroom opposite this site. Further along is a larger family room (once divided into two bedrooms) and a further bedroom with en-suite bathroom.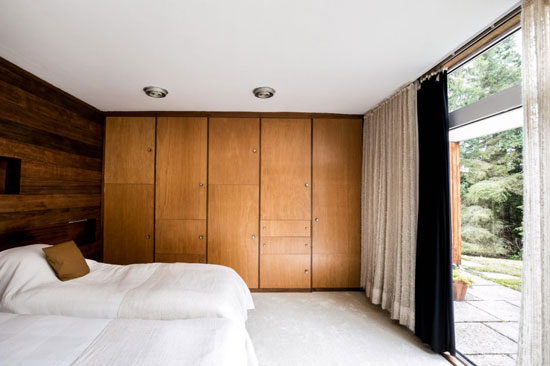 One final area isn't original to the build, but was added with architect Womersley's approval. The studio wing was completed in 1982 and is described as a large, open room with floor to ceiling glazing on both sides for more of those wonderful views. If you need a studio, it's ideal, but could be adapted for other uses.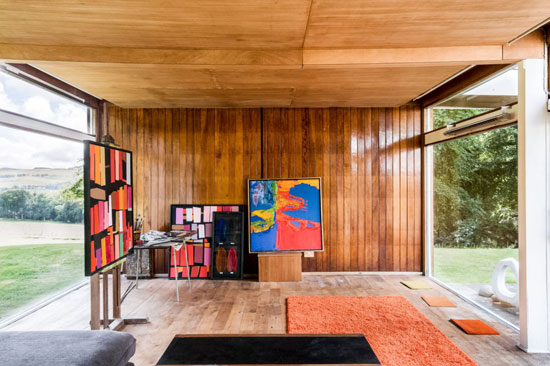 As we said, over three acres of land too, surrounded by woodland and bordering open fields. Basically, privacy pretty much guaranteed. Another bonus is perhaps being local to Gala Fairydean football club, with its famous and striking stand also designed by Peter Womersley.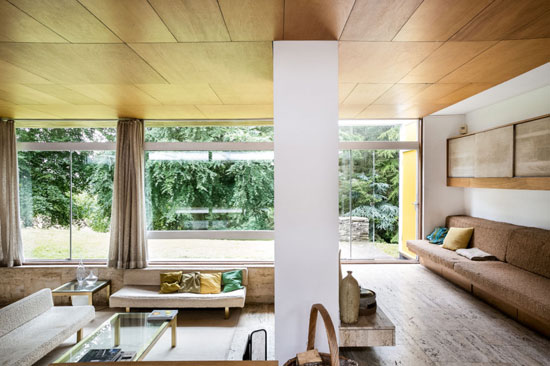 Whether you like football or not, this is still one of the best houses we have seen for sale for quite some time. Midcentury modern heaven. In the south east of England this would command a price well into seven figures. But in Selkirk, the house is up for £795,000. There's a viewing day on 2nd September if you have a genuine interest.
Images and details courtesy of The Modern House. For more details and to make an enquiry, please visit the website.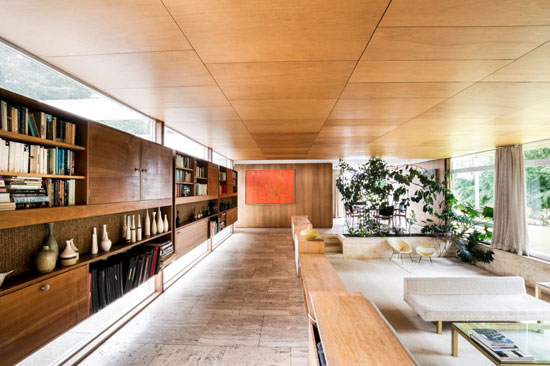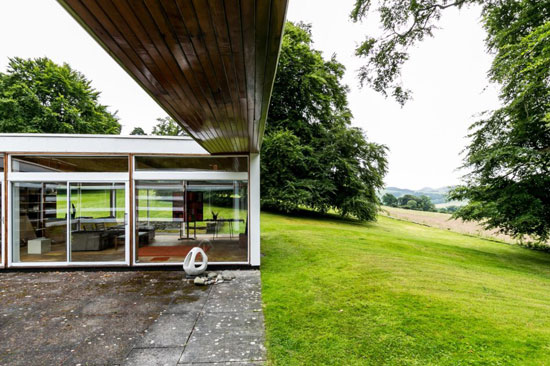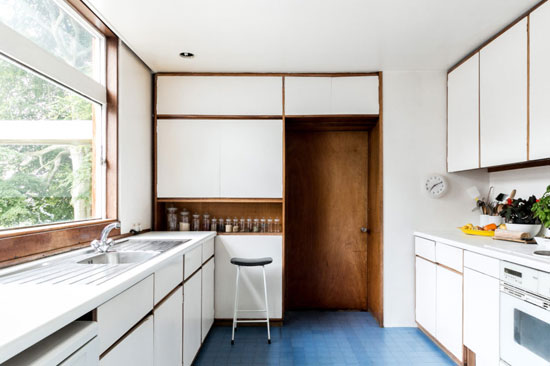 Save
Property Location