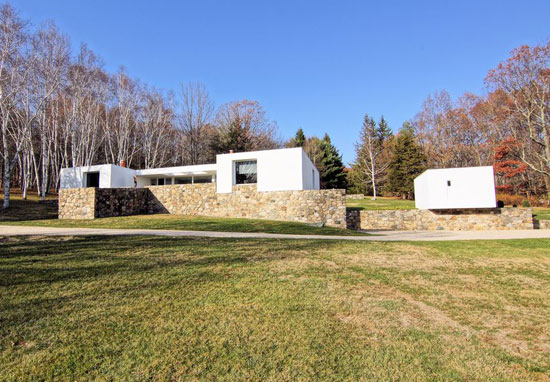 A modernist icon on the market in the form of the 1960s Marcel Breuer-designed Stillman II in Litchfield, Connecticut, USA.
As you might have guessed from the name, this is one of a group of houses designed by Marcel Breuer for industrialist Rufus Stillman between the 1950s and the 1970s. Three houses and a cottage.
Stillman's modernist obsession didn't just end with the houses. He also got Breuer to design buildings for his own company and sold off land for building on the basis that they had to use modernist architects to create the property. Quite a legacy.
Stillman moved into this second house in the mid-1960s, with the architecture causing quite a stir back in the day, featuring in numerous books and magazines. It is still a striking building today.
It's also a house in touch with nature, aided by the use of local materials, most obviously with the stone in the walls. The wide use of glass also ensure that the outside is never very far away from the space within.
Talking of outside, you get a 9.5-acre site too, which sites next to 37 acres of protected land. Peace and tranquility pretty much guaranteed.
Has the place changed much? Well, in broad terms it hasn't, but the detail certainly has. The agent says that the house has been 'meticulously restored and upgraded with great care and sensitivity towards its origins'. But this is certainly no museum.
The agent also points out that 'every 21st century comfort' is integrated into this house, with a state of the art Boffi kitchen, media room with speaker system and 35ft. heated pool mentioned. But the new doesn't necessarily displace the old. It sits well side by side.
As for space, 2,900 sq. ft. in total, which includes four bedrooms, four bathrooms, a cantilevered guest cube and some lovely reception space and a rather stylish terrace area. Love that artwork in the garden too.
It did sell some time back for just under $3,000,000. Now it is back on the market for $3,300,000.
Images and details courtesy of Zillow. For more details and to make an enquiry, please visit the website.
Property Location