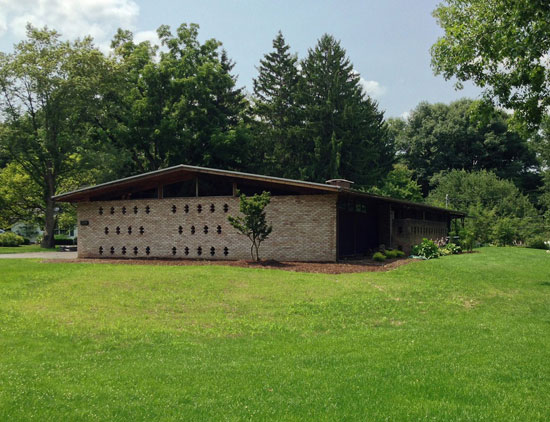 Now this really is something. Unassuming from the front, but a statement of an era inside. That's the 1950s Charles Goodman-designed Alcoa Aluminum House in Rochester, New York State, USA.
According to the agent, this place was designed by modernist architect Charles Goodman in 1957, one of 23 homes built across the country as part of the Alcoa demonstration project.
It looks faithful to that original design, but that's probably been helped along by the current owner, who has kept that mid-20th century vibe alive in this place. Ok, at times it looks more swinging sixties that 1950s, but the finish works well amongst the beams, wood cladding and full-height glazing. Some amazing room dividers and panels too, not to mention the wonderful detailing on the outside of the property too.
The house offers around 1,900 sq. ft. of space, which includes three bedrooms and two bathrooms, along with what looks like a considerable amount of reception space. In addition, the house has a garage attached, a covered patio area and 0.95 acres of surrounding land.
The images say more than our words ever could. If you like what you see, the price is $399,900, which is around £239,000.
Find out more at the Zillow website
Property Location