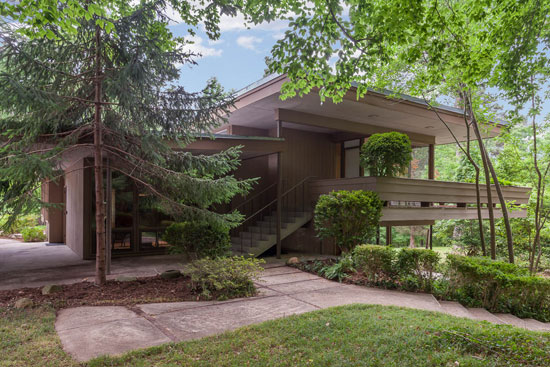 Yes, a celebrity name attached to this one. Although the house is the real star when it comes to James Taylor's 1950s midcentury home in Chapel Hill, North Carolina.
It is a house up for auction and an auction coming up very soon. Tomorrow in fact. So if you want to get your sealed bid in, make sure you move fast. Once you've read our article, obviously.
The house dates back to 1952, a midcentury modern design that was 'conceived' by Trudy Taylor and inspired by the work of Frank Lloyd Wright. But note that this isn't an FLW design. The architecture was initially the work award-winning architect George Matsumoto, completed by Durham architect John Latimer and with later renovations by local architect Arthur Cogswell.
All worked to the brief of an 'elegant retreat of muted Oriental design', one that needed to be low-maintenance and ideal for raising 'five active children', as well as entertaining guests. It obviously came to fruition as this is still a house that's perfect for a family and ideal for throwing a party.
The Taylors lived here for 20 years or so, but the house looks to have remained faithful to the original vision, with much of the detail still in place. Love those wood-panel walls, the split level reception, the full length windows and the balcony area. it isn't a 'time capsule', but it is a house unmistakably of its era.
The house sits in over 24 acres of land, so plenty of peace and tranquility guaranteed. Once inside the house, you'll find plenty of space there too.
The basement level has four bedrooms, three bathrooms and a laundry area, while the mezzanine level has the kitchen, dining area, a bathroom and access to the two-car carport and storage area.
The upper level has the master bedroom and bathroom, a den, a living room and the foyer.
That's not quite all though, as the guest house in the grounds is finished in a similar style, offering a porch, living room, two bedrooms and a bathroom.
More photos on the listing, plus plenty more details. No mention of a guide price, but bids do need to be in by Friday 29th 2016 at 3pm.
This property is now sold.
Via Curbed
Property Location