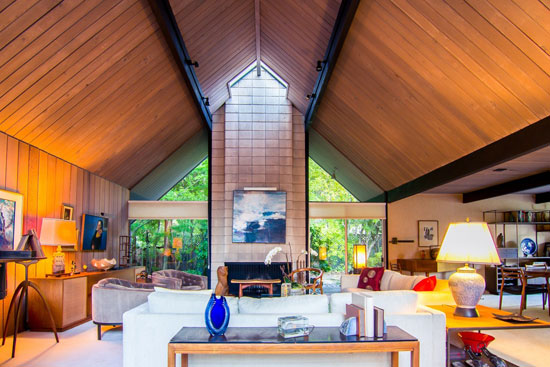 Not cheap, but this 1960s midcentury Eichler Home in Hillsborough, California, USA certainly has impact.
This place dates back to 1964, one of the many modernist or midcentury modern places built by Joseph Eichler between the 1950s and 1970s. This one, whilst obviously updated, is certainly one of the more individual builds.
Not that it looks that way from the outside (or the outside we can see), but once through the door you'll notice that stunning vaulted ceiling, adding light and space to what's already a good-sized living area. That light is further boosted by the glazed ceilings, which extends into a central courtyard area.
Outside of that, it's the expected beams and wood cladding, along with plenty of full-length glazing and an interior that looks to have been updated at varying times throughout its life, without leaving anything too offensive thankfully.
Space is around 2,670 sq. ft. including four bedrooms and three bathrooms, along with plenty of reception and living space. Outside you'll find a patio, pool and spa on the 0.6-acre plot, along with a garage that's good for two cars. $3,498,000 is the asking price, which is just over £2,000,000.
Find out more at the Zillow website
Property Location