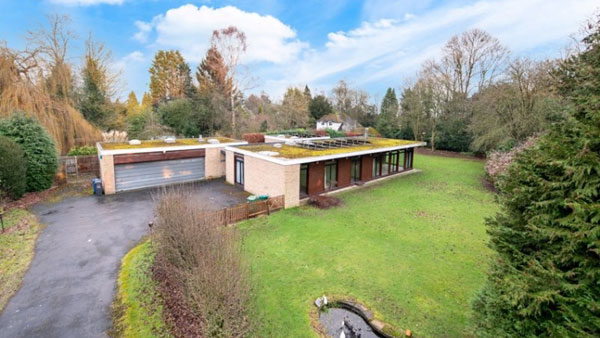 Not just a wonderful modernist design, this 1970s modern house in Sudbrooke, Lincolnshire is also something of a time capsule.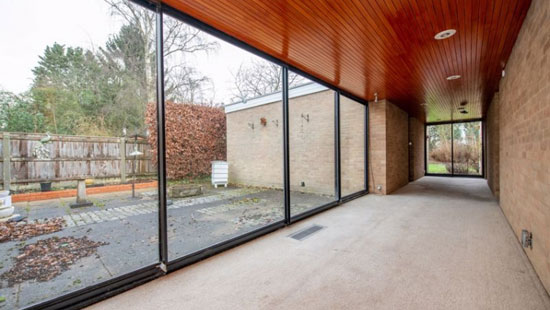 Not completely. The presence of solar panels tells you that. But very little of substance has been changed since one was constructed back in the 1970s. So if you are a fan of period details from that era, this is a house to consider.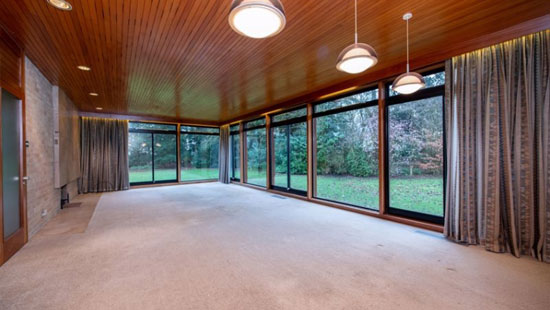 But also consider it for its architectural merits too. This is a wonderful design, the work of the highly-regarded John Roberts Architects (who are still active in the Lincoln area) and a design that has really aged well.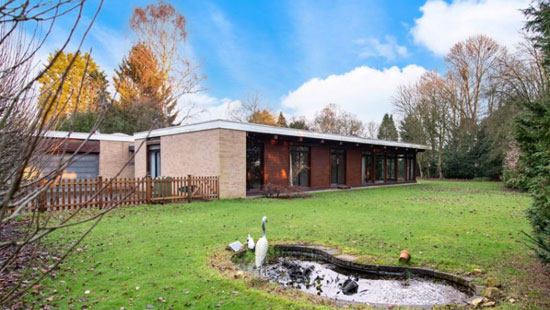 When you think of contemporary architecture, you think of the open spaces and walls of glass. This one has both, as well as a large plot you rarely see in new builds. And for perhaps a lot less than you might think for a house of this size and stature and in a location just a few miles from the centre of Lincoln.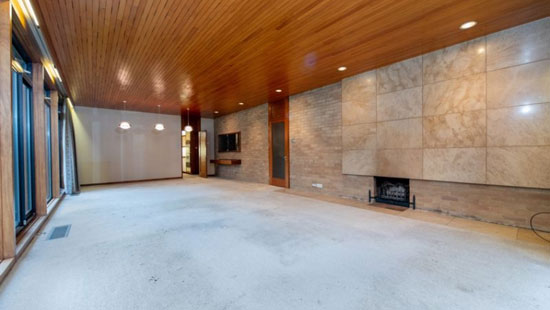 All of that and those period touches that really sell it for me. The lovely wood ceilings for a start, as well as the full-height glazing, feature Robert Welch ceiling lights, the marble-clad fireplace, original kitchen units, original built-in furnishings, an untouched bathroom and an original office space. All very appealing.
Of course, I always mention that there will be work involved and as the agent says, it would require 'a significant scheme of refurbishment' from whoever decides to take this house on.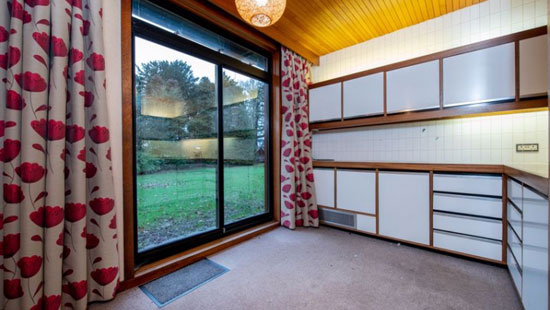 How much? I'm sure a close inspection and a survey will give you a clearer picture. It's always hard to judge just from an online listing, so book a viewing if you are genuinely interested in purchasing.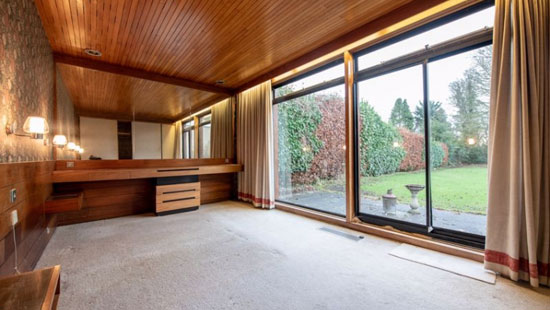 But it would lovely to think that many of the original details could be preserved. It's unlikely that the kitchen would survive and I'm not sure the bathroom would be to everyone's taste. But beyond that, all the feature touches are still likely to appeal to a wide group of people. And once you lose them, it's almost impossible to put them back.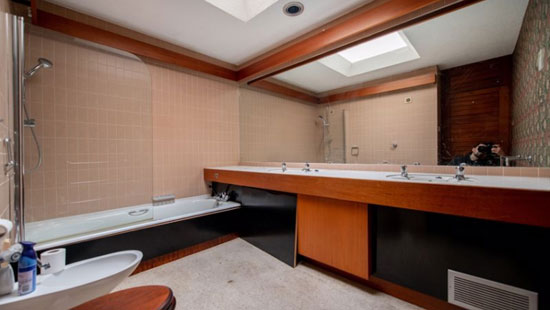 With a good eye and the right investment, this could and should be a cutting edge modern house once more. And I suspect there will not be a shortage of people willing to take the project on.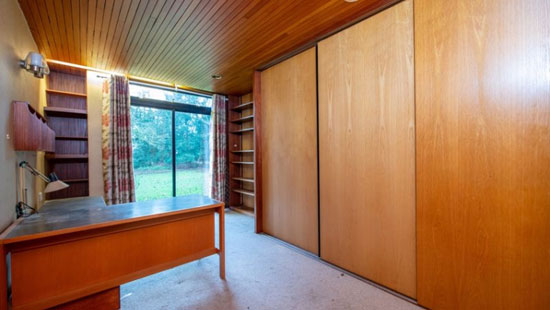 This single-storey house also has another selling point. Space, both inside and out. You can probably judge that best with the overhead imagery. But for reference, this is a sizeable house offering 2,824 sq. ft. of living space and on a plot covering around 1.52 acres on the edge of a popular village.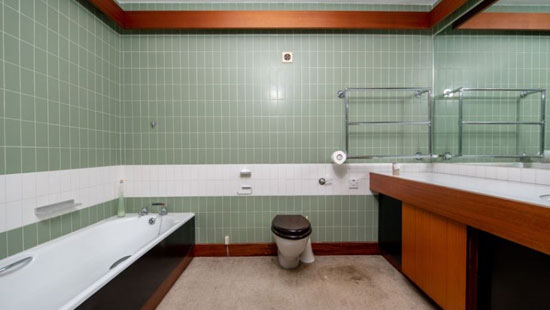 You can get an idea of the scale of the place as soon as you enter the place. A long feature hallway greets you, complete with brick walls and wood panelling with feature spotlights.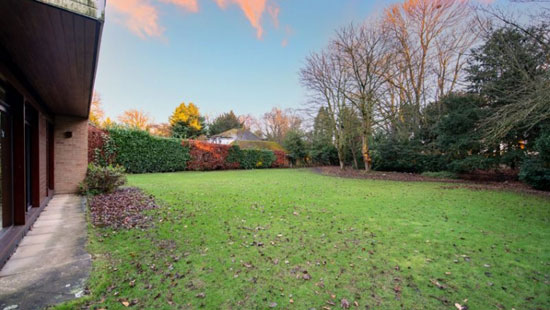 Beyond that is the cloakroom plus the dining kitchen with original hardwood units and a 'peninsula' divide for the dining space, as well as more of that wood panel for the ceiling. A prominent feature in most rooms.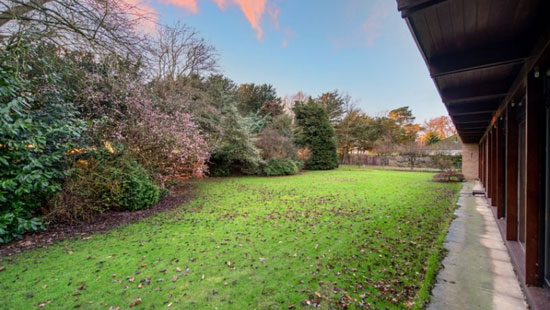 But the crowning glory for me is the large feature reception. The wall of glass (opening onto the garden), a fireplace with a feature marble wall and that ceiling with the Robert Welch lights. A wonderful living and entertaining area.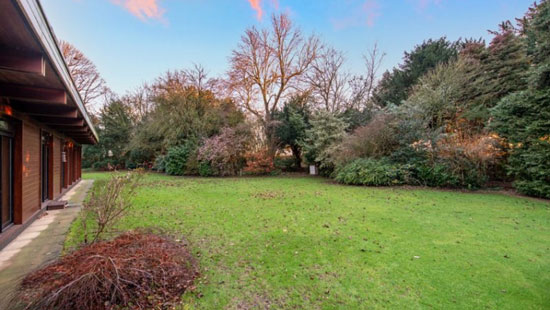 Away from that is a halfway lobby with a 1970s bar area, which is 'hidden' behind panel doors. There's also a 'secret' store and workroom here too. Oh yes, the study is a dream of a space if you work from home too, complete with fitted units and a southerly outlook over the grounds.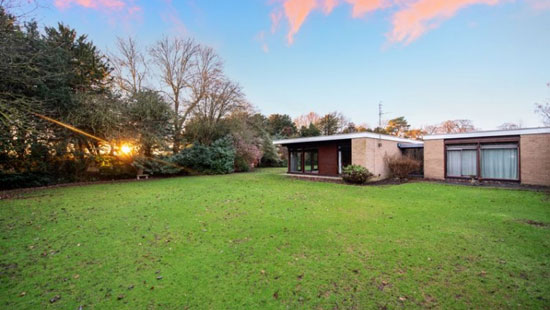 The bedrooms are worth talking about as well. The master bedroom suite looks out over the rear garden and has floor to ceiling glazing, your own dressing room and an en-suite bathroom.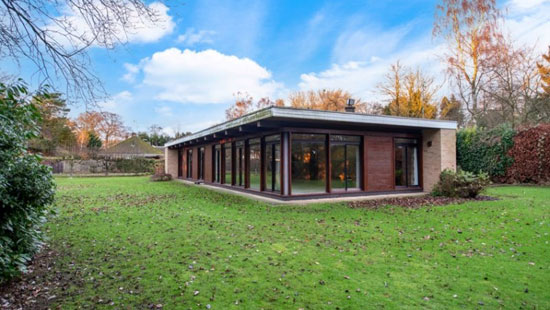 A further hallway takes you to the family bathroom. as well as three further bedrooms, two with patio door access to the grounds and all with built-in storage.
Finally, there is an L-shaped laundry room and a 'substantial' garage with a workbench area.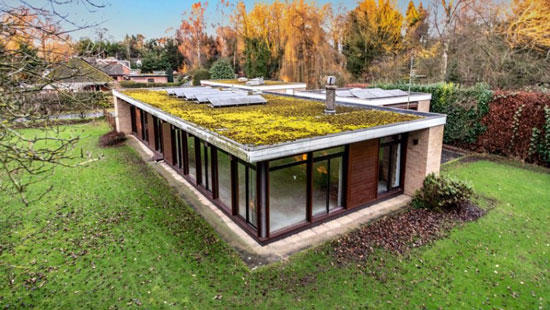 As I said, the outside is considerable too. A long tarmac driveway leads into the grounds, offering parking space as well as access to the garage. To the rear of the garage running down the eastern boundary is a footpath that also leads around to the kitchen courtyard and patio area.
The main grounds are set to the west and south of the house, with large areas of formal sweeping lawn with a small water feature at one end. A woodland belt too and within that, a concrete garden workshop/store.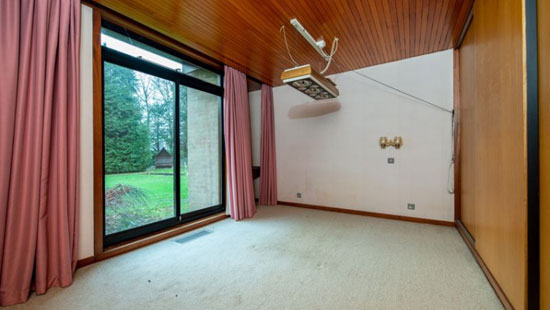 A dream of a house and a wonderful opportunity for someone. If that person is you, then you will need to put in an offer in excess of £600,000.
Images and details courtesy of Robert Bell and Co. For more details and to make an enquiry, please visit the website.