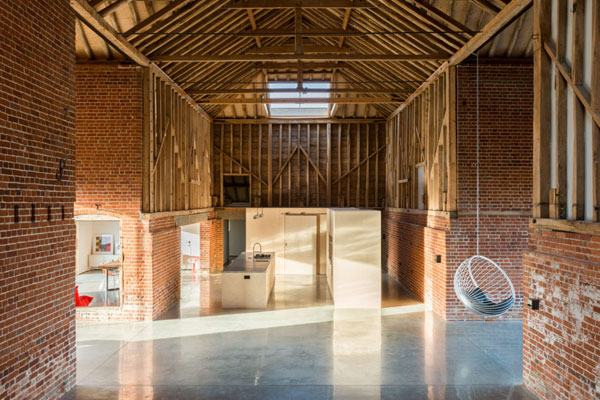 I know, a barn conversion. But don't worry, this David Nossiter-designed barn conversion in Assington, Suffolk isn't quite what you are imagining.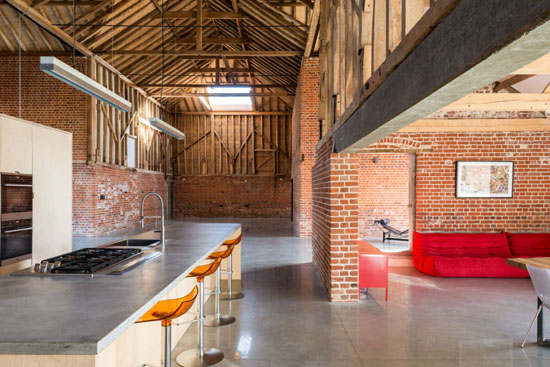 As a rule, we wouldn't even look at a barn conversion, not least because they all tend to look so dull. But this huge conversion and its 'cathedral-like proportions' are worth making an exception for.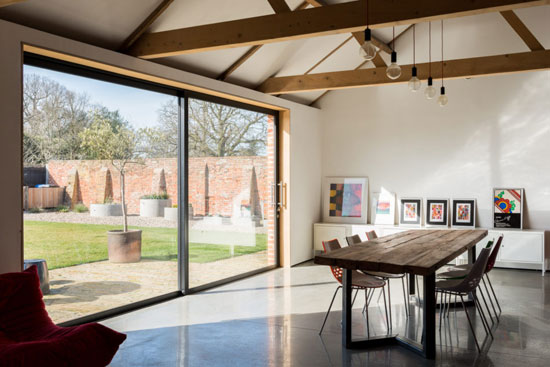 This building started life as part of the home farm for Assington Hall in the 19th century and is sold with a further building, a former stable block, that has planning permission to be converted into a home office / studio or similar use. But this one is the real star of the show.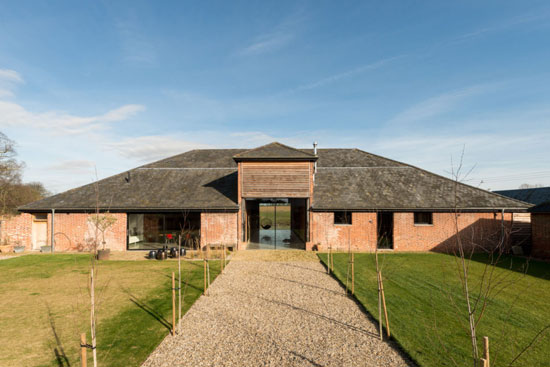 The work was overseen by London-based architect David Nossiter, who has done an amazing job keeping the drama and character of the of the barn whilst converting it into a practical and very stylish living space. Not an easy job.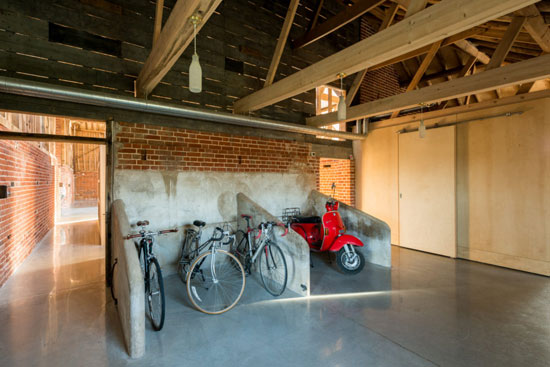 In fact, once inside, you could be forgiven for thinking you are in some huge industrial apartment in the city. Until you look out of the windows or up at the beams, of course.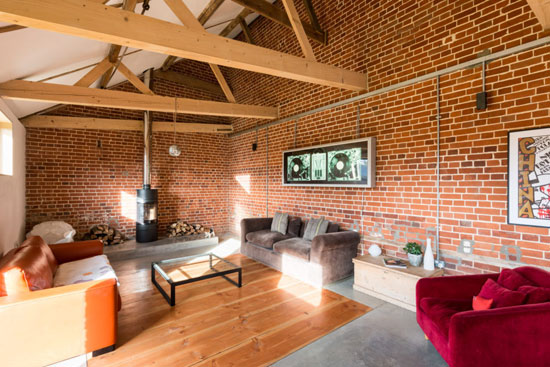 That living space extends to around 5,500 sq. ft. in total and includes five bedrooms, a bathroom, a living room and dining room, all of which are based around a 'spectacular' central reception hall.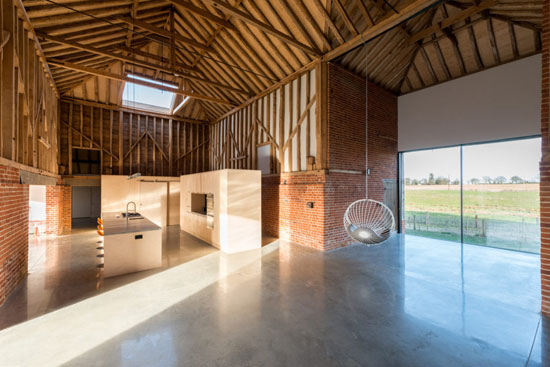 The kitchen takes up a part of that central space too, with an enclosed utility room / second kitchen, pantry and WC also present.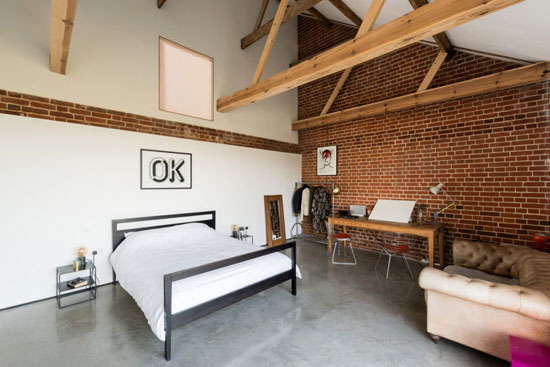 Two of those five bedrooms have en-suites, with the master bedroom suite described as a 'large room' arranged over two levels and incorporating a dressing area, shower, WC and freestanding bath as well as a seating area overlooking the nearby fields. Bespoke joinery here too, as there is throughout the property.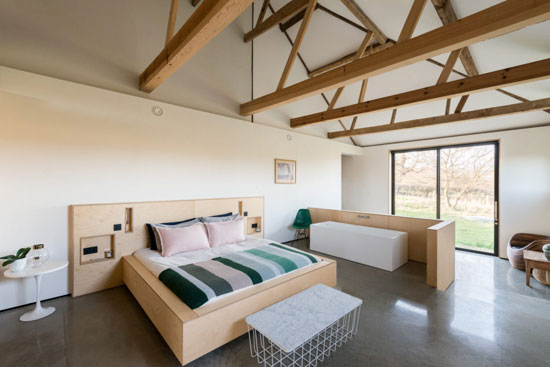 If that has a 'wow' factor, then the central reception space is probably 'double wow'. Poured concrete floors, high ceilings, exposed original timbers – this is a room that will make your jaw drop and your visitors envious. I'd quite like to sit in that hanging chair and take in the country setting too.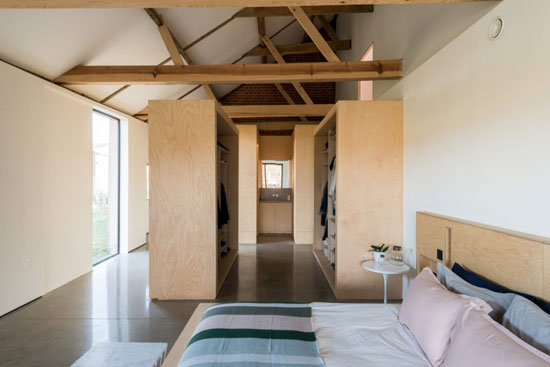 Also worth noting is the exposed brick and the expanses of glass throughout too, along with the nice contemporary detailing used across the property.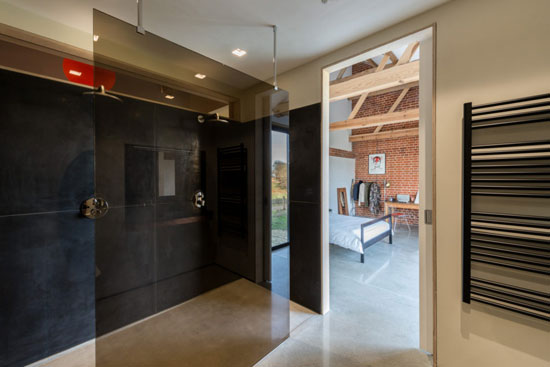 As for the outside space, you do get those undeveloped buildings, as well as a walled garden with areas of terrace and lawn plus a private drive, carport area and garden stores. Beyond that is agricultural land.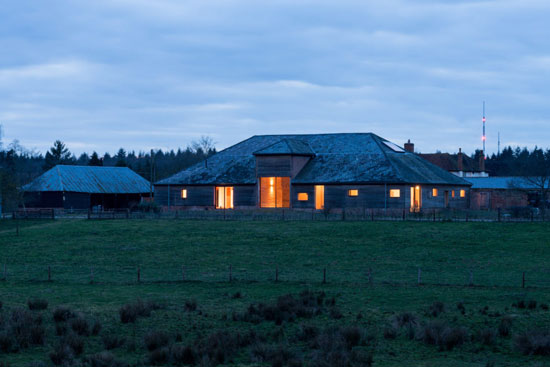 £1,700,000 is the asking price and there is a viewing day coming up soon.
Images and details courtesy of The Modern House. For more details and to make an enquiry, please visit the website.
Property Location