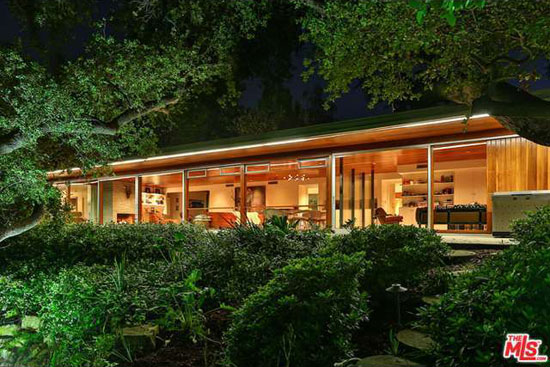 No, it doesn't come cheap. But that's because the renovation of this Richard Neutra-designed The Goldman Residence in Encino, California, USA is something special.
According to Curbed LA, the house is owned by Steven Bochco, the man behind the likes of NYPD Blue, LA Law, and Doogie Houser MD. He is also the man who has 'painstakingly' restored this 1951 build and for that, we should al be thankful.
However, we are guessing the work without expense, especially with talk of the 'finest materials' being used. Which probably explains the asking price. More on that later.
For now, let's look at the house, which is now realigned with Neutra's original vision, offering extensive glazing, stone fireplace, wood ceilings and some wonderful water features. But alongside that, there are plenty of modern finishes, not least when you check out the contemporary kitchen.
Some eye-catching outdoor space too, with a pool, the park-like grounds and dining terraces. Inside or out, you'll be spoilt for choice.
As for living space, that covers 4,234 sq. ft. and includes five bedrooms, five bathrooms and plenty of open reception space looking out onto the gardens. the entire plot covers 0.77 acres.
As we said, not cheap. But it wasn't that cheap before the restoration either. Back in 2006 it sold for $2.85 million. If you want it now, the asking price is $4.995 million.
Images and details courtesy of Redfin. For more details and to make an enquiry, please visit the website.
Via Curbed LA
Property Location