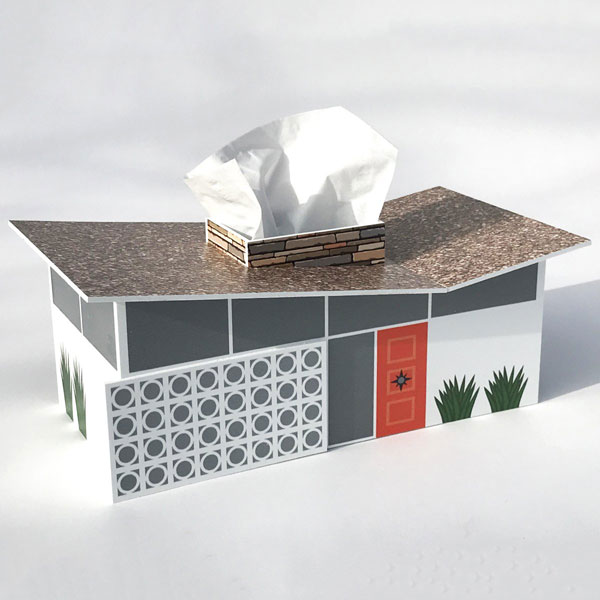 Looking for something for that special person? Or just making your own Christmas list? Hopefully, these 50 affordable gift ideas for architecture lovers will inspire you.
Note that I independently selected any featured products in this article. However, if you buy from one of my links, it may be an affiliate, and I may earn a small commission.
Amazingly, this list started out as just 10 a few years back but steadily grew as I realised I had bookmarked so many design pieces based around houses and architecture over the past weeks and months. I could have gone on longer, but 50 seems as high as I could reasonably go. This year I have gone through the list and updated it, removing items no longer available and adding new ones. A freshen up if you like.
Note that I haven't listed any books either. I have featured plenty of book releases on the site (although not as many as I would like of late), so do have a look in that section if you want some inspiration on that front. There are always plenty out there. Once you have done that, have a look at this list to see some (largely) modestly-priced gift ideas (and a couple of pricier ones I couldn't resist featuring).
I have tried to feature as many small makers and sellers as I can because they really need the help at the moment. So do support them if you can.
So in no particular order, here we go…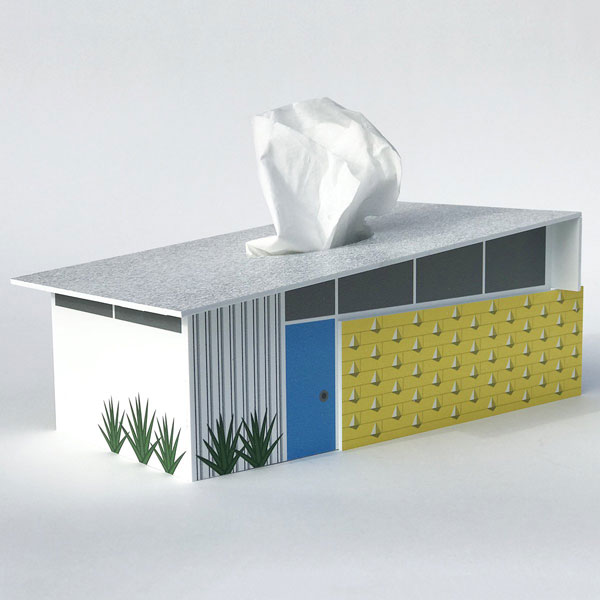 1. Midcentury modern house tissue box covers by Destination PSP
I featured these on the site some time back, and they were and are massively popular. So an obvious place to start the gift guide.
Different house designs are available (including some new ones each year), but they all follow a similar path. Created from printed PVC board, each one is produced and hand-assembled in Southern California and designed to fit standard rectangular tissue boxes. Pop it on, and the tissue looks like smoke from a chimney, while the house is a talking point in your home. $75 is still the price.
Find out more at the Destination PSP website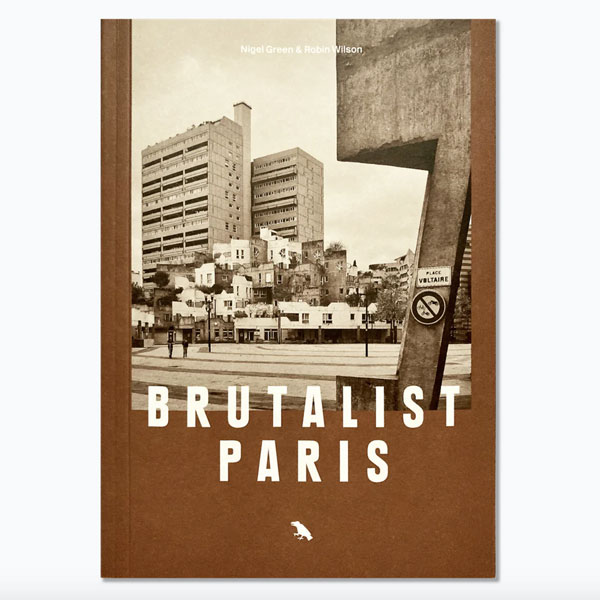 2. Architecture maps by Blue Crow Media
Another designer that has featured on the site in the past. There really are so many of these to choose from, and new maps are added on a regular basis.
That's no bad thing as the maps in question cover almost every corner of the world, from Paris to Pyongyang and numerous architectural styles too. There must be something here for you. Each is a labour of love, with maps and imagery picking out local highlights if you are in the area, as well as some background to the style and city from the locals.
There are themed packs of maps you can buy for a discounted price if you want a lot. Or if just one catches your eye, they sell for around £9 each. So 'stocking filler' potential. Also, note that there is a book now, which is the Brutalist Paris you can see above. If that's your area. £24 for that.
Find out more at the Amazon website or the Blue Crow Media website.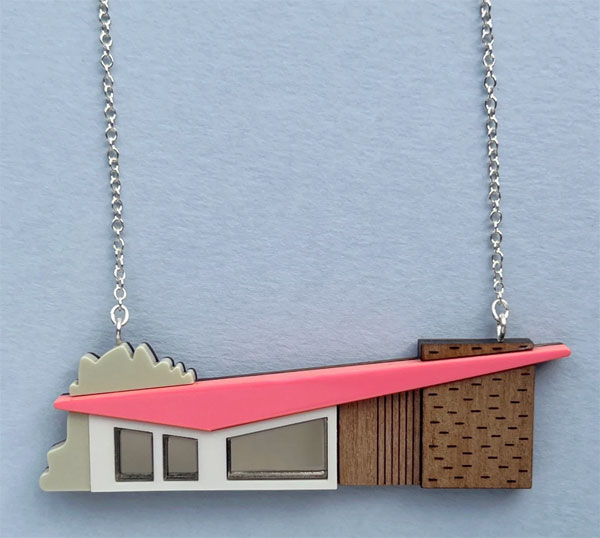 3. Tiny Scenic midcentury modern jewellery
File under cute and quirky. Numerous designs in the Tiny Scenic midcentury modern jewellery collection, and a number of new ones arriving right now.
The vast majority are necklaces, but there are some brooches too, plus some midcentury modern earrings also added to the range of late and a mix of laser-cut, etched walnut and three types of perspex for the material used.
As for the designs, new and old, there is a strong midcentury modern vibe, with the house designs generally my personal favourites. Check out the slant roof midcentury house necklace above, which retails for £59.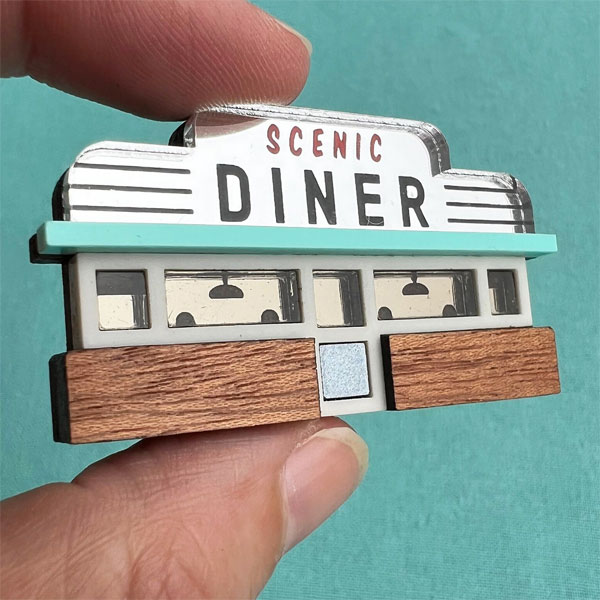 Not just houses, there are plenty of other retro designs too, like the lovely dinner brooch (just above), retailing for £61. Cheaper items, too and all handmade in limited runs, so don't miss out if you see something you love.
Find out more at the Tiny Scenic Etsy website or the Tiny Scenic website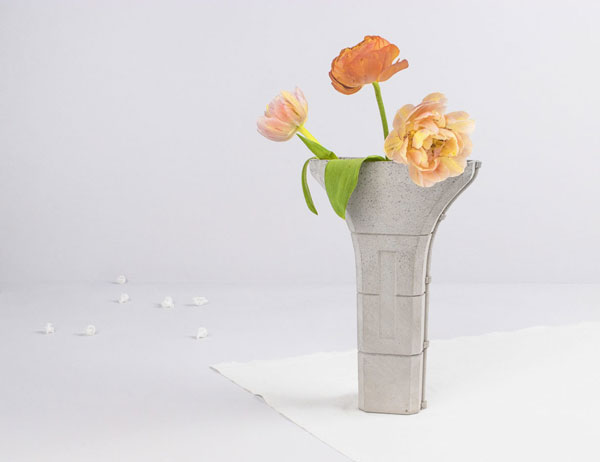 4. Concrete water tower planters
I love a water tower – you might have seen a few on the site in the past. So this mini version is bound to appeal.
It might appeal to you if you like the idea of some concrete design in your home. Yes, these are made out of concrete, with more designs available than in previous years – including the design pictured above, which is slightly larger than the first batch.
Pricier at £79, but you can still get the smaller ones for £69 if you want them.
Find out more at the TiiPoi website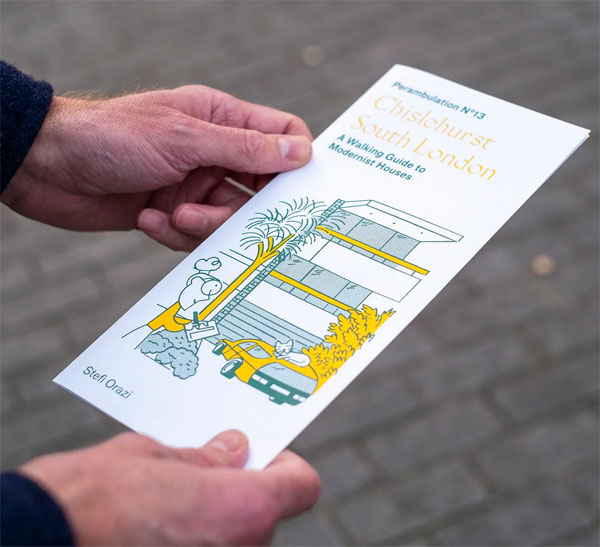 5. Walking and cycling guides to modern houses by Stefi Orazi
A new entry to the gift guide last year and another ever-expanding range.
Love modern houses? Or course you do. You are reading this site. With that in mind, you might want to stick one or more of these on your Christmas list. Stefi, who is responsible for some essential books on the subject, has produced these bag-sized guides for the London area, as well as a guide specific to the work of Richard Rogers.
Great for walking or cycling, but particularly for house-spotting, the good-looking guides are available as part of a subscription set (with box), which is the gift that keeps on giving, or individually for £5.50 each. Oh, and a lovely box set for £39.50 if you want to treat yourself or if someone really likes you.
Find out more at the Things You Can Buy website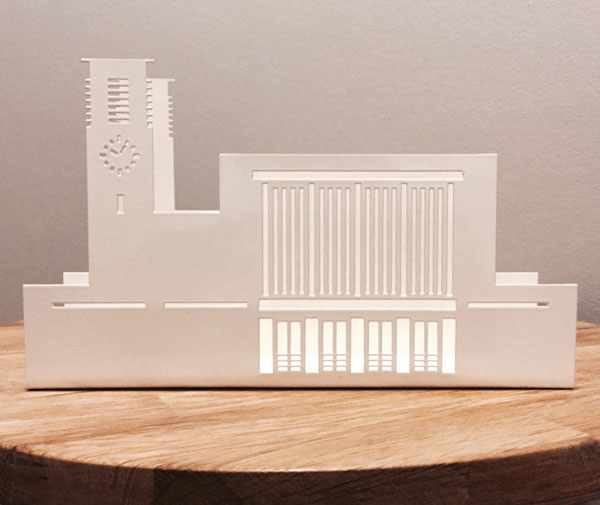 6. Architectural letter holders by Wilhon Design
I actually featured their Brutalist London postcard set a while back, but I am focusing on the architectural letter holders by Wilhon Design now, which always seem to be popular gifts.
This is a steadily growing range that kicked off with the hugely-popular art deco Surbiton station (pictured above) but has grown to include the likes of Dreamland in Margate, Tate Modern, Tolworth Tower and the Brixton Recreation Centre pictured below.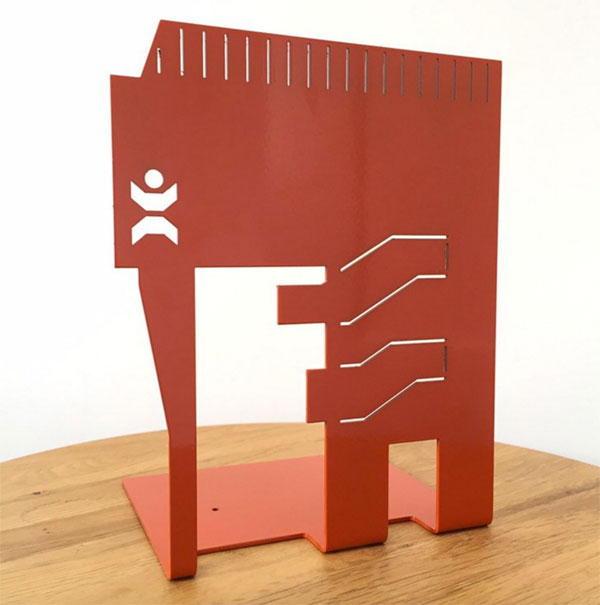 Made from powder-coated, laser-cut steel with non-slip rubber feet and looking rather lovely and are also functional pieces of home design. They sell from £27.95.
Find out more at the Etsy website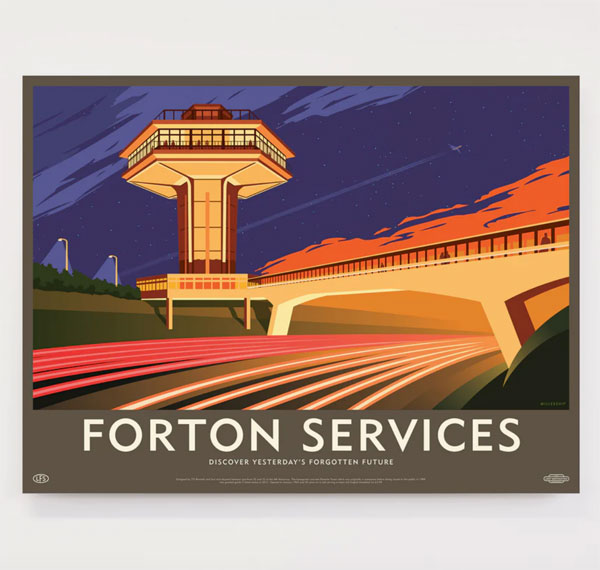 7. Lost Destination architectural artwork by Dorothy

Another maker/seller who could feature numerous times here. Last year I went for the Barbican tote bags, which are still available and well worth checking out. But this year, I am going back to where it all started with the amazing artwork.
So many amazing retro prints to choose from, with the subject matter being every bit as important as the eye-catching finishes.
I have featured the much-loved Forton Services above, but do check out The Hacienda, the Tricorn Centre, Brunel University, Preston Bust Station, the Euston Arch and numerous lost football grounds.
The price you pay depends on the size you go for, but for reference, the prices start at £35.
Find out more at the Dorothy website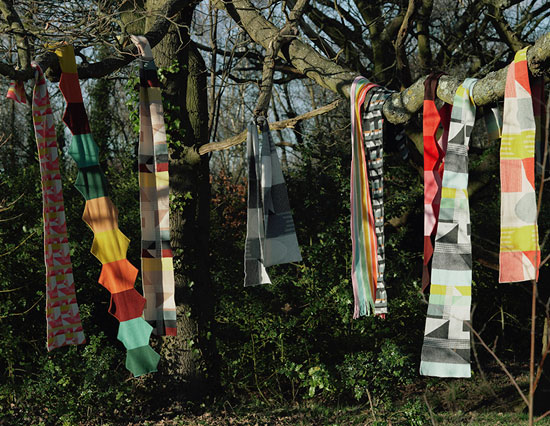 8. Bauhaus scarves by Donna Wilson

Something I featured for the first time last year, but the Bauhaus scarf range is an even better prospect this year as it's in the sale.
Donna Wilson always does some wonderful and interesting designs, and that now includes a range of scarves inspired by the female textile artists of the Bauhaus.
100 per cent lambswool, knitted in Scotland and with plenty of colours and patterns to choose from. Originally £100, they now sell for £80.
Find out more at the Donna Wilson website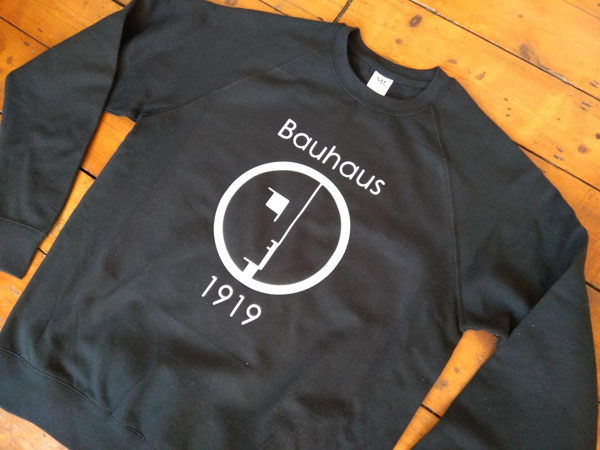 Talking of wearable Bauhaus, you can still get these Bauhaus 1919 Sweatshirts, which were very popular in the past. Different colours and sizes, but the price is constant at £25 for all.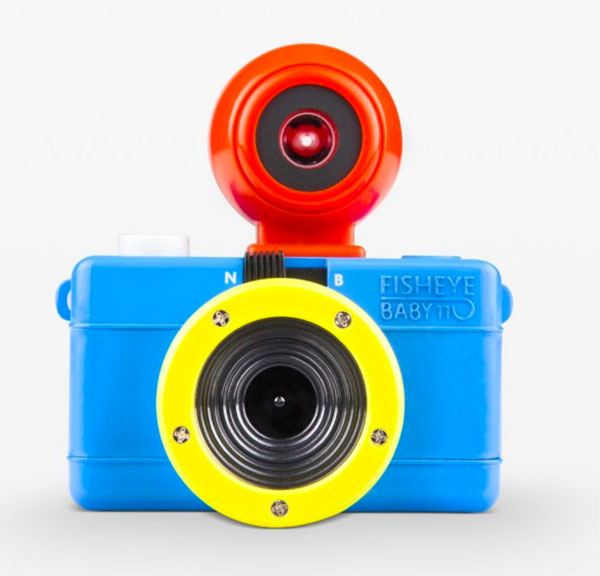 9. Fisheye Baby Bauhaus Edition film camera by Lomography
I love a theme, so we'll stick with Bauhaus a little longer but for something completely different.
This is a film camera by Lomography, which has a toy-like look but isn't designed for kids. This is about capturing unique shots using 110 films and the fisheye perspective.
Get creative possibilities with multiple and long exposures, and with the Fisheye, produce something akin to a 1960s album sleeve. All from a mini package wrapped in Bauhaus colours. £29.67 is the price.
Find out more at the Lomography website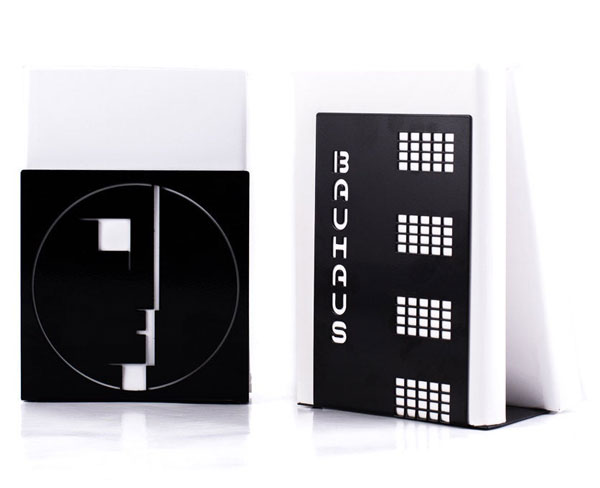 10. Bauhaus-themed bookends by Design Atelier Article
Bauhaus is once again the inspiration for some home design. This time to keep your books in order.
Each one is handmade and is produced as laser-cut metal with a powder coating. Each one also has 'anti-slip' silicon pads for additional furniture protection. Two designs, the Bauhaus logo by Oskar Schlemmer, dating back to 1922 and the Bauhaus building itself. £65.93 for a pair.
Find out more at the Etsy website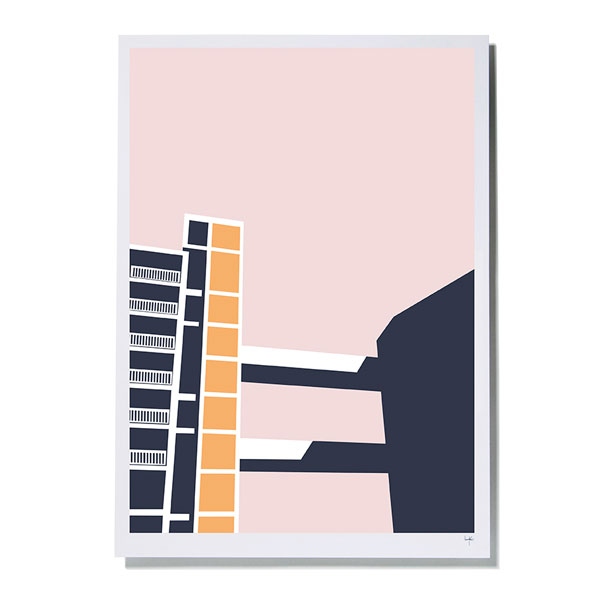 11. Park Hill prints by Laura Knight Studio
So many architectural prints around, but not so many of Park Hill in Sheffield.
There are here, as well as plenty more, from the Barbican through to Manchester's Toast Rack. But Park Hill is the mini range that catches my eye. Colourful, stylised prints focusing on the details in the recently-restored brutalist development, each hand-pulled by APG Works in Sheffield. Signed and numbered as a limited edition too. Despite that, prices are affordable, starting from around £20 unframed.
Find out more at the Laura Knight Studio website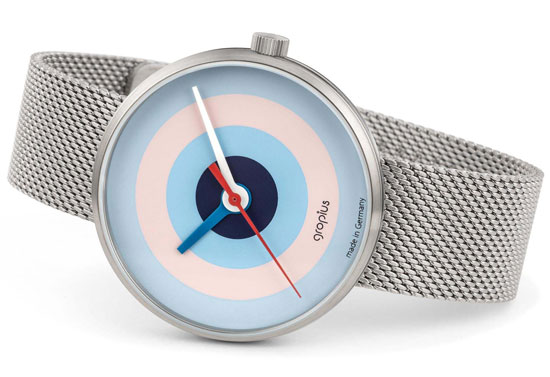 12. Bauhaus-inspired Walter Gropius watch range
Ok, this is pushing the affordable thing a little. But these are wonderful watches likely to appeal to lovers of modernist design.
There are so many, too, with the majority featuring designs on the faces inspired by imagery and motifs of the original Bauhaus movement. They are also German-made watches, made of stainless steel and with a Citizen Miyota movement.
The straps and designs vary, but the designs are all eye-catching, and if I'm honest, I really can't pick a favourite. But I do love the Josef Albers design pictured here. As for price, that's somewhere between €225 and €235. So a little up from last year, but that's life sadly.
Find out more at the Bauhaus Movement Shop website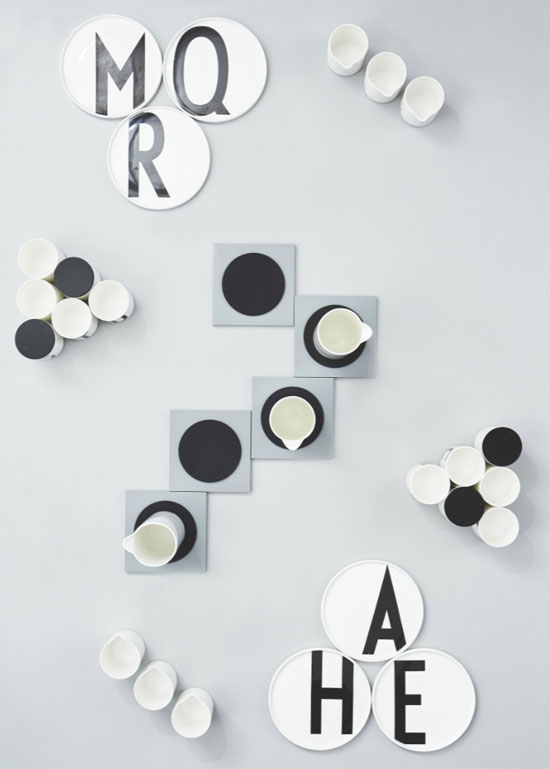 13. Design Letters range by Arne Jacobsen
There is enough in here to fill a top 50 with the range expanding every year. So do browse it all if you want a gift idea for someone in the family. Or a design-loving friend.
Based on typography drawn in 1937 by the world-renowned Danish architect Arne Jacobsen, it covers everything from the living room and the dining room to the home office and the nursery. I have probably missed a few rooms too. There's a cocktail shaker now, so your home bar could be included too!
As an example, I'm looking at the tableware, which looks amazing as a style statement and at this time of the year, you could spell out 'XMAS' and really get people talking. Prices vary, of course, but a China plate costs around £20.
Find out more at the Made in Design website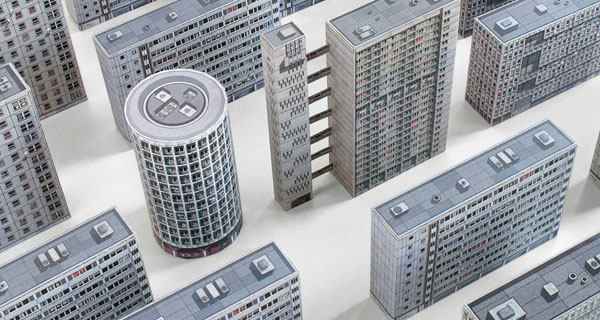 14. Build your own brutalist city with Zupagrafika
Know someone who likes to build things? They could spend Boxing Day putting together their own brutalist city.
Zupagrafika has created a range of cut-out paper models you just need to build As you can see, the end result looks impressive. Especially if you go big with the concept.
You can pick up full cities or just individual buildings from the likes of London, Paris, Warsaw, Moscow and more. All reasonably priced, too, with a building starting at just €7. That's pretty much stocking filler territory.
Find out more at the Zupagrafika website
For UK readers, much of the range is also available at Blackwells.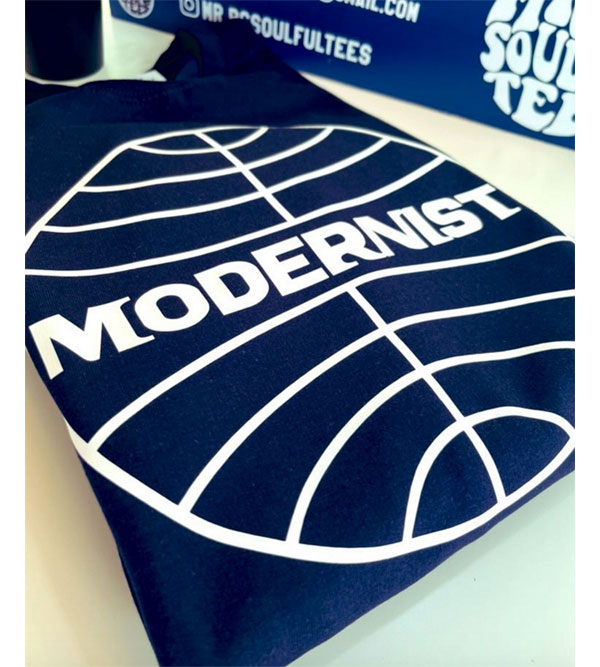 15. 1960s-style Modernist sweatshirts by Mr B's Soulful Tees
A vintage Pan Am vibe with these 1960s-style Modernist sweatshirts by Mr B's Soulful Tees.
After all, it is sweatshirt season, and if you want the world to know of your love of modernism and you like a vintage logo, this is the shirt for you. Also, don't worry about the blue, as this design is available in pretty much any colour you like, as well as all the sizes you probably need.
A gift for yourself or someone else. Whoever receives it, this doesn't break the bank at £28.
Find out more at the Mr B's Soulful Tees Etsy website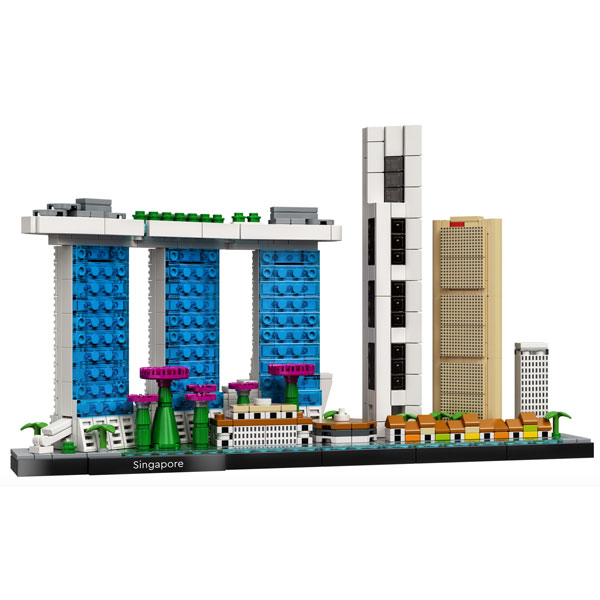 16. Lego Architecture sets

Lego seems to have discontinued the majority of its Lego Architecture range, which is a shame as there have been some amazing sets. But don't despair, there are still options.
Some of the older ones are still available on Amazon and eBay if you want the Sydney Opera House, the Guggenheim, Villa Savoye or Robie House, as well as the Lego Architecture construction kit. But note prices are rising. I'm so glad someone bought me Villa Savoye when it came out! I still have it and haven't found time to make it yet. Maybe this Christmas break.
For fans of modern architecture, might I suggest the Singapore set? 827 pieces, so potential to see someone through Christmas and into the New Year. It retails for £54.99.
Find out more at the Lego website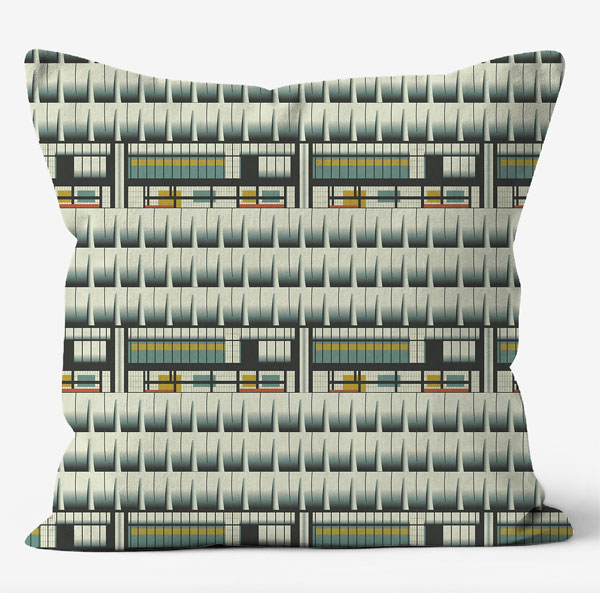 17. Brutalist Collection by Gail Myerscough
A maker who has been a mainstay of this rundown since day one, and for good reason. Gail makes some wonderful designs for anyone with a love of both retro and architecture.
Plenty of ranges to browse, but I am focusing on the expanded Brutalist Collection this year, which is both wider-ranging and wide in terms of price points too.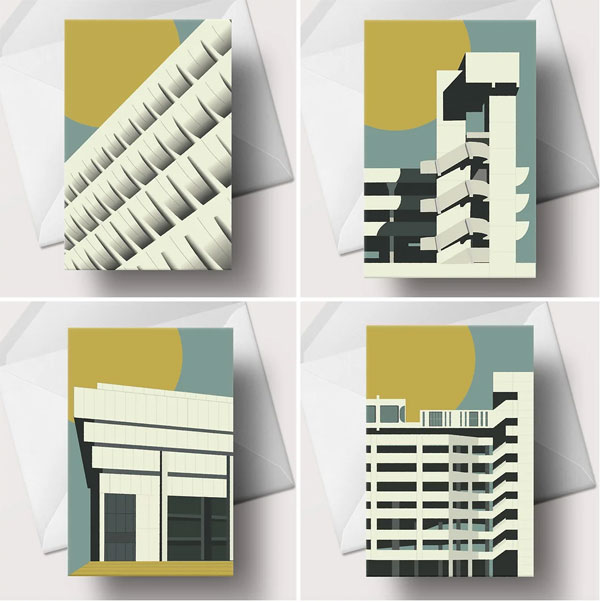 So sets of cards, along with prints, notebooks and journals, as you would expect. But also mugs, phone cases and cushions, which you might not. So if you fancy any of those things with a design featuring the likes of Balfron Tower, Preston Bus Station, the Welbeck, Trinity or Park Hill (to name a few), then have a look. See also gift ideas for your brutalist-loving friends too.
Prices are firmly in the affordable category, too, starting at just £2.50 and rising up to £35 for a cushion. Do check out those other ranges too.
Find out more at the Gail Myerscough website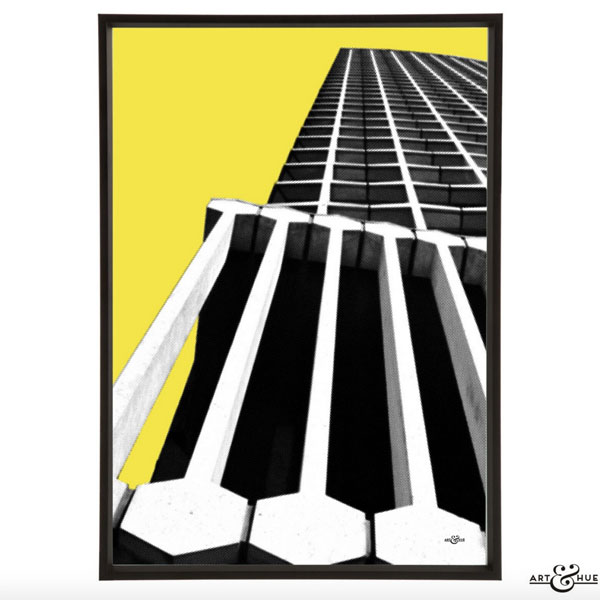 18. Architecture pop art range by Art and Hue
Classic imagery and architecture, but with a colourful pop art twist. Which is what Art and Hue is known for.
The South Bank is heavily featured here, but so is Welbeck Street car park (again), the American Embassy, the JFK terminal, the Barbican and more.
Priced from £18 depending on what you go for in terms of finish and size.
Find out more at the Art & Hue Etsy website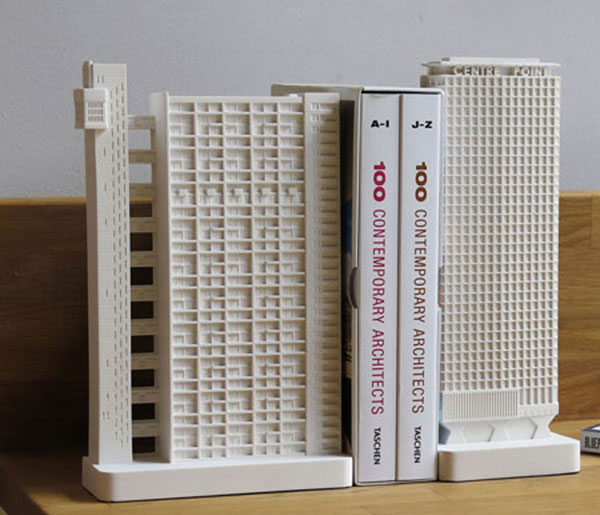 19. Miniature architectural classics by Chisel and Mouse
Hard to pick out just one as there are so many miniature gems in the Chisel and Mouse range.
Using both the chisel and the mouse (hence the name), the maker uses both old and new techniques to recreate iconic buildings in miniature as pieces of interior design. New designs are constantly being added, too, so a website to keep an eye on.
The end results are incredibly impressive, and the result of a lot of work and patience as well as an attention to detail. I love the Bauhaus range and some of the art deco buildings too. But I think Trellick Tower, the Hoover Building and Centrepoint are my personal favourites. Look great as bookmarks too.
But not cheap as each sells for between £175 and £195. The site and the models are certainly worth a few minutes of your browsing time and note these are collector's pieces that take some effort to produce. So perhaps worth the outlay.
Find out more at the Chisel and Mouse website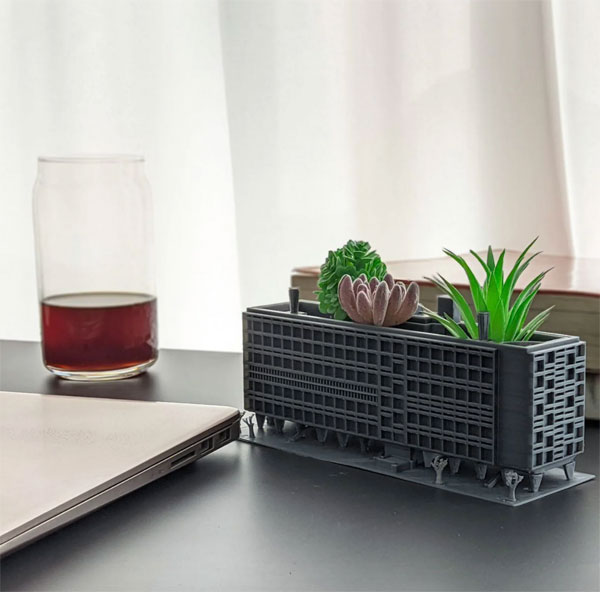 20. Le Corbusier's Unite d'habitation desk planter
Quite a mouthful for the title. But it gets the point across.
This is a custom, 3D-printed model of Le Corbusier's Unite d'habitation. So not concrete like the Marseille original, as you might have guessed. Instead, this mini version is produced from PLA, which is an eco-friendly, biodegradable plastic derived from plant fibres.
It looks amazing and is always going to be a talking point, as well as something practical for hosting small plants. £58.76 for this.
Find out more at the Hephy 3D Etsy website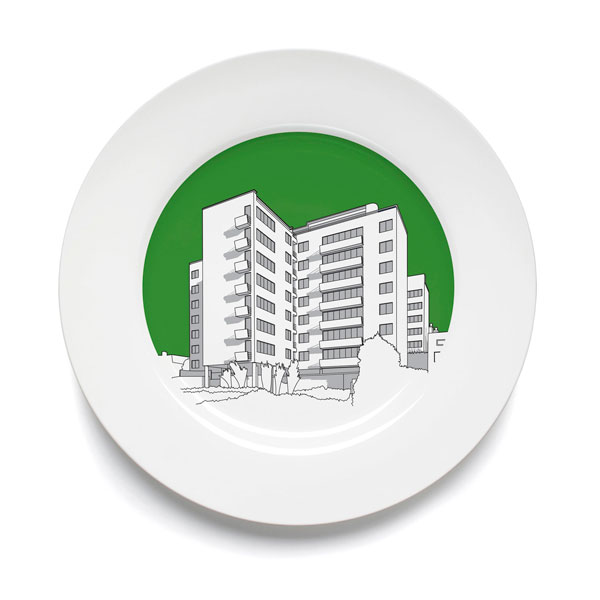 21. People Will Always Need Plates tableware designs
It launched back in 2003, and I think I bought my first pieces from them around that time. They still look impressive today, and if you love modern houses and illustrations, you will love the full range.
PWANP has worked with the likes of the Royal Festival Hall, Hayward Gallery, Design Museum, Hepworth Wakefield, Turner Contemporary and the De La Warr Pavilion to produce ranges.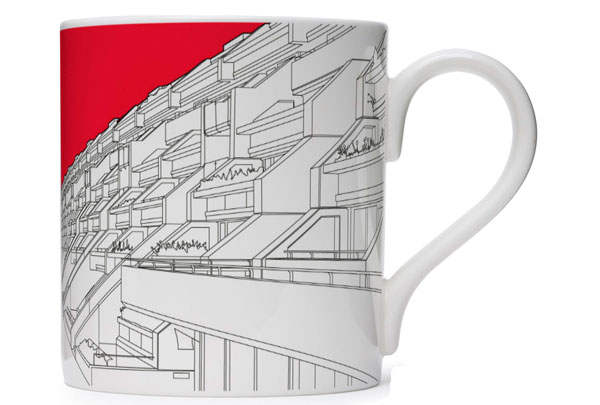 But for me, its distinctive style is more at home with domestic dwellings such as the Alexandra and Ainsworth Estate, Highpoint, Trellick Tower or the notable house designs that appear on both mugs and plates, as well as tray, placemats, trivets and bags (I LOVE the tote bags). Add some colour to your home for as little as £10.
Find out more at the People Will Always Need Plates website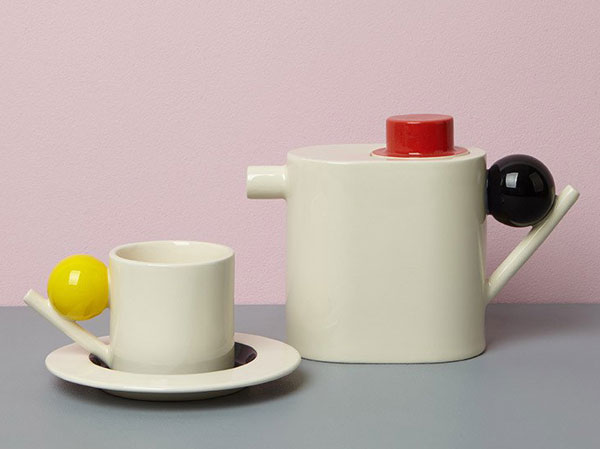 22. Bauhaus-themed tableware by Design K
Another option for your table and very classy pieces too.
Designs that are all about 'embracing the spirit of Bauhaus' with forms inspired by Oskar Schlemmer's 'Triadisches Ballett' and available as cups, saucers, teapots and even egg cups. The earthenware range does change and designs come and go, so act quickly if you want something. Talking of which, you are looking at something like £24 for a mug, £68 for a teapot and £38 for a cup and saucer set.
Note that there are also some eye-catching Kreis pieces too if you check the website.
You can buy them directly from Design K.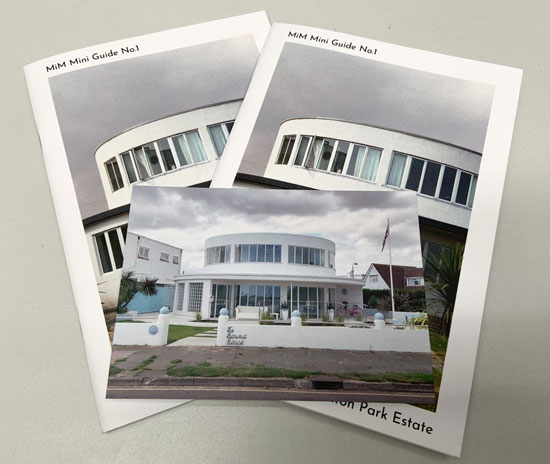 23. Frinton Park Estate Guide by Modernism In Metro-Land
I know I said I wasn't featuring books, but I thought I would briefly mention A Guide to Modernism in Metro-Land, which is well worth owning. But only because it's a nice introduction to a rather lovely guide.
Anything I feature in Frinton is popular on the site, so I figured a guide to this modernist paradise would be a winner too.
The 48-page guide includes 37 colour images of the surviving houses from the Oliver Hill-overseen development, plus a history of the estate and a map. The guide is printed on Silk 150 gsm paper, with a 250 gsm matt laminated cover.
Again, £8 is ideal stocking filler territory. Other similar guides, too, if you want to check out the website.
Find out more at the Modernism In Metro-Land website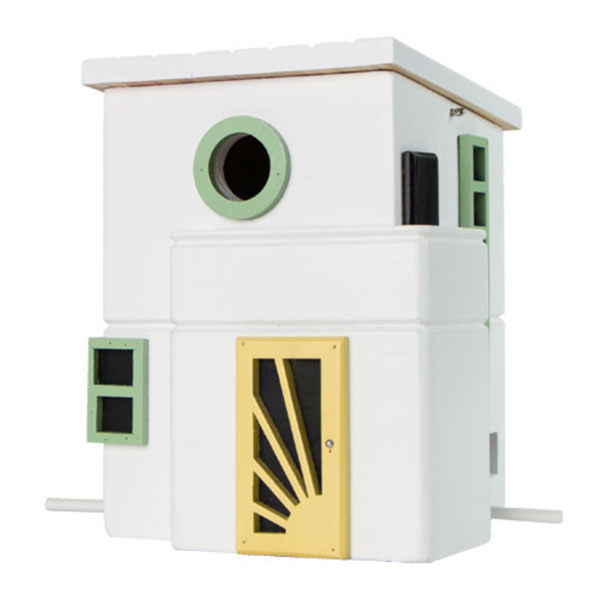 24. 1930s modern and art deco birdhouses
Some of you might recall I did a rundown of the 10 best modern houses for birds recently. If you read that, then this piece is likely to be familiar to you.
Sold by Wildlife Garden, there's a distinctly more Bauhaus take also available, but also this wonderful Art Deco design, which has everything fans of the era will love, right down to the sunburst door. I'm sure your feathered friends will find it equally appealing.
€64.50 if this works for you.
Find out more at the Wildlife Garden website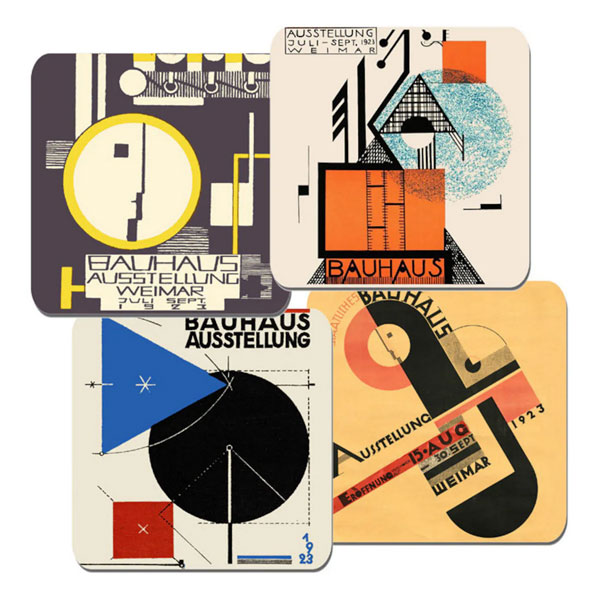 25. 1920s Bauhaus poster coaster set
Time to get back on track with affordable ideas – and this just about lots that bill.
Officially known as the Bauhaus Ausstellung Weimar 1923 poster coaster set, this is a package of four coasters featuring those Bauhaus designs, with each cork mat described as 'glossy' and ' heat resistant' as well as wipe clean.
Great for a design lover's home or office and selling for £16.95.
Find out more at the Funkyzilla Etsy website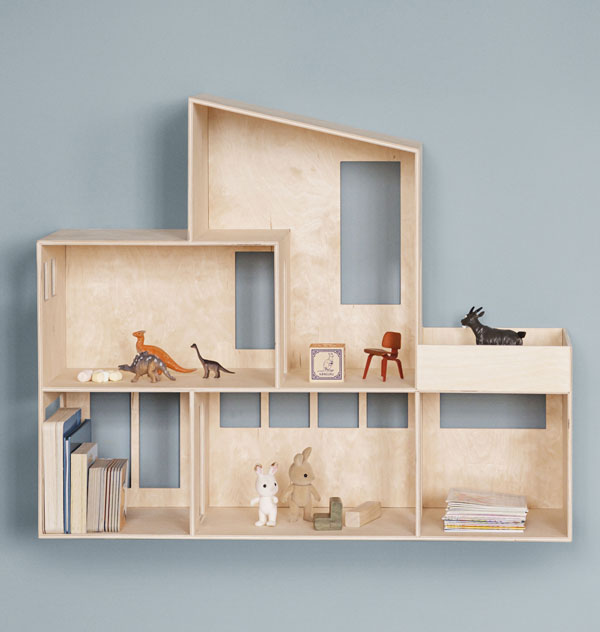 26. Funkis house shelf by Ferm Living
How about some interior design as a gift? But you will need to love someone a lot as this isn't cheap. But it is a shelf shaped like a house.
A versatile number, the Funkis is a mini plywood version of the full-sized house, which is great for kids to play with or just for use as a quirky shelf in your home. Or both for that matter. A great shelf for a kid's room, in other words.
As I said, not the cheapest gift here, but if it works for you, £185 is the price, and this is something that won't be cast aside as we enter the new year.
Find out more at the Made in Design website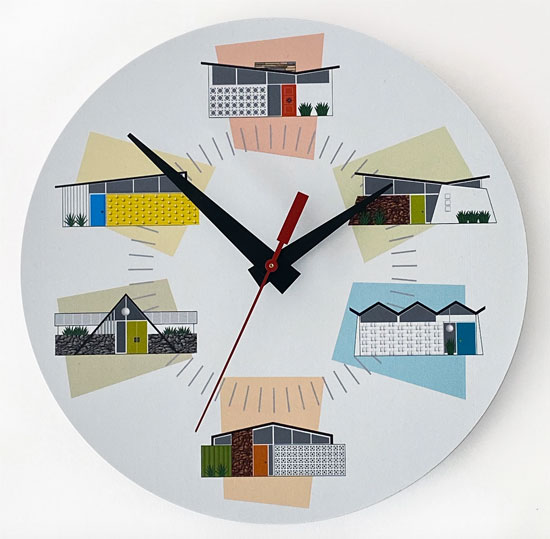 27. Midcentury Houses Clock at Destination PSP
Remember those tissue boxes from the top of the rundown? Well, that same company/retailer also offers the wonderful Midcentury Houses Clock.
Made in southern California, the clock has a quartz movement with a sweeping hand, battery power and a PVC board face printed with those lovely midcentury modern house illustrations.
If you see it in your house, this is a bargain $49.
Find out more at the Destination PSP website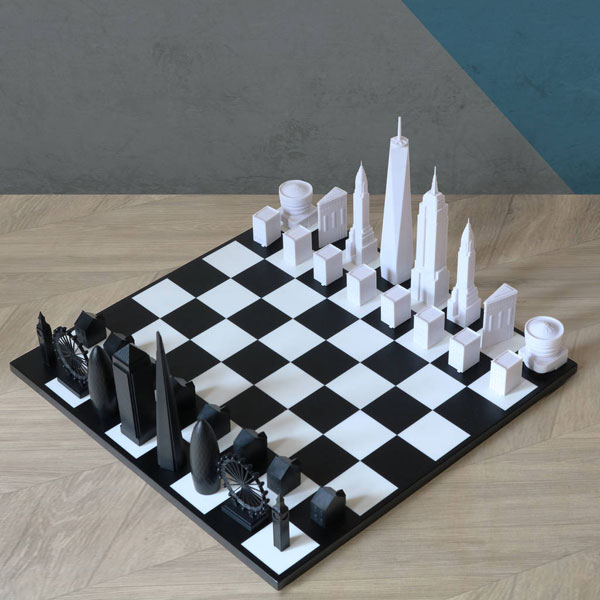 28. London vs New York Skyline chess set
You can get a purely London Skyline set, and I did feature a Liverpool vs Manchester chess set on the site (sadly no longer available). But I think this London vs New York skyline chess set just heads the list.
It is what it sounds like, a battle of buildings on a chessboard. Same game, different pieces. So the famed skyscrapers of New York come up against the likes of Big Ben, There London Eye, The Shard and Canary Wharf. A board is included, too, naturally. £110 if you fancy chess over the festive period – or know someone who might.
Find out more at the Not On The High Street website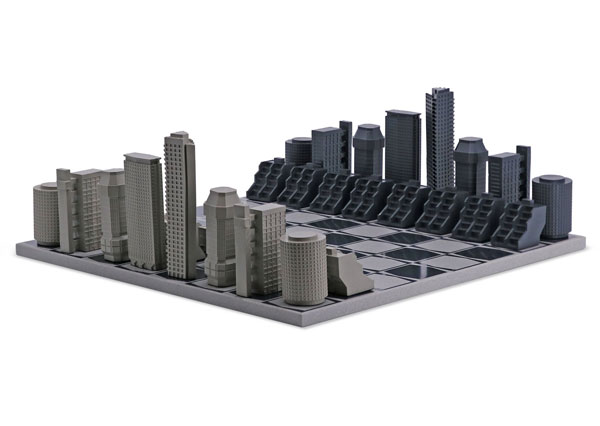 Talking of chess, you can also pick up the London Brutalist Edition Chess Set by Skyline Chess too.
This one is a chess game featuring some of London's most-notable architecture from the brutalist movement, including Trellick Tower, Petty France, Centrepoint and Cromwell Tower, to name just a few.
A 32-piece set cat in hand-cast resin, all double weighted pieces with soft felt bases and sold with a hand screen-printed Corian playing board and presentation box. But again, it doesn't come cheap. Presumably because of that construction. You will need to find £395 to secure this set.
Find out more at the Skyline Chess website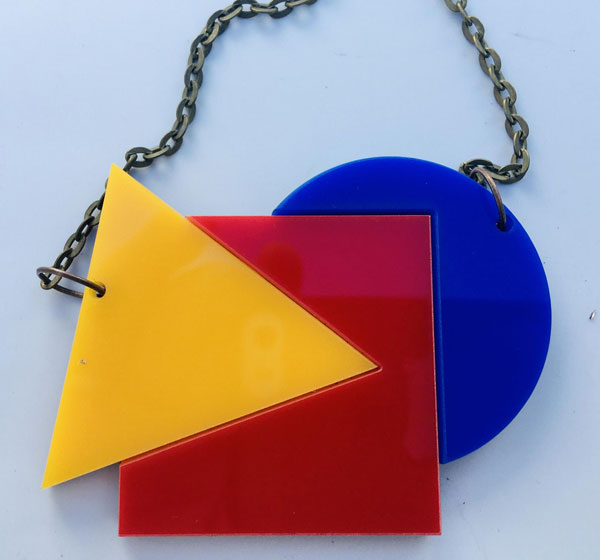 29. Bauhaus acrylic necklace by Kate Made It
Something wearable and not obviously architecture-based. But that's really part of the appeal of this one. As is the price.
Based on the Bauhaus pure shapes and colours, it features acrylic shapes that are laminated onto a thin wooden backing piece that is suspended from a nickel-free, hypoallergenic, bronze-finished chain.
At £10, it doesn't break the bank either. You can get similar earrings too, which sell for the same affordable price.
Find out more at the Kate Made It Etsy website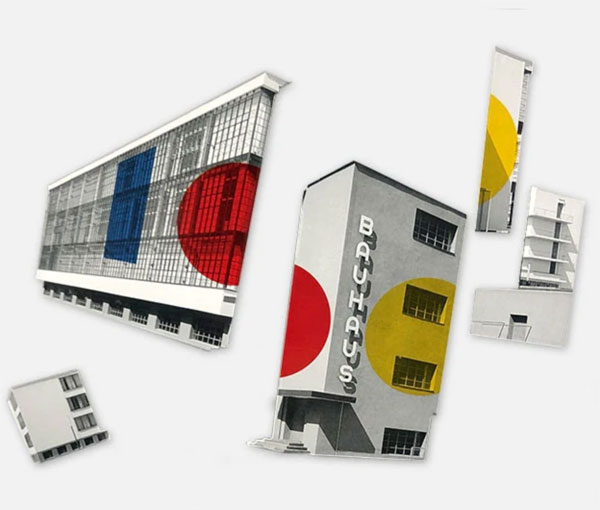 30. Bauhaus Dessau fridge magnets
You don't need to attach them to a fridge, but these Bauhaus Dessau magnets would look great on one.
Or any surface where they would 'take', to be honest. A set of six pieces described as a 'magnetic puzzle', they were created for the Bauhaus 100th anniversary and feature the Bauhaus School.
A nice thing to have and just £11.
Find out more at the Beamalevich website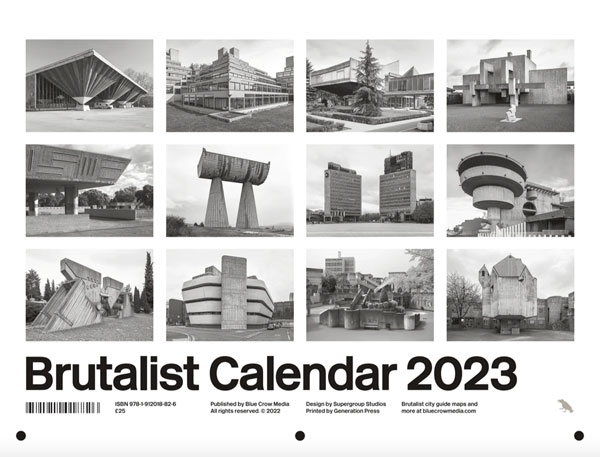 31. Brutalist Calendar 2023
From the people who brought you the architecture maps (see earlier) comes this wonderful calendar/organiser for 2023.
A limited edition, this is a celebration of some of the most awe-inspiring and influential examples of Brutalist architecture around the world. The large images are the selling point for me but don't underestimate the usefulness of a wall calendar in the digital age. There is room to scribble on important engagements too.
Last year's calendar seemed to sell through early (as did the year before), and I'm not entirely sure if stock of this has sold out with the maker, which has it 'coming soon'. Saying that Amazon is currently showing stock.
Find out more at the Blue Crow Media website
Alternatively, pick one up via the Amazon website on Prime,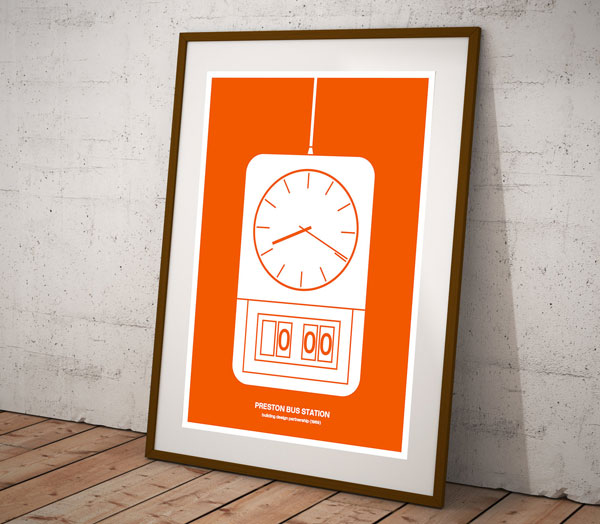 32. Preston Bus Station clock 50th anniversary print at The Modernist

Annoyingly, this was also once a tea towel, but that has now sold out and disappeared. But you can still get the Preston Bus Station print.
I'm a big fan of Preston Bus Station and will think nothing of taking the kids there for a day out. Even before they did it up. So I am probably the target market for this particular product.
The design is the work of Matthew Steele in celebration of the station's 50 years in existence. Perhaps a celebration of its reprieve too. The print will brighten up any room in that bold shade of orange, but you can get it in a more subdued shade of grey too. A couple of size options are available as well. The print is priced at £55 for the smaller format and £95 for the large.
Find out more at The Modernist website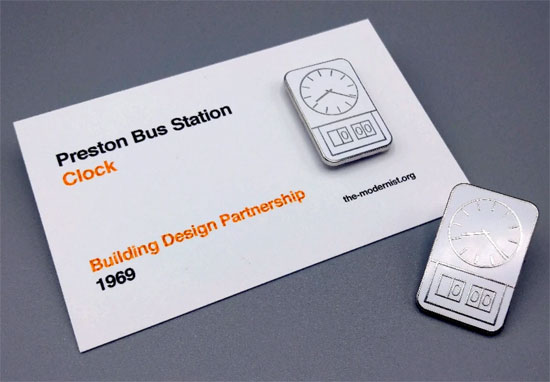 Want something more affordable and Preston Bus Station-related? Why not pick up this wonderful badge for just £8.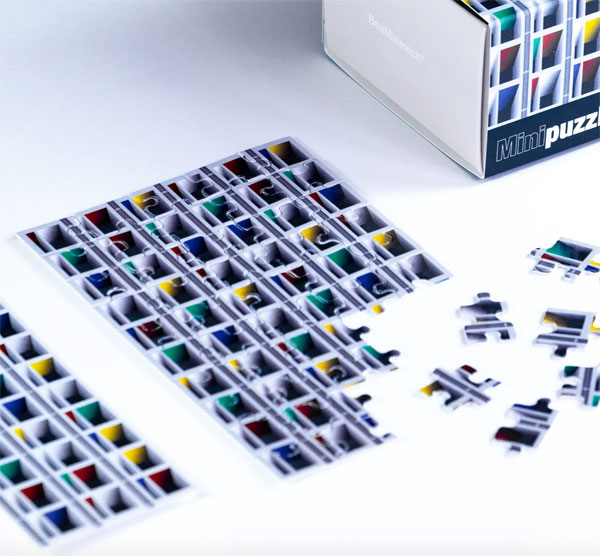 33. Le Corbusier Unite d'habitation mini puzzle
Do you know someone who loves puzzles and modern architecture? I have just found them the ideal gift.
Yes, it's a jigsaw. The task is to create Le Corbusier's Unite d'habitation puzzle from 50 scrambled pieces (most of which look alike) in just 20 minutes. So a race again time and a way to stretch your brain at a time when it's probably falling asleep from too much Christmas dinner.
If you are close to someone who is up to the task, this sells for £14.
Find out more at the Beamalevich website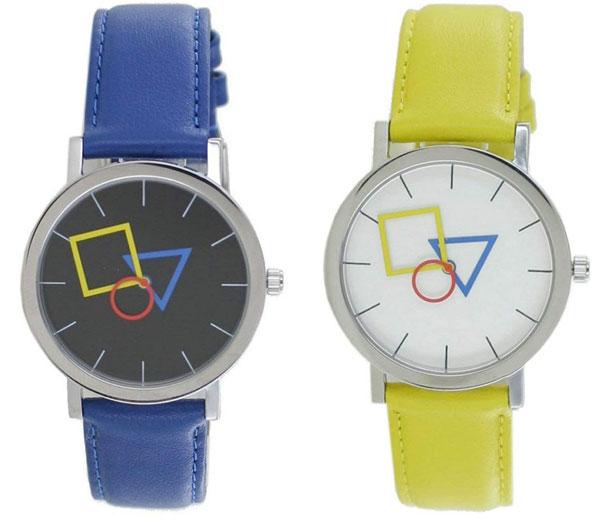 34. Aristo Bauhaus watch range
A while back, Swatch did a Bauhaus watch range. But that was a limited edition, and they are no longer around. But the Aristo Bauhaus watch range is and does play with similar imagery.
This unisex watch was produced for the Bauhaus centenary and is available in different colour options both for the strap and the face. Although the coloured shapes and the minimalist face are consistent across the range, as are the leather strap and mineral glass.
Just over £90 if you know someone who would look good in one.
Find out more at the Amazon website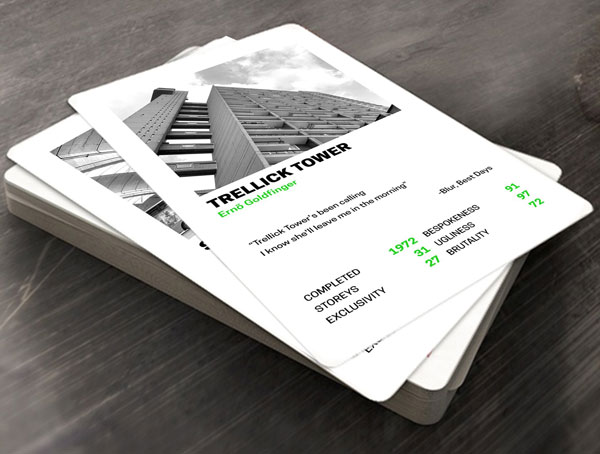 35. Top Brutes card game
Remember the game Top Trumps fondly? Love concrete? This is perhaps the ideal gift for you. Or anyone that those two things apply to.
There are so many offshoots of Top Trumps right now. I even spotted a Britpop set a while back. But this is an architecture rundown, and as such, I am featuring a set firmly in that territory.
The set features 24 of London's 'brutes', a mix of classics and the less familiar. If you want something outside London, there's a Birmingham set too. Crack open the pack, deal them out and see who wins with the highest score on each card. There is nothing I don't love about this idea. Especially when the Christmas period starts to get a little stale. £16 gets you a set.
Find out more at the Space Play Etsy website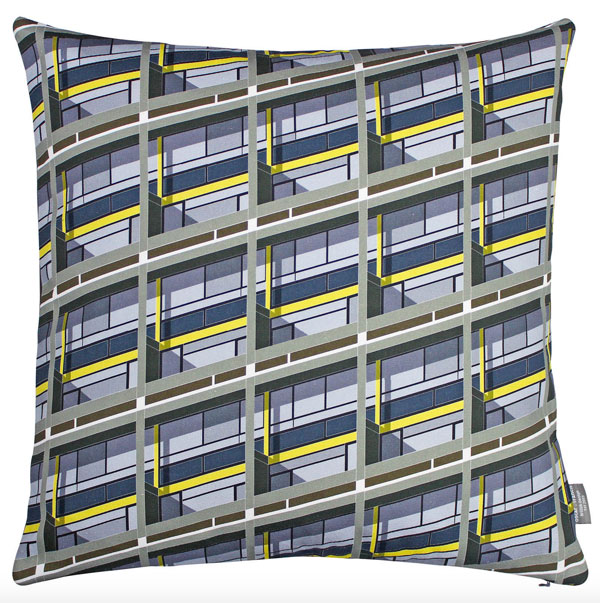 36. Estate Collection cushions at Oscar Francis
There is so much to love at Oscar Francis. Whether that's art prints, notebooks or something for the home. I have gone for the latter because I love the cushions, and just as importantly, they are now half-price in the sale.
The Wandsworth design pictured here is digitally printed onto 100% cotton Panama fabric. The image is printed onto one side of the cover, and the back panel is a dark grey textured heavy cotton fabric.
The Wandsworth design is part of the Beautiful Estate collection which also includes the Lambeth, Hackney, Southwark, Leytonstone, Walthamstow and Westminster cushion designs. Most are now half price too, selling for £17 from an original £34. So a great time to buy.
Find out more at the Oscar Francis website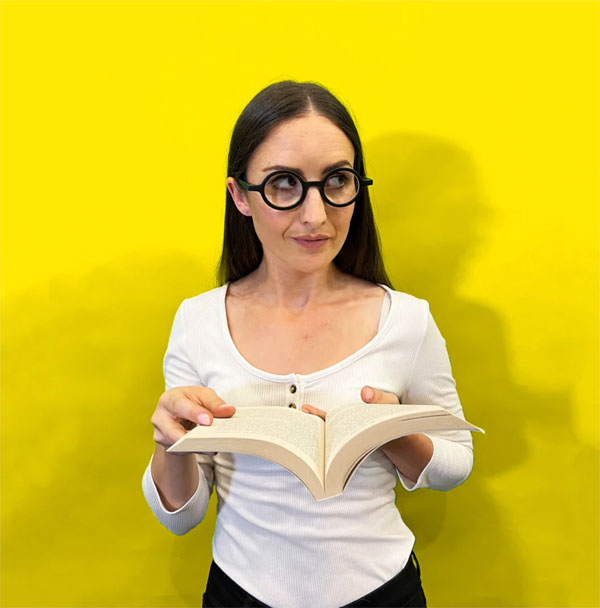 37. Moley architect-style reading glasses by London Mole
Last year I featured some cardboard architect glasses to wear if you wanted to dress up as Le Corbusier or Philip Johnson. But I thought this year I would go for something more practical.
This is much the same look, but the Moley reading glasses don't just offer a 'look'; they also give you the added benefit of boosting your eyesight. If, like me, reading glasses have come into your life of late, or even better, you know someone in that position, then these might be a gift idea.
Just as long as they want to look like a mid-20th-century architect. Not everyone does. Any colour of frame, different lens power and all for just £15.
Find out more at the London Mole website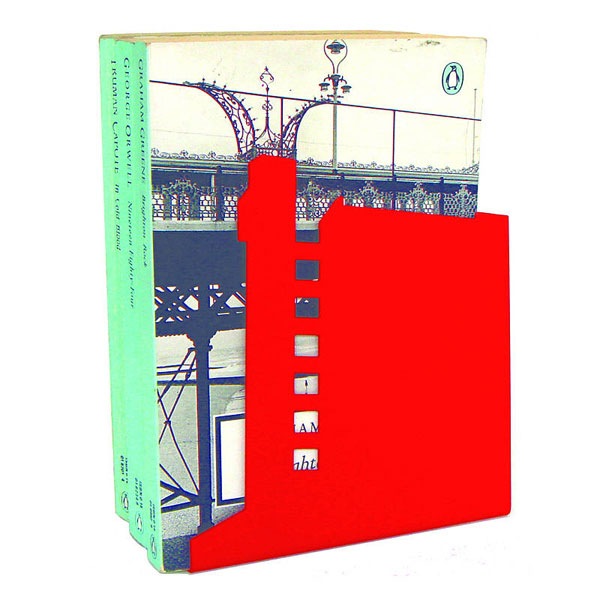 38. Trellick Tower bookends by Susan Bradley Design
You can also get Battersea Power Station, but the Trellick Tower bookends are the headline act for me.
Of course, please do check out Battersea Power Station if you prefer that and the concept works for you. But if you like this, it is made from coated steel and designed in the shape of Goldfinger's iconic building and sold in that bold shade of red.
£18.40 is the individual price, and if you want a pair, you can get a pair. But it is twice the price.
Find out more at the Not On The High Street website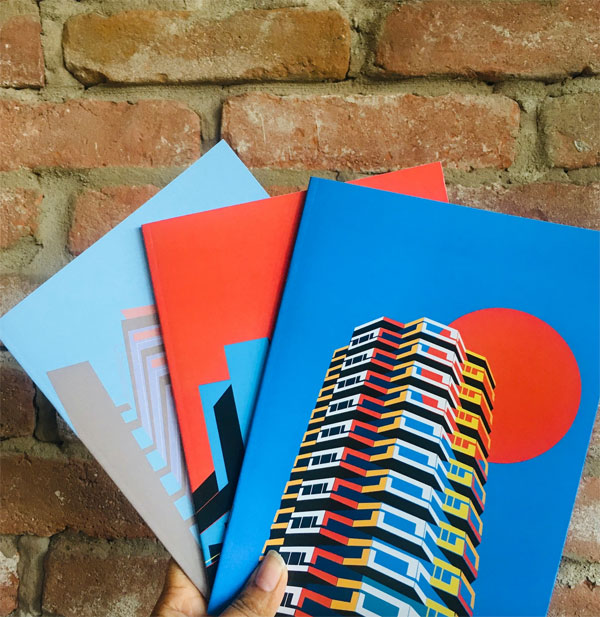 39. Brutalist London notebook set by Eye For London
Not just these designs for sale, but these are an example of what the company does.
To be honest, they do a lot more, especially when it comes to prints. But I've featured a fair bit of art so far, so a change of tact is in order. The notebooks here are a set of three, with The Barbican, National Theatre and One Croydon on the cover, 24 double-sided pages within and A5 in size.
Other similar sets are also available (as well as some lovely prints), with the news here selling for £15.
Find out more at the Eye For London Etsy website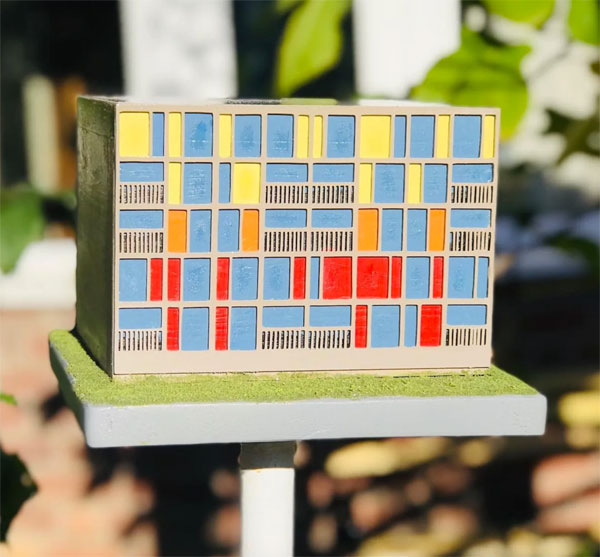 40. Sheffield Park Hill Flats birdhouse by Fledgling Designs
Another you might recall from my modern house birdhouse rundown and probably the most talked-about example of them all.
Yes, this is a handmade birdhouse based on Sheffield's brutalist icon Park Hill. It's a design you'll love or hate, but I know enough of you love it for it to make the cut in this guide.
A practical addition to your garden, a talking point and something unique to you as each one is handmade. £65 is the price.
Find out more at the Fledgling Designs Etsy website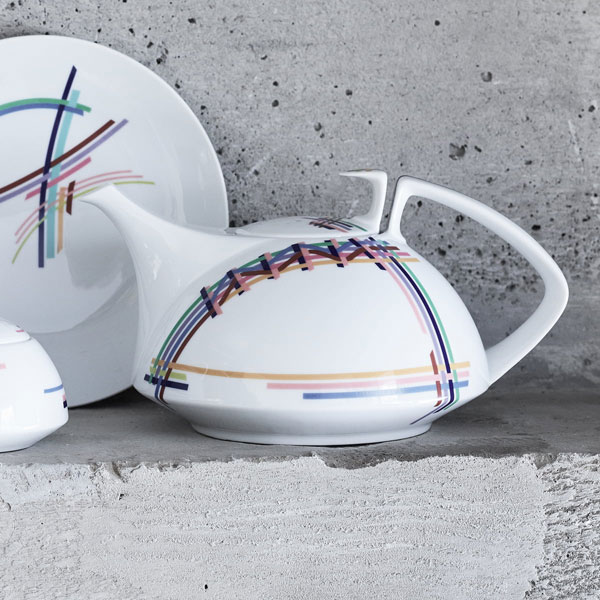 41. TAC tableware range by Walter Gropius
It looks fairly plain, and as a gift, it might not appeal on the face of it. But this is the TAC tableware range by Walter Gropius, no less.
TAC = The Architects Collaborative, which was the name of Bauhaus founder Walter Gropius' Boston office. It was designed for Rosenthal and is notable for its geometric shapes, such as circles and spheres, with a strong Bauhaus influence present across the range. New motifs have been added for the Bauhaus anniversary, or you can opt for the classic.
Available in individual pieces such as tea and coffee pots or cups or you can get full sets, which happen to be in the sale on the retailer's site. But as a guide, a small teapot is around £44, and a teacup and saucer are £32.
Find out more at the Connox website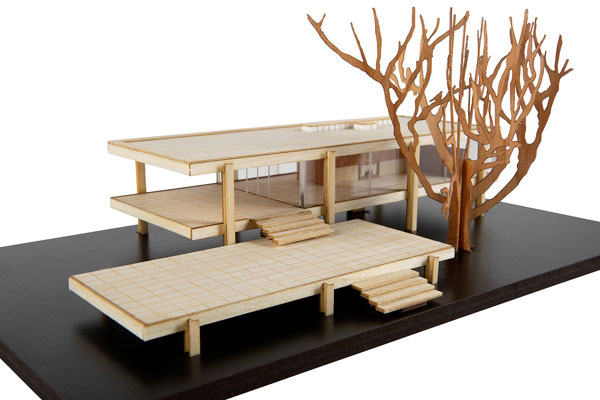 42. Wooden architecture kits by Modern Landmarks
I'm sorry, this is another one that isn't particularly affordable. But I couldn't resist featuring the range.
Not all are modern, but a good number of these kits are interesting and likely to appeal to anyone who enjoys making things.
You could opt to make the Sydney Opera House, the Tate Modern or the Guggenheim Museum. But personally, I quite fancy having a go at Farnsworth House by Ludwig Mies van der Rohe.
Beautifully boxed, easy to follow instructions and with 120 pieces to put together if you want the finished house. But note that these are premium products that come at a premium price. This set retails for $198. But it would look great on display when finished.
Find out more at the Modern Landmarks website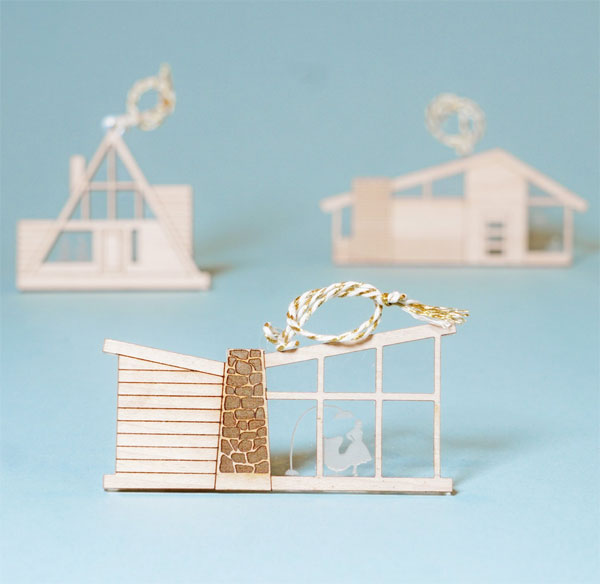 43. Mid Century Christmas decorations by Chelsea Makes
These are so beautiful, and the detail in each of these ornaments is impressive
There are three designs to choose from, with the one in the centre of the image, inspired by the butterfly roof of Architect William Krisel, being my personal favourite.
Or check out the A-frame or the ranch house, both equally as impressive. Each one is made of acrylic and maple veneer, and while it might not immediately catch the eye from a distance, it's a decoration that will pull anyone in once it does come into range.
All are available from the maker's site and selling for $15 each.
Find out more at the Chelsea Makes website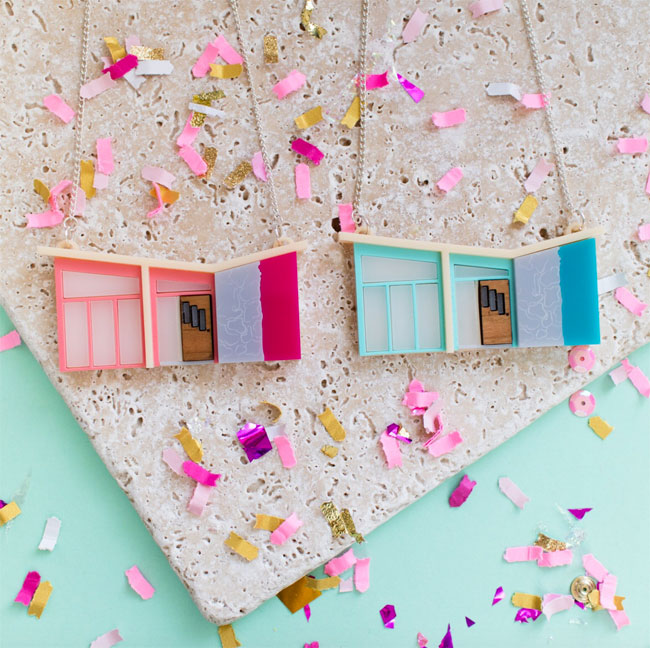 44. Palm Springs house necklaces by Finest Imaginary
Not a million miles from the designs of Tiny Scenic above in terms of inspiration. But these deserve a showing in their own right.
Last year I featured an A-frame keyring from this maker, which is worth a look, but these houses, plus other similar designs, are new this year.
Each is a hand-designed, laser-cut necklace, strung on an 18-inch silver plated chain and constructed from thick perspex and wood. £37 is the price.
Find out more at the Finest Imaginary Etsy website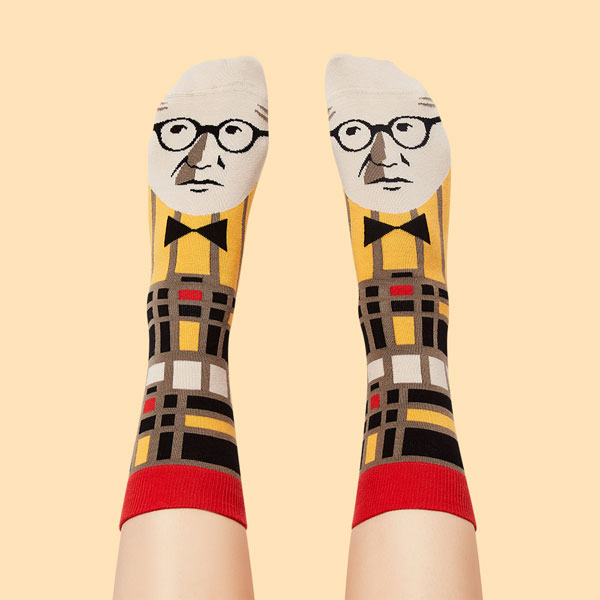 45. Leg Corbusier socks at Chattyfeet
Yes, it's that man again. But this time, he wants to make friends with your feet.
If you can get past the pun, these are classic gift material. Socks and Christmas often go hand in hand. Made of a cotton mix, you get Le Corbusier's face staring up at you when you slip them on. Ok, novelty socks aren't for everyone, but I quite like these.
£9 gets you a pair.
Find out more at the Chattyfeet website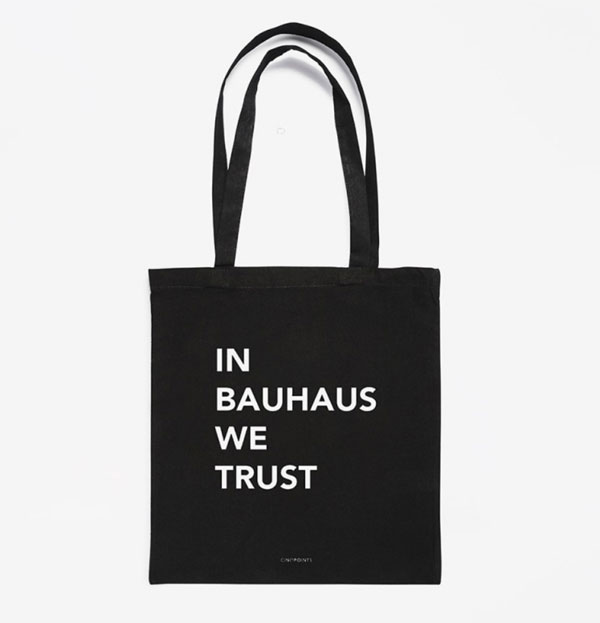 46. Architecture tote bags by Cinqpoints
This year I haven't featured much in the way of totes and much off the Cinqpoints website. So time to remedy both.
There is a range of architect-friendly tote bags on the site, all in black with white lettering (and illustration), with this In Bauhaus We Trust bag is typical of the look.
Check them all out on the retailer's site and expect to pay €12 for one of these cotton bags.
Find out more at the Cinqpoints website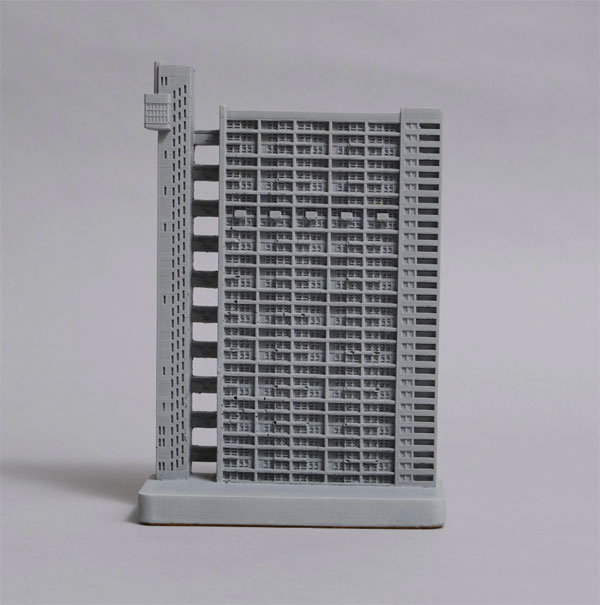 47. Concrete tower block models by Concrete Shed
Not cheap to be fair, but these concrete tower block models are quite something.
The Barbican Shop has three of them, with the maker's Etsy shop not currently open. So I presume these are the only three designs available. Not that it matters if you love Shakespeare Tower, Balfron Tower or Trellick Tower, as all of those are available right now.
Each work is hand cast, combining new and traditional techniques with the best quality materials. Creating and hand-colouring each work means that every sculpture is unique, and the cork base means the concrete doesn't damage your sideboard. Priced from £200.
Find out more at the Barbican website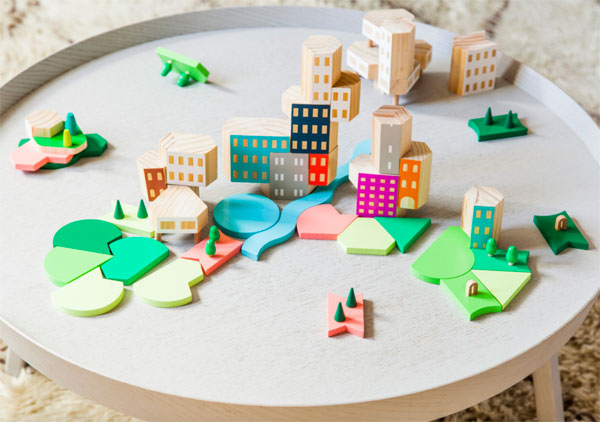 48. Blockitecture Building Blocks
Not exactly designed for creating a metropolis, but the Blockitecture Building Blocks are still a lot of fun.
Take your pick between factory and deco (or buy both) to create your own little world in wood. Each block is made of New Zealand pine, and with an age limit of 6 and up, it's good for adults and kids alike. Cute, quirky and the kind of you you don't mind seeing left out.
The sets are around £25 each.
Find out more at the Not Another Bill website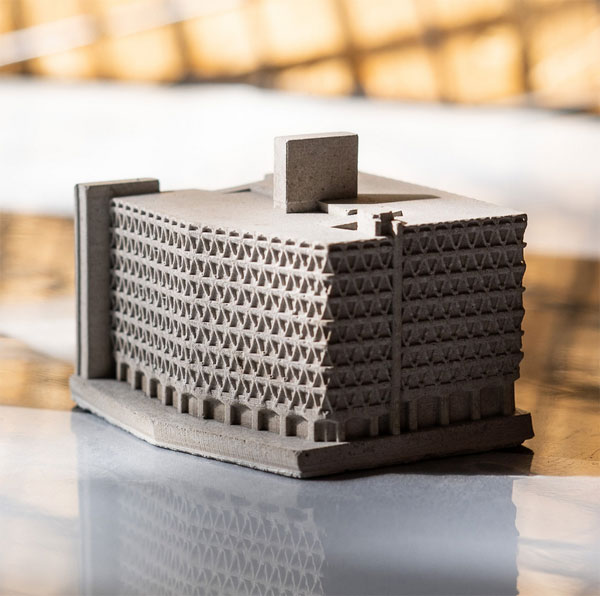 49. Mini cast concrete models of iconic brutalist architecture by Space Play
Pretty much self-explanatory. Brutalist architecture in both concrete and miniature. Yes, a bit like the one earlier, but smaller and with more choice in terms of buildings.
Indeed, since I last featured these previously, the range has grown considerably. Everything from Forton Services (pictured above) through to Birmingham Central Library and much in between. Even a bit of Art eco, too, if that's more your thing. But designs come and go a lot, so expect a few sell-outs at the retailer's site.
£30 get you one as a very quirky and memorable gift.
Find out more at the Space Play website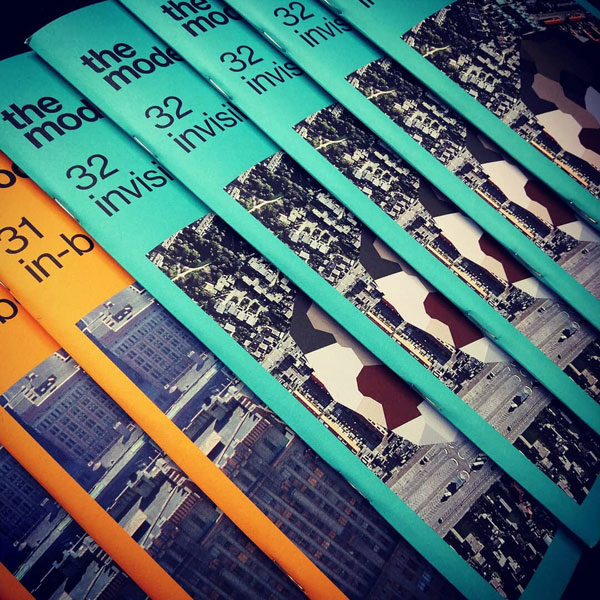 50. The Modernist magazine subscription
OK, it might not be an instant gift, but The Modernist magazine as a subscription works on three levels.
First off, it is an excellent and fascinating read for anyone with an interest in 20th-century architecture and design. That's probably you if you've managed to get through this article.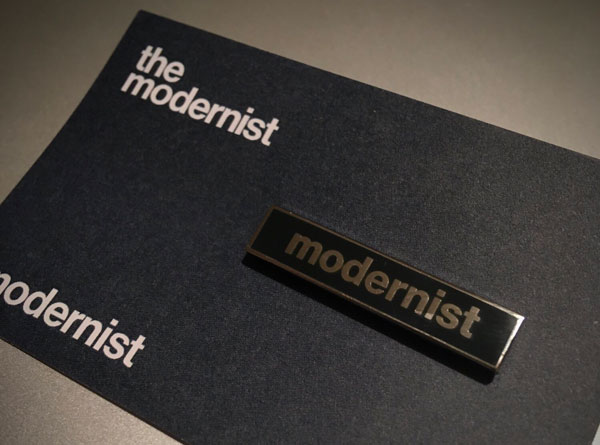 Secondly, it's the gift that keeps on giving. You get this four times a year. Finally, the current situation hasn't helped financially, and they would appreciate all the subscriptions they can get. £32 is the price for a year, but you could save money by becoming a member of the Modernist Society and buying it. And if you want something physical to give in the meantime, you can always get a badge for £7. There are four to choose from.
The Modernist magazine website
Ok, that's the 50 done, but it might be worth mentioning that a great gift for lovers of modern architecture could be a membership for the 20th Century Society. See this page for details of that. Again, they need the support, so it's a gift with long-term benefits for society and modern architecture in general.
And one last thought…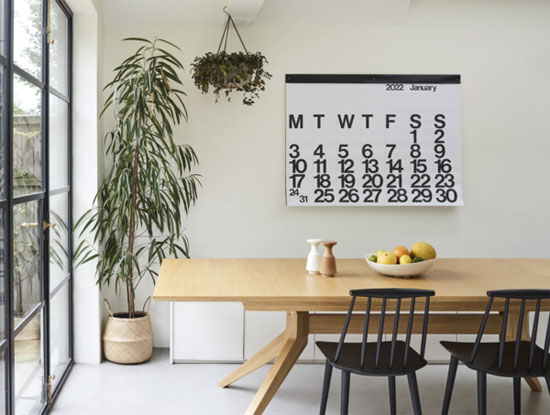 Previously, I have been pointed to this 1960s classic, the Massimo Vignelli-designed Stendig Calendar. And it's well worth considering for a gift.
I'm still very much a 'paper organiser' kind of person. Diary on the desk, calendar on the wall. If you are too – or you know someone who is – this is a great thing. The modernist's choice (and often the architect's choice, too), so worth checking out. In terms of recycling, past months also work as great wrapping paper options too. You can buy them here.
Oh, and finally, if you are feeling particularly charitable this festive season, you could support the WowHaus website. I heavily rely on donations to pay the bills for the site and newsletter, and if you Buy Me A Coffee on Ko-Fi, you'll be a great help and keep the site online for years to come.
Of course, there's no obligation. I just like having you here to listen to me talk about houses and all related.