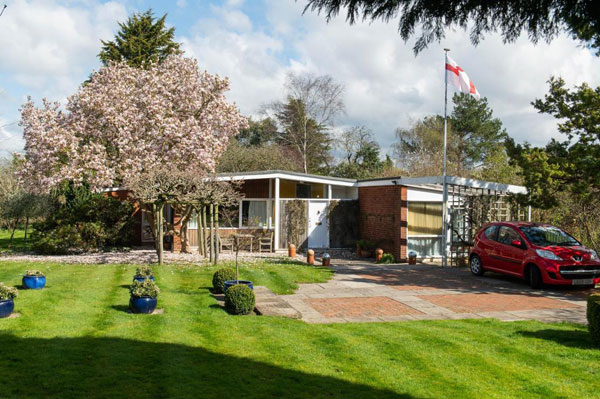 A wonderful opportunity for someone to update this eye-catching 1960s midcentury modern house in Stratford-Upon-Avon, Warwickshire.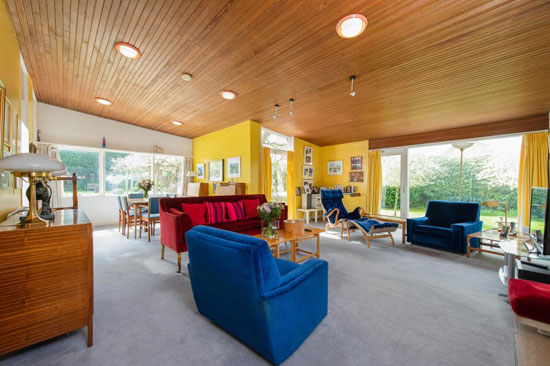 Not that there is anything particularly wrong with it. This is a design that, if anything, has come full circle in terms of appeal. Something midcentury modern in the style of classic mid-20th century US modernism is always going to have a market in the 21st century.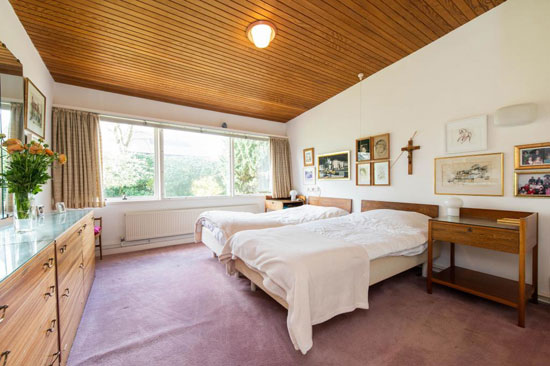 Thanks to the agent for letting me know that the house was commissioned by interior designer David Woulfe, who employed an architect to build something that was in tune with his own design ideas. Something cutting edge and inspired by a new movement in architecture. In the early 1960s (it was built in 1962) this was almost certainly a house that turned heads.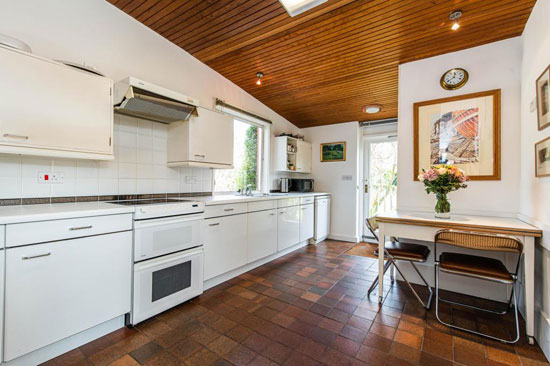 It probably still does if you are passing through the village location of Clifford Chambers. And if you are lucky enough to set foot in it, you'll notice that the house has changed very little in well over half a century.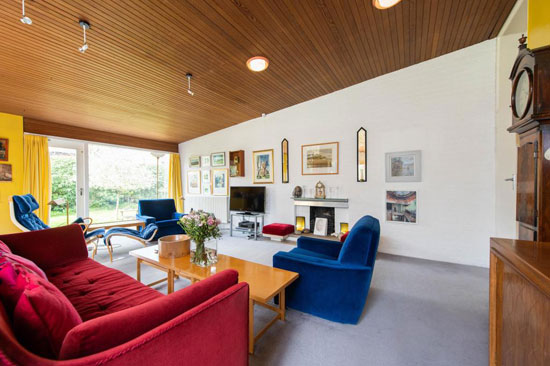 That's a good thing in terms of design and architectural integrity, but also because, as I said earlier, this is a style that's hugely sought-after right now. Midcentury modern did go through a rocky patch at one time, but the look and feel of these houses is very much in vogue right now.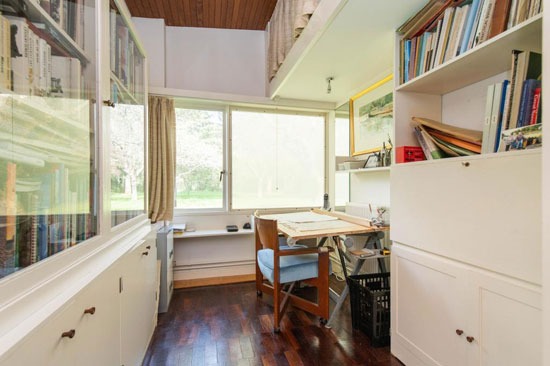 A relatively small number were built and even fewer are still in original condition. That's the big pull here.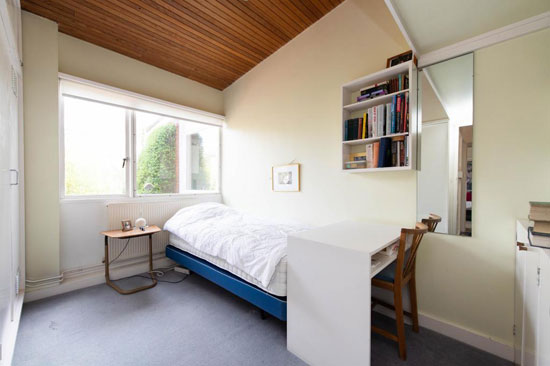 It's not easy to see the exterior in its entirety due to the nature around it, but you can see the angled ceilings and large windows, which are typical of midcentury modern houses. The full effect of those is perhaps best seen once inside.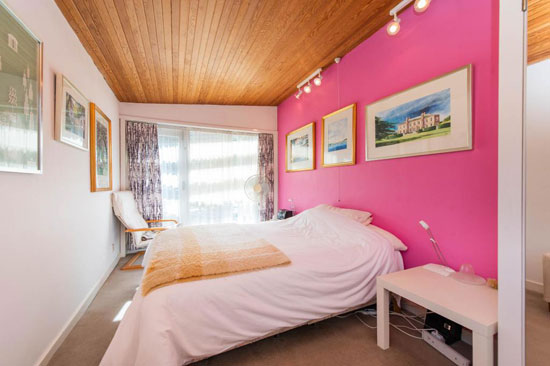 Yes, vaulted ceilings with wood cladding and the large windows maximise the light within. The reception, in particular, is bright and open, with some lovely splashes of colour.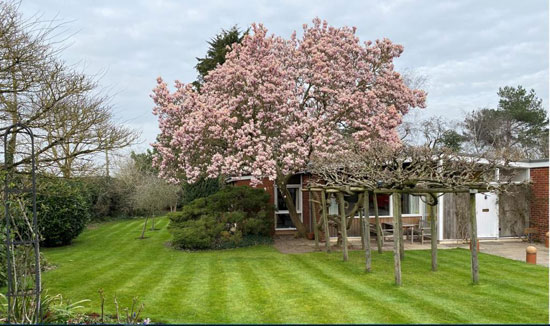 The entire interior remains relatively unchanged. Yes, the bathroom has been updated. The kitchen a little too (although not a great deal). But overall, with the exception of some fittings and furnishings, this is the house that was constructed in 1962.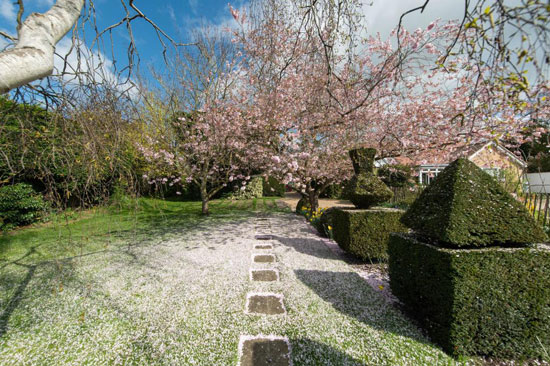 The agent quite rightly points to it requiring 'updating'. But for me, nothing too drastic. It needs a sympathetic upgrade, but anything radical might just ruin what has been so well preserved. But after 50+ years, the house perhaps needs a fresh pair of eyes to see it through the next couple of decades.
The furnishings will not be staying of course, but if you add in some period-specific fixtures and fittings, some fresh decor and flooring and perhaps a refresh of the kitchen and bathroom then this will be transformed. The longstanding appeal of Thornhays (that's the name of the house) is really about preserving key details and updating or enhancing the rest.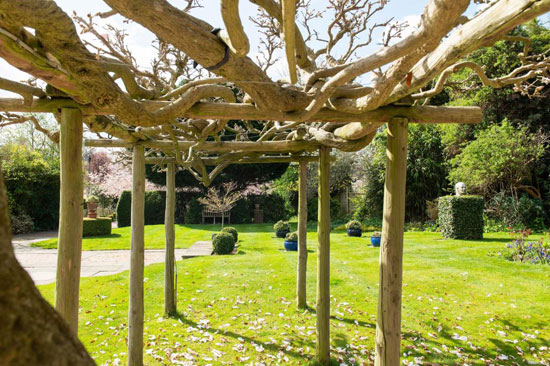 A good amount of living space over the single floor too. The front door takes you into an entrance hall with storage, with the principal bedroom facing south and east with a door to the south patio and an en-suite bathroom.
An L-shaped sitting and dining room has extensive glazing facing south and west and a door to the west-facing patio. There's also an open fire in here along with the vaulted ceiling and all that open space.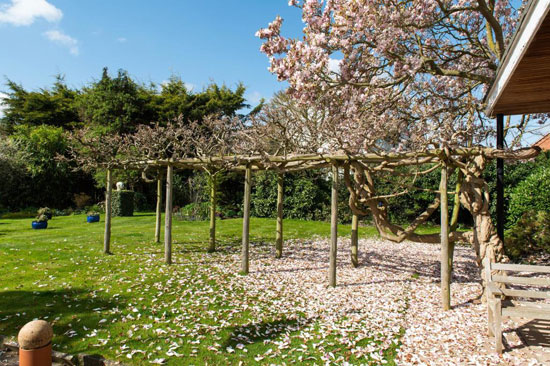 Beyond that is a kitchen/breakfast room with a door to the garden, fitted kitchen units, the usual appliances and just beyond it, a walked-in shelved pantry and utility area. Quite like that tiled floor too.
There are three further bedrooms with cupboards, built-in shelving and high-level storage. Bedroom three also has a desk built-in. Finally, for you home workers, a study with built-in furniture has views over the garden.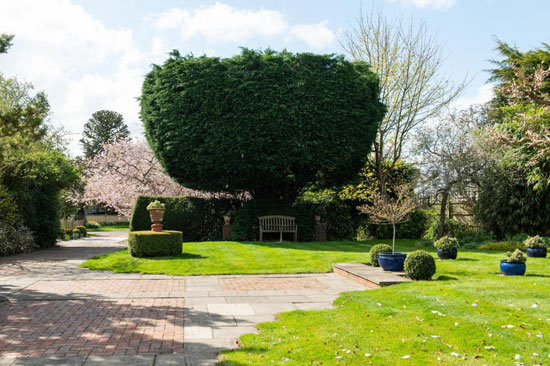 That's not quite all as there is all that land too. The original owner bought the plot before commissioning the house and he bought well. It has since been maintained to a very high degree too. Note also that the front part of the garden is in the Conservation area of the village.
A gravel drive leads to a paved parking area and a further length of paved and brick drive and parking. The front part of the garden is lawned and has evergreens, box and yew topiary, herbaceous border, birch, flowering cherry and purple maple, as well as a wooden garden store.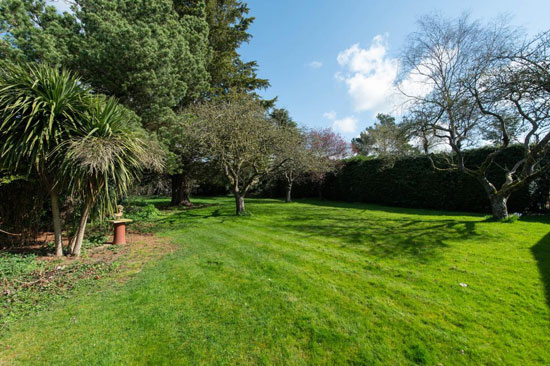 Around the house are bamboos, a flagpole and a pergola with a 'magnificent' wisteria. Large magnolia, cascading ornamental pears, trellis with grapevine, lawns, shrubs, a rose bed and patios are present and to the east side of the house, there is a covered seating area. Behind the property, there are cypress, pine and eucalyptus trees, mature fruit trees and a lawn with wildflowers with a cascading lime tree. Boundary hedges for privacy too.
Like the sound of all that? This midcentury modern house in Stratford-Upon-Avon is just on the market and has a guide price of £800,000.
Images and details courtesy of Knight Frank. For more details and to make an enquiry, please visit the website.