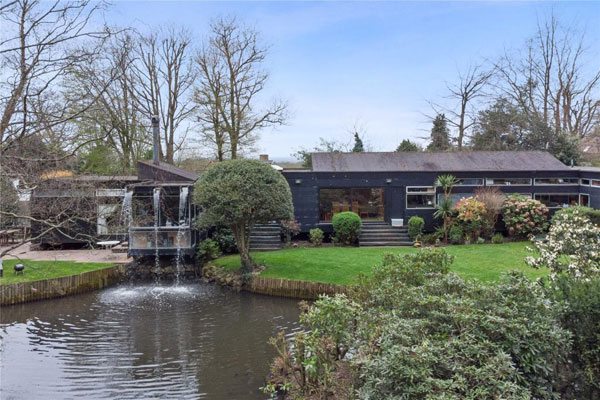 An iconic and listed design is now on the market. This 1960s Edward Samuel modern house in Stanmore, Greater London.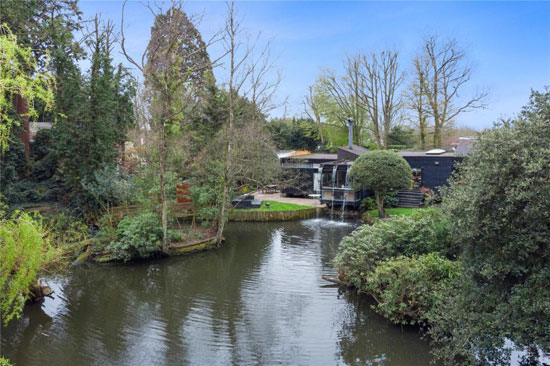 This is a grade II-listed modern house, dating back to 1963 and as you can imagine, quite ahead of its time when constructed. Even today, this is a house that still turns heads. Bold and interesting architecture always does.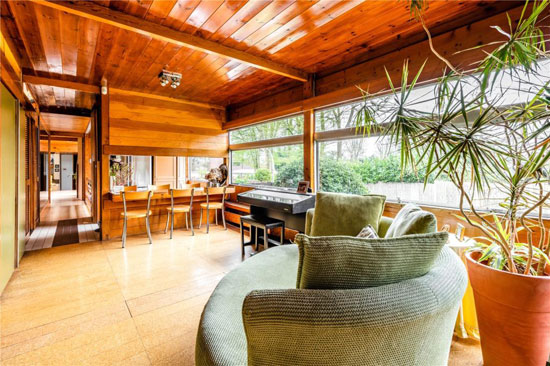 It was initially designed by Edward Samuel for Ernest Shenton, a successful businessman and the driving force behind the Dixons retail brand amongst other ventures. A keen fan of modern architecture too, no doubt.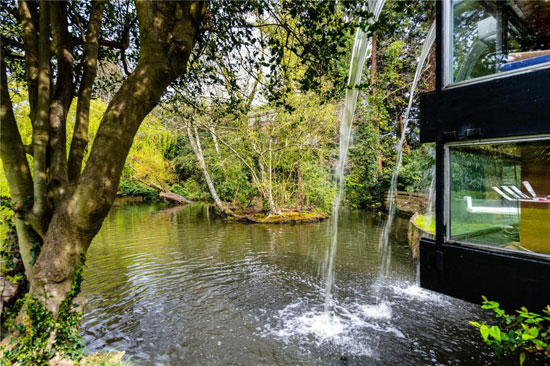 But there's another interesting fact about this one that you might not know. Film director Stanley Kubrick was a big fan of this house too and wanted to use the interior of the house in his futuristic A Clockwork Orange movie. However, the owner turned him down and Skybreak House in Radlett, Hertfordshire was used instead.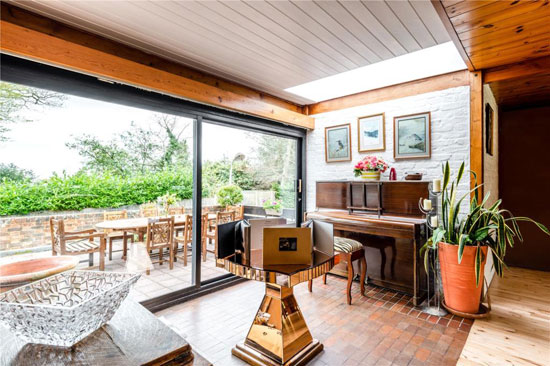 It perhaps indicates just how ahead of its time this house was both inside and out, even a few years after it was constructed. As I said, this is still a significant piece of architecture and the kind of design I know a lot of us would dream of owning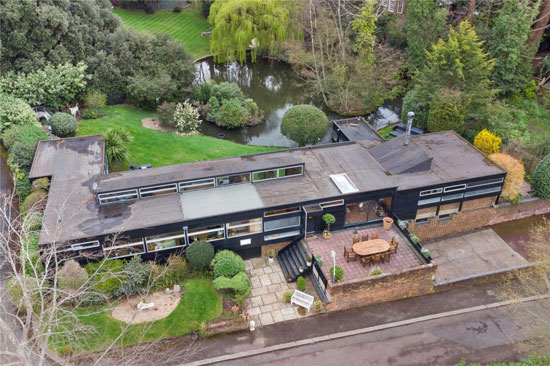 It's hard to say how much it has changed between then and now, but I would suspect very little. Architecturally it looks untouched, with modest changes in areas you would expect over the years. Like the kitchen and bathroom, for example.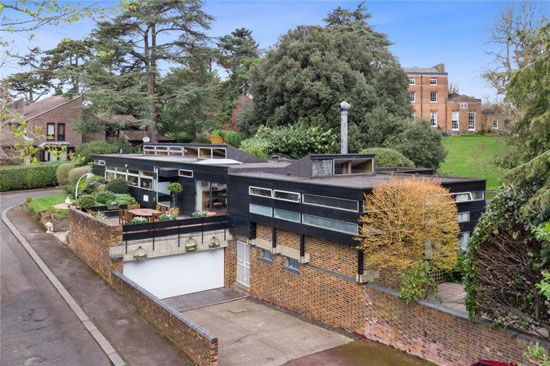 That is pretty much it. This is still a wood and brick construction laid out predominantly over a single level and located in a secluded position on a landscaped plot on the private Aylmer Drive Estate. You will find that between Stanmore Hill and the open expanse of Bentley Priory.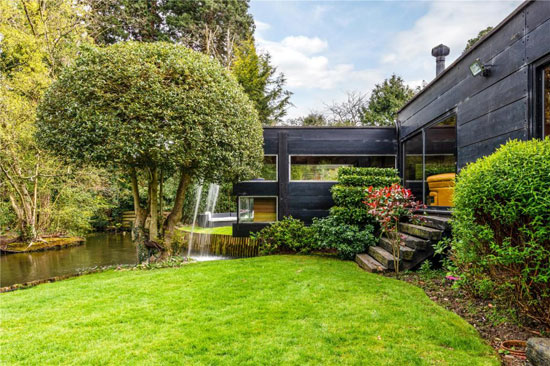 Of course, you can't fall to notice the shared private lake to the side and the waterfall that's pretty much the crowning glory of this design. It's the feature you are drawn to and something rarely seen (if at all) in British modern house design.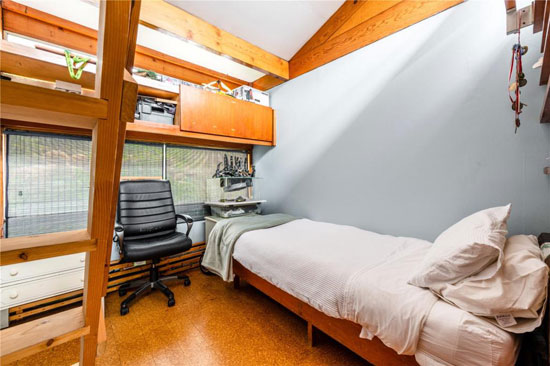 But the water isn't the whole appeal. It's just one part of a very appealing package. Yes, the outside pulls you in, but like all the best designs, the interior really seals the deal.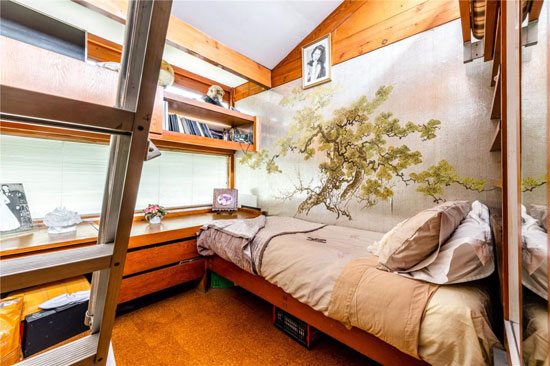 This is a house designed for light and space, with a focus on natural light via a combination of large windows, French doors and the open-plan living space.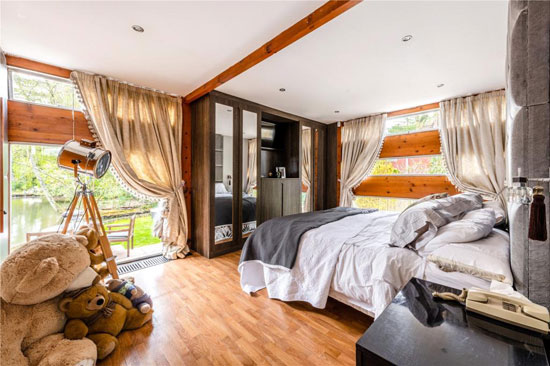 It is also partially raised on stilts, with the elevated frontage accessing a private terrace with a large basement space below. Note that there was previous planning permission and listed building consent, which has now lapsed, to extend the basement to create further living accommodation. But at present, that lower level is storage space, a boiler room and a double garage. Yes, an underground garage. Very 1960s. I know that aspect alone will pull in a few potential buyers.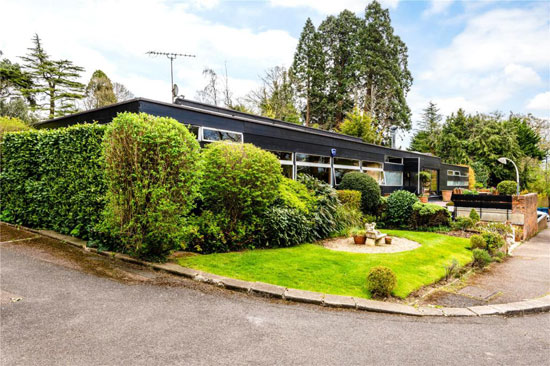 The front and rear elevations of the house are supported by reinforced concrete beams with a brick and timber-framed structure above, clad in timber stained matt black.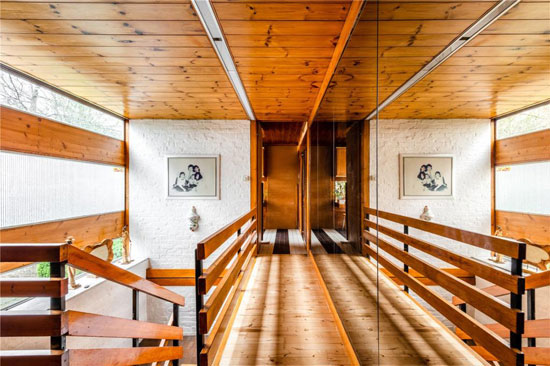 As I said, there have been some updates to the house, but overall, much of the original finish and fittings are still present. Not least. all of that lovely wood across the ceilings, the walls and the floor. And that's not just the reception areas. The wood carries through into the rest of the floor space too, albeit to a lesser degree. It's a look of its era, but one that has aged well and is very desirable in the 21st century.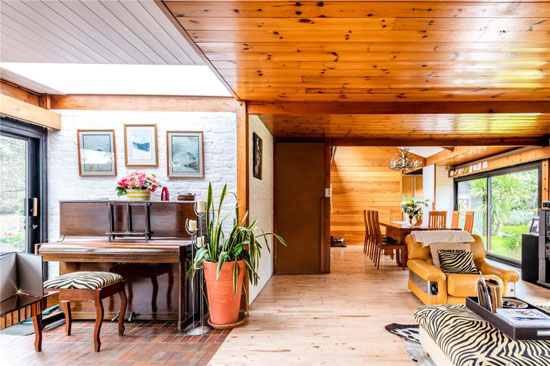 I love all that glazing too, as well as the lovely period staircase, a touch of exposed brickwork and some amazing views across the well-kept gardens, A dream of a place for me and I'm sure, you too.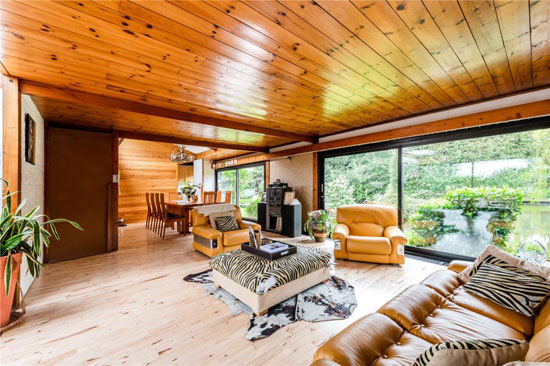 Accommodation runs across something like 3,500 sq. ft. and includes an open entrance hall that connects to the large reception and dining area with a front-facing terrace, an open-plan television and family room, and a home office positioned directly over the lake. A guest cloakroom too.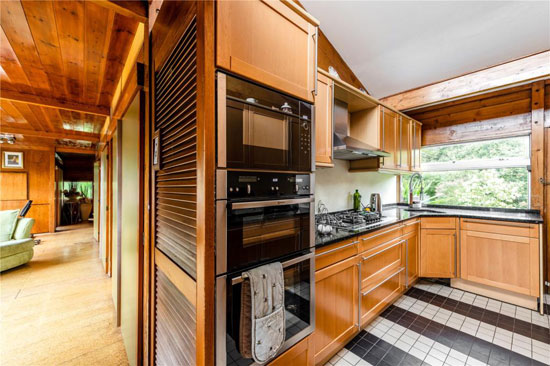 Further along is the master bedroom with dressing room and bathroom, a second bedroom suite and what is described as 'three bedroom pods' overlooking the gardens and lake.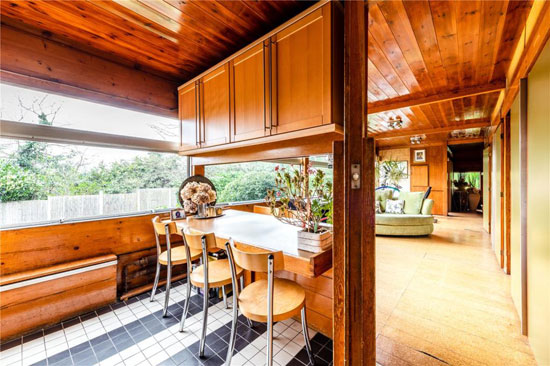 As I mentioned earlier, the lower level has a garden room, storeroom and a double underground garage. Lots of potential there, whether you keep it as is or look into that planning permission once more.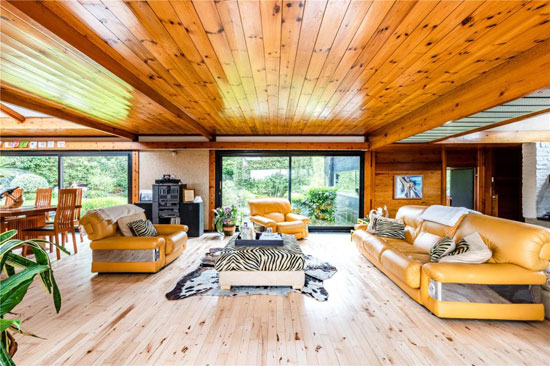 All of that mature and manicured garden too, with the house set behind a driveway which accesses the underground garage area. So extra parking if you need it.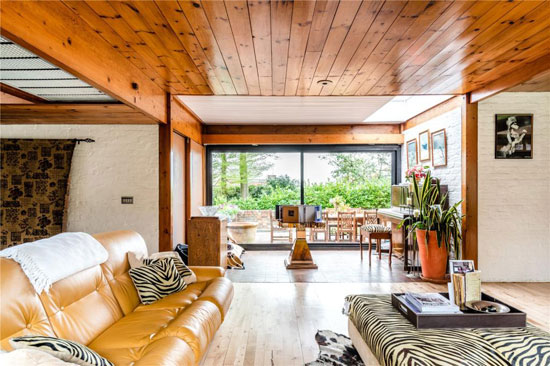 A unique design that is now on the market. It doesn't come cheap with an asking price of £2,750,000. But that's pretty much what you would expect of a house of this importance and in this location. Let's hope it finds an appreciative buyer soon.
Images and details courtesy of Hamptons. For more details and to make an enquiry, please visit the website.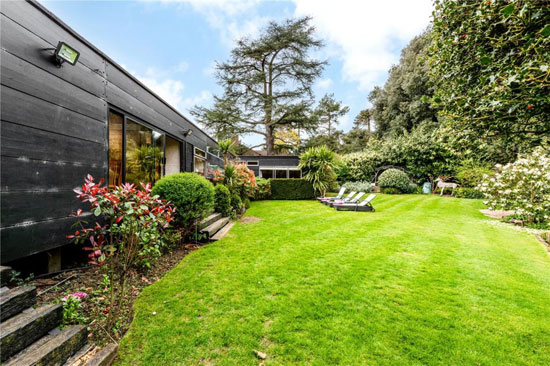 Property Location