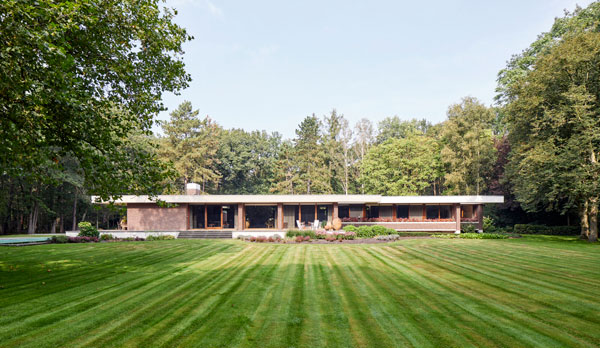 A time capsule and a modernist gem. This 1960s Emiel Van Loven modern house in Geel, Antwerp, Belgium has it all.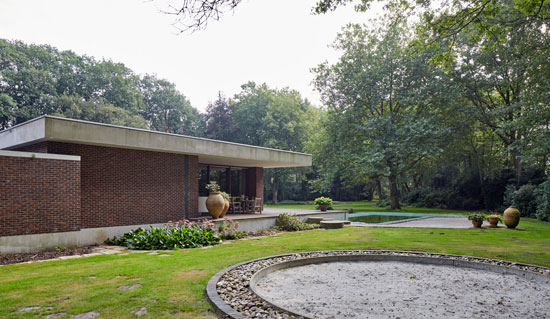 It really does. Pretty much untouched since 1969, this is the modernist dream. Ok, you'll have to be able to uproot to the Antwerp area, but if you can, this is a huge house both inside and out, with period details to die for.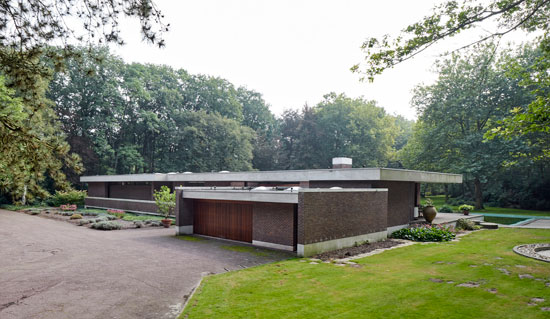 Has it been updated at all? I'm really not sure. I can't see much evidence of anything being updated in over 50 years here, with the possible exception of the kitchen area. And even that might be some kind of futuristic design rather than a modern upgrade. You'll have to book a viewing to know for sure.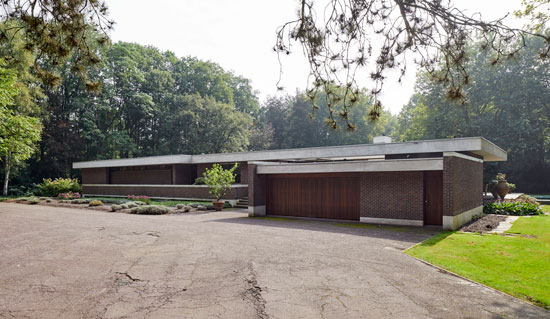 Outside of that, this is pretty much the brutal end of modernism in the mid-20th century. Certainly not brutalism, but not midcentury modern either. This is the kind of stark modernism that was the trademark of the 1960s.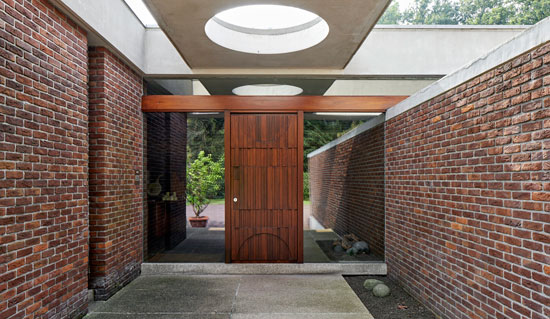 So open spaces, exposed brick, wood and concrete detailing plus all of those uniform lines. And the lines don't get much more uniform than the exterior of this one, Long lines of brick, but with overhanging canoes to keep the direct sunlight out of the rooms. Don't worry, the full-height glazing ensures you still get plenty of natural light.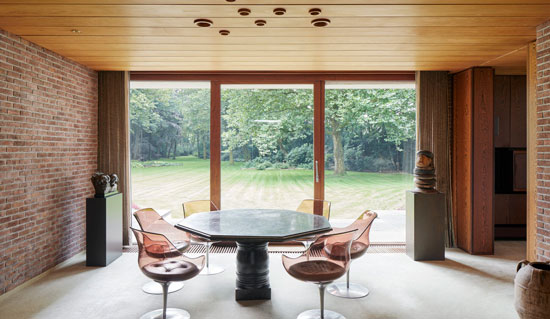 So many original fixtures and furnishings are still in this place too, from custom cabinets to subtle interior elements, saw well as decorative touches by the noted Axel Vervoordt. Your eyes wander around each room and spot something new at every browse.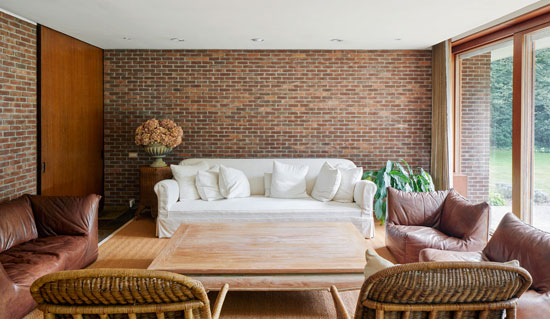 Yes, some of the rooms might look a little cluttered (although that does add in some character), but look beyond that and see all those lovely furnishings, from dining tables and occasional chairs through to the sculptures, the flooring and the fireplace, to name just a few things.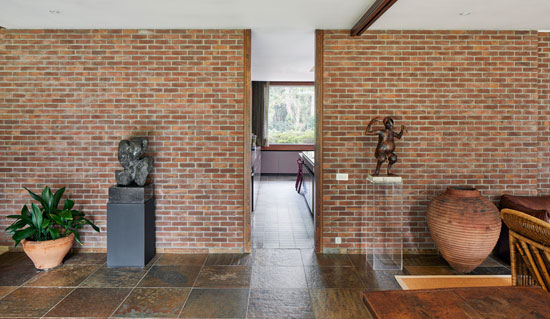 But also notice all the built-in units like the bookcases and the desk units, the expected brick walls, largely free of any unnecessary fuss and the handles on those lovely internal wood doors.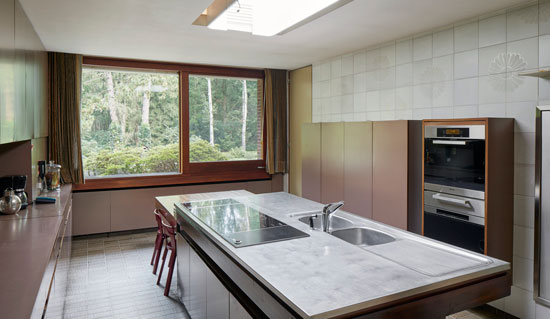 Even the bathroom and the kitchen have an understated cool about them. Very much following the 'less is more' principle and looking all the better for it. But there's one room where the owner really let their hair down. Quite literally.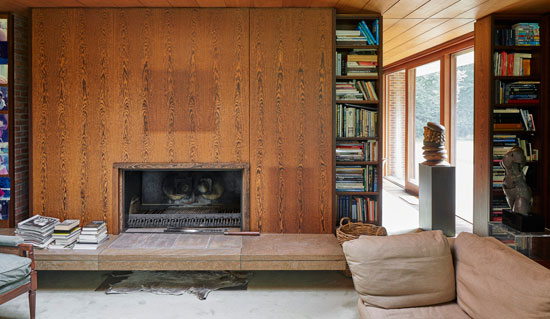 Yes, that stunning 'bar disco' in the basement, complete with coloured lights, purple flock walls, green seating and an orange and black bar area. I wonder if the records are included? They really should be to keep the original vibe. Either way, this is a dream of a space and no doubt a TV and film location hunter's dream too. As is the whole house as it stands.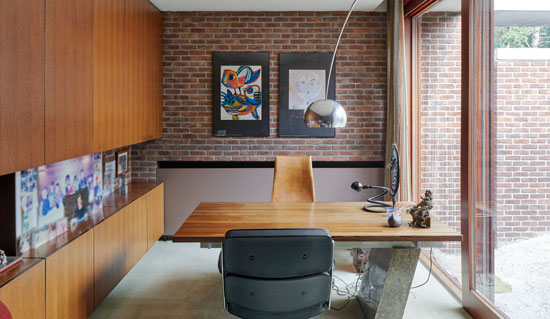 Yes, there is a basement and not only does it include a bar, there's also a pool room and 'all kinds of storage rooms' so you can keep your clutter out of sight. Yes, that's how other people do it!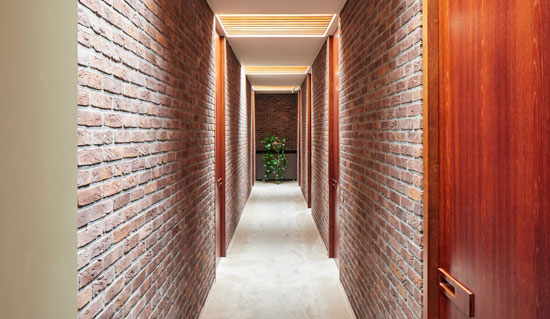 It all adds to the significant amount of living space on offer here, which is listed as around 500 sq. metres and a mix of open and closed areas. So some large open spaces as you would expect of a house of this era, but also what's described as 'cosy' hubs if you want some privacy.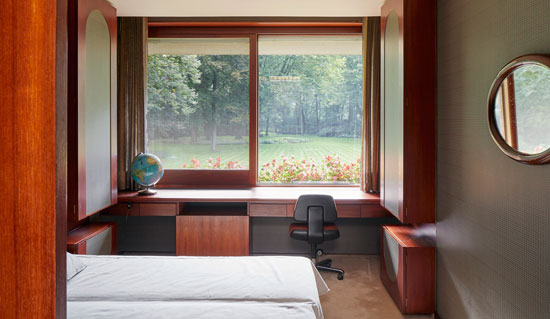 The current breakdown shows the house made up of an entrance hall, cloakroom, a living room, dining room, a sitting area, a lounge, the kitchen, two offices (so work from home heaven) and a corridor and service corridor.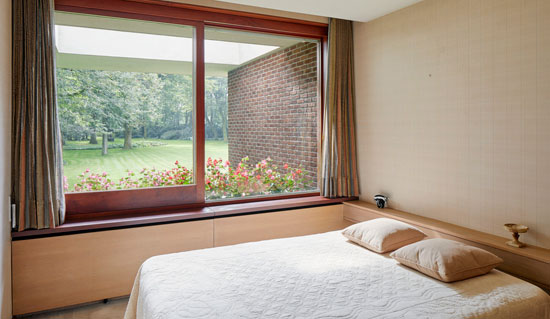 Beyond that, five bedrooms, a babysitting room (presumably some kind of playroom) plus two bathrooms. An inner patio area as well. Quite an expanse, but nothing compared to the outside of this one.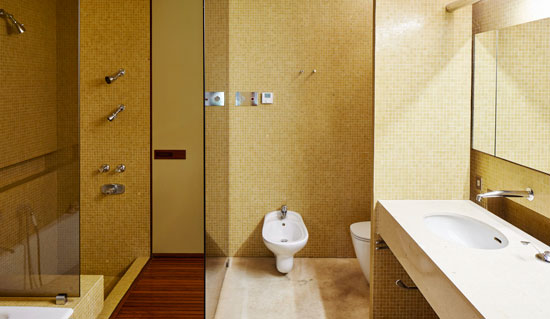 1.5 hectares of park-like gardens here, which is something like 3.7 acres. Yes, that is a lot of outdoor space. You can admire much if it via a large terrace or if the weather co-operates, you can go and have a dip in the swimming pool.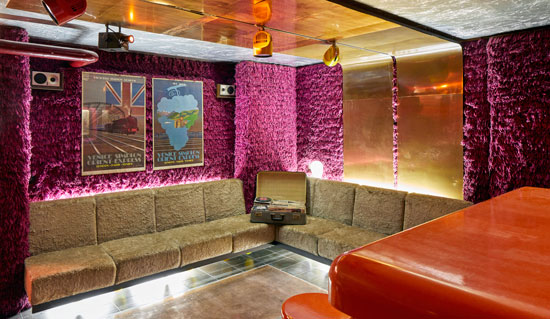 Personally, I would probably sit tight and admire the wildlife, the nature or the sculptures. Although you would probably want to allot some time to maintain it all. Or budget for a gardener.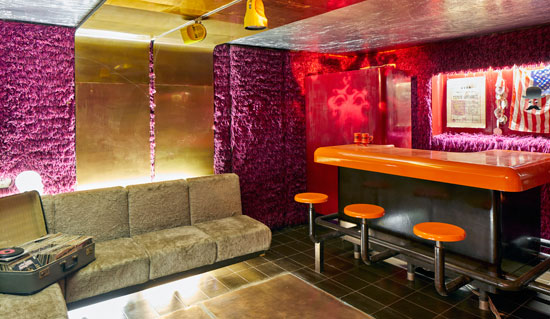 It looks like there's a significant garage in the same style as the house too. So if you have a car or three, that's likely to be a pull as well.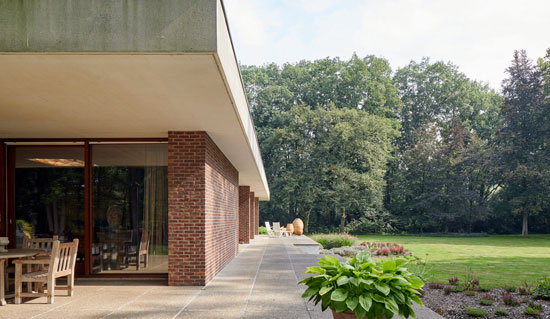 Of course, this doesn't come cheap. But this is a house of some substance, both in terms of design and space. €1,275,000 is the asking price of this modern house in Geel, which at the current exchange rate works out at just over £1,000,000.
Images and details courtesy of Architecten Woning. For more details and to make an enquiry, please visit the website.